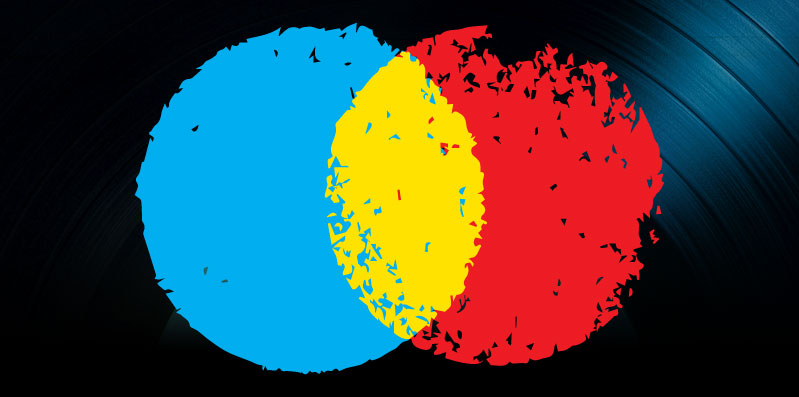 Notes From A Producer On The Rise
This interview was originally posted in November, 2009.
Duane Lundy is a touring musician, songwriter and producer based in Lexington, KY.  Duane has worked with producers like Daniel Lanois and Eddie Kramer and members of the band My Morning Jacket.  He currently divides his time producing records and touring with his group Chico Fellini.
(Overhearing me butchering his bio into the recorder he adds)
DL:
I've only worked with Jim James from My Morning Jacket. My favorite stuff I've done over the years is the score work for Universal from Cirque du Freak:  The Vampire's Assistant, and that was with the musical director Stephen Trask, who I absolutely adore and have learned a ton from. He wrote Hedwig and the Angry Inch.
Musician Coaching:
Tell me how you got started.
DL:
I was in a band in the late '90s early 2000s named Gold Tooth Display, which was a throwback rock band in the classic rock vein. I'm in Lexington, KY, and there aren't a ton of recording studios around here and the digital stuff was starting to rear its head, and I'd been recording on quarter inch reel to reel with a romantic vision of recording.  At same time I was in that band, we decided I'd be the one to do the recording and some of the production. So that kicked off my interest in recording and I started doing more on my own about ten years ago. Through the popularity of the band, the recording and some industry interest, other people in the area caught wind of it, and I started recording people's demos and lower-budget albums by unsigned bands in the area. One of those people that was a really close friends of mine was Bill Meadows, and he was kind enough when he became themusic supervisor at Crispin Porter, to send me some scoring work and remix work so I was able to do things on a slightly larger scale. I spent quite a bit of time doing scoring and remixing and a little bit of production, but I was uncertain as to whether that was even a career for me at all.
When Nuendo, ProTools and those particulars came along, the affordability of putting together a boutique studio became a viable option. You no longer needed to have a 9G SSL with 200 channels and deal with the ridiculous costs that went along with that. I just started collecting vintage consoles and sidecars and pre-amps and EQ's and compressors and microphones. In 2004 I did an album with a band from here called the Apparitions; they had some nice success in college radio and AAA. Through that I started getting calls from radio promoters. A guy from a small radio promotion company in Minneapolis had really liked what I'd dong and was coming into a lot of contact with artists that had what he considered compromised material, but were good bands. A lot of his connections had been spending a lot of money going to Nashville and Minneapolis and getting pretty literal, clinical recordings out of it. He heard what I had done and thought, "I'll send you some work." That really kicked off me producing acts and doing artist production on a full-time basis.
Musician Coaching:
Does producing represent most of your income?
Producing and mixing are how I make my money for the most part now. On the artist side of things, I still do some score work, production work and engineering work. Recently I did some of the engineering, mixing, scoring and production work on "Cirque du Freak" as I mentioned before.
Musician Coaching:
I know you wound up working on some big acts as an engineer. How did that filter into your education process?
DL:
Quite a bit. I had done some assisting here and there with some producers, though more engineers than producers. I got to sit in with Eddie Kramer and a guy named Tony Lash. He'd done some Elliot Smith and Dandy Warhols and Death Cab for Cutie. I don't know if I picked up any of their habits through that, but I picked up a lot of confidence. It had always seemed a little smoke and mirrors to me. I don't come out of the commercial side. I didn't go to the Recording Workshop or start in the major market way where you go to the Hit Factory and are a key boy or runner and work your way to assistant engineer and then engineer or producer. I didn't do that, so for me I didn't know at all how it went. I didn't know the habits or the process at all. I was reading a lot and watching videos. I remember watching a video about the Red Hot Chili Peppers about making "BloodSugarSexMagic" called "Funky Monks." And it had Rick Rubin and Brendan O'Brien. I just picked up on that stuff a lot. Through watching some of those other guys and talking to people like Daniel Lanois and I got a fair amount of guidance in a very short period of time from him. I just sussed out who I liked and what they did and applied that to the theories I'd already been working on. I'm probably more of a theorist than a clinical engineer. I'm not the guy that's going to take apart the console and solder this to that. I don't have that background on the tech side as much as I do the more of a textural and arrangement type of productions. I really became a producer because people started asking me my advice on things.
Musician Coaching:
Sounds like you fulfilled a need in your hometown and your home region.
DL:
Pretty much. I don't work with a ton of bands from around here anymore because a lot of my work comes from a label or 360 deals, management company or industry people that have been around for a while. I get a lot of my work from people I networked and established a relationship where there's some element of trust. Then I talk to the artist and we share views and make sure everyone's on the same page, and then we go.
Musician Coaching:
What are some pitfalls you see artists fall into?
DL:
I think the main pitfall that any artist falls into is that someone is going to have the magic key to the pot of gold at the end of the rainbow – that there's going to be one connection or one producer, one management element that gives them the keys to the whole thing and that it's all going to happen. The artists often don't tend to agree philosophically with that entity, but because they've had some element of success, or they have a story that they use to sell the artist, then the artist mortgages their existence to have a relationship with somebody because of their connections. That never seems to really be. I'm sure there are instances where that's worked, but with the artists I've worked with, my relationship comes because we agree on the music and taste and creative side, and through that the success comes because people are magnetically drawn to the music. The industry now as I see it is probably not any different from what it was 50 years ago. I think you have to write a great song, be really good live, give somebody something substantial to listen to, be it CD or whichever way you decide to package your media in a way that's compelling or interesting and will hold up to many listens and will have a critical ear on it. And get in the van and go play. Those simple blue collar-type approaches to the business of what you're doing as an artist inevitably will pay off.
Is it easy? No, it's really, really, really difficult. But if you've aligned yourself with people that are of like mind and will work with and for you aggressively, and everybody's in a situation where what they're trying to do – however righteous or pretentious it may sound – if you do those things I think people will be drawn to it. As an example, if I were to take a piece of work that we'd worked on, and were to pitch it to someone like yourself when you were Atlantic, and we did it just because we thought that's what you would like and that's the way it was done, as opposed to the artist and the producer and people involved having a total belief in it, I think people like you sniff that out and say, "These people are just skirt chasers" or "star chasers" and "they don't really believe in what they're doing." I think it has to be very real. There's that one percent of the market that deals with highbrow pop, highly commercialized music that sort of sways everybody's thinking as to how it's really done. I approach it a bit like a mom and pop business or a boutique situation. By doing such, you're sort of in control of your destiny a little bit more. A major pitfall with artists is that they end up apologizing so much for what they've done in the past. "I'm not really into this anymore. We did this with this guy because he said this." People spend a lot of money doing things that they don't believe in, and I think that's the major pitfall for most artists.
Musician Coaching:
More specifically, when somebody shows up on your doorstep, what are some of the things they should or shouldn't have done to prepare? What are the pitfalls of actually recording?
DL:
A lot of times I think they don't have enough material. What tends to happen is that they get to the point of being married to ten or twelve songs and think, "Okay, we're ready to make an album." And they don't have enough material. I think if you're trying to make an album, they should have a good 15-20 songs to choose from so there's some wiggle room as to what is going to be on the album. I cannot stand if a band is overly demoed. There's not a lot for me to do as a producer if they've demoed the hell out of stuff and have already made their opinions about what they want to do before they come in. I think a band needs to be as prolific as they possibly can.
Musician Coaching:
As an artist, what kind of conversation do you need to have with somebody who is producing your EP, demo, etc. so you don't run into problems?
DL:
I think it's a taste issue. What is the artist listening to? What are they listening to? What is their background? What do they really, really like about music – not only their own music but music in general? Does the producer share that same vision and same background? You see people chasing other people's credentials around. You see this all the time in Nashville and L.A. especially. You might have a guy who's a Zeppelin fan, and I wouldn't put WolfMother with John Shanks, a producer who's done predominantly female artists and pop rock. I think that marriage tends to not work. Producers have a process and taste and a particular way they envision music. That's not going to change a great deal from artist to artist. When you get on board with a producer, you need to have a shared history even if you've never met. You need to have similar listening tastes, similar textural elements. I'm not going to be the guy you bring in to do a commercial country album, because I like things dirtier and with texture and subtext, things that make you go back and listen for a 20th time. I think commercial pop for the most part or modern country is a more literal type of music. It doesn't have that subtext. Let's say my band Chico Fellini was looking for an outside producer – someone besides me. There are people I'm going to be immediately drawn to because not only of their discography but their philosophy and what they're into and the textures they're into and their style.
Musician Coaching:
There's nothing that's going to replace having a detailed conversation.
DL:
Absolutely. You have to have quite a few conversations.
Musician Coaching:
How do you navigate the issue of artist control and the creative process?
DL:
I'm extremely honest on the front end. If I can get people in person to the studio, it's ideal. I work on a particular vibe. That vibe is an element of comfort. I don't do a ton of work in commercial studios because I feel like it's a bit clinical. I get somebody in my environment or get them on the phone for a long conversation and be really frank with them and say, "Here are the things that I bring to the table" and give them very to-the-point ideas on their music and see how they react to that. Nine times out of ten, they know what I'm getting into and I know what I'm getting into, and if there's a friction or a rub, or just a general "not seeing the process eye-to-eye" it's best to not do it. I'm a really frank, honest person on the front end and tell them, "This is what I think we should do." That being said, I'm very artist friendly. I think the most important heroes of the moment are the people I'm working with. Those are the people I need to have a respect for, and they need to have a respect for me. And if we have that, I tend to find there to be very little friction, and the process is pretty steady-as-she-goes.
———–
Click for more info about Duane and his studio business or his group Chico Fellini