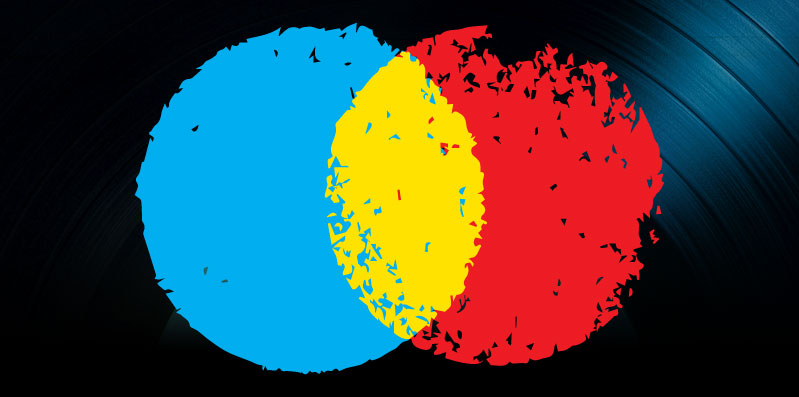 Surviving the Label System
This interview was originally published in August 2014.
Brad Roberts is the three-time Grammy-nominated, ten-time platinum-selling lead singer/songwriter of the folk-rock band The Crash Test Dummies. Brad got his start in music after earning a bachelor's degree with honours from University of Winnipeg in 1986, when he began performing in a house band for the Blue Note Café under the name Bad Brad Roberts and the St. James Rhythm Pigs, the band that eventually became The Crash Test Dummies. He began writing his own songs and introducing them to the rest of the group. He wrote "Superman's Song," The Crash Test Dummies' first hit after attending a songwriters' workshop with Lyle Lovett at the Winnipeg Folk Festival. Soon after, demos of his original material led to record deal options, which resulted in The Crash Test Dummies' debut album The Ghosts that Haunt Me, which sold over 400,000 copies in Canada and garnered a 1991 Juno Award for Group of the Year. Brad's second album, God Shuffled His Feet gained international acclaim, selling six million copies and leading to three Grammy Award nominations in 1994. Since 1992, the band has been nominated for eleven Junos. Now an independent artist, Brad continues to write, record and release his own material. Most recently, he worked with Hookist, a month-long songwriting event that brings together music legends, emerging artists, fans and musicians to write an original song together line by line.
I talked to Brad about his journey with The Crash Test Dummies and the experience of being on a major label. He also talked about how he has navigated changes within the music industry and shared some advice for songwriters that want to succeed in the current climate.
MC:
Thanks so much for taking the time to talk, Brad. How did you get started in the music industry, and what brought you to The Crash Test Dummies?
BR:
When I was 18, my parents said I could either live at home and pay rent, or live at home, go to school and not pay rent. I chose to live at home and not pay rent and went to university.
I got a great education pursuing a degree in literature and philosophy. At the same time, I was also making recordings of original songs. I had been playing guitar since I was ten or twelve years old, and it had really been my main passion in life. But I ended up falling in love with literature, and by the time I'd finished my degree, I was prepared to be a songwriter. I had the advantage of reading poetry and asking those age-old questions attached to philosophy because of my education; both of these things can certainly feed into the process of writing lyrics. Normally, getting the degree I got would've probably just resulted in me becoming a professor.
Of course, the music industry has changed a lot since the early 1990s when I was really getting started with The Crash Test Dummies. It's a whole different ballgame.
MC:
Though it's a bit different today, I'd love to hear a little bit more about how you started the band, got signed and ended up on the charts.
BR:
I put together The Crash Test Dummies while I was at university. We were the house band at a little café called the Blue Note in Winnipeg, Manitoba, which has sadly since expired. Neil Young even floated through there and played once. It was a pretty good after-hours place that had some regular bands playing, open mic nights and a whole scene going on.
MC:
As a house band, were you doing covers as well as originals?
BR:
Yes, but we weren't doing covers to please tourists or customers. For example, we would do a folk version of the "Spider-Man" theme song just for kicks. We also did some Irish folk songs. For a very long time, it wasn't a very focused project. The only focused thing was that I had a set list and a band every week, but the band members were often different.
Then I decided I would record some of the songs I'd written upon graduating. I sent these demos I made out to various music festivals, because I wanted to get some shows. Of course, I was young and slightly stupid, because I had no manager, so I sent out these cassettes to people in February to see if I could play their folk festival in June, when these festivals are usually booked a year in advance.
Still, my music got listened to by a guy named Richard Sanders. He loved it, but couldn't book me. Still, he got on our bandwagon, and it just happened that this particular year in Canada, Winnipeg was going to host the Canadian government music awards. Incidentally, the government actually grants you money to make records in Canada. There was a whole plane full of record label executives coming from Toronto to see Winnipeg's local bands, and Richard started talking me up to them.
We played in a tiny little room and not on the main stage, because I think Winnipeg was a little embarrassed of us and didn't think we'd made a great recording. We were kind of shunned at the event. But because Richard had talked us up to all these visiting industry people, they all wanted to come see The Crash Test Dummies. And surprisingly, everyone wanted to sign us. A&R guys were coming up and talking to me, which was apparently unheard of. I didn't even really understand who these people were or their significance at the time, because I was inexperienced.
Eventually, there was a label war over us, which grew out of this little demo tape I made. It had some key tracks on it, like "Superman's Song," which ended up being the key single on our debut album, The Ghosts That Haunt Me. Much to my surprise, we ended up being the #1 Band of the Year and went quadruple platinum, with 400,000 albums sold in Canada.
Sadly, when we came out with the second record, Canada decided, as an industry that The Crash Test Dummies had had their day in the sun, and they weren't going to play our album. It went into light rotation, then fell off the charts immediately. In the meantime, in Atlanta, GA, this one radio station, 99X was playing our music, and people started calling in and requesting it. They started playing more and more of it, because they kept getting more and more calls. This woman in Atlanta reported to Clive Davis and said that sales were rising briskly after being played on the radio. "Mmm, Mmm, Mmm, Mmm" wasn't a record they were pushing, but the caller feedback was strong. And "Superman's Song" had grown through caller feedback as well. Neither gained popularity because of work the label did to promote it. The guy at radio even told me in his own words that he had never seen anything like that happen before – a song climbing the charts because of feedback from listeners.
Clive Davis saw the connection in Atlanta, GA with 99X and the buyers, and put us into the machine. We were suddenly priority everywhere we went. "Mmm, Mmm, Mmm, Mmm" took off worldwide, and I think Canada was a little embarrassed. We went on to make a video for a song that we didn't even release in any other territory just so they had something to play, so they wouldn't have to go back and put a song back on that they'd taken off already. I was just really lucky that America picked us up after Canada embraced and then rejected us.
MC:
We all know that a lot of success is about luck and timing. And often someone will decide to champion a song just because they hear it at the right time. But you must've done something right to still be around in the music business today.
BR:
I continue to enjoy writing and recording music, but I don't do it on the scale I did it before. But I think the reason I'm still at it today is that I was first and foremost a songwriter. I wasn't just a singer or an instrumentalist. I think because I was very serious about that, it had real legs. I had the leisure of being able to make 12 records after having those two successful one, though none of them ever duplicated the success of the second record. And certainly when the music industry started falling apart because of file sharing and the Internet, things got challenging, but that was the case for everybody.
The interesting thing in retrospect is that The Crash Test Dummies' second record has sold millions of copies – probably between eight and ten million. When we put out our third record, Arista was just not enamored of us. They were focused on someone else and didn't put much effort into it. Because Europe watches America, they didn't put much effort into it either. Lo and behold, we only sold three-and-a-half million records in America, which they considered a massive disaster. Now saying selling that many copies means the record was a failure sounds like crazy talk, but back then, it was only a third or half of what we had sold with the previous record.
That pattern continued on every record after that. After our fourth album, I actually decided I'd had it with being on a label and told Arista I either wanted to make a spoken-word record or leave.
MC:
I think they call that a "contractual obligation" record."
BR:
Right, and I was very happy to get out of the situation. When I was finally free, I went to put a record out on my own, and that corresponded almost exactly with the time when everybody in the industry was starting to panic about record sales were going down and people getting music off the Internet for free.
I wasted money making records for a little while, because I didn't recoup the costs. Now, I work with people if they will do a percentage split. In other words, I'll make a record with a producer if they will agree to split the profits. That way, I don't have to pay anyone upfront. That's where it starts to get expensive. I've done well that way. The last Crash Test Dummies record I put out was as good as any album I've ever made, and I've put out a record that is not Crash Test Dummies that's only on sale online. I didn't even bother with the retail route. It's kind of nice. Every now and then I get a check for a few thousand bucks, and all I ever really did was have fun making it and put it on TuneCore.
MC:
That's not bad at all.
You've had an interesting ride that involved both a major label career and an independent career. You've written and released some records, worked with producers and done a little bit of co-producing. You've put out about 13 records.
Looking back with your current wisdom, what advice would you have given yourself when you were just starting out?
BR:
Don't sleep with someone in your band. Because, you just can't mix relationships with this kind of work. I'm very glad to now be happily married for the past ten years and not be in that precarious situation anymore.
MC:
What about from a business perspective?
BR:
If I knew what I know now, I would've never even started, because I would've been so worried knowing what might happen to me. You're asking about giving myself advice about how to handle things, and there's just no way of handling stuff that insane. You had to survive it more than handle it.
MC:
And what got you through it?
BR:
My manager helped a lot. I had a very good manager and also a very good agent.
MC:
And you're working with Hookist now and crowdsourcing a song. I just talked to the co-founder Terry Derkach recently. What has that experience been like?
BR:
I've been teaching songwriting for some time off and on. I taught at the School of Rock for a while here in New York City. I teach mostly because it's fun to teach the craft, and I'm pretty good at teaching.
MC:
So you did end up as a professor with that philosophy and literature degree after all.
BR:
That's right. Meredith, the other co-founder came to me a couple years ago and asked if I thought I could write a song with a bunch of people over the web and how that would work. We had a conversation, and she took my ideas and networked with a ton of people, worked her ass off trying to get the thing off the ground, getting backers, etc.
God bless her, she got the thing up and running, and it has been absolutely amazing. People are sending in really good, quality material. The lyrics we're getting once they're put together and all said and done I think blow away almost everything on the Top 10 right now. It's just crazy. It's not even surprising, because what's on the charts is less than great. But what's coming out of Hookist beats that 100 times over.
Of course, I did a little editing and rewriting, and I had to pick a lot of different people's stuff to make it work, so it was a very creative process on my end as well. I actually learned stuff. In many cases, I found new ways of putting a song together that I wouldn't have known about without the circumstances of how the game works.
MC:
And how are you going to release it?
BR:
That is to be determined. I imagine it will be released as part of a collection, as I don't think they're going to put it out as a single. I think their main concern right now is to move ahead with the next artist.
MC:
Do you have any parting words of advice for kids – or adults – in the music industry?
BR:
That's so hard. All you can do is be true to yourself and not listen to people who want to tell you what to do, because usually they don't know what they're talking about. Unless you're co-writing with other artists or learning from your peers, I would say you have to listen to your heart and pursue what you think is good. If you're lucky enough to make some recordings and play a handful of gigs, count that as a huge success, because most people don't get anywhere. Even back in the days where we were signed, there was no guarantee that just because you were signed to a great big label you would sell any records.
Most importantly, don't try and write what you think people will like; write what you will like.
For more information about Brad Roberts and his music, check out The Crash Test Dummies and Hookist.