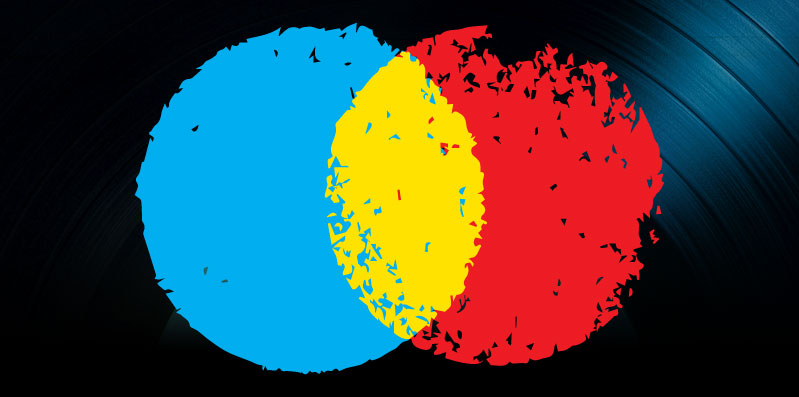 Music Promotion for the Independent Artist
Colette is a DJ, singer and songwriter who has been making dance and house music for two decades. A classically-trained vocalist, she got her start in the business working in clubs in the '90s as a promoter, singer and DJ in her hometown of Chicago. A pioneer in combining live vocals with DJ sets, since her single, "Moments of Epiphany" debuted in 1995, she has released several full-length albums as a solo vocalist as well as many more singles and DJ mixes. Her songs have charted on Billboard's Dance Club Play chart and been played in clubs worldwide as well as prominently featured in films like Sex and the City and The Devil Wears Prada. Previously attached to the legendary San Francisco imprint OM Records, Colette has just successfully raised funds through a PledgeMusic campaign to release her first independent full-length album, When The Music's Loud on her own imprint Candy Talk Records.
I talked to Colette about her experiences building a successful music career and how marketing and promotion have changed for musicians since the 1990s. She also talked about what it means to be an independent artist in the Digital Age and how she was able to use crowdfunding to successfully release an album on her own.   
Musician Coaching:
Thanks so much for taking some time to talk, Colette. How did you become a musician?
Colette:
I grew up in Chicago and always loved singing. When I was four, I told my mom, "I'm going to be a singer." I started studying classical vocal performance when I was nine and did it for nine years. I even did all the voice competitions, where I competed against other children, and there were judges that rated me on the spot. It was kind of like American Idol for classical music. And it was really intense, because they did critique me in a way that was not friendly or child appropriate. I also started listening to house music when I was 10. It was on the radio in Chicago, and I probably took it for granted that everyone in the world heard that type of music on a regular basis. And I went to my first party at 14.
So, I had these two worlds of music happening at the same time. When I was 16, one of my friends, DJ Lego said, "You should come and sing over my set." I thought that sounded like a great idea. I sang through a pair of headphones that were hooked up through the mixer, which is horrible sounding. They're great if you don't have a microphone, but pretty terrible otherwise. I thought it was pretty cool, and he kept asking me to sing on songs with him. It was actually a pretty big transition for me to go from singing classically to singing over house music. It took me about a year to really figure out what my sound was going to be. I had this really strict training and had developed a style that just didn't really work over dance music.    
Musician Coaching:
I know a lot of people who have trouble breaking the rules when they learn all of them.
Colette:
Yes. Luckily, I was still so young that it didn't take that long for me to get comfortable with it. I realized that I just loved dance music; it really made more sense to me. I could see myself sitting down to write dance songs. As much as I enjoyed singing classical music, I wasn't going to write an opera. It just wasn't where my head, heart or sound was. I was the contra-alto soloist for Handel's Messiah, and I remember these women saying I sounded like a pop singer trying to sing classical music. And I realized they were right.
As soon as I graduated high school, all I wanted to do was house music. I started working with a lot of people and put out my first release as a vocalist when I was 19. I'm actually coming up on almost 20 years of releasing music.
Musician Coaching:
What was it like putting out that first single?
Colette:
It was really exciting. I was already working in night clubs when I was 19 as a host. In those times, it was a little bit easier to get those jobs, because you could maneuver your way out of having to show your ID, because they didn't check them the same way as they do now. Aside from working in clubs, all my friends were DJs, and I was also hanging out in record stores. It was really thrilling to have one of my songs on vinyl and to have DJs playing it. At that time, in the mid '90s, vinyl was the only format that house music was being released on. And I realized that this was all I wanted to do.
It wasn't until a year later that I started DJ'ing, because at the time, no one had a band. Everyone was DJ'ing. So, I thought that if I wanted to sing more, I should learn how to DJ. I wouldn't have to wait around for a friend to hand me his headphones to sing through and could sing when I wanted to. So, I started DJ'ing and singing over my own sets.
Musician Coaching:
I confess that I never got deep into dance or house music culture. So, the fact that I know your name speaks to your success as a DJ. How did you go about marketing yourself? What did you do that you think helped you establish a real career as so many other DJs were falling by the wayside?
Colette:
I never gave up, and I worked seven days a week. I went to college and got a degree in art. At the time, I didn't know you could go to school and study electronic music. I know now that there were a couple kids that were doing that, but when I was graduating high school, I wasn't aware of it. So I went into painting. But at the same time, I was working in clubs. I lived on naps because I was working nights and going to school during the day.
As soon as I graduated from college, I got a job at Gramophone Records and at UC Music. I was still throwing events as well as DJ'ing. I was working every day and constantly. I think sometimes people make the assumption that if you're working in dance music or the night life industry, you're just showing up, drinking cocktails and dancing. It's actually non-stop work. It's a lot of promoting events, music and really letting people know what is going on and what you're working on.
Musician Coaching:
That type of promotion is a really difficult skill to master for most musicians. Most of them feel really self-conscious about self-promotion. I commend you for being able to do that, because it doesn't come easily to most artists.
Colette:
I think there's a fine line between talking about music/inviting people to come see someone play and being obnoxious and overly self-focused. Because I started promoting other DJs first, I got used to having those types of conversations, and the process just became very organic. I would go out to other nights and just talk about what we had going on. It wasn't like I was on a corner passing out flyers. I was genuinely inviting people to experience the music we were putting on.
When I started doing my own music, I kept that same spirit. I wasn't in their face. I just was inviting people to come and experience the whole DJ night. It was about everyone's music that was participating, not just my own.
Musician Coaching:
I often tell people that getting people interested in them as artists is difficult. They have to have something else going on in their lives to talk about that isn't just focused on them. It sounds like you were doing so many collaborations that it allowed you to talk about not only yourself, but also your peers.
Colette:
Yes. There are so many things that go into making music. And I have always been more of a songwriter than a producer. I will be in the room and have ideas and thoughts about what I want things to sound like during the production process, but I'm always collaborating with other artists and producers and have always been really honest about that.
I know some artists have ghost writers and other people making the music and still claim full responsibility for it themselves. But I always want people to know how many people worked on a song. The only person I know who really does everything himself is Prince.
Musician Coaching:
People think they can do the Prince thing. And not all of us get touched by that kind of genius.
Colette:
I love working with a group of people and find it really inspiring. I don't want to be locked up in a studio by myself for eight hours a day, so I've always been very honest about who I am working with. I have also always been very honest about my age. I know some people believe everyone has to be 25. But it's a long road. And I don't want anyone who is 16 to feel like if they haven't made it by the time they're 20, it's all over for them. It takes a lot of time to make it. And I've learned so much throughout the process.
Musician Coaching:

And on that note, what would you tell your 16-year old self, looking back?
Colette:
Be patient. Keep learning your craft, because that's the most important thing. There are really no shortcuts. I'm finally just now starting to understand that.
Musician Coaching:
What about the business side of things? I know you wound up signing to OM Records, but now you're an independent artist releasing music on your own. You are out there promoting everything yourself. What has worked for you business wise?
Colette:
The business side is definitely just as relevant and important as the artistic side. I became a corporation in 2001, because I think as an artist it's important to have a legitimate business, especially when you're an independent contractor.
To be totally honest, I tend to learn everything the hard way. I didn't have a company, and then I was just DJ'ing. One year, the government totally reamed me, and I paid an exorbitant amount of taxes. My account told me that if I were a company, I would be able to write off all these business expenses. As a person, you can't. So, you have to have a company. All these expenses are valid. For example, when you buy a flight to go play a show, you should be able to write it off.
Since I set up a corporation, things have become a lot more solid for me, both as an artist and as a business person.
Musician Coaching:
What about the marketing side of your career? Were there specific tactics you used to make sure people knew about you?
Colette:
I've been really lucky, because I've worked with a lot of great labels over the years. My first mix CD came out on Afterhours, a big label in Chicago. And then I moved to Los Angeles a year after that. I was playing a small club, and someone from Nettwerk Records saw me singing and playing music. I got my first really big mix compilation with them. And this was around the time Nettwerk had just picked up Coldplay. I actually played an after party after one of their shows. There were a lot of little opportunities that came my way – all these happy accidents.
I did my first big mix with Nettwerk and went on a big tour to support it. And a year later, I got signed to OM Records at the end of 2004. And I had already been working on songs for my first album for three years at that point. I had already released 18 singles at that point, but that experience is just not the same as making a full record in my opinion. Releasing a full album has always been more important to me than making singles. My album that just came out is the first album I've released in six years. And I released tons of singles in between my last album and this one. But when I release an album, I usually get more attention from people who listen to music than when I just release a single. 
Musician Coaching:
I think it's easier to be faceless on a single. A body of work speaks more to the culture of an artist. And we're not selling recorded music as much as we're selling a branded culture these days.
Now that you're doing all this on your own after having been on a bunch of labels, how are you experiencing your career differently?
Colette:
One of the reasons I decided to release the album on my own is that the climate of the label system – especially independent labels – is really tough for artists. In the last eight years, people have developed the ability to download music for free wherever they want, and that has made it hard for any label to exist. They have to find different ways to monetize, and it's usually by selling merchandise – not really by making music.
I really believed in this record. I played it for a lot of labels, and they wanted to change little things here and there. I had already changed the record to the point where I knew it was done and I needed to put it out, because we had written and re-written and re-recorded everything. We wrote 20 songs, and in the end, only 11 made the cut.
Making music is all a matter of opinion; there's no fact attached to what makes a good song. And I didn't want to wait another year for my songs to come out, so I decided to do it on my own. And doing it on your own is so much work, but I know what's going into it now. I know how much needs to be done, and I know it's getting done, because I am responsible.
Musician Coaching:
Well, and you hired Girlie Action to help you with PR. Can you talk me through that process a little bit?
Colette:
When I decided to be an independent artist, it became important to me to have a publicist. I actually think a publicist is even more important than a label in the current climate. Because you can release music on your own now, you need people to know about it. And of course, labels hire publicists.
I started a label two years ago, mainly so I could release music whenever I wanted to and not have anyone else dictate the style it should be. It's similar to why I started DJ'ing:  I didn't want to stand around and wait for someone to tell me I could sing. As a person making music, I don't want to wait around for a label to tell me when and how I could release it. It was perfect, because when this album was done, I already had a home for it. But I still had to worry about people knowing about it. You can make an album and put it out, but if no one knows about it, what's the point?
I had been talking to one of my friends, and she worked with Girlie Action and said they were amazing. I asked around, and all the reviews were great. And I have to say, now that I've been working with them, I think they're great. They're an amazing group of people, and I love that they listened to the record before they made a decision to work with me.
Musician Coaching:
It's so tragic, but some PR firms really don't listen or don't care what it sounds like. They will just take your business.
Colette:
And you want a PR firm that believes in your project. You want your PR company to be able to tell people, "We love this record, and we want you to listen to it" and mean it. Otherwise, the message is, "This artist paid us some money. You should listen to this record."
Musician Coaching:
Did you hire any other team members aside from Girlie Action?
Colette:
No.
Musician Coaching:
So, your label isn't distributed by one of the affiliates of a major?
Colette:
It's distributed by Orchard. I've only been with them for a little while. And we're looking for someone to do the licensing, which has been challenging. Once again, anyone who is really worthwhile to work with can't just be called up. You have to have someone introduce you. That's one of the things that's really interesting about being an independent artist or having a very boutique label:  It's really true that "It's who you know." The company I'm looking into, for example, has an email listed on its website, but then it says, "We don't take any solicitations." So you can't just approach.
Musician Coaching:
You have to be vouched for. It's just the way it is for companies of value. If you can come through the front door, the company is often just not of as high quality.
Colette:
Because I have been making music for as long as I have, I've met a lot of people and luckily discovered I already have some connections with people I want to work with. It's not an easy road, but at the same time, because of all these different relationships I have, I've been lucky to be able to connect to a lot of the people I want to work with.
Musician Coaching:
And you got funding for this album through a PledgeMusic campaign. Do you have advice for people who are self-releasing music using this method?
Colette:
The reason I chose PledgeMusic over Kickstarter or another crowdfunding platform is that it's specifically for musicians. I was nervous about doing it, because it's promoting yourself and also asking everyone to help you in the biggest way possible. We're in an age where people can just go online, Google a song and find a place to download it. And when you do this type of campaign, you're saying, "I'm trying to make this music, and I can't do it without your help." And you don't know how people will react. But I needed the help, because making an album is a huge endeavor. I actually put in more money than we made through the Pledge, so we didn't really do it all through that campaign. I found out about crowdfunding a little bit late. I know there are some artists that have a Pledge campaign running for a whole year while they're making a record, so you see the process happening. We had already made the album, so we just used PledgeMusic to tell people we were releasing it and give them a chance to pre-order it. We needed help with mastering, mixing and printing the CDs.
The experience was really incredible. I couldn't believe it. It was one of the hardest things I've ever done, because it was promoting the music in a way I had never promoted anything before. I was talking about my music every day, and it was really an intense experience. A crowdfunding campaign is the one time when you really have to do what you were talking about before:  You are constantly saying, "Check me out." Because, the campaign only lasts 30 days, and you need to get people to help you release the music.
Everyone was so positive throughout the process. We played music for them before it came out. And people had conversations about songs with each other. I've never done that before.
Musician Coaching:
What was the biggest driver for the campaign? For example, did social media bring more awareness or was it email, etc.? What was the most successful way to get people to pledge?
Colette: 
It was definitely social media. I had email lists, but I'm not sure why people really signed up for them, because they weren't participating. It was all Facebook and Twitter. And also, my husband really rallied. He was helping with the campaign every day. I think it's a little bit easier when you're promoting someone else than it is when you're just talking about yourself. My husband made up games to help with it and he actually got all these people who don't even listen to dance music to pay attention and come to support the project because they were excited to help an independent artist.
You have to remember that it's not just about your genre or your little world of music. There are people out there that just really love the idea of others making art and putting it out. And they will be there to support it if they can find it.
Musician Coaching:
How did you determine the different tiers of participation and rewards?
Colette:
I spent a lot of time researching the process before I actually did it. I looked at other people's PledgeMusic pages and saw what they were offering. Some of the offerings were kind of silly. For example, one person said, "I'll get a tattoo with you," which I thought was incredible. But can you imagine getting a matching tattoo with an artist you really love? It's kind of amazing.
Musician Coaching:
Well, and Tool put up some pretty crazy things, which I think they intended to be a joke. In some of the higher donation ranges – I think $5,000 – $15,000 – they had something along the lines of, "You can drop acid with us."
Colette:
Wow. I am definitely not so adventurous that I would want to get a tattoo or drop acid with anyone, but when I was figuring out my levels, I actually found a box of cassette tapes that had my first mix on them. They were from 1998 or 1999. And that was one of the things I put up, because people were always asking about this tape. And it was funny:  Those who bid on it didn't know it was a cassette tape. And they were surprised it was an actual tape when they got it. I had been pretty clear that it was a cassette tape and even had a picture of it. And they were excited, but a lot of them didn't even have a tape player. But we have a link to the digital version, so I was able to send that out to people.
So, I had the mixtapes. And then, the thing we did that was pretty different was that we threw a party through PledgeMusic. It's happening next month at the Viper Room. And you can only get tickets through PledgeMusic. It's been insane. I've never sold tickets to a show three months ahead of time. Normally, I'm amazed if I even sell 10 presale tickets. Everyone usually just shows up and pays at the door. And we managed to sell out. It should be a really cool show. Mark Farina is going to play a mushroom jazz set. And then I will perform all the songs from my album. I've never really done that before. I will usually perform four or five songs from a new record. So, this will be the first time I'll do the whole thing. I thought that would be really special to offer through PledgeMusic. Putting together this show was the most stressful part of my campaign, but it worked out.
I also had some other rewards that were interesting. I sold an old tour mic and also had a few Skype sessions. I've already done those. Those were interesting, because I thought people would just want to talk about music, but they really wanted to talk about everything. They wanted to talk about what was going on with me, but also what was going on with them. In the end, everyone was so sweet.
Musician Coaching:  
And speaking of that, where do you feel like you connect with your fans the most personally?
Colette:
I would say Facebook has been great for me. I have a website, but Facebook is where I can have the most interaction with people that want to learn about me and hear my music.
You can learn more about Colette on her website and her Facebook Fan Page or follow her on Twitter. Her new album When The Music's Loud is available now on iTunes.