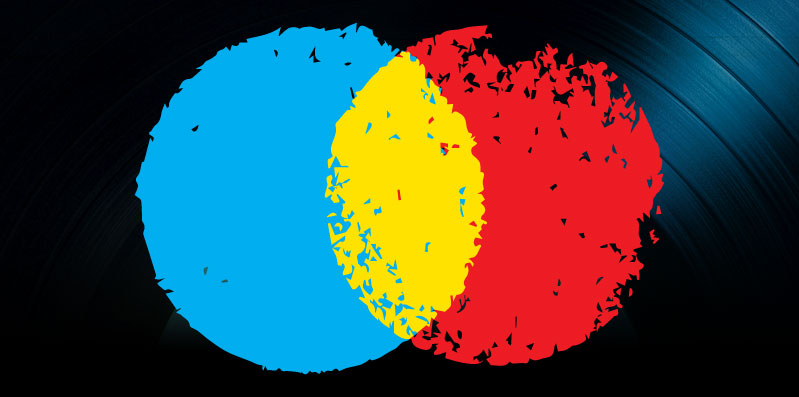 How to Run an Indie Record Label
This interview was originally published in March 2014.
Andreas Katsambas is the founder of The End Records, a Brooklyn-based indie record label specializing in alt/indie, rock and metal music. He officially started the label in 1998 in L.A. when he noticed while attending local shows as a fan that many of the opening bands did not have the resources to grow and develop their careers. After running the label out of his second bedroom for three years while working another full-time job, he decided to focus on it full time, eventually starting a mail-order music service called The Omega to help promote The End Records, attract potential distributors and earn money to help run it. Andreas signed with Sony Red in 2005 and moved his business to a warehouse in the Williamsburg neighborhood of Brooklyn, NY in 2006. The label now also has a merch arm as well as a full team of in-house music industry professionals dedicated to social media, PR, college radio and other critical points of focus for indie artists in the Digital Age. Through The End Records, Andreas has worked with artists including The Charlatans, Badly Drawn Boy, Petula Clark, Danzig, The Lemonheads, The Dandy Warhols, Juliette Lewis, Nina Persson and Better Than Ezra.
Andreas talked about how he built The End Records and what sets it apart from other indie record labels. He also revealed some qualities that successful artists share and delivered some advice about areas bands should be focusing on in order to thrive in the current music industry.    
Musician Coaching:
Thanks so much for talking to me, Andreas. How did you go about starting the End Records and building it into the label it is today?
AK:
It started in college in CA. I graduated in 1995, but my wife was still in school at that point, and I had a year before we were going to have to decide what we were going to do next. I had a friend, Sergei, that was into the same type of music I was – bands like Guns N' Roses, Slayer, and others. And it was so easy for me to go check out bands, so I would go see live music – sometimes with friends, sometimes by myself.
My wife and I moved to L.A. after she graduated, but I kept in touch with Sergei. I had been going to a lot of shows and meeting people, and I told him there were some bands that had been asking for my help. I realized there were a lot of bands from the L.A. area – especially those opening for larger acts – that were looking for help, because they did not know how to grow and develop. So, in about 1998, Sergei and I decided it would be fun to do something different and try to help them.
Sergei and I both had a business degree, so we decided if we were going to try this, we were going to have to set it up as a real business entity. I started doing marketing budgets and profits and losses statements and other projections as well as raising funds for advertisements and approaching stores like Tower Records and other small retailers in L.A. I was getting a lot of positive reactions, so we decided to give it a try and work with a bunch of baby bands.
I realized while having a day job and trying to do this on the side that it was actually a lot of work. There were times I'd be up until 3 a.m., then wake up again at 6 a.m. to work on the business before I had to go to my other job. And my business partner was having the same experience, so pretty soon, he said that even though he enjoyed music, he needed to get out of it. We came up with an agreement, and I took it on myself. I was running the business out of my second bedroom for a couple years.
In 2001, the business had grown to the point where I decided I was going to run it full time and just see where it went. Slowly, I was able to hire my first employee. And I started contacting distributors, but I wasn't getting much of a reaction from national distributors. Finally, one of them called me back and said, "Your music is really interesting, but it's a little too 'out there' – too weird. If you manage to find a way to sell this properly, then you'll get a lot of attention and national distribution."
As a last resort, I started a mail-order service called The Omega, which, of course is another term for "the end." I started selling through the mail order by going to forums and posting about our music. That was growing on the side, and in a couple years, the mail order was actually slightly bigger than the label, and it was helping get the word out about our music. By 2004, I was getting calls from national distributors asking me for a deal.
In 2005, we decided to sign with Sony Red, because I was very happy with their approach and way of thinking. I would fly to New York once a month to meet up with them, and eventually in 2006, we decided that if this was going to grow, we needed to be close to each other. I had quite a few employees at that point, and I packed up everything and moved to New York. I found a warehouse in Brooklyn that allowed us to have the record label, The End, in the front and the mail order in the back. We've kept it there ever since, even though we've grown, diversified and added a merch component to the business as well.
It's kind of funny now, because some of my employees were concerned when we opened in 2006, because the neighborhood in Brooklyn – which is near Bushwick in Williamsburg – was kind of sketchy at the time. But now, it is where everything is happening and is one of the most vibrant areas in New York, with tons of restaurants, bars and places to hear live music. There are block parties with people like Andrew W.K. headlining and tons of rehearsal spaces. Initially, we came here because we couldn't afford anything else in New York, but eventually we found ourselves in the heart of a great neighborhood for music.
Musician Coaching:
And you're distributed through ADA Music now. Your focus, from what I can tell, is on taking artists that already have established careers. In many cases, you seem to be doing better by these artists than the labels they were with previously. And I also noticed that your company is multi-tiered, which is an interesting business model, even though I think all music businesses have to be multifaceted these days in order to survive. What are you doing differently from the majors and other indie labels?
AK:
There are a couple reasons our philosophy is different. The first is that I started the label without any experience in the music business. All I wanted to do was work with musicians I really like and admire. Back in the early days, I had very limited resources, so I could only work with underground artists. I couldn't afford to work with any big names because I didn't have the resources or the infrastructure to help them properly. So, I had to make a conscious effort to only work with acts I could handle.
As we grew, I kept the same mindset. Again, because I had no other experience in the music business, I didn't know any different approach. If we were going to sign someone, we needed to be able to get behind them 100 percent. The company got bigger, and it was easy for me to see where we were improving and where we needed to improve. Moving to New York enabled me to be closer to my distributor, and I was able to bounce ideas back and forth and get feedback – something I couldn't do when I was in L.A. I was also able to develop my network. So, I understood where our role was in the industry, and I knew I wanted to stay an indie company, because it would give us the freedom to do the kind of work I wanted to do with artists. Being in New York, I was also able to develop relationships with better radio people, PR people, magazines and other entities that are very important to developing artists, so I felt more comfortable signing bigger bands and bigger names.
I never saw myself as an A&R guy, but I am very strong when it comes to numbers and projections. And I have always treated releases in a way where I use both my heart and my mind:  I want to sign artists because I loved their music, but I also want to make sure I develop artists properly from a business standpoint. I don't want to just throw a bunch of money at something and hope it sticks. When I started the company, whenever I did a retail budget, I wrote proper budgets and programs specific to each different account. I could go to a place like Best Buy and propose, "How about we do this program? It will cost X number of dollars." I was going down the line and doing projections and was able to actually analyze how I could properly execute a release without losing a lot of money or taking crazy risks. I developed the business slowly, and as we started making money, I was able to reinvest that money back into the company to help get it to each subsequent level.
I also have always made sure to take care of artists to make sure they are happy with the work we're doing for them. I think our transparency has helped them feel more comfortable with the process. They feel like they are a part of the process of putting out their own releases. The way I've built the business has helped me understand the very minute details of releasing music and also develop really solid relationships with artists, retailers, etc. At the end of the day, I am able to be very focused and stick to a consistent end result. I've seen great results with bands like The Charlatans, The Lemonheads, Mindless Self Indulgence and the other artists we've worked with. We actually just picked up Better Than Ezra.
Musician Coaching:
How do you think the structure of your company and particularly the fact that you have diversified so much has helped you grow?
AK:
In many ways, some of our choices have been conscious. In other ways, they've just come together. The structure is all based in the fact that I saw the industry shifting, particularly in the first three or four years. A lot of people point to Napster as the catalyst, but I was still a baby label when that was happening, so that didn't really impact me at that point. The first shift I saw that hit me hard was when Tower Records went under. There was a huge void in the marketplace, and I didn't really see any other companies making up for that loss. Then Trans World was closing a lot of accounts, and it was getting a lot more difficult to get product into Best Buy. And Hot Topic was shrinking its music budget, too.
I realized that physical products were going to fizzle out quickly, and the only growth I kept seeing was in the digital areas. Having followed metal music for a long time, I knew that market was very cyclical as well. The End Records became known for being a label that does a lot of heavy music, but personally, I listen to many different formats. In the beginning, I felt like if we were going to diversify, we needed to do it. There were a couple opportunities to jump into alternative and rock and see what can happen on a grander scale.
I made a conscious effort to diversify, but when you try to diversify, the challenges triple. You have to find new PR outlets to promote the music, develop different relationships with radio and advertise in different areas. It was a lot of hard work and made me understand why a lot of indie labels prefer to stay niche. When you diversify, you have to be able to expand your resources and juggle a lot of different relationships at the same time. It took us about two years to feel comfortable expanding to other formats. But by doing so, I got to work with a lot of freelance music industry people, and I discovered that if I was going to make the business work, I was going to have to start building my own team internally. I brought in a bunch of people in house:  a social media person; a PR person; a college radio person; a graphics expert and eventually another PR person. Recently, I brought in someone to do YouTube for us. That person creates videos, builds playlists and also builds up a YouTube street team. And about three months ago, I brought in someone who worked at iTunes for several years to help curate the editorial for alternative rock and metal pages. I think that has brought a resource into the company that very few indie labels have.
At this point, aside from someone dedicated to commercial radio, we have everything we could possibly need in house. That makes us very appealing. People see we have a full team internally and know they won't have to go chase down outside people every time we take on a new project.
Musician Coaching:
Clearly you've had a long career. And I think people in the music industry are often like professional athletes:  If they are around for ten years, they're lifers. Most people only get a very small run.
As someone who has worked with both independent artists and name-brand artists, what qualities do you think separate the artists that have been successful from the artists that have not made it?
AK:
There are a lot of variables in trying to be an artist. I've seen very hard-working, talented artists that never get the break they deserve. I've also seen artists just put out one song, have something connect and blow up overnight.
There are a few things I think are always present in someone that succeeds. Number one, that person is always focusing on the music and on trying to be a better musician. If you want to be the best at anything, you have to practice your skills. Things are different from how they were 20 years ago, and the music industry is a lot more competitive. You can't be just good or even very good; you have to be absolutely amazing.
Number two, the artist needs to be very responsible about getting music and content out through social medial. Everything revolves around how you portray your name as an artist and your music through Facebook, your website, Twitter, etc. If you can't do it, you have to find someone that is very good at it.
The third thing is, once you find a team to work with, you need to commit to working with that team. Sometimes when we hit up artists, we will have a really hard time getting feedback or responses. When they are very slow to get back to us, we end up missing opportunities, and it becomes hard for us to keep chasing them all the time. I wouldn't say we always just move on, but if an artist really cares about what they do, it makes our job a lot easier, in the same way that if we do our job right as a company, it makes our distributors' job a lot easier, and allows them to do a lot more for us.
I think those are the three key elements for success these days. Of course, there are no guarantees. If an artist just happens to get lucky early on and does not have those three elements, I think their career will eventually fizzle, and they will lose their chance. Just because an artist gets an opportunity and builds up a name does not mean they will have sustainable success. They have to be hard working, talented, have a good team around them, be committed and portray that enthusiasm and excitement to everyone around them.
Musician Coaching:
Your company is very digital centric, and you have built a real team of people to support that, so you have some expertise in that area. Assuming an artist's music is of great quality, is there one area you think artists should be particularly focused on right now? In other words, do you feel like one platform or area of the music business has greater growth potential than others right now?
AK:
I think YouTube is going to be key in the next couple years, in great part because of its power as a marketing tool. You can build your own street team within the YouTube platform by having them build their own channels and having their own subscribers and influencers help build awareness about you as an artist. And you can also monetize or tap into different channels and grow what you already have going.
And I've been happy so see streaming blowing up. I think the benefit of streaming more than anything else is that you're going to be able to tap into markets we've never been able to tap into before, like China, Brazil, etc. We couldn't previously sell products there, whether digital downloads or CDs, because of the black market. I think eventually streaming services will offer a worldwide platform that we've never seen before in the music business. Even though the revenue streams are small now, as we adapt, I think those will grow. I'm curious to see how that's going to develop. We've seen a lot of streaming services giving free access lately, and I just don't know how that is going to be sustainable. Either they will eventually run out of money or figure out a business model that is profitable for them that will also help us as well.
Touring is very critical for certain formats – heavy metal, rock, alternative – but it is becoming a main revenue stream for a lot of artists, so that means the market is starting to become very saturated. I think counteracting that goes back to your social networks. You definitely need to tour, but you also have to use your socials to develop a base and determine where your best markets are for touring, so you can actually have fans come out and support you in a live environment.
Musician Coaching:
Touring is the Achilles heel of almost every artist I know and always the hardest thing to figure out.
AK:
It's not easy, but New York alone is a huge market. I've seen a lot of baby bands try to jump on a national tour, go on the road and travel coast to coast. I think it is a better idea to build on a regional basis and concentrate on a radius around your hometown. Build up your name in one area, then you can eventually expand further. Touring is so expensive and so competitive, so I think baby bands need to break down their growth into steps so they can build slowly.
To learn more about Andreas Katsambas and the work he does with musicians, check out The End Records' official website.