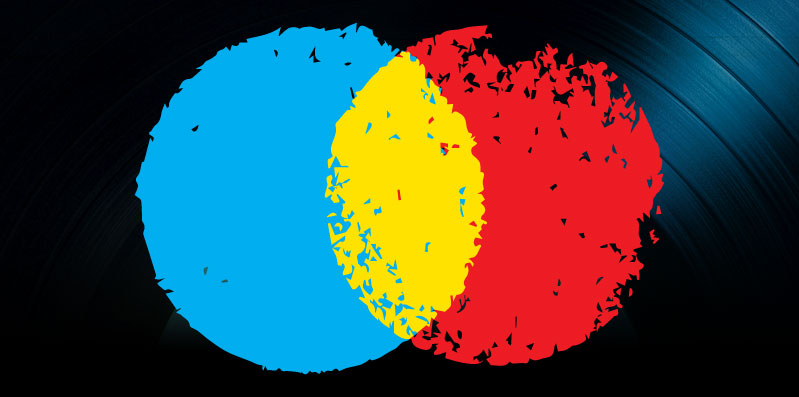 Dave Cool is the Director of Artist Relations at Bandzoogle, a band website platform for musicians that helps them sell their music and merch and sync everything with their social networks, so they can build a solid fan base. Dave got his start in music as a drummer playing for his dad's rock cover band. Throughout his career, he has played in various rock/punk/hardcore bands in the Montreal music scene – with whom he signed a few record deals and played hundreds of shows – run a record label and recorded and produced bands. He also made a film called What is INDIE? A Look into the World of Independent Musicians, which documented the experience of being an indie artist in the music industry through the eyes of 20 artists and a few leading music industry experts. And he co-wrote a guide for singer/songwriters called Your Successful CD Release with Peter Spellman, Director of Career Development at the Berklee College of Music. Prior to accepting his position at Bandzoogle, he worked as Program Director for the St-Ambroise Center and St-Ambroise Terrace, programming over 500 events and helping give away over $15,000 to indie artists through bursary programs. Additionally, he served as the Director of Member Services for the Canadian Independent Recording Artists' Association (CIRAA), helping launch the Groundbreaker Grant Program, which gives $2,000 to indie artists across Canada each month.  
Dave talked to me about how he has seen the music industry change during the past decade and what he has learned about online and offline marketing strategies that work for artists releasing music and playing live shows in the current climate. He also shared some valuable advice about how bands can build websites and social media pages that truly represent their brands and help them build loyal fan bases.     
Musician Coaching:
Thanks so much for taking the time to share some thoughts, Dave. How did you first get started in music, and what made you decide to make a career out of it?
DC:
My Dad trained me like a monkey to play drums when I was 5-years old because he needed a drummer for his rock n' roll cover band. Since then, music is all I've ever known, from playing in my own bands, to working in studios, running a small indie label, booking venues; it's kept me pretty busy over the years, and I'm still having a blast.
Musician Coaching:
You made a film about the experience of being an indie musician in the current climate. What are some of the most interesting things you learned about musicians and the music business through that process?
DC:
Well, to be honest, the biggest lesson I learned from that experience was that there is a lot of gray area in this business. There is no clear path to what most people consider "success," as each artist has their own unique path, and the ones that carve out a full-time career are usually some of the hardest-working people you'll ever meet.
Musician Coaching:
What is your role at Bandzoogle, and what exactly does Bandzoogle do for artists?
DC:
Bandzoogle is a platform for musicians to build their website and manage their direct-to-fan marketing and sales. It's an all-in-one solution to build a powerful website, maintain your fan list and sell digital and physical merchandise, all in one place. The company was founded by a musician and has been around for 10 years now, which as you know, in the music tech world, makes it ancient. The company keeps growing every year, so it's been exciting to join their team, especially considering they're based in my hometown of Montreal, which is a huge source of pride for me.
My official title is "Director of Artist Relations," which essentially means I handle a lot of the public communication with the artist community through blogging, social media and traveling to conferences. It's definitely the most fun I've had working in the industry. I couldn't ask for a better job for my strengths and skill set, so it's been a great fit. They have a small tight-knit team, and I was welcomed with open arms. It really feels like a family.
Musician Coaching:
Because you've spent time as a musician, as well as talking to many musicians as part of making your own film about the industry and have also been deeply involved in music marketing and promotion, you have multiple perspectives of the many changes that have occurred in recent years. What are the most notable ways you've seen the music landscape change in the past decade, and how do you think these changes have affected the way artists promote themselves and the way people listen to music?
DC:
Clearly the biggest changes have been to see technological advances, which have helped to create a level playing field for all musicians. They can now record for cheap, distribute music for cheap and directly reach a potential global audience of fans for practically free through websites, email and social media.
Even I got swept up in the hype and figured, "Awesome! Everyone gets a sustainable career in music!" But it really hasn't been that straightforward. Music fans now have an unlimited choice of music, so they can listen to whatever music they want, whenever they want to. So musicians are now competing for the attention of music fans, who are distracted more than ever by the thousands upon thousands of music options available to them at any given moment as well as other entertainment options like television, movies, video games, etc. This has put a premium on marketing, social media, fan interaction, creativity and of course, great music. Without great songs, there's very little hope to penetrate through the noise.
Musician Coaching:
You co-wrote a guide for artists on successful CD releases. What does a successful CD release process look like for an indie artist? What are some of the most important tips for bands looking to have a successful music release?
DC:
Besides having great music to start with, I think the most important thing would be to really know who you are as an artist, to know what your brand is. Then hire the right team of creative people to help you express that, be it photographers, graphic designers, a publicist, etc.
You also have to know what your unique story is, and figure out creative ways to share that story, starting with the recording of your album. Of course, the marketing of your new album can and should start from the very beginning, when you're writing songs and going into the studio. And fans want to feel like they're an active part of your career, so there's no better way of doing that than by giving them a glimpse into your creative process.
Then, it comes down to planning as much content as you can for blogging, videos, social media, etc. If you can map out some key content strategies in advance, it will make the stress of when the album comes out a bit less overwhelming, especially if you'll be touring, as you'll have a solid foundation of fresh content that will act as pillars for your marketing efforts.
Musician Coaching:
In your opinion, is it still worth it for artists to release a physical product? How does marketing a physical product differ from marketing digital content?
DC:
In certain genres, yes, releasing a physical product still makes sense. For example, in the folk/roots world, CD sales still account for a good chunk of revenue for touring artists. It makes for an affordable takeaway item for fans that can be easily signed by the artist. And of course, we've seen a resurgence of vinyl in many genres, so I think it shows that some fans are still looking for a tangible item as a souvenir or collector's item.
In terms of marketing, if a band is going to have a physical product like a CD or a vinyl, it's probably best to make it something really special. Vinyl of course has the potential for beautiful, full-sized album art and graphics, and with CDs you can make limited editions, or really elaborate booklets.
There's a band based out of Toronto called "Enter the Haggis" who are great at engaging their fan base. Their new CD is basically one big puzzle/treasure hunt. Fans have to dig through clues found in the CD jacket and booklet to find out links to exclusive content online like unreleased tracks, etc. It gives their fans a reason to buy the physical product and also engages with them in a really creative way, which no doubt strengthens the band's relationship with them.
Musician Coaching:
As someone with a lot of experience with online promotion, what would you say are some common mistakes people make with their websites, social media and online presence?
DC:
With websites, the biggest mistake artists can make is not having one. Facebook, Twitter, YouTube and countless other sites are great tools, but all artists should own their own little slice of the internet in the form of a proper dot-com. You own it, and control the experience on your website, plus you can gather important data about the people visiting your site. If you spent all your time focusing on getting fans on MySpace and not spending time directing people to your website and to signing up to your mailing list, chances are you've lost touch with a lot of those fans. Same goes for today's popular social media sites.
For those artists that do have a website, the most common mistake I see is using a website as a static flyer. If the content never changes, if you're not blogging, adding new music, videos, and calendar dates, then fans won't have a reason to go back. Your website should be dynamic and constantly updated with new content to reflect where you are in your career. I should be able to find all the latest news, your latest music, show information, best videos, official photos and all your music and merch for sale on your website as well.
In terms of social media, I think the biggest misunderstanding about social media tools is that they're not broadcasting tools, but conversation tools. If all an artist does is post their tour dates and ask people to buy their music, then fans will likely tune out. But if an artist is actively engaging their fans by asking questions, sharing their story and getting into discussions with their fans, then they'll see the real potential of those tools.
Musician Coaching:
When you're selling a product or branding yourself, you need to give people a reason to go back to your website or interact via social media. There needs to be a two-way conversation. What does a successful content conversation look like? How can someone generate content and make it consistently interesting?
DC:
I think the key to successfully engaging with your fans is, knowing who you are as an artist, what your unique story is and what your passions are. Once you figure that out, you'll attract like-minded people, which will make that dialogue much easier.
You also have to really get to know your fans. What content is resonating with them? Blog posts? Tweets? Photos? Videos? It takes some time, but at first you'll likely have to try a little bit of everything to see what you enjoy and what your fans enjoy engaging with. Some artists love writing blog posts, others hate it and prefer posting photos or videos. Some artists are great using Facebook, others prefer Twitter. I don't think there's a right or wrong approach, as long as you're actively engaging your fans in some meaningful way on a consistent basis. The key is to never leave your fans hanging. If they email you, email back. If they leave a comment on Facebook, respond, or at least "Like" the comment. If they ask a question on Twitter, answer it. It has really become part of the job description for artists to interact with their fans, and since they now have access to an unlimited amount of music, if you leave them hanging, chances are, they'll just go find an artist that won't.
Musician Coaching:
Do you feel it's appropriate for an artist to share personal things on their websites and social media sites that aren't directly related to their business or brand? In other words, do you advocate revealing personal information from outside one's field of expertise, or should everything be relevant?
DC:
I think it comes down to the individual artist. Not every artist is as comfortable sharing their personal life as, say, Amanda Palmer is, but that's ok. I think it goes back to really understanding who you are as an artist, what your unique story is, and then creating content that is an extension of that. If you're comfortable sharing more personal aspects of your life, then by all means go for it – chances are it will connect with people. But I don't think sharing personal details is absolutely necessary.
Musician Coaching:
Musicians often make the mistake of not having a consistent Web presence; their Facebook, Twitter, website and other pages do not fit with each other. Ideally, how should all these online marketing pieces fit together, and how do they work together to create a unified front/unified brand?
DC:
At Bandzoogle we often talk about the "Hub & Spokes" method of marketing yourself online. This means creating a hub for your career with your website, then using all those other tools as your spokes to drive people back to the space that you own and control to gather valuable data and converting them by getting them signed up to your mailing list and shopping at your online store.
The key to all of this is to have a consistent brand across all of your online profiles, then seeding those profiles with interesting content, linking back to your website as often as you can. Then once fans land on your website, you have to be sure to have a clear call to action directing them to the one or two things you'd like them to do as soon as they land on your website. For most emerging artists, this should be to get them signed up to your mailing list, which is still the best tool to stay in touch with your fans over the long term. But it could also be to buy your new album, donate to your crowdfunding campaign or to check out your latest tour dates.
Musician Coaching:
Are there any parting words of advice you have for artists looking to build a successful career in music?
DC:
This is going to sound incredibly cliché, but it really does come down to having great songs and a great live show. If you're so good that people are actively talking about you to their friends, then the rest becomes a lot easier. All the fancy marketing plans and strategies in the world can't make up for an inferior product; there's just too much choice out there today for music fans.
So, as much as guys like me write about marketing and career strategies for musicians, you need to make sure you're not spending all of your time online. The full-time musicians I know are also the hardest-working people I know, and they're constantly writing, rehearsing, and improving themselves.
To learn more about Dave Cool and the work he does with artists, check out Bandzoogle. You can also find him on his Dave Cool website and Twitter.