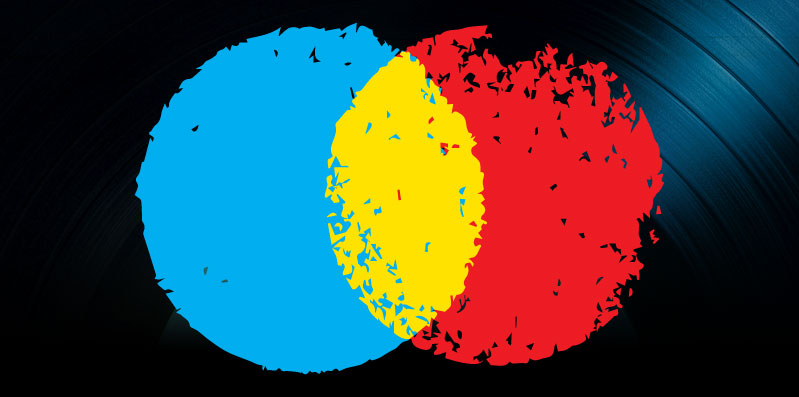 How to Start Your Music Career
Jeff Klein is a guitarist, singer, songwriter and the founder/frontman of the Austin, Texas-based "post-modern southern gothic soul" band My Jerusalem. Originally from upstate New York, Jeff picked up guitar when he was 11 and played in local bands throughout college before moving to Austin. He has put out three albums as a solo artist, is a skilled session musician and also played with The Gutter Twins and Twilight singers before starting My Jerusalem in 2010. With My Jerusalem, Jeff has been on tour with The Wallflowers, X, The Psychedelic Furs, Heartless Bastards and Peter Murphy, played shows with artists including Sigur Ros, The Cure, Muse, D'Angelo and Kings Of Leon and has been featured in Esquire magazine and on MTV. The band's second album, Preachers was released in 2012.
Jeff talked to me about why he chose to make a career in music and what led him to start My Jerusalem. He also shared some tips for artists looking to build genuine relationships within the music industry, improve their live shows and grow their fan base in order to promote themselves and make a sustainable living through their art.
Musician Coaching:
Thanks for taking some time to talk, Jeff. How did you first get involved with music?
JK:
When I was 11, I convinced my parents to get me a guitar and started playing. My brothers listened to a lot of music, so I had always been a big fan. When I finally got the guitar, I learned to play by listening to the records I would steal from them. At about 14, I started a crappy little band with my friends. We would get gigs at local bars in upstate New York.
I kept playing in bands throughout college and eventually moved to Austin, Texas. I played every open mic I could at every coffee shop, bar and venue. Eventually people started liking what I was doing, and I started recording on 4-tracks and putting out tapes. Somewhere along the way, enough different people heard my stuff and liked it, and I was lucky enough to have a company put out a couple records of mine.
The more I met people, the more I got involved in the business. I also started playing guitar on other people's records, and I just never stopped.
Musician Coaching:
And I would imagine some of your peers who played music with you when you were just starting out did not stick with it or get as far as you did. What do you think was different about the way you approached music that helped you establish  a real career?
JK:
When I was growing up, my philosophy was always, "If you don't have anything to fall back on, you don't fall back." I always figured out a way to make things work, pay my bills and make ends meet. And I found a way to make music. I think it's hard to be successful at this if your mind is elsewhere. You really have to focus on your art and your trade and do it as much as you can. Otherwise, you give yourself an easy "out." Music became my whole life. I didn't give myself an option to be involved in anything else but music.   
Musician Coaching:
The guys I've known who have endured are simply the guys who have always had a gig bag on their backs.
JK:
Yes. I play music because I have to, not because I want to. It's something I just have always done.
Musician Coaching:
And now you're leading My Jerusalem and doing well with it. Are you also still doing some work as a sideman?
JK:
Not as much, because My Jerusalem is taking up all my time, which is what I always wanted. When I started My Jerusalem, I was still playing a lot of gigs as a sideman. And it was educational and fun in some ways, but it wasn't really holding my attention. I had already done a lot of solo records, and I just really wanted to be in a band with my friends. So, I recruited a bunch of them, and here we are.
And running a band is a lot of work, so it takes up almost all my time. Every once in a while I will get asked to play guitar or sing on someone else's record, but My Jerusalem is my main focus now, which is a good thing, because it means the band is doing really well.
Musician Coaching:
And you now have a Monolith PR on board for press and have, of course, personally been at this a while, so you have people that are familiar with you and the type of music you make. But what specifically do you think is driving this band to be successful?
JK:
I think we've had a lot of really successful tours and because of that, have been able to develop a great live show. It's great to have a good PR company to get press, but it's critical to be really good at what you do. By the end of this month, we will have done over 200 shows just for the Preachers record, and I think that's what has helped us the most. We've gotten in front of a lot of people that didn't originally know us, and now that they do, they are on board.
Musician Coaching:
From the story you've told me, it sounds like you really became pro when you moved to Austin. How did you go from being a local artist, to a regional artist, to someone who is doing at least 200 shows per year?
JK:
I really just booked every show I could. Nobody wants to jump on a train until it's already rolling. You just have to put in a lot of hard work and start booking your own shows and getting yourself out there. It's physically and emotionally draining. I got to where I am just by being my own publicist, my own booking agent and my own marketing team. You have to be all of those things in the beginning. If you can juggle all those responsibilities, you will eventually attract other people that will support you.
The music business is a weird thing. When you get to the point where you have managers, publicists and a label, you are paying people to care about you as much or even more than you do. You have to show these people you have the confidence and ability to do it on your own, or they won't want to help you.
Musician Coaching:
A lot of people just starting out who come to me for help with their careers will email me cold and say, "I want a manager." And my first thought is often, "Me too." But as you said, you have to work really hard to get to that point.
You are a musician who has toured a lot. You also said you have worked really hard to fine-tune your live show. And I am of the opinion that because of all the recording tools that are inexpensive and readily available to musicians these days, bands don't work as hard on developing their skills at playing live. What are some of the "do"s and "don't"s of building up a live fan base and booking shows?
JK:
I think people, especially those running venues, appreciate it when you keep it short and to the point. When you do play a venue, you want to develop a positive relationship with promoters and others. Once you get to the club, you don't want to be a jerk and start making demands when you are only drawing 10 people. You need to be cool, calm and collected and remember that you are fostering real relationships. Even if you are just playing at a really small place, five years down the line when you are doing a lot better, these promoters might be the same people who are now booking the bigger venues in town. And they will fight for you if you have established good relationships with them. Building personal connections is essential. Promoters are all trying to do the same thing you are as a musician.
You also need to make your financial demands and other things are in line with where you are in your career and be able and willing to do whatever you need to do to make shows happen. In the beginning, you'll see very little payoff for a lot of work. And as frustrating as that can be, you can't take that out on the promoters helping you out, or the fans that are supporting you.
And social media and other types of marketing have made things a little weird for musicians. But at the end of the day, your goal is to get your fans to tell their friends and get more people to listen to your music and come out to see you. A lot of marketing is still really grassroots, despite all the technology. The Internet makes things harder sometimes, because it creates a lot of white noise. But we all know that if we have friends whose opinions we respect, and they point us towards music that is good, we'll check it out. You need to compel fans to share your music with others so you can increase your reach.
Basically, you want to be able to get promoters engaged and fans engaged. You want others to want to be a part of your band's success and create special experiences that will compel people to want to help you. Fans want to feel like they've discovered the next big thing. And promoters also want to feel like they are contributing to the growth of a really good band. 
Musician Coaching:
I think people often forget that social media platforms are meant to be tools that amplify a grassroots up-swell rather than replace one.
On that note, which social media platforms and online tools do you feel have been most helpful to you at promoting your music and growing your fan base?
JK:
We try to use everything a little bit. I think we're definitely able to show more personality and get more personal with fans on platforms like Instagram. You can see more personality through it. I feel like platforms like Facebook are designed to be a bit more informational.
There are just so many things to keep track of:  Instagram; Twitter; Facebook; Vine … But you have to keep up with them, because there are honestly so many platforms and so much noise that sometimes it takes being really active in three different online environments to get one person to remember you. For example, you'll play Philly, and then two days afterwards, someone will post, "Hey, when are you coming to Philly?" on your Facebook wall. Even when you've posted show announcements on Twitter, Facebook, Vine and everywhere else, fans will still miss them.
There's a lot of competition for attention out there in the social media world, and even when someone is keeping track of your posts, they aren't always really looking at them until 10,000 of their friends re-post them, and they see them in every feed.
Musician Coaching:
And what are you doing offline that is helping you attract attention?
JK:
Honestly, we're just working our asses off. We tour a lot. And every day we're on tour, we're doing interviews and events with radio stations. I'll try and sell our art to anyone that will listen and show up anywhere that will have us.
I'm still constantly trying to meet new people. And as a band, you also need to hang out with other bands and make friends. You can always help each other.
Musician Coaching:
A lot of people forget how important that is. They are really insular in their marketing activities.
JK:
Well, and as an example, I became good friends with John Doe from X, and X ended up taking us out on tour. Hang out with other artists. When you meet a band that is at your same level, you might be able to play shows or go out on tour together. Bands are stronger in packs.
Being involved in music is so competitive that you can forget how powerful a sense of community can be. Music has always been about scenes, and people often find out about a new band through other bands. You can't just promote yourself; you have to promote a sense of community around you.
Musician Coaching:
I am always amazed when I would see old footage of now-established bands, because they were always playing with other bands that are now established. They really did all know each other and helped each other succeed. It's funny how the successful bands are all friends, and those friendships often preceded their success.
JK:
Your attitude is also important. Don't let your ego get in the way. You have to be humble as you're going up the ladder and continue to be a nice, cool and fun person.
Musician Coaching:
I was going to ask you about that. You seem very bright and happy, without a lot of musician cynicism, which is nice to see. I know at times it's frustrating to feel like you are constantly going out there and selling yourself. How do you maintain a positive attitude?
JK:
I'm happy because I'm not laying concrete, washing windows or bringing a Fortune 500 COO his coffee. I am eternally grateful, even on the days I don't want to get up and sell my music. I don't have many of those days, but they do come around every once in a while. There are so many worse things in life than getting up on a stage and sharing your art with people.
Also, I like actually having friends and living my life. I've been around people who are completely egomaniacal, and everyone hates them behind their backs. It's no way to live. You'll have more fun if you are friendly and mellow. I plan on doing this for the rest of my life. Stress is a killer in any work environment, and unless you go into your career with a good attitude, you will create major stress for yourself.
Musician Coaching:
Knowing what you know now, what would you tell yourself if you were just starting out as an artist?
JK:
Don't forget to have fun. There have definitely been points in my career where I have been so focused on trying to make things happen that I didn't enjoy it. When you're a kid, you dream of being in Rolling Stone magazine. And then one day, you're in Rolling Stone or playing on Letterman, and you're so wrapped up in everything that you don't even enjoy it; you're just obsessed with getting to the next rung on the ladder. Relax and enjoy the moment, and everything will happen. 
To learn more about Jeff Klein and his music, visit the My Jerusalem website. You can also follow the band on Facebook and Twitter.