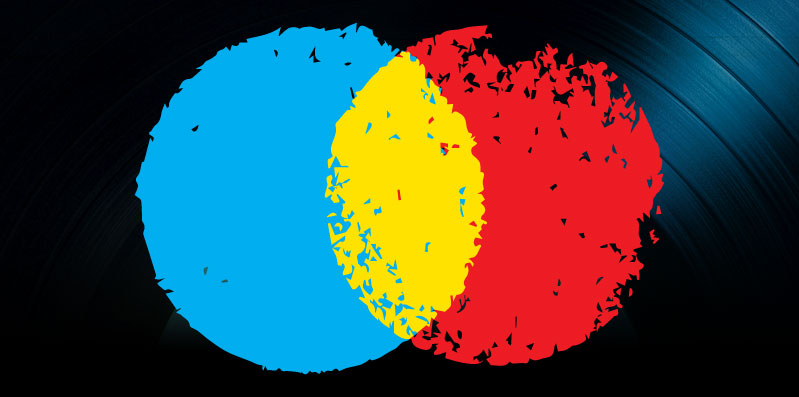 Building a Band with a Mission
Steve McMurry is a guitarist, vocalist and the leader of Acoustic Syndicate, an Americana/rock band based in Western North Carolina also featuring Steve's cousins, brothers Bryon McMurry (banjo, vocals) and Fitz McMurry (drums, vocals) as well as Jay Sanders (bass) and Billy Cardine (dobro). The McMurry family has been in family farming in the same region of Cleveland County, NC since the 1700s. Their love of the land and their serious approach to its stewardship is echoed by the love of the music they make and the care with which they make it and has helped them develop a strong artistic brand nationwide. The seeds of the band were first planted when founding members Steve, Fitz and Bryon were encouraged as children by their parents to pick up instruments and play folk music at family gatherings and in church. In 1992, after briefly separating for college and other work, they officially formed as Acoustic Syndicate and began to play their original songs throughout Asheville, Charlotte, Boone and Greenville, NC. Acoustic Syndicate has been touring and recording music for more than 20 years and has built a strong following regionally and beyond, touring and playing festivals like Bonnaroo, MerleFest, the Telluride Bluegras Festival, Memphis in May and Farm Aid alongside well-known artists including Old Crow Medicine Show, Woode Wood and Band of Horses. They recently released their first record since 2004, Rooftop Garden, produced by Grammy Award winner Stewart Lerman (Boardwalk Empire, Patti Smith, The Roches, Antony and the Johnsons, Crash Test Dummies).
I talked to Steve about how he got involved in music and the process of building relationships with fans and industry people in order to grow Acoustic Syndicate into a nationally-touring act. He also shared some sound advice for other artists that want to successfully create a fulfilling career in music. 
Musician Coaching:
Thanks for taking the time to chat, Steve. Tell me a little bit about Acoustic Syndicate and how you first got into music.
SM:
Two of the guys in Acoustic Syndicate and I are blood related. Fitz, the drummer and Bryon, our banjo/electric guitar player are brothers and my first cousins, and we all grew up on the same farm together. My dad traveled around a lot because of his work, so in the summer, he would ship me off to live with my uncle on the family farm, where my dad and his brother had been raised, and the three of us would play music together.
The story of Acoustic Syndicate really started at Christmastime one year when I was 12, Fitz was 11 and Bryon was about nine, and our parents got together and decided they were going to make a band out of us. They gave me a fiddle, Fitz a guitar and Bryon a banjo, and we played music together at the various family functions. Once in a while, our parents would have us perform at church. We weren't all that good at first, but we had a lot of fun and played mostly local folk music – old folk songs and work tunes from around the farm. We were fans of music anyway from an early age and just expanded on that.
We were definitely children of the '80s, so when we hit adolescence and early adulthood, we were really into New Wave music, though our tastes were pretty vastly different from the very traditional music we were playing. We were listening to The Police, The Who, Peter Gabriel and Steely Dan as well as alternative bands of the late '80s. We followed modern music as it evolved and tried to make our own music at the same time.
Musician Coaching:
How did you first build up your fan base and start to go from a local band, to a band that was known regionally and also nationally?
SM:
We started out, of course, as totally local. And we drifted apart for a little bit post high school and during college while we were all doing our own thing. As that period came to a close, Fitz had a job doing corporate sales, and I was a technician. And Bryon was still working on the farm. We were still seeing each other a few times per year at family functions and remained close, but in the early '90s, we came back together. I went to the second MerleFest – a music festival in honor of musician Merle Watson in North Wilkesboro, North Carolina. And I got lit on fire for acoustic music again. I was playing guitar rather than fiddle in a couple local bands. I brought up the idea of getting back together with Fitz and Bryon and brought them in on what I was doing. From there, it really just took off by itself.
We initially had some picking sessions around the house and invited a couple friends to come play with us. And it just felt like we were heading towards something, so we eventually made our rehearsals private and worked more seriously on some tunes. In 1992, we found ourselves with enough songs to play a show. We got in touch with a friend of ours that owned a bar in Boone, North Carolina called the Klondike Café and asked if we could come play a show. We handmade flyers and passed them around Boone, and it took off from there.
Musician Coaching:
Most bands don't get the opportunity to tour nationally and many don't pick up a support team with a publicist, etc. From a business perspective, what did you do to book shows and grow the band?
SM:
It was all from the ground, up and was not a speedy process. We did it the hard way, one gig at a time. We got in wherever we could. For the first five years of our existence, we didn't have management and were playing music on a part-time basis. Nothing really gelled until about 1997, and we hired a booking agent out of Charlotte, NC. So, our first big step was finding someone to represent us.
Musician Coaching:
And did you attract representation purely based on the music, or was it a combination of your history together and the music? What do you think first sold the booking agent on you?  
SM:
We were building a pretty big name for ourselves just through guts and determination. We kept hammering away at local gigs around Charlotte, Asheville, Boone and Greenville, NC. Those were the places we could get to after work, so we focused on playing around that area in order to keep our jobs.
We attracted attention because we were always looking for gigs to play, but also because of the music. We always tried to maintain a flavor of individuality. We kept to our own material as much as possible. When we pulled covers into our sets, we tried to make them pretty special. We didn't play anything that was Top 40.
So, we built on that idea of creating something cool and attracted a friend of ours, a booking agent in Charlottesville named Al Hinton, who ended up becoming our manager and a part of what is now Blue Mountain Artists, which is still our booking agency. We were also his first gig as a manager, and he got us into some places we would've never been able to get into on our own, like MerleFest and Bonnaroo. Eventually, the pieces just all started to fall into place.
We changed managers a few times as we outgrew each situation, but we have stuck with Blue Mountain Artists for booking. No relationship is usually as long lasting as the one we've had with them. The reason we've stuck with them is because it's continued to be a good fit for the type of music we play and where we want to go. We've had a great working relationship and have become good friends, which is really important and very rare.
To be honest, a lot of where Acoustic Syndicate is right now is because of a combination of luck and determination. And I swear I'm not bragging here, but one of the key elements of success for the band is also that we're one of the nicest groups of people you'll ever run into. We try to make sure we're friends with everybody we associate with. I mean that literally. Our parents raised us to be respectful, polite and really interested in other people. The world and music is not just about us as a band; it's about all of us. I think that attitude is part of why we're still around and why people still come to see us play and do business with us.    
Musician Coaching:
That's interesting. I know you don't look at building relationships and friendships as solely ways to boost your career, but did you find that there were some relationships that were more valuable than others to growing your career?
SM:
We've always treated everyone the same. My dad would never allow me to play favorites when I was coming up. I don't know why, but that idea was very important to him. He always treated everyone the equally, and I think that was probably the most valuable life lesson I learned from him. My dad was a Methodist minister as well as a farmer, and we moved around a lot. That was why he used to send me to my cousins' in the summer – to keep me grounded and off the streets of whatever town we were living in at the time. But I watched the relationships he built with people on a daily basis, and he was never lopsided, no matter who the person was. I think a lot of that rubbed off on us. His brothers and sisters were all the same way, and they were all the people that raised us. The McMurrys are the core of Acoustic Syndicate.
There is nothing hidden behind the veil of who we are. There's no angle to being friendly … it's just who we are, and success has been a great reward to being nice to people.  
Musician Coaching:
I often have to explain to musicians that being friendly to other musicians is as important as being friendly to music industry people. I think a lot of musicians chase industry as if there is one person that can change their lives. And it devalues what they are capable of putting into their own career.
SM:
That absolutely makes sense to me. Fitz and Bryon are probably the most social of the three of us. I don't think Bryon's ever met a stranger or anybody he didn't like. He's like Roy Rogers. But at the same time, I think I have always gravitated towards musicians first over industry people. When we were getting started, there was a group of musicians we regularly traveled around with and associated with like the Snake Oil Medicine Show, Woody Wood and others in the Asheville scene. And many of those people have gone onto bigger things. For example, Bill Reynolds is in Band of Horses now. When I think back, I realize I definitely spent more time thinking about other musicians than I spent thinking about industry people. I probably should've spent a little more time thinking about the industry, but it has been the way I've operated.
Musician Coaching:
I think your attitude is a good thing. A lot of people get it stuck in their heads that they're going to be Prince, do everything themselves and ignore everyone else that's making music.
SM:
That will only work out for about one-half of one percent of people in music. Most people that think that way are going to wind up having a very short career.
Musician Coaching:
I agree.
Aside from playing in Acoustic Syndicate, you are all professional farmers. It must be difficult to juggle that gig alongside playing in a successful band. Which skills have you learned along the way that have made touring and playing music while tending to the farm possible?
SM:
It's tough. Good planning and being able to look into the crystal ball and see what's coming up next is crucial.
But let me back up for a minute. We were busiest with touring back in 2004. We traveled the country from top to bottom, right to left for about six solid years. The last three years of that were the most productive, leading up to our break in 2005. We thought we might be done back then, as we all were being confronted by some other issues in our lives that required more time than the band would allow us. Fitz had small children, Bryon had small children … and my wife had a serious health issue. It was almost impossible to do it all.
And 2005 was right about the time when the record industry was collapsing under the weight of itself, and labels were struggling to sell records. The industry was taking a turn, and we didn't know which way it was going. The only viable way for us to stay in business at the time was to just keep touring, and we couldn't figure out how to make that work given what we were all up against at home, so we took a step back.
We were off the radar for about two years, but our booking agent kept calling us, because people still wanted to see us play. He didn't see why we couldn't play a couple shows here and there. We shrugged it off for a while, but after a year of getting offers, we got a really serious offer to play a Thanksgiving show at The Orange Peel, a club in Asheville with about a 1,000-person capacity. We talked about it as a band and decided that even though it may not be worth doing, we would go for it. And we sold it out. It was obvious to us at that point that we still had a future, and that people still enjoyed coming out to see us play. After that, we started doing about 15-18 select shows per year. And it steadily started to come back around into something we could focus on again.
We had also been putting together a few songs, and I didn't even know what I was going to do with a couple of them. About three years ago, we started putting together our most recent record, Rooftop Garden, which turned into one of the best things we've ever done. It's probably my favorite record so far – a self-released album on Little King Records. It's really breathed some new life into us. We had a great time making the record, and folks seem to be fired up about the new material.
Musician Coaching:
Do you have any advice for musicians looking to build up a successful touring and recording career?
SM:
Our career has been a roller coaster. The thing that strikes me as being significant is the amount of time we've been playing together. Because of life – which has a way of throwing you some curveballs sometimes – things change. If you're paying attention, you'll adapt with the times. My wife passed away in 2007, and that was one of the reasons we had to back up and regroup. Children are born, people die, things happen. You change jobs and lose your way in the world and try to search for things that will give your life meaning. The whole experience is a journey.
And there's no cookie-cutter formula for making a band successful, especially not when it comes to the type of music we play. We're not in it to get rich or to be on some kind of reality TV show. We do it because we love to play music together; the music we write and perform means something to us and hopefully to other people as well. There is definitely a message that goes along with our music, and we feel compelled to keep sending out that message. Our feeling that we have a mission has definitely contributed to our longevity.
And our mission is really to put good-quality, positive music out there. There's so much shit floating around on the airwaves, and it's unbelievable. Sometimes it makes me nauseous. In my world, music is something you do together with other people that brings you joy and happiness.
I remember reading an interview with James Taylor about two years ago. He was looking back on his career. And say what you will about some of the soft rock or other music he has made throughout his career; he's great. And back in the day, he was the man. He wrote a lot of great songs and experienced every single pitfall you could possibly run into as a musician. In this interview, someone asked him if he had any advice for young musicians, and he basically said, "There are three things you have to watch out for:  always keep yourself out of debt; try to stay free of addiction as much as possible and always try to maintain a healthy relationship." I thought that was awesome advice. I'd be hard-pressed to give you anything more profound than that.
You can learn more about Steve McMurry and his band's music on the official Acoustic Syndicate website and on Facebook. Rooftop Garden released in late September and is available via iTunes.