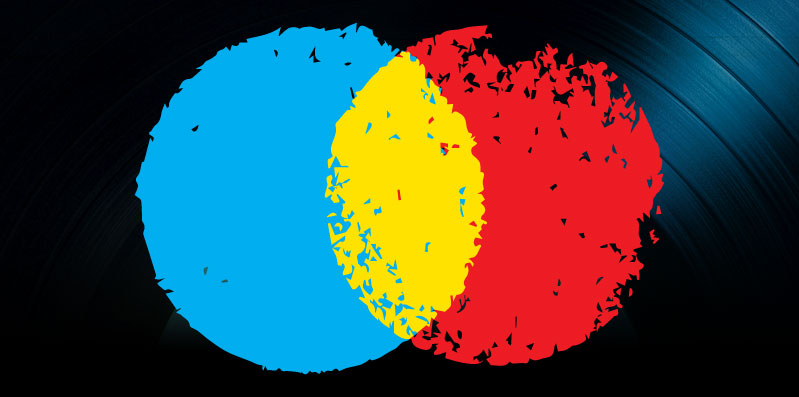 How to Get to the Next Level
This is a re-post of an interview first published in February, 2013.
I often talk about how frustrated I feel when people ask me "how to get to the next level," but then have no idea what that "next level" is. Hopefully this conversation will help you start to think about what the "next level" means to you and your career.
Dave Rose is the president of Deep South Entertainment and the author of the book Everything I Know about the Music Business I Learned from My Cousin Rick:  The Musician's Guide to Success. He got his start as a touring and recording bass player. Founded in 1995, Deep South is an artist and business management firm, record label and concert production company based in Raleigh, North Carolina. Dave has been guiding and developing the careers of multi-platinum artists for over 20 years, including Grammy-winning and Billboard-charting greats such as Bruce Hornsby, Little Feat, Stryper, Marcy Playground, Five for Fighting, Sister Hazel and Butch Walker.
Dave talked to me about the evolution of Deep South, and what inspired him to write a guide for artists to help them navigate the music industry. He also shared some practical advice for bands about how to build a loyal fan base and a successful career that balances carefully-crafted business and marketing strategies with creating great music, both live and in the studio.

Musician Coaching:
I appreciate you taking the time to talk, Dave. How did you get into the music business?
DR:
I got into the business in 1995 with a dear friend of mine, my business partner of 20 years, Andy Martin. We started Deep South Records. The original idea was to put out compilation CDs, and the popular business model at the time was for bands to pay money to be on compilation CDs with the promise and hope that it would get played for bigwigs.
Musician Coaching:
I remember that. And actually, a lot of people got signed off those compilations.
DR:
That's true. But we ended up taking a different approach. We decided not to have bands pay anything and just pick music we like. We had some good success with the first one, which had Marcy Playground's "Sex and Candy" on it.
Over the course of the first three CDs we put out in two years, 17 of the 60 bands got major label deals. I feel like we got more listens from the industry primarily because we got the word out that this music was handpicked, and thus nobody could write a check big enough to make us put them on there if their music wasn't up to par.
Then, two of those bands, as they got record deals, were looking for managers. They came back to us and said, "You got us this far; would you consider managing us?" We said we would, and it kick started us opening the management side of our company. Over the years, we've handled Bruce Hornsby, Little Feet, the '80s Christian metal band Stryper, Marcy Playground and many others. I actually still work with Stryper as their business manager.
Musician Coaching:
So, you basically segued into a management company, also handling business management for some artists.
DR:
Yes. We split our time between artist management and business management. Truthfully, as managers, our strength is really the financial side, making sure tours are profitable and that business affairs are intact. That's why we end up working with a lot of career artists who really need to be on solid ground over a long period of time.
And five years ago, I opened a live music venue in North Carolina as well. We own and operate a small live music venue very similar to Arlene's Grocery called Deep South, The Bar.
Musician Coaching:
And why did you decide to write Everything I Know about the Music Business I Learned from My Cousin Rick?
DR:
From the day we put out the first compilation, I've always liked helping bands, much in the same way you enjoy it. I like helping artists navigate the strange marriage of art and commerce. We've both seen the industry progress over the past 20 years, and artists have really needed to discover alternative forms of income to make their living in the changing industry.
I had a couple artists I was working with that wanted to release small books or collections of small pieces of writing to Kindle to provide an additional stream of revenue and also to have another creative outlet. As a manager, I really didn't know how to navigate the world of Amazon and Kindle on the book side of things. So, I decided to write little pieces about the process of figuring out the self-publishing world. One thing turned into another, and I finally got some people involved and decided to turn it into a big book.
It's really not a big book. It's 170 pages with probably not a single four-syllable word in it, very geared towards musicians.
Musician Coaching:
Given all our attention spans, that's a great length.
DR:
It is. And it's split up in a way where you can really just open the book to any point, start reading, spend three minutes and get a short lesson about something you can do that day that will improve your career.
Musician Coaching:
Can you share a common thread that runs through the book, or some basic concepts it outlines that a lot of artists might not understand as they are building their careers?
DR:
I'll start you with who my cousin Rick is. He was my older and cooler cousin. He had long hair, knew all the hot girls and was the coolest guy I knew. He played me my first rock album, Boston in 1977. The theme of the book is that great music tends to find a way to be heard. If you make great music first and foremost, you will start to see a lot of the pieces to the puzzle fall into place. My book teaches you how to gauge whether or not you're making strides forward in your career. Are people telling other people about your music? If they're not, the book tells you some of the things you can do to change that as you move along, before it's too late.
A very regular phone call I get is from bands that say, "We've incorporated our band. We've trademarked the name. We've set up an operating agreement and have opened a checking account. We have all the paperwork in place. What should we do next?"
And I'll say, "Send me some music."
They'll respond, "Well, we're not there yet. We haven't started writing or recording, but when we do, we'll send it."
This book teaches you how to not put the cart before the horse and how to constantly remind yourself what is important. I know so many musicians that can tell me the ins and outs of a publishing deal, because they've read every textbook-style music industry book out there. But what they can't tell you is whether or not they are progressing musically, or whether their fan base is increasing.   
Musician Coaching:
There are so many numbers out there for musicians. Ever since MySpace started, the idea has been that a musician's self-worth is based on number of views, friends, tweets and re-tweets. What is your gauge? What should numbers look like if things are going well for a band after a year, 20 gigs, etc.?
DR:
I think the greatest barometer is your live show. I love to use the example of Butch Walker. I saw Butch play to about 12 people in my hometown of Raleigh, North Carolina in the mid-90s. He put on his signature Butch Walker-style show:  Volume at 11 and giving 110 percent the whole time. After the show, he stayed in touch with those 12 people and told them when he was coming back. But those people were so passionate about what they had seen, that when he came back to Raleigh about four months later, he played to about 40-50 people. And the third time he played this market, he sold out a small room of about 150 people.
The live show is a perfect barometer. Keep track of your live show attendance. Are your numbers increasing or decreasing? If they're decreasing, it's a hard pill to swallow, but there is generally something wrong. People are clearly not passionately talking about your music to other people.
Musician Coaching:
I think a lot of people are playing a handful of gigs to warm up with the understanding that they need to play live in order to get tighter and hone the performing craft. I don't know when a band or an artist should realize, "I'm not going to get so much dramatically better that I will need to reevaluate my product" and stop that process.
DR:
Well, and I think the Butch Walker example is a really good one, because he had done his 10,000 hours prior to playing to 12 people in Raleigh. He had done over five years of being on a major label and touring nonstop. There are absolutely reasons to play live and do your thing beyond increasing your fan base. You need to try out new songs, get the band tighter and get yourself better as a musician. Just because your crowds aren't improving immediately doesn't mean you need to start completely over.
Musician Coaching:
I'm not a guy who has played thousands of shows, but I've certainly played hundreds. And as someone who has played hundreds, my recollection is that the shows I learned the most from were the ones where I was playing to nobody.
DR:
Exactly. You get so much better because of those shows. And ideally, if you have done many, many hours of touring, playing and writing and are only playing to the bartender and the soundman, ideally you want to play the kind of show that the bartender and the soundman will talk about the next day when they are living their lives, at the coffee shops, telling people what's going on in town. You want them to say, "I saw this show last night that was incredible. No one was there, but next time they come through town, you have to check this out. I'll give you a call." If you can create that reaction in even one or two people, you're headed in the right direction.
Musician Coaching:
It's interesting that you are stressing artists' offline efforts, because most people are so focused on online marketing right now. Are there other barometers artists should use online? I think people are so hell-bent on conquering social media that they have in many ways lost the plot.
DR:
I think you're right. And there are definitely online barometers. There's a chapter in my book called, "Social Media:  It's All about Pizza." I was having a conversation with a 30-something musician who came into my office very distraught over his inability to conquer social media. The misconception is that because it's free, it's also easy. I looked at his tweets and Facebook postings, and they were all making the classic mistakes musicians make who are not good at social media. For example, "Hey Guys, I have a show tonight. Come out and see me at 7." And then you don't hear from the artist until he has another show or product release.
And this artist told me that he would post all this stuff on Facebook and nobody would re-tweet, comment or talk about it. He felt like everything he said was falling on deaf ears. And I told him, "Make a post about pizza. Everybody likes pizza. Ask your fan base where their favorite place to get pizza is and see what kind of response you get."
That day, he posted:  "Where is your favorite pizza joint, anywhere in the nation?" It was unbelievable the reaction he got. The point is, when musicians are missing the plot, it's because they don't realize you have to engage your audience. You can't just provide information.
Musician Coaching:
What did the pizza conversation lead to?
DR:
It led to a conversation, but it also led to a transformation in the way that the artist approached things. Instead of saying, "I have a gig Friday night at 7:00, and you should come out to see me," he started saying things like, "Is anybody going to see the new Will Ferrell movie Friday? I hear it's going to be big. I can't make it because I have a show at Joe's Pub at 7 p.m. Stop by after the movie if you're around, but don't tell me how it ends, because I want to go see it Sunday." He started having conversations with his fan base rather than just feeding them information.
If you're an artist, you need to make what you post on social media about the reader and not yourself. Facebook and Twitter are the new flyering. We used to go out as kids and flyer our shows. This is that. In the days of flyering, if you just walked up to someone and gave them a flyer as they were passing you on the street, you might as well ask that person, "Would you mind throwing this away for me?" Instead, if you actually got to know them through a two minute conversation, then handed them a flyer, they would be 10,000 times more likely to come see you.
Musician Coaching:
I think on social media, broadcasting something is much more offensive than handing someone a flyer; broadcasting information via the Internet is like running at someone with a flyer and punching them in the chest with it.
DR:
That's a perfect analogy.
Musician Coaching:
So, musicians regularly make mistakes with their live shows and fan engagement. Is there a third mistake they frequently make?
DR:
Yes. The third is actually the first. I think the biggest mistake musicians make is that they don't clearly define what their idea of success is. In the book, there's a great transcription of a word-for-word conversation I had with a band that came to meet with me. In a nutshell, they came in, and I asked, "What do you want to do?"
They said, "We want to be successful. Do you know what I mean?"
And I said, "No, I actually don't know what you mean."
They said, "We just want to make a living playing music."
And I said, "Well, that's easy. Here's what you're going to do:  Buy some nice tuxedos and suits, learn some Top 40 and wedding songs, and I'll get you out playing the wedding and corporate circuit. We can have you up and running in 30 days."
They looked disappointedly at one another, and they said, "No. That's not what we want to do. We want to make a living playing the music we write."
So, I said, "Well, that's not as easy. But you can do it. There are some sports bars and menu venues where you set up and play acoustically over in the corner. You don't get rich playing those, but you can definitely make a living."
And again, they ducked their heads down and said it wasn't what they wanted to do. They thought for a few seconds, then came back and said, "We want to be on the radio."
So, I said I could have them on the radio by the afternoon. I told them, "There are thousands of Internet radio stations. All you have to do is upload your song. Very few people listen to the smaller ones, but you will get played by one of them by this afternoon and will have been successful."
This conversation went on and on as they refined what they wanted. Finally, one of them pointed at me and said, "I see what you're doing, Dave. You're trying to confuse us." I told them it was quite the contrary, because they were already confused. They wanted me to help them when they hadn't even defined what they wanted to do.
And that is the biggest mistake. It's amazing how many bands just float, never having a conversation about their definition of success and where they want to be. Once you define exactly where you want to be, it's amazing how different that idea of success is from band to band. And it should be that different. For some, it's playing successful weekend gigs and doing it as a wonderful hobby. For others, it's having millions of fans and becoming the next U2. Regardless of what your definition is, you have to start making lists about how to get there:  short-term lists; long-term lists. I go through examples of what some of those lists can and should be in the book.
Musician Coaching:
I wrote a blog post recently called "Everything You Need to Forget about the Music Industry." One of the things that drives me crazy is when people say, "We just want to get to the next level." It makes me so mad, because I know 99% of the time, those people don't know what "the next level" means.
DR:
No, because they've never defined it for themselves. A lot of what Everything I Know about the Music Business I Learned from My Cousin Rick does is get bands talking. It's encouraging to see the hundreds of emails I've received from bands that say, "Because of your book, I called a band meeting for next week. We are outlining exactly what it is we need to do so we can figure out how to get there."
You're so right that artists don't know what the "next level" is. The biggest underlying advice of my book is to regularly check yourself with your definition of success and figure out if the things you are doing are guiding you in that direction.
Musician Coaching:
Do you have any parting words of advice for artists?
DR:
First and foremost, realize what you want to do. I promise you that you'll never get there if you don't know where you're going. Even some nationally-known acts find themselves frustrated and disappointed 20 years into their career, and I have a feeling it is because they never sat down and defined what they wanted to do. You really need to define a plan and update it almost weekly. I actually encourage artists to write down their plan and then hang it in a visible place, like in their practice room, etc., so they can regularly remind themselves of it.
To learn more about Dave Rose, his book and the work he does with artists, visit the Everything I Know about the Music Business I Learned from My Cousin Rick website.