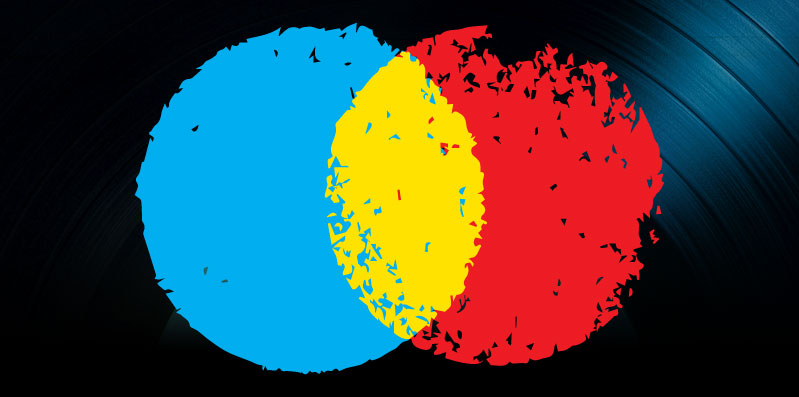 Matt Lunsford is the President and co-founder of Polyvinyl Records, a Champaign Illinois based indie label that has put out hundreds of records since the mid 1990s and has released albums by credible indie acts such as Rainer Maria, Architecture in Helsinki, Someone Still Loves You Boris Yeltsin and Of Montreal. Polyvinyl came about because Matt and his Girlfriend (now wife and Co-founder of the label) were active fans of the Midwest indie scene. They started booking local acts, running a fanzine and eventually releasing 7" albums which was how what Matt described as a full time hobby became a full time business.
Music Consultant:
Matt, thanks for taking the time to speak with me. You started in the business around fifteen years ago. Was the challenge for an indie at that time getting the bands enough money to tour and leveraging your relationships to get them decent rack space in the small indie stores?
ML:
That's completely accurate. It was far different 12-15 years ago than it is now.
Music Consultant:
So your job was to make sure the band was getting press, tour support and rack space in credible indie record stores. What is the challenge today? I imagine some of it is trying to get good real estate on Itunes and Amazon?
ML:
At this point, I feel like the playing field has been leveled to a degree because anyone can find anything online. And because of that, one of the bigger challenges that we're facing is actually trying to make sure we're getting the right amounts of records out into the proper stores and making sure people are able to still find everything they are looking for.
Music Consultant:
Is your business then as an indie skewed more in terms of physical product? Do you have a significant impact with CDs and vinyl?
ML:
In the past few years we've been getting to the point of being half physical and half digital. Especially the last couple years, we've been finding people are much more inclined to buy vinyl, especially when it has a digital download code. We're selling significant amounts more vinyl than ever before. CDs are still selling, but the quantities we're selling are diminishing in favor of digital and vinyl.
Music Consultant:
One of the big obstacles for an unsigned band in years past was distribution. Now that that's been taken away, and people can go directly to TuneCore, is it a harder sell to get the kind of bands you want?
ML:
I can honestly answer that with a "no." We feel we've still been able to work with bands we'd like to work with. And as the label is developing and growing, we keep working with more artists. What we've been able to keep in perspective with working with new artists is that we do offer a lot of things that can't be offered by just throwing up your record on TuneCore.
Music Consultant:
Please elaborate on what Polyvinyl offers and how you have developed to keep up with the growth of the DIY movement.
ML:
We are and always have been a DIY-type label. We understand artists really well, because it's where we came from. If anything, I'm really excited to see the last few years many more artists doing DIY things, releasing their own 7" records, touring hard and playing shows and putting out new songs online or any combination of those things. Inviting blogs or posting things on Tumblr. We work really well with bands like that. The things we do compliment those things. They don't overshadow them and they don't go out to change them. We work with artists in the way that we can provide obviously as a label the means to record albums. But we also provide a lot of services to DIY artists to help them continue to do things DIY and keep growing the band, but not at the expense of having time to tour or write songs. We are really good at putting everything together and coordinating as well as making sure there is a publicist on board and tours are well promoted, and there are enough records and capital to make more records if they sell really well. All those things haven't really changed all that much with digital becoming more available or with TuneCore becoming accessible to bands.
Music Consultant:
So, you're leveraging your relationships to get different placements and using your staff. How many staff members do you have?
ML:
We have 12.
Music Consultant:
I'm guessing you have a dedicated publicist and dedicated tour press… It is so different from the world I knew when I was at when at the majors. What are your different areas of focus at the label?
ML:
That's a good question, and it demonstrates what we do. We have a dedicated production person who is dealing with production, because it is so much more involved. We're doing things like special runs, limited editions, colored vinyl runs, hand silkscreens. These are becoming more interesting and popular with fans and with bands wanting to make things special. We also have done so much more by way of direct-to-consumer sales through our website that we have three people running the mail order department and another person doing IT for the website. We have one person that handles artist and business development, where we take unique and interesting ideas and help our artists utilize them. We recently helped the band Someone Loves You Boris Yeltsin with figuring out how to set up a campaign on the website KickStarter, so they could get a new van. In addition to that we have a publicity person and one dedicated person just to do social networking and online marketing. He manages about 100 different Myspace and Facebook pages. It doesn't take the artist's voice away from them, but it's to help the artist figure out how to troubleshoot problems like "I can't figure out how to code this." It can be such a technical challenge for bands to manage all their social networking: Myspace; Facebook; Tumblr; Twitter. The list goes on and on. We provide one person to help bands do that. We have an in-house retail person, and she is doing some direct sales to boutique indie stores that our distributor doesn't reach, and then she deals with a lot of online digital download sales as well as promotions direct to mom and pop sores. We focus almost primarily on Mom and Pop stores now. For example with our latest Of Montreal record, we are doing listening parties at indie stores throughout the country and doing poster display contest for the stores where we're providing them with an extremely large amount of promotional materials for the album release. We have 70 indie stores throughout the country participating in that. We did well with the last Of Montreal record. There were some things we did with the packaging of that record that were extremely unique. We worked really hard to put it all together.
Music Consultant:
What is the A&R process like these days for indies? At the majors these days, it seems like it is just as much about purchasing existing businesses (bands that already have momentum) than signing artists because they sound great. I know you still look for stuff you love, but what moves the needle for you these days? Has your criteria changed?
ML:
To some degree. We will always continue to put out records we really love and are well-made and good records that will stand the test of time. It's still a really big thing for us. In addition, we want to work with artists that are really excited about being in a band and will work as hard as they can to make their music a career.
Music Consultant:
If an artists doesn't have that, it's not going to work, no matter how hard you push it. Do you do any radio at this point?
ML:
We do a lot of college radio.
Music Consultant:
Do you find that college radio is effective?
ML:
I think part of the question is "effective in what means?" It's partially a way to turn people onto music and partially a marketing tool. I think by getting out music to people that work with college radio, you're getting it out to a core group of people that are on staff or volunteer or are involved with college radio because of class. You're getting it to that core group of people who are pretty big music fans. Just getting it into the hands of those folks alone is worthwhile. And then the listenership of college radio beyond that is obviously an additional reason to get the music out there.
Music Consultant:
That's an interesting way of looking at it as a group of super tastemakers that are surrounding the radio station. They become as important at the listeners themselves.
ML:
That's exactly how we're looking at it. If you're taking the time and effort to be involved with the college radio, more than likely you're involved with a person who appreciates music and is a fan and is interested. We want to make sure those people are hearing the records we're putting out and our bands.
Music Consultant:
What are some common mistakes that artists are making that you think it would be easy to avoid or things they can do better?
ML:
It's funny because I feel like that hasn't really changed all that much. It's still to me a situation where it seems like the artist that are the most involved in doing their art are the ones that ultimately become successful. Sometimes it may take a lot of hard work and a lot of being able to stick with it, but I think for the most part bands that just say, "We should write some songs" and don't do much beyond that are the ones I find might have good songs, but they become difficult to work with in any capacity. The want and need to progress things can be such a major factor in how well a band can do. It has a lot to do with the DIY mentality we came from. The bands we've always worked with are bands that aren't spending all their time and energy trying to get signed. They are primarily spending time on writing new songs, recording, making home recordings, playing shows – even if just regional shows – putting out their own 7" or posting new songs online, making sure to be available to fans or people that want to book them for the college show. It feels like there are so many more proactive things you can do as an artist besides trying to get signed. If you are taking care of business in other areas besides getting signed, getting signed becomes a side effect.
—-
Check out one of the new releases from PolyVinyl – the new Of Montreal Record