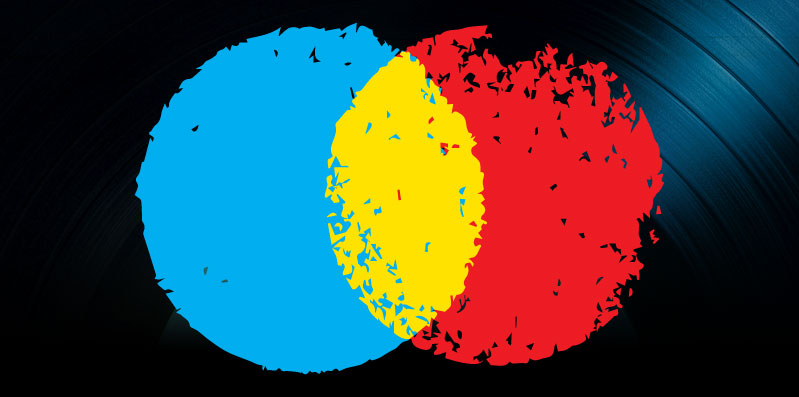 Josh Rabinowitz is the Senior Vice President/Director of Music for Grey Worldwide. He is also Bandleader of the New York City-based funk group The Second Step, a group that has been actively performing for nearly 20 years. In the past decade, he has written and produced several thousand tracks for brands throughout the world. He has worked on ad campaigns with brands like Cover Girl and Dr. Pepper, and artists such as Rihanna, the Black Eyed Peas, Run DMC, Cyndi Lauper and Natasha Bedingfield. He has also worked on music for films including Waking the Dead and Arlington Road. In 2008, Josh created the record label Pantene/Grey Music, which was the first imprint to release music as a joint venture between a brand and its agency. Josh is also an adjunct Professor of Music at The New School and has taught a course on "Music in the Media" at the Steinhardt School of Music Professions at NYU. He is also an occasional contributor to Billboard magazine.
Recently, I connected with Josh, and he shared the story about his unique journey in the music and advertising industries. He also delivered some sound advice for artists that want to build a solid career in music.
Musician Coaching:
Thanks so much for taking some time to talk to me, Josh. I actually opened up for the Second Step when I was a kid. I was playing in a funk band, and anything with horns ended up on the same bill, often enough. You guys were ska back then. How did you come to be in the music business?
JR:
We eventually became a funk band. We started out as a ska band. I joined the band in 1987 and then became the leader of the group and took over the business aspect of the band. I booked all the shows. We were a touring band for a while doing 200-plus shows per year for a while. That's what I was doing for a living at that time, if you can call it a living. During those years, the band was eight or nine people. Now we're a seven-piece band. We still play gigs occasionally. In the summertime we'll play on Block Island, in the Hamptons, or play a private party. We enjoy it. And when it's a hobby, it's a lot more fun than when you're depending on all these gigs to pay bills and feed yourself.
Musician Coaching:

There are certainly easier ways to make money, no question about it.
JR:
But it was an interesting learning experience. My problem was that after I came out of college, I wanted to get into music and was really passionate about it. I just didn't have any great connections. I didn't have any family members that were involved in music, and neither my parents nor I had any friends that were involved in the business of music at all. I really didn't have a foot in the door or a way of getting my foot in the door. That was kind of disconcerting for me.
I tried over the years to get a job. And a lot of the experiences I had with taking the band on the road, being a producer in the studio and as a side musician being a trombone player I felt like I had decent real life resume. I had gone to a music and arts high school in Manhattan and was one of the top students. I thought I had some skills and abilities. But I had no way of really connecting them to money in terms of a job. I tried all kinds of things.
Musician Coaching:

That's a door that a lot of guys that are getting older or having families, but still want to stay in the business or play music as a hobby are trying to get through. How have you been able to find success with that?
JR:
It's interesting, because I graduated college at 22 and didn't get a job until I was 31. So, I eventually got through by banging my head against the wall, trying to connect with people I didn't really know or have great hookups to – just doing everything I could. It was in the age where email wasn't happening yet. So, it was a lot of faxing of resumes, cold calls and then doing whatever I could to just get by, which was essentially playing in the band, which was my main source of income. I was also a substitute music teacher and a music teacher in a public school. My daughter and son ended up both going there. And I was also a sideman on gigs.
I guess what happened was that it came to a point where I didn't really have any promising possibilities. A lot of people told me, "I'd love to have you working in our A&R department," or, "I'd love to have you work in our main agent booking gigs," or, "You should definitely come work in our management department." I got approached with a lot of things that I felt were really exciting and that would turn into something. But they didn't.
Then, I met some guy, and he said, "I've been in the music business for years, and one facet of the industry that seems really interesting is the advertising music sector – the jingle houses."
Musician Coaching:
And which year was this?
JR:
This was when I was about 30. So, it was about 1994.
Musician Coaching:
So, at that time, music and advertising wasn't big yet. It wasn't cool.
JR:
It definitely wasn't cool. And I knew some people that were doing it that I had played with. They talked about how they did these sessions and then got paid session fees. And then they'd go to the union and get some checks. Then, I also knew some people who would just sing in ads and would get crazy money in the mail. I still thought of it as a sell out and not real music. And I was fairly principled, but I did need a job.
I didn't have a way to find out the names of the different jingle houses. Obviously, there was no Google. I would ask people about it, but then finding the phone numbers and information was really hard. I remember once I walked into Barnes and Noble and found a book about advertising. There were a couple pages that listed some of the jingle houses. And I tore the pages out. I think I still have those pages folded up somewhere in a memorabilia folder.
Musician Coaching:
That's a great story.
JR:
Yeah. It's funny to think about now. I found out about some of these places and sent a whole bunch of faxes. And then a guy called me and said, "Why don't you come in, and we'll give it a shot? I'm looking for a guy who isn't really been in the business and hasn't been jaded by the business." And point I had borrowed a couple hundred dollars from my sister and bought a one-way ticket to New Orleans. As a trombone player, I figured, if I was going to be a starving musician, why not try to do it in a place where someone at least supports the type of playing I was doing? And even today, it's amazing how many trombone players you hear about that are coming out of there and surviving doing it. So, maybe I made a mistake!
But, I took a job with this guy at a company called JSM. His name was John Silberman. And I worked with him for a few months. Once I got my foot in the door, I said, "Alright, I'm 31-years old. I have to make something happen." So, I learned the business, which didn't seem too complex to me. And I met a lot of the people. I went to parties, and I read all the industry trades and saw who was doing what. I was in the business, so it was a good way to meet people.
Musician Coaching:
It sounds like you really drank it up, unlike somebody like myself, who stumbled into the business early and took it for granted. It seems like you wrung the life out of it and really seized every opportunity once you got your foot in the door.
JR:
Yeah. I really needed to. I came from a nice, Jewish, middle-class Brooklyn family of professionals. And although there were some pretty unique experiences I look back on now fondly – in my 20s, it felt like, "Everyone is doing pretty well. The economy's not doing badly. Why can't I get a job doing what I love?" Obviously, to be able to sustain yourself doing what you love and playing music is kind of like winning the lottery in some respects; it's very hard to do it. Certainly, I got pretty lucky and got my foot in the door.
JSM didn't work out very well for me in terms of being long term. But I had my eye on the people who were the big-time hitters in the business. And there was a conglomerate called tomandandy. It was two guys that had a place in SoHo on Greene Street and a place out in Santa Monica. And they were doing some really cool film work and cutting-edge advertising work.
Musician Coaching:
And when you were at JSM, were you supervising spots or hiring musicians? What kind of role did you start out having when you got into the business?
JR:
I was hiring musicians, I was working on projects and was the point person between the music company and composers, engineers, musicians and advertising agency production people.
Musician Coaching:
So, you had to speak a collection of languages.
JR:
Yes. It's useful knowing the language and balancing it with the business practices, and it was just about that and being a good and reliable person; those are all key skills in any business. It was also creating original music. Essentially, I created some jingles with singing in them, but a lot of instrumental music.
Then I started working at this place tomandandy, and they were working with "cooler" people and on more creative projects. I was hired as a producer and contractor of musicians and then became the executive producer there. I worked there for several years there. The problem I had with that business was the reality in the industry that if you are a truly creative spirit and have some sort of creative vision and think your work is great, that doesn't necessarily mean the people you are selling to think it is great. And it was hard for me to swallow that. I wasn't very good at taking the hits.
Then I thought, "What can I do next in this business? I can start my own company. But I can't take the hits very well. Or, I could move over to the other side and be the person who's hiring people to do the music. Maybe I can soften the blows and try to make some cool things happen." And the advertising agencies were already my clients. So, there was an opening I'd heard about at one of the big ad agencies called Young and Rubicam (Y&R). And I connected well with them, and got the job. I ended up working there for seven years. That was probably 1998. And at that point, people were starting to license music a lot more for ads.
Musician Coaching:
Right. Well, the Cadillac commercial with Led Zeppelin was in the late '90s. It's the one I always think of as blowing the doors wide open.
JR:
Yeah. That was an important one. There were a few in the late '90s. Sting had one where they used his song "Desert Rose." He licensed it gratis to Jaguar. They used it, and it actually really helped boost his record sales. Moby was also starting to get in on it, and there was a great deal of attention around him. It was almost like you were clicking the remote to your TV and seeing classic rock radio station after classic rock radio station. But it was mostly famous, well-known songs, and not songs from emerging artists. Eventually, of course, it became about emerging artists.
When I got to Y&R I was responsible for specific accounts and the music used in those accounts, including creating original music – which was almost the entirety of it – and some licensing of existing songs. And I got lucky enough to work with a bunch of artists, because this was a time when artists were seeking revenue opportunities and getting paid pretty decent money to be part of an ad, whether in the ad itself or writing the music for the ad. I got to work with an array of people, like the Black Eyed Peas before they were famous. I worked with Run DMC, LL Cool J, Celia Cruz, Mark McGrath, Macy Gray – there were a bunch. I also did a spot with an artist named Alana Davis who was critically acclaimed, but not necessarily a huge name. We did a spot where they put a chyron on the spot that listed the name of the artist, the song and where you can download it. We also did a synergized deal with Sony Records where we released a CD single of a version of a Crosby, Stills and Nash song that was on an ad. It got a lot of attention around the time of the Super Bowl.
Fortunately, I've been involved in some projects that have been bucking the trend and ahead of the curve. So, I've been able to get some press and create a name for myself. Eventually, there was an opening at Grey, where they wanted someone to head their music group and bring some mojo to it. They hired me about six years ago. At Grey, we've done a bunch of cool things, and I've had some great opportunities. I've been able to do a lot of moderating of panels and some op-ed work. I was a columnist at Billboard for a while doing a column called "With the Brand." I've done a lot of extra-curricular work.
Musician Coaching:
Another reason I wanted to talk to you is because you're very good at managing your own personal brand, which these days it's good for every musician to be able to do. You're someone who is paying real attention to how you're perceived in the modern era. And that's important. It's not just self-preserving; it's self sustaining.
JR:
I think of it as self-sustaining. That's totally the phrase I use. In any field that's associated with the media, entertainment and music, you have to be self-sustaining in appropriate ways. There are inappropriate people who are completely self-serving. The way I look at it is, it's very hard to survive doing any kind of music work consistently. And certainly, with the way the economy is, it's just becoming incredibly challenging. We are all feeling the strain.
Musician Coaching:
You've been a musician concurrent to your executive career, so you have a unique perspective. How is the business changing, and what should musicians be doing in order to get their music licensed? It seems like there are just so many options, because you can sign up with so many aggregators, etc.
JR:
If I were an artist trying to get my music licensed, I would be networking as much as possible, going to conferences and meeting as many people as I can. And then obviously if you're an artist, after feeling like you've developed a decent sense of who the good and reliable people to work with are, get someone to represent you, or just be entrepreneurial and represent yourself. The DIY thing is in full effect. I feel like unless you're just such a prolific creator that you just don't have time to multitask, sell your own work and create your own matrix of connections, do it yourself. Create your own website. Create meaningful relationships. Do things on spec. And really show your value, your creativity and your reliability.
There are people that are completely entrenched in their work and can't step away. I'm always jealous of those people, because I've never been able to do that.
Musician Coaching:
Nor have I. It's too much left brain and right brain for me too, which is how I probably ended up on the business side of it.
I've had a taste of what you've been talking about a little bit, though not to the extent that you have. I had a "desk where dreams go to die." And as such, it can be really overwhelming and hard to give people the attention people deserve. I always try to put it into perspective for people and say that if they go up to someone like you with two albums and you have Sony on the other line calling with all of Western music, it's not really a contest. Do you have any advice for artists that are approaching music supervisors like yourself?
JR:
What gets my attention – and there are just so many things that sometimes I can't even begin to handle it – is if somebody knows somebody I know, and if that person is somebody I like and respect. That's how I will connect with somebody and at least give their music a listen – how they become a blip on my radar. For me, that's literally what it is.
There's great music out there. I created playlist after playlist of songs in my early years that I thought were the most creative and interesting songs to me. And I would kill to get that artist involved in some type of work I was doing. And I also have favorite artists from my experiences over the years and a gazillion friends I grew up with. I grew up in New York, so I just know a lot of people. But it's not always the stuff I like that will get the air.
Musician Coaching:
You're ultimately beholden to each client's needs, I would guess.
JR:
Yes. It's a totally collaborative process. So unfortunately, my vision isn't always the vision. However, I am the one who's guiding the process and trying to sell the work to all these different participants, whether it's a specific client, the creative directors, art directors, producers or the account director on my side. Sometimes there are about ten cooks in the kitchen. But I am the one who is ultimately responsible for the music, so I am in control of the process to an extent and try to manage it well. I try to make it work. And what making it work means is that it's not always about the thing I think is the greatest; it's about what collectively everyone involved thinks is the greatest. I'm managing expectations of people and trying to give the group what they want. It's great when it's just one person I'm working with who is the ultimate decider, but that's not necessarily the case.
Musician Coaching:
I would imagine that especially with the size of the accounts that Grey handles, you're constantly having to placate a number of different entities.
JR:
Yes. And everyone loves music. Everyone is passionate about music – or at least 95% of the population, especially people in the creative and media-related marketing fields. Music is such a powerful thing and so subjective.
I remember reading The Electric Kool-Aid Acid Test,  by Tom Wolfe. And there was a word – "intersubjectivity." He said when people took drugs they came to this intersubjectivity. That's kind of what I do. I try to create an intersubjectivity where everyone is liking something.
Musician Coaching:
That is politically not an easy portal to keep open, is it?
JR:
It's very challenging. Now, if I have a vision for something, and I think it's going to be just groundbreaking, or if I'm involved with a project, and I can tell something is going to get a lot of attention and be positive towards my brand and great for the brand we're working for and the brand of my agency, I'm going to fight. I try not to give up. And those instances come up occasionally. But there are some projects you work on that are impossible to make great and satisfying. It's not necessarily what's they're about. It's about scoring a concept or a story or underscoring or creating a bed for something – to steal a line from Brian Eno – that's "as ignorable as it is interesting." So, it's not really about making a huge statement.
Musician Coaching:

Sure. Not everything's going to be an iTunes commercial.
Your story is definitely an interesting one that a lot of people would like to emulate. Do you have any parting words of advice for musicians and young music business professionals?
JR:
Try to create a meaningful relationship with someone like me that is a gatekeeper to music, or someone who can actually get you paid some money for your work. To me, it's about having a deep pool of connections and not just pinpointing one or two people. What's great about the business I'm in is that there are a lot of really interesting people. So the journey in terms of creating meaningful relationships with these people is a fun journey. You're going to struggle, but it's not like working in tax law or computer coding, where it's arduous, detailed work. It's fun and creative. There is a lot of music flowing, and a lot of people who are as passionate as you are to make their art happen and to monetize that creativity. In that journey, you're going to meet a lot of interesting people. You're also going to meet some freaks and have some disappointments. My problem was that I wasn't enjoying the journey enough at some points because I was getting too tense and stressed. It is ultimately fun if you can enjoy it.
To learn more about Josh Rabinowitz and his work, check out JoshRabinowitzMusic.com.