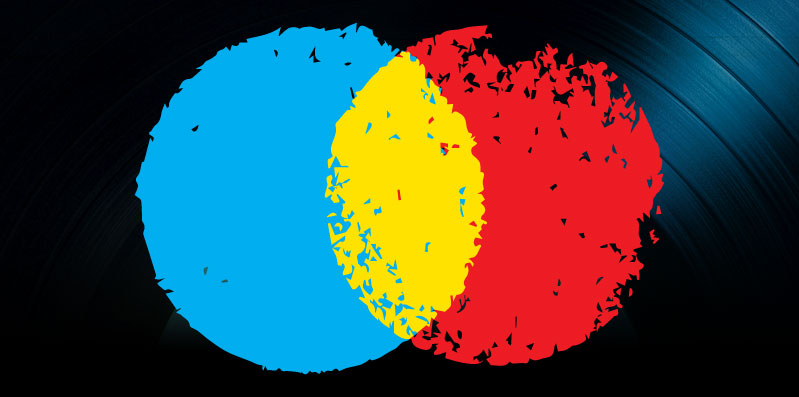 Online Advertising for Musicians
This is a re-post of an article originally posted in December, 2011. In light of the recent enhancements to Facebook advertising, it seemed like a good time to revisit this discussion about how musicians can create attention-grabbing ad campaigns.
Gino Sesto is the Founder and Owner of DASH TWO, an independent media buying company based in L.A. With 20 years' experience working in the music advertising space, he started out at Sony Music working on marketing and co-op with record merchandisers. After working at several agencies, Gino decided to start his own company as a response to the changing music industry landscape, to give artists with limited budgets in need of high-level advertising services more comprehensive options. DASH TWO's clients include Atlantic, Warner Bros., E1 Music, RED Distribution, Victory Records, Strange Music and many others.
I talked to Gino about the experience of growing his own media company, some details every artist needs to know about online advertising and how bands just starting out can create compelling ads that will turn more people onto their music and build their fan base.
Musician Coaching:
How did you get into the music business?
GS:
I've been in the music advertising space for about 20 years. I started in the early '90s working at RED (Relativity Entertainment Distribution) as a marketing manager doing co-op ads on the West coast with the retailers that existed at the time – Tower, Valley, etc.
Then I left there and worked in the print business for a year. I sold an entertainment weekly in L.A. called the New Times, which got bought out by the Village Voice.
From there, I went to an agency called the Gary Group. And I worked there for eight years, from 2000-2008. It's a media-buying agency that specializes in the music space. I had a ton of clients and did pretty much a boatload of the work there.
And I started a website called RateMyCop in the spring of 2008. It was a pet project. I'd never created a website before. And I have no need to do it again. But it was a hobby, because I got a ticket, and it pissed me off so much that I decided to create a website to allow people to criticize cops (which I think is really a tradition in this country). That got a lot of fanfare with the press. I was on every local affiliate in L.A. I was on the CBS Early Show, Fox News, all those places. It was my 15 minutes. And it lasted about a week and a half. I was on the cover of the L.A. Daily News, The New York Times and in Playboy, Wired. We actually launched the website with almost 200,000 names of cops, which is obviously enough to get press by itself.

What happened was that got so much press that my employer at the time didn't think it was very funny, and they let me go in April of 2008. So then, I did a couple odd jobs in the online space doing remnant advertising for people and working the daisy chain of remnant, which is a whole industry. Many companies are built off just that. And I also started freelancing for a company called Marathon Media. It was started by EMI back in the day as a boutique advertising agency that dealt with the music space. They had been around for a long time, and I was basically working to bring new clients on for them. I was with them for about three months, and then unfortunately, they decided to shut their doors. At that point, I decided to start my own company, then named MULTI media, in April of 2009.
Musician Coaching:

And basically, with DASH TWO, online advertising is your bread and butter. From what I know, you do everything from Google AdWords to promoted ads and pre-roll video ads on YouTube, Facebook advertising, etc.
GS:
Yes. Eighty percent of the online work we're doing is a mixture of Facebook, Google and YouTube. It's the lowest common denominator. And they're two completely different beasts. Beyond that, we do display advertising, for sure. But if you're not doing Facebook, Google and YouTube, you shouldn't be at the point where you're going beyond that.
Musician Coaching:
Let's start there. Artists with an extensive budget, less time and who are not interested in doing this work themselves obviously should be hiring you to do work for them. But if you were to give advice to someone with a limited budget based on what have you learned about Facebook, YouTube and Google advertising, what should every musician should know?
GS:
That's a great question. The simple answer is that all are very simple to implement, which is good. But it's also bad in the sense that a lot of people do it and do it wrong, because they just put it out there and then don't know the best practices.
I'll give you an example that isn't 100% music related. I have a friend that has a messenger service in L.A. He was spending $2,500 per month just on Google Search. He had one ad, and that was it. I said, "You could not be more wrong to put all your eggs into one basket." And he's a smart businessman, and a multimillionaire. But that's just what he did:  One ad. And that's what lot of these little bands do. They'll put one picture of themselves up with some copy, and that's it. They don't test different variances or do A/B testing, as it's called. They'll say, "This is our band photo, and we're going to go with it. We'll see how it does."
Musician Coaching:
When you run a campaign, are you A/B'ing all the components – different text, different photos, etc. – so you can see which variable is making the most impact?
GS:
Yes. The same concept applies to Google Search, because you have three lines of text in that format:  the headline; two additional lines of text after that. Those should be A/B tested as well. You don't know which picture is going to do the best – and I don't pretend to know either – until you test it. Sometimes we're given a limited bag of assets, and we have to go out on the web and find them. But bands should be testing their press photo, their logo and things like that – as many versions of their imaging as they can test.
Musician Coaching:

And for those people that don't know, basically, these systems – Facebook, Google ads, etc., all of which I've used – are flexible enough so that you don't set a campaign for several weeks. You can get an hour's worth of feedback and change on the fly. It's about seeing which ads get served, because those are usually the most effective. Is this correct?
GS:
Sure. And it's also a function of how long the campaign is and how big the budget is. If it's a really big budget, and a short flight, you're going to have a sense of that, because you're going to spend a lot of money really quickly. You'll know right away from the sample size which part is working and which part isn't working. But when you're working with a small budget over a long period of time, you're going to have to give it some time before the sample size is accurate enough.
The beauty of it also is that you can really "set it and forget it" if you want to. Because what happens is, let's say you have four different photos on Facebook that you've posted, and you've labeled them differently. Facebook is going to serve the one that's doing the best. By doing the best, I mean getting the most clicks per impression. So, logically, the one that sucks will stop serving, because Facebook wants to make money, and they only get paid when they get a click.
Musician Coaching:
Do you advocate using CPC (Cost per Click) over CPM (Cost per Thousand)?
GS:
It doesn't make a difference. And that's the funniest thing:  There is absolutely no difference in algorithms or anything else. You'll only sometimes see a difference on certain websites. For example, if you're doing a Google Display Network campaign, some websites will only allow CPM ads to be served.
Musician Coaching:
So for your standard, keyword-based searches, you don't find that the expenditure is much different either way?
GS:
It's the same thing. Google and Facebook are looking not at the CPC, but the CPM. They're computing how much money they're making each time they're sending something out. The algorithm is really looking at the CPM.
Musician Coaching:
It's just really interesting that they give you the option to choose.
GS:
I don't know why they do that. We tend to do the CPC bidding. But at the end of the day, it's the same exact thing. We could bid on a CPM basis if we wanted to. But, the lower the CPC, the higher the CPM. And when the CPC goes up, the CPM will go down. So, Google and Facebook are looking at the CPM and thinking, "How many times am I serving this ad, and how much money am I making?" That's how that relationship works.
The only time we'll ever look at a CPM deal on Google is if it's a Display ad that we're serving across their network. Some sites will have the option to omit CPC ads, because they want to get paid no matter what. Then we'll do a CPM deal as well. On wide-reaching campaigns, sometimes we'll work with both CPM and CPC just so we can get on sites that omit CPC campaigns. As a website owner I know these details, and because of working in the remnant ad business, I know how the whole system works.
Musician Coaching:
So, if someone came to you and said, "I have $500, and I want to spend it on online advertising," where would you point the person?
GS:
Facebook. I wouldn't do Google Search, because let's say I'm a local band in New York. Who is going to search "cool, hip, local band, New York"? You might not want to have anything to do with someone who would search for that. Also, when local bands are starting out, they get discovered by word of mouth.
Musician Coaching:
And you probably can't really use other people as a comparison, right? For example, "Do you like Pink Floyd? Because we sound like Pink Floyd." Though, you might be able to do that on Facebook, because your target audience has already volunteered that they like that band.
GS:
Right. It works on Facebook. If I were a local band and trying to broaden my audience, the only time I would use Google Search would be because I am playing with a band in New York and want to attract people to my show that like the other band:  "Hey! We're playing in New York with this band. Come see us."
But if I'm in Band X and have a really distinct name, I'm not going to buy the keywords "Band X," because my page is already going to be the first thing that pops up. For example, if I'm 311, I'm not going to buy that, because it's such a distinct name. If I type in "311," MySpace will pop up, Wikipedia will pop up,  Facebook will pop up and my webpage will pop up. Why would I buy that keyword?
Musician Coaching:
But if you're not 311, and your band is the "John Smith Group," that might be a different story.
GS:
Honestly, the John Smith Group will probably pop up first too, because it's so distinct. If you have a distinct name, there's no reason to buy Google Search. But if I were in that band, I would buy Facebook, because I'm trying to attract people based off their interests. If I sound like a certain band, I can advertise to people who have said they like that band.
Musician Coaching:
I'm a customer who came to you with a campaign and said, "I kind of did this, and kind of did that." Are there some common ad campaign mistakes you find yourself fixing on a regular basis for clients?
GS:
There are a couple common mistakes. One of them is that people will just run with one ad; that's one of the biggest ones. Another is that when someone is running an ad on Facebook and targeting a bunch of people's "likes" and interests, that person will put all the likes and interests in one ad. So, the ad will list 10 bands on one ads. But if you do that, you're not going to see which ones re resonating, because it's all in one big bucket.
Musician Coaching:

Well, and I imagine you wouldn't be able to tweak the creative aimed towards people who would have the name recognition. So, in other words, if I ran an ad that was listing Pink Floyd, Led Zeppelin and Guns n' Roses along with 10 other bands, you couldn't have the creative say one or the other. You'd have to say you like all, which of course wouldn't fit.
GS:
And historically, the most successful campaigns are ones that are targeted. For example, we did the Lou Reed and Metallica record campaign. The creative for that was, "Hey, you like Metallica … Hey, you like Band X …" and it was targeted pretty well to people who would like that record.
Musician Coaching:
A lot of people are trying to get "likes." Should they have custom landing pages or give away free downloads? What are some compelling calls to action?
GS:
I think the best ones right now are customized Facebook pages where people can sample the music. Those are the easiest and most effective calls to action for bands to have. And then, having free downloads works really well.
Musician Coaching:
And the Facebook environment is preferable?
GS:
Yes. And Facebook now allows HTML. So, you can put the HTML directly into the Facebook page, and you're off to the races. That's the first thing I would recommend for any band just starting out. Because you get people to sample the music, and then you have them.
Musician Coaching:
What's your opinion on lock-in pages – Facebook pages where you have to "like" the page in order to experience the content?
GS:
I think for a baby band that is trying to build a fan base, it wouldn't really make sense. It might work for a more established band. But a potential fan of a relatively unknown band would probably be turned off by having to "like" that band in order to learn something about it.
Musician Coaching:
You were telling me something interesting the other day on behalf of a client: You find YouTube pre-roll more effective than YouTube promoted videos. Could you tell me a little bit more about what YouTube pre-roll is, and what you meant by that?
GS:
Sure. YouTube pre-roll is a 15-30-second commercial that runs prior to a video playing on YouTube. Because all Vevo videos now have commercials, people have become more conditioned to seeing them. Promoted video is, if you're searching for something, and you'll see at the top or to the right – kind of like with Google search – a spot that is grayed out and labeled as a promoted video. It may or may not have anything to do with what you're searching. But it's going to be on at the top of the page.
We've found that the promoted video just doesn't work as well as the pre-roll. Of course, they have two different functions. If I'm trying to build my YouTube views, promoted video might be a way to go. I think a better way would be to have 15-30-second samples. And then when people click on it, they go to the video. It's also a cheaper option. One of the other things about YouTube pre-roll, in my opinion, is that CPCs tend to be really low, because it's so difficult to implement, so people just don't do it. And there's also a ton of inventory on YouTube, of course. But pre-roll is also one of the more difficult things to implement. If you've done it once or twice, it comes easily. We have 10 or 15 campaigns right now on YouTube pre-roll, and working in that Google system can be quite difficult. If I were a baby band trying to do it for the first time, I would consult somebody.
Musician Coaching:
I want to ask you a little bit about creative. Have you noticed that there is anything specific about somebody's actual ad content that makes the creative aspect more compelling or less compelling, whether on pre-roll, Facebook or some other medium?
GS:
We don't get a sense that the creative has anything to do with how compelling an ad is. I think it's more about the artist. And, by the way, we don't do any AB testing on pre-roll. We just get one spot and go with it. I think the success has a lot to do with the artist and the specific genre or category of music. Hip hop tends to do well on pre-roll. But with someone like Adam Lambert, the cost per click is decent, but the click-through is at about 1.4.
Musician Coaching:
And for all these different media, what is a decent click-through rate?
GS:
For Facebook, on a cost-per-click basis, we want to see somewhere around 30 cents. Anything below that is decent. If it's anything above that, we get a little frustrated. Pre-roll on YouTube is pretty close to that same number. We like the high 20s. And pre-roll tends to be more consistent than Facebook. We have an ad running with a big-name band on Facebook, and it's doing horribly at 60 cents.
But in terms of click-through rate, .03 and .04 is probably the norm for Facebook. The lowest cost per click and highest click rate we ever saw – because those two are inversely related – was Jill Scott at a 2-cent cost-per-click. And the click-through was 1 percent.
Musician Coaching:
I think a lot of people get disappointed when they're telling me, "Oh, I only have a 4% conversion rate." And I  tell them, "You should be doing cartwheels."
GS:
And the Jill Scott success had a lot to do with the fact that she's Jill Scott. The artwork was amazing, and people were excited for the new record. There was already a swelling excitement for it.
Musician Coaching:
What's the click-through rate on promoted videos?
GS:
Promoted video click-through rate is similar to Google search:  .03 or .04. With pre-roll, a hip hop will do high 2's. A pop artist will do high 1's – usually a 1.7 or a 1.8. With hip hop, sometimes it's as much as 3 percent.
Musician Coaching:
How many different artists have you run campaigns for since you've started your own business?
GS:
Well, this year alone, we've probably done 350 campaigns. We have 20 online campaigns running right now. We basically have a new campaign running every day.
To learn more about Gino Sesto and the work he does, visit the DASH TWO website. You can also connect with the company on Facebook.