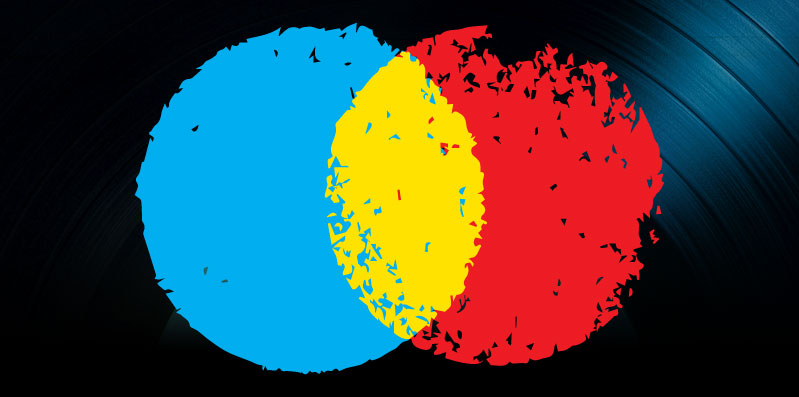 UK Music Piracy, Branded Products and Music, and Zoë Keating News, September 8, 2013
The Pirate Party UK contested the British Phonographic Institute (BPI)'s proposal to create more strict punishment for illegal downloaders. And an article explored four creative partnerships between brands and artists. Also, cellist Zoë Keating wrote an op-ed piece for the Los Angeles Times about how the music industry and her approach to her career have changed in the past ten years.
The Pirate Party Questioning Proposed Illegal Downloader Database
Record labels announced they would be asking broadband providers BT, Virgin Media, BSkyB and Talk Talk to commit to collecting on illegal downloads in the UK, reported The Guardian. And according to TechEYE.net, the Pirate Party is already fighting back.  
Broadband providers are being asked to compile a database of customers that illegally download music, films and books for the purpose of disconnecting and even prosecuting repeat offenders. This and other methods for fighting against digital piracy will be discussed by record label heads, the BPI and UK Prime Minsiter David Cameron on September 12 at a Downing Street breakfast.
Negotiations between the government, broadband providers, the BPI and the British Video Association (BBC, Hollywood studios) about how to enforce the controversial Digital Economy Act – which was voted into law in 2010 but may not become active until sometime in 2015 – have been going on for months.   
From November 2012 and January 2013, 280 million music tracks were illegally pirated in the UK alone as well as 52 million television shows, 29 million films, 18 million ebooks and seven million computer software/game files. Studies conducted by communications regulator Ofcom revealed that 18 percent of Internet users over 12 have recently pirated content, but only nine percent fear the consequences of their actions.  
The proposed voluntary agreement signed by ISPs would allow the creation of a database of those that regularly pirate Internet content. Customers would initially receive letters from ISPs saying their Internet address was being used for illegal downloading. The letters might also lay out consequences and re-direct users to legal sites for music, videos and books. Three letters could result in consequences, including compromising Internet connections to slow them down, blocking users from illegal sites, disconnecting repeat offenders from broadband for a set period or legal prosecution.  
The Pirate Party and others are worried the database might be illegal under the Data Protection Act, which says that organizations can only collect information about users for commercial use. A voluntary agreement of this type could not only compromise privacy but also allow smaller ISPs to capitalize.
Loz Kaye of the Pirate Party UK said the new policy needs to be clarified by labels and the government before it can be enforced:  "The content industry seems intent on turning Internet Service Providers into the music NSA … Having failed with the democratic and legal route as the Digital Economy Act is a lame duck, they now want to skip that and get ISPs to do the policing on their own."
Kaye added that this would be an "unwarranted intrusion" that will not end well:  "The BPI apparently wants to take advantage of Cameron's current wish to blame the Internet for everything … The government's digital policy making is in chaos. We need clarity from the coalition … Until there are some answers, the Conservatives and Liberal Democrats can have no credibility on digital policy."
Four Interesting Brand/Musician Partnerships
Artists and brands have been collaborating for years. But media and marketing site Sparksheet recently presented four musicians that are using brands to help them release new music in new ways in the Digital Age and illustrated why these partnerships are still important to diversifying artists' revenue streams and increasing sales.  
Eminem and Call of Duty:  Ghosts. After taking a break from making music for two years, Eminem opted to premiere his new song in a trailer for the newest version of the first-person shooter video game Call of Duty instead of using radio or MTV. It was his fourth collaboration with the video game franchise, but the first time he used a song that was completely new.

Billboard said it was Eminem's manager Paul Rosenberg that went to the game'screator ActivisionBlizzard this past summer to ask how the two brands could join forces. About 100 million people play Call of Duty, and studies have shown that Eminem is the #1 artist fans connect to the game. The video game and Eminem's album will be released around the same time in early November, and many analysts have predicted the collaboration between these two brands will help more of both products.


Katy Perry, Pepsi and MTV. Katy Perry recently built a partnership with Pepsi in order to push the release of her upcoming single. Pepsi is a brand that has frequently attached itself to artists in the past, having supported Michael Jackson, Ray Charles and Beyoncé, who received $50 million from the soft drink brand in 2012.

Pepsi teamed up with Perry as well as with the MTV Video Music Awards on a Twitter campaign to promote songs off her soon-to-be-released album Prism. The partnership included an interactive voting campaign that allowed fans to song "Dark Horse" was revealed on Twitter by Pepsi and MTV during Perry's performance at MTV's awards show.

Jay Z and Samsung. In July, Samsung bought one million copies of Jay Z's Magna Carta Holy Grail to give away to users of the Galaxy S III, S4 and Note II prior to its official release. While there were some technical difficulties with downloading the release exactly on July 4, the specially-created "Magna Carta" app was used by 1.2 million people.

Because of the campaign, Jay Z earned $12.5 million in sales and music rights from Samsung, and the album hit platinum-level sales before it was even released.

Bob Dylan and Cinemax. The legendary singer/songwriter Bob Dylan joined forces with cable TV company Cinemax to help him market his Tempest album. His new song "Early Roman Kings" was part of a trailer for the Cinemax original series Strike Back. Dylan's album hit #3 on the Billboard Top 200.   
Zoë Keating:  "The Sharps and Flats of the Music Business"
Cellist, composer and performer Zoë Keating has become famous for revealing the financial struggles and realities of being a DIY artist in the Digital Age. To commemorate her 10 years in the music industry, she wrote an op-ed piece on September 1 for the Los Angeles Times about how the music industry has changed and how she has had to change her philosophy and how she runs her career in order to make a living.
Keating quit her software job in order to make music full time in 2003. A cellist since age eight, she admitted to initially being afraid of performing and to forge her own path to make a living. She noted how perceptions of the "DIY" approach have changed since the early 2000s:  "In previous decades, this unsigned, DIY approach was considered a temporary steppingstone on the way to a record contract. If an artist wanted to grow beyond her hometown, she needed the resources, relationships and reputation of a label. That's how an artist got on the radio, got press coverage and got albums into stores. Record labels were the gatekeepers, and without a contract, an artist couldn't get very far."
But when she first committed to making music professionally, the Internet was already reshaping the "power dynamics" of the music industry:  "… The most fundamental shift for me came in 2003, when iTunes opened its doors to unsigned artists. Any artist could sell music and get the same percentage deal from Apple as the record labels. CD distribution was still difficult and the old problem of how to get anyone to pay attention wasn't solved, but an unsigned artist could now sell music alongside bestselling artists in the largest digital music store in the world."
Keating credited iTunes with helping her establish herself, and revealed that digital sales have continued to be one of her steadiest income streams:  "Monthly payments from iTunes have been steady ever since, and they've made a lot of things possible. They allowed me to buy a house, a reliable car and health insurance, and to take time off when my son was born. It sounds pathetic, but knowing that 60,000 people liked my albums enough to buy them gave me confidence I'd lacked and encouraged me to take my art seriously and make more of it."
Keating continues to be completely DIY. She records all her albums using a laptop, and her husband designs all her packaging, while her sister mails out all her CDs. And touring involves traveling with a rental car, her cello, gear, one sound person and her family.
While Keating said her income continues to become more predictable as the years pass, she is frequently concerned about getting too comfortable. Like many other artists, she often finds the process of balancing the business side of her career with making music challenging. And thus, she commits to keeping up with changing technology:  "If I have learned one thing about technology, it's that disruptive innovations are so compelling, they can't be stopped … Meanwhile, I've also made myself more resilient, improving my live show, getting a booking agent, collaborating with filmmakers and choreographers, and dipping my toe into commercial licensing. Almost half my income is still from music sales, but those other revenue sources are growing."
Still, she added, despite the fact that streaming is starting to take over, "I'll always be immensely grateful to my listeners. But I'll continue to urge them to consider buying something directly or to come to a concert, both things I wish streaming services would facilitate."
In terms of the current music business climate, she admitted that it is centered on artists that are constantly touring and releasing music. To be a musician today means never stopping:  "There is no retirement anymore, which makes the music industry like most other industries. Is that so bleak? Not really. Yes, I have to keep making more music, keep touring and keep competing for my listeners' attention. But that's what I want to do anyway. The business of music continues to evolve, but the essence of being a musician remains the same: We make music, and we want people to hear it."