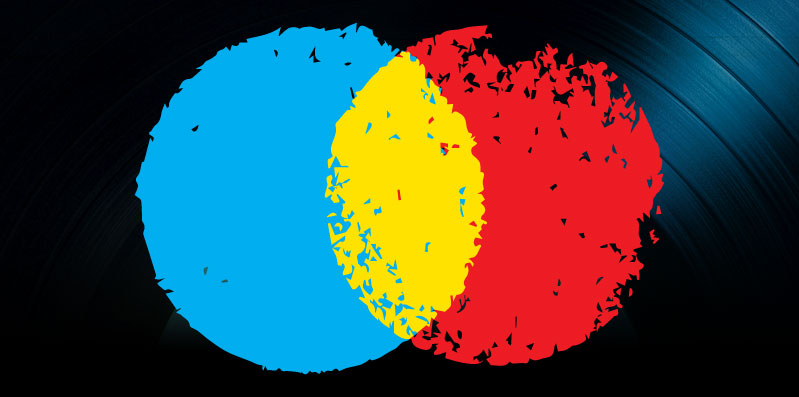 Katie Hasty is the managing editor at HitFix.com, a consumer entertainment news site. She first got involved with the music business while in college at Northwestern University, where she wrote for a variety of entertainment periodicals, websites and trade publications including Stop Smiling, Venus Zine, Punk Planet and Kirkus Reviews. For five years, she worked at Billboard, where she was an online editor and columnist and also ran the "Now Hear This"/"Billboard Underground" section, which focused specifically on unsigned/independent/DIY artists. Throughout her 10-year career, Katie has held many different positions within the music industry including music supervisor, A&R consultant, music contest judge radio correspondent and concert promoter. She is also the main songwriter, singer and guitarist in the Brooklyn-based band Numbers and Letters.
I recently got to talk to Katie about the experience of being on both sides of the music business and what catches her attention as a music journalist when she is looking for artists to cover. She also shared some tips about what bands need to do in order to create a solid media presence and turn more people onto their music.
Musician Coaching:
Thanks for taking the time to chat, Katie. How did you wind up in the music business?
KH:
I wrote about music and entertainment prior to joining the work force. I was a contributing writer and editor for magazines like Stop Smiling and Venus Zine while I was in college at Northwestern University. I knew I wanted to get into entertainment feature writing while I was in college, and I switched from being a magazine major to an online major during my last year. You didn't have to specify one or the other, but I was convinced my life was going to be in magazines until I started taking HTML classes and also saw that there was more growth in the online market.
The very first job I got was also the very first job I ever applied and interviewed for, which was online editor for Billboard Radio Monitor. It had a couple different names at the time, but it was the radio arm of Billboard magazine. My interest in radio initially came from my dad, who worked in the radio industry for more than 30 years in Kansas City. And then that interest in commercial and non-commercial radio grew further while I was in college. I worked with Billboard Radio Monitor for about a year, and then I was bumped up to associate editor at Billboard.com in my second year. I was at Billboard for almost five years total. I also worked with Billboard magazine during that time, which obviously provided me with a very informative business perspective. And Billboard.com was purely geared towards the consumer side, so I was exposed to an even mix of two major parts of the industry.
About three and a half years into my time at Billboard, I started working on and running the "Now Hear This" section, which was the unsigned band section. It eventually became the "Billboard Underground" and had a whole video series attached to it. We concentrated on artists that had formed their own labels, self released their own music or found some other way of making money playing music on their own in an industry where that was becoming increasingly difficult. Because, as you know, you don't just put out a CD and immediately make money off it.
I ran that section for about a year and a half and then transitioned out of Billboard. I worked for a few weeks for Michael Goldstone over at Mom and Pop Records as it was finding its feet and launching. I was working as an A&R consultant. I would go to shows, and he and I would sit down and talk about music. That was what I did in the interim between Billboard and HitFix. Doing that was just not something I could do long-term for Goldie, but it was gave me some really good insight, because I got to see what the process of starting a label looked like. It was eye opening to see what he was looking for along with the qualities artists need to have and what they need to do on the branding and business side before they even consider working with labels of any type.
Then, I moved onto HitFix. I got that job through an old professional cohort, Melinda Newman, who used to be the L.A. bureau chief for Billboard. She had been doing part-time work for HitFix writing about music, and they needed somebody to run the music section right away, so I joined them in 2009. I've moved from full-time freelancer to full-time employee as the company has grown. When I started working with them, there were five full-time employees, and now there are over two dozen.
Musician Coaching:
And you're also a musician and play in a band called Numbers and Letters.
KH:
Yes. It's based off my songwriting, and I play guitar and sing. I've had the project for about five years. We put out an EP in 2008, and since then, we've been putting together a full-length album. Right now, we are finishing up mixes, and we have plans for a music video. We are going to see what kind of partnerships or other creative things can come from this record within the next few months. This summer, we're going to start really pushing live shows, tours, etc. We toured in Scotland in October and have toured the Southeast, parts of the West and bigger cities in the Northeast like Boston and Portland. We've had little fits and starts.
Having a full-time job but being able to work from home is extremely flexible and very helpful when I have a creative project I really want to do something with. But then again, I still have a full-time job, so I still have to work for a certain number of hours in the day. I know other bands that aren't committed to jobs or have part-time positions are often able to get out albums quicker or play more shows. But for us, it's all about making sure it's good timing for everyone. If I'm going to put out a full-length record and have any kind of support for it, I want it to be on my terms and done right.
I feel like my perspective has really been changed by my work at Billboard and with Goldie. Even as we speak, Spotify is blowing up, people are working more with Facebook, etc. How people hear music is changing on a daily basis, and I'm very much aware of it.
Musician Coaching:
The reason I wanted to speak to you is because you are a musician and have also had experiences on the business side. You are someone who has been a gatekeeper and has insight as to why certain things get written about and others don't. I have a lot of people who approach me and ask whether I do PR, which I don't. A common statement they make is, "I want to be in Pitchfork." And I'm not saying that Pitchfork is the Holy Grail, but it's one of the bigger periodicals. In your opinion, how to press stories grow? How does a story get noticed by a periodical the size of Billboard or HitFix?
KH:
When you get written up on Pitchfork or by any of the bigger magazines or blogs, the results you see from that exposure vary. It may not add up to much, although it is helpful when you want a good pull quote to have accolades from certain websites or writers. The results could just depend on the day or what picks up and runs and feels viral. That has to do with who you choose as a publicist, for starters. I think there are a lot of publicists out there who base their experience on the fact that they have an impressive number of clients. But what they actually generate for those clients what you need to look at. If a publicist has 200 clients but can't get them any traction, the publicist is making money but the artist is not.
So, part of making stories grow is getting a publicist that has a good roster and can commit to whatever your publicity cycle is, whether you want to generate excitement about an album pre release in a short period of time like two months or you want to accomplish that in three months, six months or nine months including a tour. That could end up costing a lot of money. But if your publicist has a good voice and a good rapport with writers and has people working under them or with them that are courteous and can answer questions and hit people back quickly, this can be critical.
Successful exposure starts with the publicist and the personalities you choose to work with. When it comes to getting the attention of a journalist, I know I first look at which publicists have the best roster. Then going from there, I look to see if there is a compelling story and if you can hear that story in the music and really connect the dots. I also look for emails with really succinct subject lines that find a unique but clear way to say, "Here's the reason you'll listen to this artist." That reason could be, "This artist sounds like so and so, and I know you like so and so," "This artist opened for another well-known artist," or "This artist worked with this really important music video director." No matter what, it has to be more interesting than, "This artist has worked really hard, and we think their songs are good." I don't think there's any artist out there that won't tell that story about themselves. I want to see a unique angle and something I haven't seen already – something that I know people will be excited about when they hear it.
As an artist, you want to make yourself stand out. That can't be reiterated enough.
Musician Coaching:
When you were doing the "Now Hear This" section of Billboard, you were dealing with people who were really under the radar. How can artists get your attention when they can't afford a publicist, besides just having great music?
KH:
I look at fan response. MySpace numbers obviously haven't mattered for a long time. But you can see people's responses to a band on Facebook and the kind of enthusiasm they generate. And this applies to artists that have publicists and those that don't and artists that have legal representation and publishers but no other deal in place. It's easy to pull up the fan response. Facebook is a good example of a place where you can get an immediate response. Whenever a band puts something out, you can immediately see the kind of impression they're making.
It also has to do with pace makers outside of labels. If an artist's music has gotten placement without having a traditional model, that means a lot. Joe Purdy and Skybox are both good examples of that. There are a lot of bands who don't have the need for a label because they've been able to generate enthusiasm outside of the realm of just putting out records.
The "Now Hear This" section was always a really unique section, because it was geared specifically towards unsigned artists in a business-oriented magazine. Bands that read that section and were familiar with Billboard in general would send me really specific pitches. These pitches would be geared towards this column or towards my specific tastes and interests.
Musician Coaching:
So, clearly someone who has done their homework on you and the periodical that pitched you with a reason why you might find their story compelling would get your attention.
KH:
Exactly. If your aim is Pitchfork or specific blogs that you personally read and enjoy, cater your pitch or your subject line or what you're sending specifically towards that publication. Working at HitFix, I know I am working for one of many general consumer interest entertainment online magazines, so I don't expect a love letter. But I do expect bands to know they shouldn't just say, "Why don't you do a full feature on me?" We are a news site. If you want a feature, we're going to need some media to run along with it. There are assets that are important to me. I rarely have an hour and a half in my busy day to write up 900 words on a band I think is amazing, with no media. I'm going to need assets like an MP3 or a  SoundCloud – something I can grab onto and run with.
Asset management is really important. If you're an artist and send me a zip file full of your assets, and I've never heard of you, I'm not going to take time to download and put that into my iTunes to listen to it. Just send me a link to a few MP3s that I can stream. If I want the record, you need to give me an easy way to listen to it. Don't send me the whole record in the attachment of your first email. That's not the way I want to listen to music.
I still get tons of mailers from publicists, and I listen to about 95% of the ones I get. While I was at Billboard, I got about 100 CDs per week. Now it's more like 30 a week. With MP3s, I'm much more prone to listening to a stream on a SoundCloud or a Facebook page than I am to download an MP3 from an email, wait for that to download and then load it into iTunes. I don't necessarily want to give part of my hard drive to a band I don't know. Streaming music is quick and to the point. If your music is so good, give it to me up front.
Some publicists spend more time making sure their signature is tricked out and their press page is looking awesome than they spend sending me an MP3 or a stream of their artist's tunes:  "Will you write about this artist? We didn't include a link to their music, but, hey – they're really well liked."
All of us are busy. We want a tight pitch, a pitch that is specific to our site and the assets up front.
Musician Coaching:
When people come to me and say, right off the bat, "I want to get written up in Rolling Stone/Billboard/Pitchfork," I usually say they should start with more entry-level blogs to get pull quotes and then work their way up. And I might be wrong. Is there a snowball effect?
KH:
Absolutely. People at Pitchfork and other major periodicals and sites are taste makers in their space. It's their job to stay informed. And they do sometimes pull artists out of thin air. I think it's easier to pitch the small sites, not because they have nothing better to do, but because they might have specific interest in your particular type of music. When you start small, there is a stronger possibility you will have an intimate interaction with the actual blogger him/herself. And it's also easier to get that contact information. A lot of bigger websites that don't run the emails of the editors themselves – HitFix included.
And, like you said earlier, Pitchfork isn't the Holy Grail, but it can help determine the difference between a Kanye West and a band that is totally unsigned and just has a lot of buzz. People started writing about Lana Del Rey last summer, and then there was just a groundswell; very organic enthusiasm grew. If a few websites start screaming about an artist that they like, the bigger websites are going to pay attention.
Musician Coaching:
From your perspective as a performing musician, is there anything you've learned about playing around a major city like New York and putting together tours that you wish you'd known when you first started?
KH:
I've been a performing musician and a professional music writer at the same time for the past five years, and I know you can often get silence from the other end, whether you're not getting the turnout you want at a show or aren't getting someone to email you back. But you shouldn't take that too personally. Silence on the other end does not mean rejection. Having a lower turnout than expected does not mean people don't like you.
As a critic, a writer and a music fan, there's just so much out there and so much saturation, especially in the New York market. There are 20,000 people screaming for your attention. And just because things are tough here doesn't mean that your creation has been rejected. It's about plugging away at your craft, being persistent and having total faith in the material.
You should also be aware of the saturation. In New York and other large markets, you have to keep a level head and keep moderated expectations because of that saturation. I was recently watching that new NBC show Smash. Everyone who wants to move to New York and perform on Broadway has to know it's going to be hard as hell, and it's the same with the music market here. I and a lot of other New York City-based artists could go and move to a small city in the U.S. or even overseas and be a superstar in that city. It's going to be a lot harder in a bigger city, and you're going to be surrounded by a lot more pressure to succeed.
It's about making what you have as good as it can be – making sure that every song, every performance and every bit of press is you and the very best version of you. Because there are a lot of labels, fans and people who love music enough to call, "Bullshit" on something that is not worth their time. In New York, L.A. or Austin, just being okay isn't going to fly. For example, you might have great songs but no presence. You just have to work a little bit harder.
But on the other hand, I think the difficulty of getting heard here is why people, myself included, enjoy the energy around here. I like the energy of people who are making creative works and succeeding. That is a reminder that there is a possibility for my work to be accepted and to be passed on to other people by fans who love Americana, alt-country or folk music. It's about finding an audience in a huge population. They're there. You just have to find them.
To learn more about Katie Hasty and the music writing work she does, visit the HitFix.com website.