Music Business News, June 6, 2017
Warner Music created a new division called Arts Music. Also, Apple Music reached 27 million subscribers. And Sony RED and The Orchard became RED MUSIC.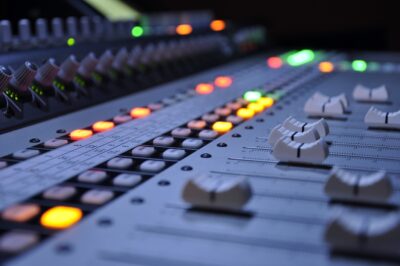 Warner Music Venturing Outside Mainstream with Arts Music
Warner Music Group (WMG) started up a new repertoire division, Arts Music. Billboard announced the label will be led by former Rhino Records president Kevin Gore, it will focus on developing and marketing releases across classical, musical theater, jazz, children's music and film scores.
Arts Music will also house Warner Classics and the rejuvenated Erato label. Both were boosted when the Paris-based EMI Classics, which included the Virgin Classics label were sold to WMG's artist and label services arm in 2013.
WMG is also partnering with New York City-based label Sh-K-Boom/Ghostlight Records, which is focused on musical theater releases including cas recordings for The Book of Mormon and In the Heights.
For three years, Gore was president/COO of DMI Music & Media, with responsibilities that included digital music activations, live event production, retail music curation, custom music production and a suite of marketing services. Gore was previously president of Universal Classics U.S. for a period of time before 2002.
Gore said, "The diverse genres encompassed under Arts Music all share passionate and devoted fan bases that have been largely underserved in the current marketplace … What's particularly exciting is that since these fans have favored physical and download formats, there is an enormous promise for growth as they migrate to streaming services and curated experiences. The timeless appeal of so much of this music, combined with rapidly evolving opportunities in the live music and partnership marketing arenas, opens up a wealth of possibilities for both established and emerging artists across a vast creative spectrum."
Apple Music Hitting 27 Million Subscribers
Apple Music experienced explosive growth recently, topping off at over 27 million subscribers. According to Forbes, this is notable due to the fact that it has only been public for two years.
Apple CEO Tim Cook revealed the milestone at the company's yearly Worldwide Developer's Conference (WWDC) in San Francisco. He predicted that by the time the company officially turns two-years old at the end of the month, the total number of subscribers will be at 28 million.
While reaching 27 million paid subscribers is a major accomplishment, an even bigger accomplishment is Apple's rate of signups. The company hit 20 million paid users in December, up 10 million from January of last year. Apple is signing up over one million paid listeners per month, which, if it continues, will put it at 35 million by the end of 2017.
Only a handful of streaming platforms have 27 million subscribers. Apple also does not have a free tier, which makes its rise even more impressive. Only Spotify has a larger subscriber base, at 50 million.
Sony RED and The Orchard Merge to Form RED Music
Sony Music is consolidating its indie distribution company, Sony RED into The Orchard.
Music Business Worldwide explained that this will be the end of Sony RED in the U.S. All RED distribution label managers and account executives will go to work for The Orchard's headquarters in New York.
The Orchard's new global team will be managed by company CEO Brad Navin.
Navin said, "Our newly merged company is unique in structure, scale and reach. Coming together as one company that is both truly global and locally-focused will allow us to take the service we provide to our artist and label partners to the next level."
He added, "The Orchard is the only global comprehensive digital and physical distribution platform with its own delivery, sales, distribution and reporting systems built specifically for independent clients. With a single deal clients have the ability to deliver their music to every leading global and local digital and physical retailer and reach music fans around the world."
Sony RED will turn into RED MUSIC, a dedicated full-service marketing agency and label services company run by President Bob Morelli. The new entity will offer marketing, promotion, product management and label services support to its current U.S. label clint base. This will now be distributed via The Orchard.
Morelli explained, "For our label and artist partners in the U.S., we are significantly multiplying the levels of quality service we provide with these exciting new changes … Not only will distribution clients now enjoy unmatched global reach as part of The Orchard under Brad Navin, but also our marketing and label services clients in the U.S. will now receive dedicated attention from the new RED MUSIC to make sure their releases are receiving highly customized solutions for the best possible profile in the marketplace. Taken all together we think this is a win-win for clients."
The Orchard has artists like Slayer, Daya, Kelsea Ballerini and Allman Brown and labels such as Thirty Tigers, Metal Blade, Som Livre, Red Bull Records, Mom and Pop and others.