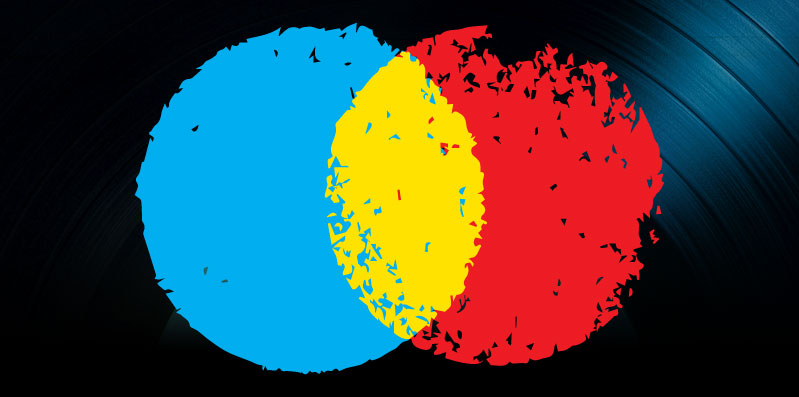 Universal Music Group Revenue, Spotify Class Action Lawsuit and Anti-Piracy Platform News, February 23, 2016
Universal Music Group (UMG) reported streaming offset physical sales in 2015. Also, Spotify attempted to block a $150 million class action lawsuit. And a new service launched to reconnect music pirates to licensed content.
UMG Reporting 2.4 Percent Revenue Growth
Universal Music Group reported a 2.4-percent increase in revenue in 2015, according to Music Week. The company said this rise was due to streaming growth that "more than offset" the drop in physical and download sales.
An earnings release submitted by parent company Vivendi showed total revenue at UMG was up by 2.7 percent at constant currency. And streaming made up 52 percent of digital recorded music revenues in the second half of 2015, with streaming revenue up 47 percent over the whole year. Downloads dropped by 13-percent.
Subscription and streaming revenue rose by 43 percent in 2015 and made up nearly 52 percent of digital revenues in the last half of 2015.
UMG's publishing revenue was also impacted positively by growth in streaming, going up by three percent in 2015. And 75-percent of UMG's overall revenue came from just five countries.
A company outlook statement read, "We continue to see positive momentum in the business, driven by ongoing growth in streaming and subscription and tempered by continued declines in download and physical, leading to reasonable increase in results this year – and enhanced results from 2017 and onwards."
Spotify Attempting to Quash a Major Class Action Lawsuit
Spotify filed a motion to stop a $150 million class action copyright infringement lawsuit, said Rolling Stone. The lawsuit was originally filed by David Lowery, the bandleader of Camper Van Beethoven.
Spotify submitted two motions on February 12: the first asked for dismissal of the case; the second requested the case be denied class action status.
Spotify stated that Lowery lives in Georgia, but filed the original suit in California in December. Spotify is a Delaware corporation with headquarters in New York. They asked the judge move the case to New York if not dismissing it.
Lowery created a lawsuit that would be able to cover a large group of musicians who also felt "wronged" by the streaming giant Spotify. Naming a few of his own songs, Lowery said the Spotify failed to find and pay the composers and songwriters of tracks provided to its users and reproduced and distributed copyrighted music without the appropriate license. The suit said members of the class could be easily found by searching Spotify's private database files and records.
Spotify's response was that Lowery's suit is "a fatally flawed candidate for class treatment." The service stated there is "no way to determine who qualifies as a lass member" due to the "thorny and often intractable" questions of figuring out the owner of a song's mechanical rights and then figuring out whether or not Spotify "distributed those compositions without license or authorization."
In their motion, however, Spotify called Lowery's suit "a fatally flawed candidate for class treatment." The company claimed there was "no way to determine who qualifies as a class member" because of the "thorny and often intractable" questions of identifying the owner of a song's mechanical rights (i.e. the right to reproduce it), and determining if Spotify "distributed those compositions without license or authorization."
Mona Hanna, a partner at Michelman & Robinson, the firm that represents Lowery told Pitchfork, "[Spotify's motions are] a standard defense maneuver to try to avoid dealing with the merits of complaint and trying to see if they can get a dismissal on procedural grounds." She also said, "We are very confident that this is just a delay tactic and we are going to get to the merits."
MUSO Connecting Pirates to Licensed Music
Content protection and data analytics specialist MUSO developed Retune, a platform designed to "help rights owners market their content directly to piracy audiences, and enable those audiences to reconnect to licensed content." According to Music Business Worldwide, the UK-based company created Retune as a response to the need for a tool beyond just a "stern but educative series of warnings from a user's ISP."
MUSO CEO Andy Chatterley explained, "… Retune re-directs pro-active fans who are using piracy channels to access content to legal and licensed channels like Spotify or iTunes, or direct to fan pages and reconnects these audiences that are lost to piracy … Combined with MUSO's strategic anti-piracy system, Retune is changing the face of piracy forever."
The service pushes legal and high-quality content towards pirates plus new promotional material, concert ticket offers and other bonuses.
Retune also provides special features for rights holders. It tracks individual cookie behavior in order to provide information for remarketing opportunities and future promotions, thus making the most out of future online ad spends.
The Retune website noted, "It is easy to forget that piracy users are very often fervent fans." In fact, piracy represents 24-percent of all Internet bandwidth. And "the motivating factors for online piracy are as much about lack of availability as they are about getting something for free."
MUSO added that Retune is capable of "[generating] highly targeted, large-scale click-through traffic with a sympathetic, on-brand approach that reflects the attitude and ethos of each individual rights holder."
A statement from MUSO stressed that Retune's goal is to "create a clear step-change across the content industry by viewing potential fans using piracy websites as an opportunity."
Christopher Elkins, Chief Commercial Officer for MUSO explained, "We think audiences deserve a better, more positive experience, and Retune delivers that, at the optimal moment online … Having the privilege to already work with over 1,000 rights owners globally, we understand they want the same thing; a closer, better engagement with their audiences."
Elkins concluded, "With Retune, we've really managed to deliver what rights owners have been asking for, a platform that enables them to fight piracy on their own terms, with their own message, in a data-led, scalable way that delivers outstanding cost-effectiveness when compared with other click-marketing platforms."