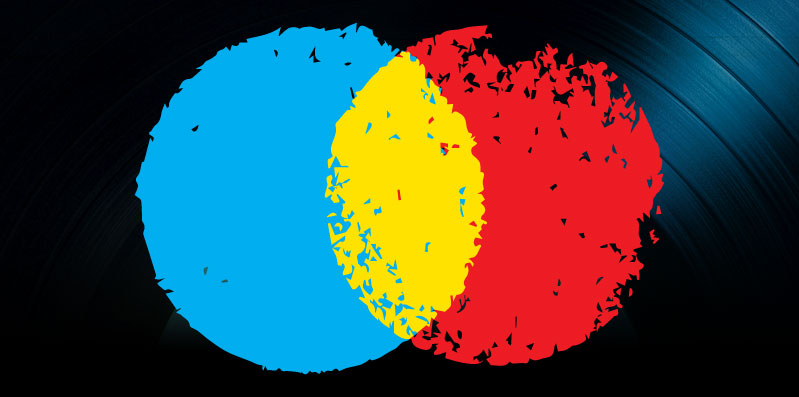 UK Music Industry, Copyright Law and SFX Entertainment Bankruptcy News, February 9, 2016
2015 sales figures showed that artists from the UK are selling one-third of the top 40 best-selling albums worldwide. Also, Tech Dirt explored the present and future of Copyright Law. And EDM giant SFX Entertainment filed for bankruptcy.
UK Artists Out-Selling Others
Top artists in the UK such as Adele, One Direction and Ed Sheeran sold more worldwide in 2015 than artists from any one country, according to research. In fact, British artists sold 33.5 million records, and one-third of the top 40 best-selling albums, said The Telegraph.
Best-selling albums included Coldplay's A Head Full of Dreams, Mumford and Sons' Wilder Mind and Muse's Drones. Two albums by One Direction also topped the list. And Adele's 25 took in 15 million sales alone, followed by Ed Sheeran's X and Sam Smith's In the Lonely Hour.
Music sales in the UK went up seven percent in 2015 from the previous year. Head of new business at major British financial company Centtrip, Dan O'Neill confirmed that this shows British music is on the rise: "As a nation we should be proud to have some of the best and most successful artists in the world … Not only do they make incredible music, they also make a huge contribution to the UK economy through jobs and revenue."
Research also found that 2.7-percent of the UK's most wealthy 1,000 people worked in the music industry and were worth £24.6billion collectively.
Four of the five British artists in the top 10 in 2015 were also in that same group in 2014: Ed Sheeran; Sam Smith; Coldplay; One Direction. And another study released in January noted that 15 of the top 20 albums in the UK in 2015 were made by British artists.
Music trade group the BPI noted that Adele sold 2.5 million copies of 25 in the UK in the first six weeks after its release. The rise in streaming music and vinyl renaissance brought overall music industry revenue to £1.1 billion.
Copyright Law Still Playing an "Essential Role" in Creative Markets
Washington Post writer Robert Gebelhoff dissected a 2002 interview of David Bowie by the New York Times last week in which the artist predicted where copyright would be in ten years. Bowie said, "I'm fully confident that copyright … will no longer exist in ten years, and authorship and intellectual property is in for such a bashing … It's terribly exciting."
However, as Tech Dirt pointed out, Bowie's prophesy did not come true. And according to Gebelhoff, this is a good thing, because solid copyright laws "play an essential role in our creative economy – and have done so for centuries." He pointed to a Stanford University/NBER study that found when there were better copyright laws in some Italian city-states, more operas were produced.
Bowie was known as "an innovator and music visionary" and frequently made use of the Internet in its early stages to connect with his fans. However, even in his 2002 interview, he was not fully cheering on the death of copyright. He was instead acknowledging how digital media had already changed industries rooted in copyright.
And he was correct in predicting that the traditional copyright industry would experience "anxiety" due to digital media. This feeling is not new and has led the industry extend copyright terms by almost 580 percent in the past 200 years.
Bowie's excitement over the end of copyright was due to the fact that as a successfully working artist, he knew that unlimited copyright protection was as capable of inhibiting the creative process as it was of protecting it. His awareness of this is evidenced by his song "Young Americans," which openly quotes The Beatles' "A Day in the Life."
Bowie was correct in predicting an industry "shakeup." Consumers, especially millennials are now listening to their music on demand through streaming subscriptions instead of purchasing physical copies of albums or buying singles and albums alone as MP3s. And with techniques like remixing emerging as popular methods for creating new material, the need for less stringent copyright laws is important. Bowie's observation that "music itself is going to become like running water or electricity" was pretty spot on.
A 2015 study conducted by Midia noted that the "narrative of music industry decline is a label phenomenon." This is also implied by Bowie's statements in 2002: "I don't even know why I would want to be on a label in a few years, because I don't think it's going to work by labels and by distribution systems in the same way."
Still, it is important to see that the copyright system is not meant to protect industries from change. Policymakers should not police Apple or Amazon in order to protect brick-and-mortar record stores and bookstores. Congress was given the go-ahead by the country's founders to utilize copyright to "promote the Progress of Science and useful Arts" – to use it to nurture artistic creativity, not to inhibit it.
Gebelhoff's citations of the study about Italian operas also mentioned that "there is no clear evidence" that extending copyright protection beyond a holder's lifetime is beneficial. In fact, they suggest "it has little effect beyond the first five years." Professor of law at New York University, Christopher Jon Sprigman said " [this] conclusion is particularly important because our contemporary debate is usually not whether to have copyright at all, but rather whether to extend already very long copyright terms."
Many reforms to copyright are inevitable in the coming years. And Congress will likely keep the following concept in mind: "stronger copyright laws don't automatically incentivize more creative freedom. In fact, they often come at its expense."
SFX Entertainment Filing for Bankruptcy
Leading electronic dance music company SFX Entertainment officially filed for bankruptcy in the U.S. on February 1, reported Forbes. The live events company is responsible for putting on huge EDM festivals including the popular Tomorrowland Festival. SFX defaulted on a loan and missed a multi-million dollar payment a few weeks ago after a difficult 2015.
SFX must get rid of $300 million in debt and be taken private. The entertainment conglomerate will be getting $115 million in a debt-for-equity trade in order to continue to operate. And that amount may be enough to sustain it as the busy festival season approaches.
Founder and CEO Robert Sillerman has been attempting to buy the company back for the past year in order to take it private. SFX went public at the end of 2013. Even though share prices at the company have been under $1 for month and dropped an additional 50-percent after the news of bankruptcy broke, Sillerman has yet to be able to take the company private. He explained, "Of course this was not where we thought we'd be but with this restructuring we have the opportunity to achieve all that SFX can and will be. I'm looking forward to continuing to be part of the new SFX as Chairman. We will immediately commence a search for a new CEO to lead us as we continue to set the trend in the exploding culture that is electronic music."
Sillerman sold the first version of SFX to Clear Channel for billions in 2000. As someone thought to be one of the most important figures in the music industry, he tried to bring it to life once again in 2012. The company started grabbing small promoters of electronic dance music events, then spent a billion dollars trying to dominate EDM. However, the company ultimately had problems maintaining its internal structure.
Because of SFX's huge holdings, the festival world could be impacted negatively if it were to go under. The company owns major pieces of the biggest EDM events in the world, including Tomorrowland, Rock In Rio and Electric Zoo, plus over a dozen others both large and small around the globe. The company also owns Beatport, the digital store essential for DJs, producers and remixes.