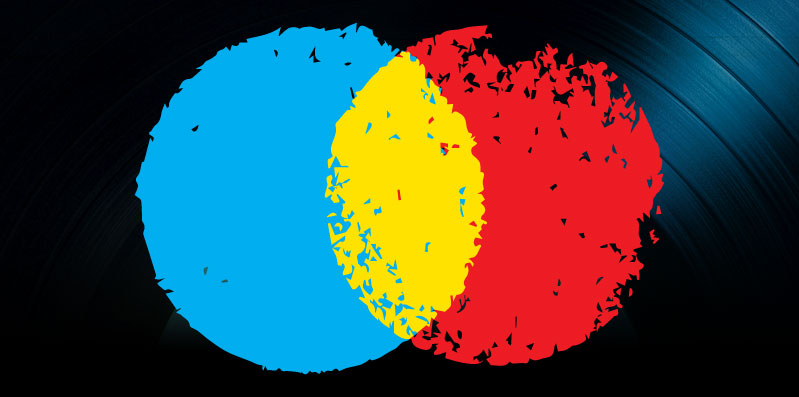 The New Instagram Algorithm, YouTube's Foundry Initiative and Vinyl Sales News, April 19 2016
Adweek explored how Instagram's algorithm change actually affects users. Also, YouTube launched a suite of artist tools for emerging independent artists. And vinyl sales in the UK doubled again in 2015.
The New Instagram Algorithm:  Marketing Catastrophe or New Opportunity?
In the month since Instagram announced a shift to an algorithm-based feed, technology experts are weighing in about the circumstances that led to the change and giving their predictions on how the changes will affect users long term.
In Social Times, CEO of Brandnew IO and marketing expert Francis Trapp pointed out that a report released back in 2014 described the circumstances that necessitated the changes to Instagram. Forrester Research's report "Use Instagram Now" outlined what was going to happen to the platform for those enjoying an engagement rate that was 58 times higher than Facebook and 120 times higher than Twitter at the time:  "As users and marketers flock to Instagram, clutter will increase and Instagram will likely begin filtering out brands' posts in the name of relevance. Marketers must use Instagram now, before it changes the rules–and they must be ready to move on to another social site when Instagram's phenomenal engagement rates disappear."
And they did in fact disappear as brands and others came in droves to Instagram. The "clutter" brought engagement rates from 4.2 percent in 2014 to 2.3 percent in 2015.
When asked whether the new algorithm is a signal for marketers to "move on to another social site," Trapp said, "It depends who you listen to." Because people naturally resist change on and off social media platforms, the opposition to Instagram's new rules was not surprising. Experts and users have predicted a variety of ways the changes will have an impact.
Musician John Mayer said he feels that up-and-coming artists will likely be affected most by the new Instagram and actually started a petition on Change.org to change the platform back to a feed that is chronological.
Others agreed with Mayer and also said that the shift to an algorithm-based feed misses the point of Instagram, and implies the algorithm can actually predict someone's tastes well, which many find doubtful. As Mayer speculated, "My tastes, interests and curiosities change every day, ifI'm not even sure what's relevant to me, how will you know?"
Trapp noted the most important element in the equation that most necessitates Instagram's shift: "Businesses need to make money."
Facebook bought Instagram for almost $1 billion, and these huge investments are not made just for "fun." Facebook's intention with buying the platform was to make a return on its investment, and it can only do that through advertising. Therefore, the change to an algorithm-based newsfeed is the way Instagram will be monetizable.
Instagram's first sponsored posts can in 2013, and the ad platform has been in the process of refinement since then, which has led to some positive results for brands. By aggregating the feed, Instagram will have more control over what users see and will thus be able to cut through some of the clutter. This process will ideally allow it to deliver content that is more relevant and engaging to users, increase time spent on the platform and create a better market for ads.
Ultimately, however, "resistance to the changes is futile." Even though arguments against it make a point, Instagram's need to make a profit in order to continue to function is real.
What is the solution for brands and influencers on the channel? Trapp argued the key to adapting is to rethink their Instagram strategies and take advantage of the changes. This means figuring out what interests their audiences and making sure they deliver  high-quality, relevant content that is in line with these interests. Success on the platform will involve a greater investment of time, energy and money, as integrating paid advertising into every Instagram marketing strategy becomes necessary.
YouTube Launching Foundry Initiative for Developing Artists
YouTube unofficially launched YouTube Music Foundry last week, a suite of new tools with guidance on how to grow their brand on the channel. Billboard reported that Foundry content is free on the main site and through the YouTube Music app.
The Foundry program was created to help artists and others in the music business adapt to the new digital-content-driven industry. Foundry tools include those that help with live streaming video production, which has become increasingly popular recently with thanks to the growth of social media technologies like Periscope, Meerkat, Snapchat, Facebook and others with live video components.
There have been two two-day Foundry sessions to date:  one in Los Angeles in September 2015 and another in London in December of last year. There will be a New York City session on April 25 with artists J the Chicago Kid, Gemaine, The Range, Built by Titan and Miracles of Modern Science.
As part of its on-going artist development initiative YouTube has also reached out to the industry to talk about how to capitalize on collaborations, promote artists more efficiently and deliver exclusive content.
The music business and YouTube have often disagreed about YouTube's anti-piracy measures and ability to delivery revenue to artists. However, the relationship has become less contentious with the introduction of the Content ID system, which allows copyright owners to identify and make money from videos, plus get infringing content removed from the platform.
The Foundry initiativecoupled with YouTube's paid subscription service YouTube Red may increase the industry's revenue, though the direction of copyright reform initiatives will determine growth.
And now the music industry is renegotiating its licenses with YouTube due to dissatisfaction with the platform's ad-supported revenue model. The RIAA, IFPI and Warner Music Group have all said there is a "value gap" between YouTube's royalty rates and the rates paid by competing streaming services.
YouTube still argues that music is only a fraction of its content, and Google said it has paid $3 billion to copyright holders. The platform has continued to improve the platform to make it friendlier to the music industry; it has opened high-tech production facilities to artists, presented showcases at music festivals and offered YouTube Music Insights tools in order to help artists optimize content and get more out of Vevo.
Vinyl Continuing to Boom, but Still Not Contributing to Real Revenue Increases
Though vinyl sales in the UK have doubled year over year, the amount the medium contributes to overall industry revenues is still small. According to Complete Music Update, a total of 637,056 vinyl albums were sold between January and March based on data from the Official Charts Company, bringing the total revenues the medium contributes to almost 4 percent.
Still, the market for vinyl is no longer made up exclusively of those who grew up with the format, said BPI head Geoff Taylor:  "Vinyl is no longer the preserve of baby-boomers … It now also appeals to a new generation of engaged younger fans and millennials. While digital platforms provide fans instant and unlimited access to an ever-expanding cosmos of music, they can't quite match the unique experience vinyl gives you."
Just in advance of Record Store Day last weekend, Tylor said the age-old experience of vinyl is new to many young music fans and thus exciting again, as it involves, "browsing for rare gems in your favorite record store, poring over the cover art and sleeve notes and enjoying the ritual of carefully dropping the stylus onto an LP and savoring its analog sound. Younger fans increasingly discover on digital but collect on vinyl."
Still, the top ten vinyl sales of 2016 thus far do show that baby-boomers still make up a large number of sales. David Bowie's Blackstar was at number one (and two of his older albums were also in the top ten), followed by Amy Winehouse's Back To Black, The 1975's I Like It When You Sleep and Adele's 25.