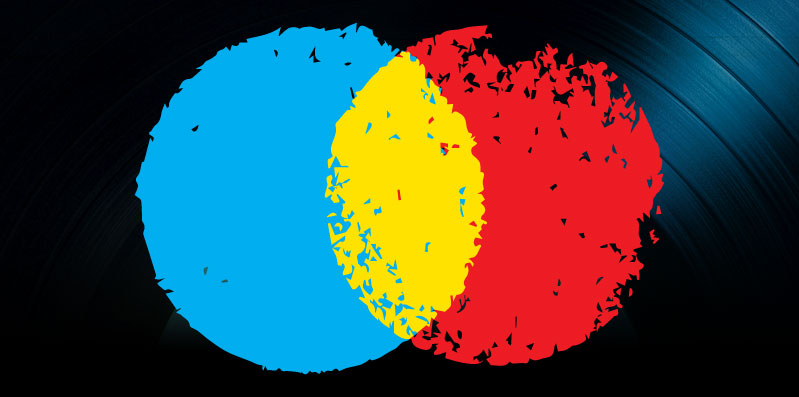 Major Label Deals with YouTube, David Lowery Spotify Lawsuit and SFX Artist Advance News, April 12, 2016
Major labels geared up to renegotiate contracts with YouTube. Also, David Lowery talked about his mega lawsuit with Spotify. And SFX was granted $15 million in artist advances to help with its bankruptcy.
Major Labels Preparing to Renegotiate YouTube Deals
YouTube's contracts with Warner Music Group, Sony Music Entertainment and Universal Group are all set to expire or have already expired, reported The Financial Times early this week. And YouTube could be preparing for a "showdown" as labels get ready to renegotiate the terms of their deals.
Because deals are ending "within months," negotiations between the major labels and YouTube must happen immediately. Though none of the three music companies has publicly commented on the situation, each seems poised to "reset" their relationships with a service that has "to date, paid them relatively little for their content."
The RIAA argued last month that YouTube does not pay a fair price for the music users get for free through the service. And the IFPI alleges the same, according to Recode. The most effective way to get more money from YouTube is to get a better deal. However, labels' bargaining ability is limited because the 1998 Digital Millennium Copyright Act (DMCA) gives protection to YouTube and other services dependent on content uploaded by users.
Music business analyst and Forbes contributor, Bobby Owsinski agreed that YouTube has the upper hand in contract re-negotiations. While the video service is the largest streaming music service, yet pays the least of all its services, "YouTube continues to hold all the leverage – in fact, it holds virtuall all of it."
Major labels could previously bargain with all other streaming services and get large upfront fees plus, in certain instance, stake in the streaming company. And if a music service was not a fan of the label's terms, the service still had to take the deal or risk losing a huge artist's catalog. YouTube does not face the same situation, because, thanks to its foundation on user-uploaded content, it can decide on the terms of its agreements; even if labels say no, its music can still appear on the service.
Warner Music tried to fight this reality several years ago. After holding out for a year, it realized its songs were still appearing legally on YouTube, yet bringing in no revenue. The company gave in and signed a deal favoring YouTube. The DMCA states that YouTube and similar services cannot be held liable due to unlicensed content uploaded by users. A record label can request the content be removed, and YouTube will do it, but there is a high probability that content will be immediately re-uploaded. And searching for copyright infringers uses up label time and resources.
Even if labels do not like the deal that YouTube presents them with in the coming months, they will have little option but to agree, unless they want to cut off their money supply from the service entirely.
Because 40-percent of online music consumption happens on YouTube, the streaming service only makes up four-percent of revenue in the music industry. These figures are why major labels would prefer YouTube shift to a paid subscription service to replace its current ad-based business model, which pays only 55-percent of revenue earned to the label vs. the 70-plus-percent paid by other music services. YouTube has attempted to make YouTube Red work, but it just has not caught on.
David Lowery, on His Giant Spotify Lawsuit
Camper Van Beethoven and Cracker helmsman David Lowery proposed a $150 million class-action copyright-infringement lawsuit against Spotify in December. The suit alleges that Spotify does not have mechanical licenses in place for many songs on the service. He spoke to Billboard about the lawsuit last week.
Lowery still records and tours with both his bands and has become very vocal about creators' rights during the past decade, regularly blogging and speaking on the issue. The New York Times  said, "[Lowery] has come to represent the anger of musicians in the digital age." Still, Lowery said he is in favor of streaming services; he just wants them to be accountable for paying musicians and songwriters fair rates accurately.
According to Lowery, "If we're going to have a fair market, we have to start with fundamental rules on how to use songs."
Billboard asked him why he "charged into" the copyright debate in 2012. He said, "It was right around the time of SOPA and I saw that whole thing play out online — the torches-and-pitchforks mob. Camper Van Beethoven is an extraordinarily tech-savvy band: Jonathan Segal worked at Pandora, Victor Krummenacher is an art director at Wired, Chris Pedersen is an IT security guy, and I have a background in mathematics and computers … My point was that we're not waiting for a digital ecosystem to develop — it's already here. It has 3 pillars: piracy; streaming, whether fully licensed or not; and digital downloads. And for all three, artists are paid less. This was controversial, compared to the crack cocaine of tech optimism at the time."
He also expressed "surprise" that the digital age hasn't been kinder to artists:  "I thought we would lose more to piracy but I also thought the benefits of disintermediation would accrue more strongly to artists – we would be able to sell directly to our fans and make more money."
When asked about the class-action lawsuit against Spotify, he said it was a long time coming:  "For about two years I remember thinking, 'How are my songs up there? Surely Spotify isn't using my songs without a license.' I didn't consider filing a lawsuit against them until I saw the Victory Records blow-up in October [when Victory discovered that it wasn't getting paid all of the mechanical royalties owed to its publishing division and Spotify pulled the music in question] … In early December we [Lowery and his legal team] started exchanging letters with Lowery. It's possible we could have done a settlement, but I don't think it would have been fair to all songwriters. I'm not sure anyone believes this but I really did decide to do this on behalf of indie songwriters who publish and manage their own catalogs. This wasn't going to get fixed for them without a class action."
With streaming now the largest revenue source for recorded music, Billboard asked Lowery if he was worried about destroying opportunities. He concluded, "Maybe a streaming service that didn't put thousands of unlicensed songs up would fill the gap! I'm not trying to put Spotify out of business. There's a moral hazard to letting them off the hook, but I hope they don't go out of business – I hope they just clean up their act. If one guy like me can bring down a Goldman Sachs-backed firm valued at $8 billion, then, trust me, it's not my fuck-up."
SFX Granted $15 Million in Artist Advances
SFX Entertainment was given $15 million by Judge Mary Walrath, the judge for the EDM giant's bankruptcy proceedings, in order to pay artist advances for summer festivals to top-tier talent agencies with DJs at SFX festival with 10,000 attendees or more.
Music Times reported that these initial lineups were revealed two weeks ago during the bankruptcy proceedings. Artists who will receive compensation include EDM superstars Tiësto, Porter Robinson, Hardwell, Skrillex, Jamie xx, Above & Beyond,deadmau5, Wolfgang Gartner, Feed Me and Alison Wonderland.
The deal was after months of negotiations between SFX's bankruptcy lenders and talend agencies such as WME, Paradigm Talent Agency, Windish and AM Only.
The judge issued a motion announced by SFX's lawyer Dennis Meloro:  "The value of the debtors' estates and their ongoing business depends on their continued successful festivals, events and club shows. The profitability of these shows hinges, in significant part, on the artists performing and their ability to attract large numbers of fans. The pool of artists that can reliably attract large numbers of fans to the shows is extremely limited and the vast majority of them are represented by the agents. Thus, the debtor's relationship with the agents and their represented artists are vital to a successful reorganization."
SFX's reputation has gone downhill so much that artists have begun to demand payment of 100 percent of their fee many months in advance of gigs. The new deal will allow SFX to pay headliners 25 percent before announcement of the lineup and another 50 percent 30 days prior to the event. If the event is cancelled, artists must be paid 100 percent.
Acts not at the top of the bill will be paid at the same intervals but have more paid closer to the event. They will get 15 percent before the lineup announcement, 40 percent 30 days before the event and 45 percent five days before.