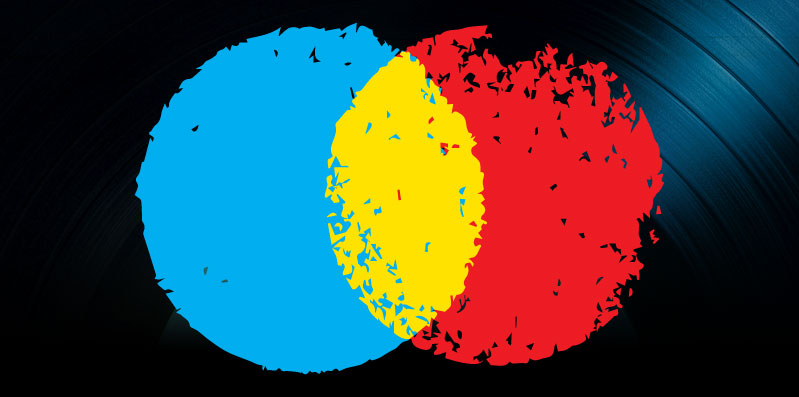 Dot Blockchain, Pandora Charts and Hangouts on Air News August 16, 2016
Benji Rogers announced the launch date of the first blockchain tool for music. And Pandora added artist charts. Also, Google said it will move Hangouts on Air to YouTube.
Dot Blockchain Launching Soon
Pledge Music founder Benji Rogers said he will officially launch the alpha version of Dot Blockchain around August 22.
According to Music Ally, Rogers said that after years of development, the first music industry tool powered by blockchain technology will make it easier for artists to collect revenue from digital channels by streamlining rights management.
Rogers said, "Since November 24, 2015 we have journeyed together from a rather obscure idea about a new music codec containing a Minimum Viable Data Set that would create a globally distributed database of music rights to an open source architecture and user interface, a Github repository, and a working alpha version of the App. Its second incarnation sits on my desktop as I type this."
He added, "For the music industry skeptics reading this, I have been stunned by the generosity, time, willingness to engage, and overall positivity that this idea has received." He revealed that he has already had many meetings with labels, publishers, collecting societies, trade bodies and digital services in order to get feedback and strengthen the offering. Rogers said, "these meetings have often resulted in offers to help and participate."
Dot Blockchain alpha is Rogers' and his partners "first stab" at setting up "the rails upon which much of the digital music trains will be able to run … A way of working with the raw data of music that will allow for not only the birth of a globally distributed database of ownership rights, but also the trains and engines that will allow fast and fair commerce to scale for all who participate in the system."
Rogers' full post about Dot Blockchain can be read on Medium.
Many industry analysts have wondered whether blockchain technology will stay niche or move into the mainstream. A recent report from the World Economic Forum indicated it will likely come into the music industry foreground and step into the spotlight of other marketplaces.
WEF's head of financial services industries Giancarlo Bruno forecasted, "Rather than to stay at the margins of the finance industry blockchain will be coming the beating heart of it." His report indicated that 80-percent of banks may start "distributed ledger" projects in 2017.
Pandora Adding Charts Fueled by Next Big Sound
Pandora finally revealed a new set of weekly charts on August 15, reported Variety. The charts will be sourced from Next Big Sound, the music data analytics platform it grabbed more than a year ago.
Prior to this week, Pandora has used Next Big Sound to run its artist services and help musicians get insight into listening behavior on the platform. The new charts will make some of the data available to the public.
Next Big Sound developed algorithms to ensure that Pandora's charts are fresh and do not only list hits from major label artists and mega-artists like the Rolling Stones, The Beatles or Prince. The Next Big Sound website clarified, "In order to ensure that the chart is not altogether static, we've introduced the concept of sunsetting." That means tracks will leave the charts after 16 weeks unless they continue to climb.
Pandora is also using third-party sources for some of the charts. The service will look to social media to measure the growing momentum of new and emerging artists in order to predict future success. The data will be measured against Pandora play counts.
With this new charts launch, Pandora is finally joining Spotify, which has long relied on "data science" to inform artists and others looking at the performance of songs. Spotify acquired The Echo Nest in 2014 in order to help it better track metrics.
Pandora will also be launching its own on-demand streaming service later in 2016.
Hangouts on Air Moving to YouTube
Google will move Hangouts on Air to YouTube on September 12 in order to get YouTube involved in the growing live streaming market. Current users of the feature will be asked to move their activity to YouTube Live.
Rumors previously indicated that Hangouts on Air would be shut down entirely. But in an email to TechCrunch, a Google spokesperson explained, "We're focusing our live streaming efforts on YouTube Live and consolidating our services there … Hangouts on Air has been available through YouTube since it was launched and YouTube Live is a natural home for the service."
The move will give artists additional options to interact with their fans on the YouTube platform. Industry experts said they expect the feature to compete with Facebook Live and other new live video platforms.
Google was one of the earliest to get in on live streaming. Google debuted live streaming for its Hangouts group video chat on Google+ in September 2011, then rolled it out entirely in June 2012. YouTube Live debuted in May 2013.
After September 12, no events can be scheduled on Google+. Events currently scheduled beyond that date on the Hangouts platform have to be moved to YouTube Live.
The move marks yet another change to Google+ across Google products. Google started changing the Google+ platform significantly last year.