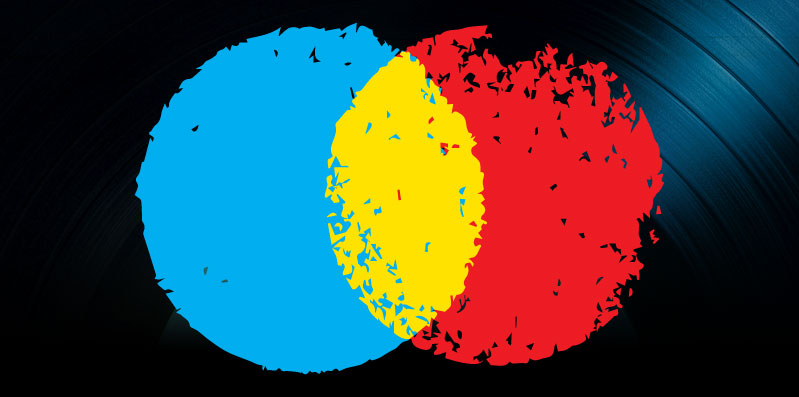 2016 Music Industry Boom, Amazon Music Unlimited and Americana Overtaking Country News, October 18 2016
The music industry is headed for its most successful year since 2009. Also, Amazon Music Unlimited launched. And Americana outsold country for the first time ever this past week.
Streaming Driving Industry's Best Year Since 2009
Streaming is still boosting album units and revenue in the 2016 music business, according to Billboard.
Equating "total album consumption units" with sales, the U.S. music industry has sold 411 million units in the first three quarters of this year. This puts it on track for the best year since 2009. This figure combines sales with track- and streaming-equivalent units. The industry has almost reached 2013's total of 415.4 million album sales and will likely pass 2009's 489.8 albums.
The total for the third quarter is 5.3 percent higher than what was counted in 2015. The RIAA also stated in its midyear report that the industry was up 8.1 percent over 2015. Universal Music Group remains the top-selling major record label, with Sony Music in second and Warner in third.
The best-selling albums of 2016 thus far are Drake's Views (3.57 million sales, stream equivalent albums and track equivalent albums), Adele's 25 (2.1 million) and Beyonce's Lemonade (2.01 million).
In terms of digital song sales, Justin Timberlake's "Can't Stop the Feeling!" took the lead with 2.16 million downloads. Flo Rida's single "My House" was in second with 2.14 million downloads.
Desiigner's song "Panda" was the most streamed song (on-demand) in 2016 thus far with 674.4 million streams. It surpassed Rihanna's "Work," which was leading in the first half of the year with 641.2 million streams.
Amazon Music Unlimited Launching at $7.99 per Month
Amazon launched its standalone streaming music service Amazon Music Unlimited. Forbes reported that at $7.99 per month for Amazon Prime members, it is the lowest-priced on-demand streaming service on the market. While it has several features that differentiate it from Spotify and Apple Music, industry analyst Bobby Owsinski noted that he and other experts wonder why potential subscribers will choose it over other platforms.
The platform's biggest luring feature is its price tag. However, non-Amazon Prime customers will still pay $9.99 per month for access. Those with Amazon Echo, Echo Dot or Amazon Tap device will pay only $3.99 monthly, but playback will only work on that device.
The lower monthly price for streaming music has been recommended by industry consultants for years. Research showed that even at the peak of the CD era, the average music consumers did not buy $120 worh of music per year, the equivalent of $9.99 per month. Subscribers who may never buy at $9.99 per month are potentially more likely to buy at a lower monthly price point.
Amazon Music Unlimited's $7.99 cost is one step closer, according to experts, to a monthly fee that matches the expectations of the majority of users.
However, Owsinski calls this price "a mirage." As he pointed out, an Amazon Prime subscription is $99 annually. And Prime members already have Amazon's Prime Music Service for free, so many are not likely to pay an extra eight dollars per month for something they already bought.
Of course, Amazon Music Unlimited is different from Prime Music. There are more songs available on the Unlimited service ("tens of millions," according to the website, compared to the two million available via Prime Music). There are also curated playlists, a new app and behind-the-scenes artist features.
The $3.99 price for Echo owners is also a bit of a "gotcha," according to Owsinski. The service only works on that device. He wondered, how many users will pay extra to upgrade to the full service?
Amazon is similar to Apple in that it has a lot of credit cards on file (300 million estimated). But that does not mean that the holders will automatically opt into a new offering, as Apple users did with Apple Music. Still, Owsinski pointed out that Amazon's foray into the streaming music market will likely help expand the competition beyond just that going on between Spotify and Apple Music.
Americana Outsold Country Last Week
Americana/Folk outsold country for the first time ever this past week when four full-length releases topped the October 22 Billboard charts: Bon Iver's 22, A Million, Bob Weir's Blue Mountain, Van Morrison's Keep Me Singing and Drive-By Truckers' American Band. These four also landed in the top 10 highest-selling albums over all, according to Billboard.
This is a huge boost for Americana, representing more in sales than any other genre outside of rock among the top 10. This means Americana albums outsold R&B/hip-hop, dance and country.
This latest phenomenon solidifies the recent mainstream commercialization of Americana. Jed Hilly, executive director of the Americana Music Association said, "I think it's burgeoning in the commercial marketplace for a community that already existed in a non-commercial marketplace … I think that the fact that there's a word in the dictionary, there's a Grammy Award, [now] there's a place for these artists who don't necessarily fit in the mainstream commercial boxes, but do have artistic similarities can call home."
The term "Americana" has been a "catchall" for traditional Americana music for years, but Americana has only finally been accepted as a real genre during the past several years. In 2010, the Grammys awarded the first Best Americana album to Levon Helm for Electric Dirt. The Best American Roots Song and Best American Roots Performance categories were added to the Grammys in 2014 and 2015. In August 2015, Merriam-Webster added the word to its dictionary: "a genre of American music having roots in early folk and country music."
In May, Billboard rebranded the Folk Albums chart in order to "spotlight the middle ground bridging country and rock: organic, roots and acoustic-based groups and solo singer-songwriters."
Bon Iver's latest effort has more electronic influences than previous releases and thus likely helped boost the Americana category this week. However, Hilly does not view the genre lines in this case to be as defined as they are in rock and other popular genres: "Americana is a funny genre, because in some ways it can be very inclusive because it spans from blues to gospel to bluegrass influences, and it's a grittier style that crosses genre boundaries in some ways … I think all genres are expansive; I don't see any point in arguing. I just see it as a bigger conversation in the evolution of musical styles. What is rock today? It's not Chuck Berry and the foundations of rock and roll."