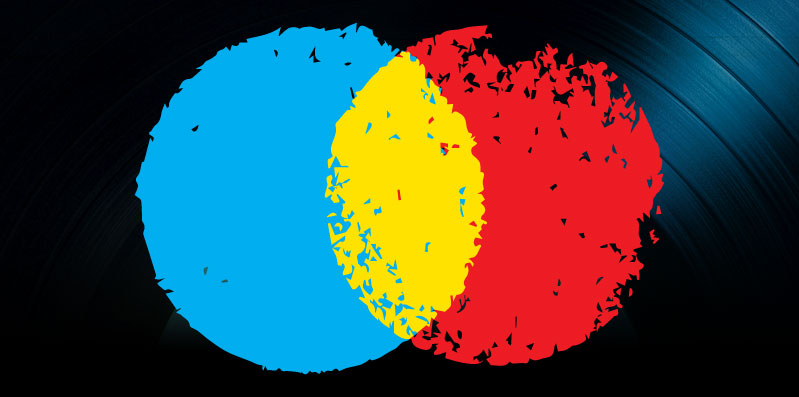 SoundExchange Royalty Rates, Adele's Marketing Strategy and Bitcoin Technology News, November 30, 2015
The Register of Copyrights said SoundExchange rates will continue to be the same for indies and major labels. Also, the New York Times outlined why Adele's marketing strategy may never work for any other artist in the modern music industry. And experts analyzed how blockchain technology can help indie artists earn a living.
SoundExchange Rates Will Be Equal for Indies and Majors, for Now
The U.S. Copyright Royalty Board has been the reviewing royalties rates and other fine points of music copyright, reported Complete Music Update.
Rumors flew that major labels might earn more than independent labels from the licensing system. But Register of Copyrights Maria A. Pallante said this will not happen, mainly because she believes the issue was brought up too late in the review process.
Online radio services, including Pandora are covered by a compulsory license, which forces labels to provide their content to them through the SoundExchange system. This is why Adele will not be allowed to keep her latest album, 25 off the platform.
Rates services pay are set by the Copyright Royalty Board. So far, Pandora has pushed to get these rates cut whenever they have been reviewed, while labels have pushed for rate increases.
During the current review, judges noticed that, under the current system, when digital services are licensed through direct deals rather than via the collective licensing system, different copyright owners are able to negotiate different rates. And this means that typically, bigger rights owners get paid more.
Major labels wondered whether or not the collective licensing system would be able to make room for variations in royalty rates, whereas indie labels argued it would not be fair to them.
Pallante said that if one or more label representatives had suggested variable rates when they submitted materials for review, she would have considered it. However, it is too late for a debate. She wrote, "I'll leave the answer for another day."
This decision means the Copyright Royalty Board cannot choose one royalty rate for majors and another for indies until after 2020, since the current review will determine rates through that year.
Why Adele's Career Strategy May Only Work for Adele
Superstar singer Adele hardly uses any of her social media accounts to interact with her fans, publicly refuses to give into the image-obsessed music industry and rejects product endorsements in order to "keep the focus on her music." And yet she sells more albums than anyone in the current or even the past music industry has believed possible. Still, the New York Times said artists should not emulate the strategies she employs, as they are not likely to lead to success for anyone but Adele.
Nielsen announced today that Adele's new album, 25 has sold over three million copies in the U.S. in its first week. This figure blew the previous record, set when 'N Sync's album No Strings Attached sold 2.4 million copies in its first week out in 2000, out of the water. And in 2000, annual CD sales were over five times what they currently are, and the music industry was still ruled by a big network of brick-and-mortar retailers.
Ish Cuebas, vice president for music merchandising at Trans World Entertainment (owner of the F.Y.E. chain) agreed that Adele's latest success "is beyond all expectations."
SoundScan began collecting sales data from retailers in 1991. And since then, only 20 albums have sold over a million copies in one week. Three Taylor Swift albums were among them, but none came close to selling as many as 25, which also had a huge debut week in the UK. Over 800,000 albums were sold, beating Oasis' record when the band sold 696,000 copies of Be Here Now in 1996 during a shortened 3-day sales week.
Analysts predicted that 25 will stay popular through the holidays and will probably sell five million copies or more in the U.S. alone by the end of the year. The last time this milestone was hit was in 2011, with Adele's previous release, which to date has sold 30 million copies worldwide. The artist will go on tour in the spring for the first time in five years, which will keep 25 on top into 2016 and beyond.
And Adele's latest album is being heralded a success both commercially and artistically, which is rare in the current music industry. A huge number of listeners, many who have spent little or no money on music have been willing to fork over $10 (or more) for 25.
Nielsen senior analyst David Bakula explained, "There are people out there for whom this may be the only record they've bought in five years … The last one may have been 21, and now they're coming back in force."
In a world of free streaming, Adele's latest effort seems to have reinvigorated customers to spend money in a "sign of devotion and support for the artist they love."
A fan, Carols Villa agreed with this idea: "There's a level of respect by buying the song, rather than just streaming it … I acknowledge the work that you put into that song, and I appreciate you for that." Villa placed an order for Adele's album the minute it went up on iTunes and also ordered a physical copy from Amazon. He said he would have bought the vinyl LP, but he does not own a record player.
Adele decided to keep the full album from streaming sites Spotify, Apple Music, Deezer and others, even though the single "Hello" was available. This act reignited the debate over streaming. The artist herself said last week that she views streaming sites like radio: as purely promotional platforms.
While astronomical sales of 25 are being seen as proof that Adele's against-the-grain marketing strategies work, analysts said she is actually an "outlier" whose success cannot be replicated by other acts. Billboard's most recent #1 was Justin Bieber's "Purpose," which enjoyed a record 100 million streams in its first week, showing that Spotify and other platforms can contribute greatly to artists' popularity and success.
Retailers have reported that those buying 25 are from all walks of life: male, female, old and young. And experts explained that this may be because her fan base is atypical, the underserved but plentiful group outside of the youth-obsessed pop music world: college-educated women between 25 and 44 who watch Family Guy and shop at Target, Victoria's Secret and Bath & Body Works.
Opening-week sales for 25 were half digital downloads and half CDs. Russ Crupnick, an analyst with MusicWatch said, "It's something to celebrate, and miraculous to watch … But I think it's like 75 home runs: It's probably going to be a long time before we see one like that again."
Will Bitcoin Technology Help Indie Artists?
The term "blockchain" is typically thought of in relation to the virtual currency Bitcoin. But according to Fortune, it could be the key to opening up the music industry to independent artists.
Bitcoin and blockchain are separate: Bitcoin is digital peer-to-peer money that eliminates the need for a bank or other financial institution; blockchain is a way of storing information aobut Bitcoin transactions in a larger database. And a blockchain database is distributed (identical and interconnected versions of it exist in several locations) as well as encrypted, so transactions and additional information are easy to track and difficult to compromise.
Singer Imogen Heap and cellist Zoe Keating are using blockchain alongside Bitcoin and other similar payment methods in order to go directly to fans for support. In this way, they eliminate the need for a record label or even iTunes and Spotify; they make it possible to sell their work directly to users with no hassle.
Heap recently explained, "I thought, wouldn't it be nice if I could decide what I wanted to do with my music? I might decide, today's my birthday, I'm going to give all of my music to everyone for free today. At the moment, I can't do that. Because it's out there, and once it's out there, I don't really have a say in it anymore."
Heap released her latest song, "Tiny Human" using blockchain and crypto-currency payments. She is also working on a distributed music database for indie artists called Mycelia. The database will identify everyone who was involved with making a piece of music and how they will be compensated for the completed song. It will also set rules around how, where and when the music can be used and whether it will be free or there will be a fee attached.
Keating expanded her thinking about Bitcoin and blockchain at the recent Blockchain Summit, hosted by Richard Branson. In an interview with Forbes, she said, "I can imagine a ledger of all that information and an ecosystem of killer apps to visualize usage and relationships … I can imagine a music exchange where the real value of a song could be calculated on the fly. I can imagine instant, frictionless micropayments and the ability to pay collaborators and investors in future earnings without it being an accounting nightmare."
Ethereum, which Heap worked with on her latest single, is putting together a blockchain-based file-sharing social network. She also worked with Ujo, which uses Ethereum's blockchain platform to enable musicians and other artists to record and publish rules on how they want their music to be used.
With this system, users are able to download Heap's single and pay for it using Ether, a version of Bitcoin created by Ethereum. But other musicians can also download tracks of specific instruments used in the single and use them in their own songs.
Heap also stated that she believes blockchain databases run by musicians and artists will not only help them get paid, but also reinvent the entire music industry: "It feels as if the music industry is a complete mess, a rusty, overstretched, tired machine … Grappling with a lot of old crooked contracts that don't reflect our times, music services that run on greed to please shareholders smothered in buy-buy-buy adverts, dated accounting setups favoring anyone but the artist thanks to gross inefficiencies, confusing royalty statements and delayed payments… plus patchy copyright databases. It is almost impossible to find out who REALLY gets what."