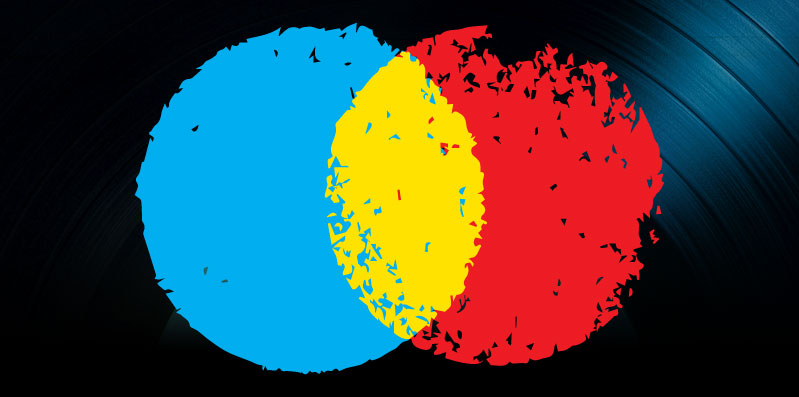 UK Music Copying Law, Universal Release Date and Vinyl Sales News, November 30, 2014
The UK music industry asked for a review of a new law permitting people to make copies of legally-purchased media. Also, major labels and retailers continued to argue about the proposed universal release date. And early figures indicated that vinyl sales will hit a record high in 2014.
British Music Industry Looking to Review Private Music Copying Law
A coalition consisting of The Musicians' Union, The British Academy of Songwriters, Composers and Authors (BASCA) and UK Music joined to request an official judicial review of new legislation that allows fans to copy their legally-purchased CDs onto laptops, smartphones or MP3 players, reported The Guardian.
Vick Bain, CEO of BASCA clarified, "We fully support the right of the consumer to copy legally bought music for their own personal and private use, but there must be fair compensation for the creators of the music."
The music industry bodies argue that the new copying law, which went into effect on October 1, makes the UK the only European state that does not include fees for private copying and that the law "damages the musician and composer community."
Bain explained, "We have sought a judicial review because of the way the government made its decision not to protect the UK's creative industries … [This is] in stark contrast to other countries that have introduced copyright exceptions."
The UK government has already rejected several requests from record labels and artists to add a tax, license or levy to laptops, phones, MP3 players and other devices capable of copying media in order to make up for lost sales.
Jo Dipple, CEO of UK Music explained, "Licensing is the business model for the UK music industry's success in the digital age … However, where the right to license is removed, rights holders should be compensated. Copyright enables people to earn a living out of their creativity and sustains jobs. The government has made a serious error with regards to private copying. The legislative framework must guarantee musicians and composers are fairly compensated."
Major Labels and Retailers at Odds over Best Universal Release Date
The global music industry continued to debate the implementation of a universal album release date this week as entities clashed over whether Monday or Friday would work best. The universal release date was initially proposed as a way to make promotion and preventing piracy easier for artists and other rights holders.
According to Music Times, the RIAA, the IFPI and major record labels are pushing for Friday, as they believe that day will make music releases memorable because they will be in line with major film releases. However, independent retailers including the Alliance of Independent Media Stores and the American Association of Independent Music argue that releasing on Friday will force more additional costs on them than releasing new music on Monday.
While retailers have not given a specific reason for higher costs, experts speculate it is that they feel it will be tougher to get shipments of top-selling new albums over the weekend.
In the U.S., Tuesday is currently the weekly release day for most albums, whereas the UK gets theirs on Monday and Australia gets theirs on Friday.
Association of Independent Music spokesperson Alison Wenham said that one of the goals of establishing the new universal release date is to choose the day that will be best for sales: "Supporting independent retailers is a core principal of independent record companies, and we work together very closely … If the retailers' view is that Monday is the best day for new releases—why would we argue otherwise? They are after all the experts in retail."
Vinyl Sales Continuing to Surge
Vinyl sales continued to thrive as early reports indicated they will hit an 18-year high in the UK in 2014 and stay strong in other parts of the world. According to The Guardian, legacy artists like Pink Floyd, Led Zeppelin and others releasing vinyl editions of their albums helped make vinyl sales £20m of the UK record industry's revenues this year. This amount was only £3m three years ago.
Figures released on Thursday by the BPI also showed vinyl record sales breaking the one-million-unit mark this year, the highest number since 1996. And industry experts predict the number could hit 1.2 million after Christmas sales are taken into account. Only 780,000 vinyl albums were sold in 2013.
Martin Talbot of the Official Charts Company said that such a big resurgence of a specific, technically "outdated" format is a rarity in the music business: "In this industry you tend to see music formats come and go, what you rarely see is a music format grow, decline and then grow again – it's a sign that the ownership of music still means something to people."
Reports of vinyl sales numbers came the same week a new branch of the traditional record shop Rough Trade opened up in Nottingham. Vinyl makes up half of Rough Trade's sales, and the company sold 49-percent more revenue from vinyl records this year. Rough Trade director Stephen Godfroy noted that the rise in digital sales and the fall of CD sales likely contributed to this phenomenon.
Godfroy clarified that vinyl's surge does not seem to be fueled by nostalgic "mature" listeners, rather younger listeners looking to become collectors of physical products that complement their digital collections: "While the digital download is instantaneous and portable, the vinyl has a sensory quality. I think we are moving into a post-digital age where people do value something that is real – there is a value in its ownership, it is not just a piece of binary code on a mobile phone."
Carl Smithson, manager of independent record store Truck in Oxford agreed with Godfroy. He said he has seen vinyl sales double in his own shop: "It's great news for record shops that the sales of vinyl are increasing – because it often comes with people wanting the physical experience of buying from a shop … Streaming is great for ease, but people want to own something and be able to share that experience with their friends." He also added that vinyl collectors are more likely to buy in store out of fear that albums will be damaged during shipping.
The best-selling vinyl LPs this year have been the Arctic Monkeys' AM, Lazaretto by Jack White and The Endless River by Pink Floyd, which became the fastest-selling vinyl album post 2000 in the UK, selling 6,000 copies in its first week. Lazaretto sold 40,000 copies in the U.S. in its first week.
Even though vinyl sales have increased significantly, they still only make up two percent of total sales in the UK, which is seeing a more marked drop in physical sales than many other countries. Revenue from physical sales dropped by 6.4 percent in 2013, whereas digital revenue increased by 11.9 percent.
BPI's Gennaro Castaldo stated he sees the resurgence of vinyl as a positive sign for the overall industry: "We have entered an exciting best-of-all-worlds era where there is space and scope for all kinds of music to be discovered and enjoyed in every type of way, including on vinyl once again … Many of us assumed it had become an obsolete format, but while the flame may have flickered, it never quite went out."