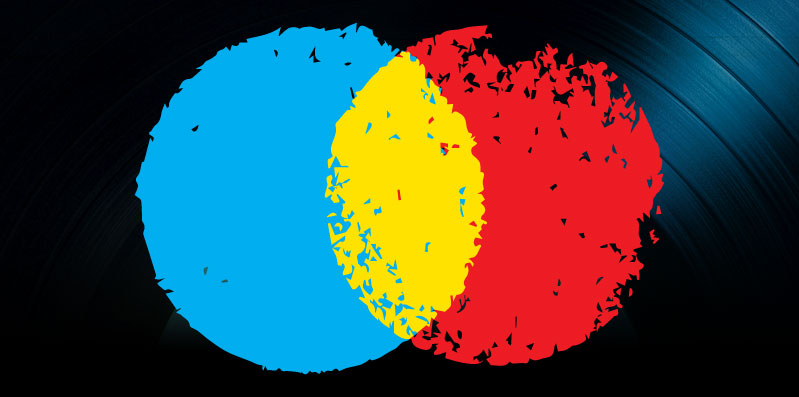 New Billboard Chart, Music and Technology and Russell Simmons News, November 23, 2014
Billboard adjusted its chart to account for plays on streaming music services. Also, experts talked about ways the technology revolution will strengthen rather than hurt the music industry. And music mogul Russell Simmons shared advice for musicians about building their brand.
Billboard Chart Now Counting Music Streaming Services
Billboard and Nielsen SoundScan announced they will now be adding data from streams and downloads of tracks on services like Spotify, Rdio and Google Play to the formula for determining an artist's position on the Billboard 200 chart. This change could be a sign that Nielsen and other major entertainment analysis companies are finally paying attention to how media consumption has changed, said The New York Times.
Since 1956, the Billboard 200 Chart has been the "weekly scorecard" in the music business. The addition of stats from streaming services is the most major change to the chart since 1991, they year Billboard first started using hard sales data from SoundScan instead of just surveying individual record stores and looking at their sales.
Billboard's director of charts Silvio Pietroluongo said that seeing streams and sales side by side will help better determine how fans are actually listening to music in the modern marketplace: "We were always limited to the initial impulse, when somebody purchased an album … Now we have the ability to look at that engagement and gauge the popularity of an album over time."
Billboard and SoundScan will count 1,500 song streams from services including Spotify, Beats Music, Rdio, Rhapsody and Google Play as equal to an album sale. They will also count "track equivalent albums" (10 downloads of individual tracks) as part of the formula for determining an artist's rank on the Billboard 20 chart.
Analysts have predicted that albums by major pop stars – which in the Digital Age have tended to top the charts on the weeks surrounding a new release, then fizzle out – will stay longer in the Top 10.
Many record company executives admitted they welcome the change, as it responds to their issues with the old chart's "blind spots." Founder of Glassnote Records (Mumford & Sons) Daniel Glass explained that Billboard's charts are still seen as a way to gauge success of new acts, but recently they were not representative of the fact that fans of many new acts are streaming rather than buying/downloading albums: "It's been very difficult over the last two or three years to communicate the charts to radio stations … I've been Scotch taping and Band-Aiding Shazam and Spotify, bringing in all this data for them. Now with this all-in-one streaming chart, it's a much truer reflection of how much is being consumed."
David Bakula, senior analyst at Nielsen stated, "Album sales have become a smaller and smaller part of the industry … To just look at album sales and say this is how we measure success is really leaving out that half of the business that is coming from streams and song sales."
And indeed, album sales in the first half of 2014 were down 15 percent from that same time period in 2013. Streaming, on the other hand, was up 42 percent.
This latest change in the Billboard 200 will likely hurt artists who still rely on album sales. As an example, Barbra Streisand's album Partners, which opened at No. 1 in September and was still at No. 7 last week would have been at No. 13 according to the new system.
The new chart will take effect on November 30, announced on Billboard's website on December 4 and printed in the December 13 issue of Billboard magazine.
Is Technology Really Ruining the Music Business?
The Internet has not "killed the music industry," said writer Ian Morris of Forbes, echoing what many experts and analysts have been saying for years.
Despite on-going complaints from executives, musicians and others in the business about various major growing pains in the Digital Age, the future still looks bright for many musicians and labels. Taylor Swift may be one of just a handful of artists who have had a lucrative year when it comes to recorded music sales, but music will always be in demand, so the industry around it is not likely to disappear completely, even if it will change radically.
Morris pointed out that the way technology could actually disrupt the music industry is by destroying the record label system: "Record labels are a man in the middle that simply doesn't need to exist anymore. The same way we buy our flights direct, and get our shopping online and have things delivered from Amazon instead of going to a local shop. We have always been keen to enjoy cost reductions at the expense of the middleman, and the record labels are the ultimate in middle men."
This is not a new prediction and has been evident in the shrinking number of major labels over the past 15-20 years. The record industry has less of a role in finding new talent than it once did. A new artist is becoming more likely to be found on platforms like YouTube, SoundCloud, Facebook and Twitter than through A&R executives.
While record labels can still play an important part in music production and marketing for musicians, well-thought-out and affordable software, music development apps and recording hardware are helping many musicians create their own high-quality recordings on a budget, often directly with independent producers or at recording studios that used to have a barrier of entry for the average artist.
Now, even radio is becoming somewhat less important to success, even as many artists still see getting their music on the radio as a major milestone. Andy Chen, CEO of music streaming service Tidal explained that many young music fans no longer understand the idea of getting music in a record store, as they see music as something that is bought via iTunes or streamed on YouTube and Spotify. Chen stressed that music services like Spotify are becoming major music discovery platforms that are, thanks to algorithms and access to huge amounts of user data, catered to the specific tastes of each individual listener.
Morris explained, "Once we – and the artists – no longer need the record labels to find us new music, once artists are able to produce their own tracks instead of relying on the old studio model, they are effectively rendered obsolete. So while today's Taylor Swift is taking herself off Spotify, Tomorrow's Taylor Swift will understand that Spotify, Google, Tidal and Deezer are the companies best placed to promote their work tomorrow."
Russell Simmons, on Building an Artist Brand
Russell Simmons said that artists can make money from far more than just recorded music, even as heated debates over royalties from music streaming services like Spotify still rage, reported Music Times.
Simmons pointed out in a video interview with Grammy U that making a living as a musician in the new industry climate is not tied to album sales or royalties, rather to solid branding: "Artists are finding all kind of ways to use their brand to earn money … Being a music star is a lot more than selling records, if not at all. If selling records was what the music business is about they would all move onto something else. They're not counting their royalties as their income, they're counting all of the things that they influence, all the multibillion dollar business that their branding and building and affecting."
He added that music is only growing in popularity, even if the way people are listening to it is changing. And the key to making money for artists and executives will be determining ways to monetize music's influence on society: "[Music] just keeps growing in terms of its influence in society and also its influence in various different businesses. So now that we can't make royalties off of records we gotta go make them pay, that's what the music business has to learn to do."
Simmons' new project with entrepreneur Steve Rifkind, All Def Digital is an effort to match artists with their fans and help them earn a living from their music without the help of middlemen and gatekeepers: "People have ADD, I mean literally they have ADD, I'm wearing the hat. All Def Digital, to me, is the place that promotes freedom for artists. New directors, new writers, new artists, music artists, poets. It's a place where people can express themselves in ways that the gatekeepers wouldn't allow in the past. We curate it so that we give the best of what's out there 'cause it's the Wild West, there's just so much on the Internet. Someone has to curate."
Simmons admitted he is also frustrated by artists' faulty, "vague" definitions of "success," rooted in a past industry that is no longer at play: "Success, how's it measured? That's a silly question … Success to me is happiness. Having a still seat. Being comfortable in your seat is success. The more you can do that the more successful you are. Happiness. You're only here for a short time, so I measure success by the level of happiness one has. Money can't make you happy. But happy can make you money."