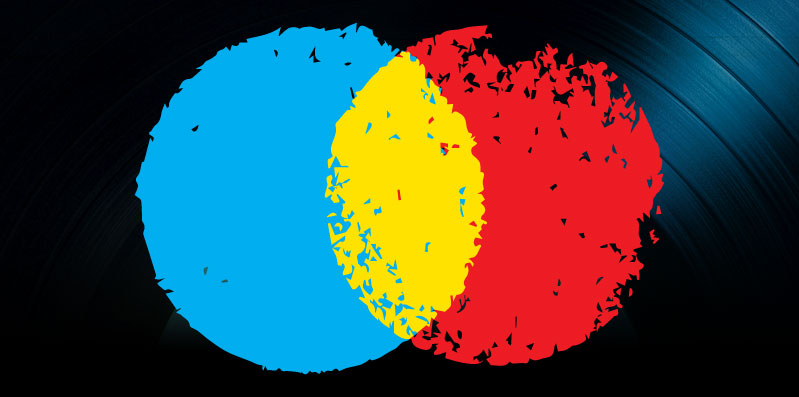 Grammy futureNOW, Apple and Pop Music News May 11, 2014
The Grammy futureNOW conference kicked off this weekend in Philadelphia. And insiders announced Apple is in talks to buy Beats for $3.2 billion. Also, The Telegraph analyzed how much revenue from pop music has declined in the Digital Age.
Grammy futureNOW Conference Underway
Award-winning songwriters, producers and leading music executives are gathering in Philadelphia this weekend for the two-day Grammy futureNOW conference. The event is hosted by the New York and Philadelphia chapters of the Recording Academy and is geared towards those trying to make it in the music industry.
Songwriters and executives will be talking about the current state of the music business and where it's headed. There will also be sessions on important issues such as publishing, touring and branding, plus featured keynotes by speakers from Def Jam Records, Vevo and Billboard magazine.
Grammy-nominated producer and Philadelphia chapter president Ivan Barias said, "They're going to have a panel called Disrupters who are basically young artists who are utilizing social media and the Internet to carve their niche within the music industry."
He added, "We're going to provide tools for people to maximize what they're already doing in the music industry and give them some insights from people who are very successful."
Apple Eying Beats Electronics
Technology giant Apple is working on buying Beats Electronics for $3.2 billion, reported Time magazine. The headphones maker was founded by music producer Jimmy Iovine and hip-hop mogul Dr. Dre. The deal could be announced as soon as this week.
If the deal goes through, Apple would acquire Beats' audio equipment, plus Beats Music, the relatively new streaming service. The streaming service is likely the appealing component for Apple, as it is a competitor for popular subscription streaming services like Pandora and Spotify, and music downloads from iTunes continue to decline.
According to a report by the global music industry association IFPI, subscription services are the fastest-growing area of the music industry: Revenue in this sector increased 50 percent in 2013.
Apple has not previously sought out such huge acquisitions, so if Apple buys Beats, this would set current Apple CEO Tim Cook apart from the late Steve Jobs. Cook stated in April that Apple was "on the prowl" for these types of acquisitions. The company has already purchased 24 businesses in the past 18 months.
Is There Still Money in Pop?
The disappearance of big paychecks in pop music has long been predicted – ever since the iPod launched in 2001. And advances in technology plus the rise of free and pirated online music has killed CD sales, and now streaming services are taking aim at digital downloads, said music industry analyst Harry Wallop of The Telegraph.
In an interview with Beat magazine about her new release, pop singer/songwriter Lily Allen confirmed that the pop landscape is changing significantly: "Everyone assumes I made millions from the John Lewis [Christmas ad]. I probably made £8,000." Her cover of Keane's "Somewhere Only We Know" hit #1 in 2013 and was played constantly on the radio and television, yet did not produce a significant payout for her as an artist.
In her interview, Allen – who took a four-year break from recording music to focus on family – claimed that pop stars now make most of their money from appearances at awards ceremonies and product launches that ultimately have very little or nothing to do with the music they create: "There are snobby launches of a new water at Claridge's. Pointless stuff. And we all turn up because we get paid to be there."
When asked how much these events pay, she revealed, "Depends. From £2,500 to £100,000? Now that people don't buy music, we have to find other revenues. It's not something I've really been offered. But I might." And Allen added the landscape has changed significantly since before her hiatus:  "I didn't know how bad the music industry had got in those four years I was out."
Last year's charts stats for figures across the entire entertainment industry (including albums, films and video games) put together by the Entertainment Retailers association confirmed that music is not a top seller. The most popular products in 2013 were the video game "Grand Theft Auto V," which sold 3.67 million copies and the DVD of the James Bond film Skyfall, which sold 2.96 million copies. There was no music on the list at all until the ninth spot, which was the Now That's What I Call Music! Vol. 86, with just one million copies sold. The only other music product in the Top 20 in physical or electronic format was the previous volume of the same compilation.
Of course, just a decade ago, pop artists like Dido, Coldplay and James Blunt were selling over three million copies of their albums. Now, even artists like Beyoncéare expressing their frustration over low revenue. On her latest album, she sang, "Soul not for sale / Probably won't make no money off this / Oh well."
Fans are not buying music in large quantities anymore, as many pick and choose one single to buy or stream music through Spotify, YouTube and other services. However, as Wallop explained, this does not mean pop musicians are necessarily struggling. Even Allen's disparaging comments about having to diversify revenue streams show that many musicians who use this tactic make a "comfortable living" that offsets declining sales. And big stadium acts like the Rolling Stones and Elton John have found touring to be very lucrative.
Even product launches give artists the ability to sell merchandise and push their brand, which helps build their fan base and leads to more sales across the board. For example, Taylor Swift has three different perfumes. And pop singer Rita Ora – with only one album – has polka dot shorts, necklaces and an entire line of Rimmel London nail polish.
An unnamed music agent said, "For a lot of these pop acts, the music is just another piece in their product range." And artists are getting creative with products. Pharrell Williams and Daft Punk co-wrote last year's hit "Get Lucky," but also came out with a line of Get Lucky condoms.
The UK's music industry association PRS for Music, which helps artists collect royalty payments revealed that artists earned £642 million from recorded music royalties. In addition, they earned £105 million in 2012 from "ancillary brand revenues," which includes sponsorship of a venue, concert or tour, with the artist taking a cut of sales. For instance, Rihanna's latest tour was known as the Budweiser Rihanna 777 Tour (even though, as Wallop pointed out, the crowd failed to respond to Rihanna's attempts to get them to chant, "Budweiser and River Island" in celebration of her brands).
"Ancillary" earnings also involve endorsements. For instance, producer Mark Ronson and singer Katy B lent their brands to Coca-Cola and were compensated for both the use of their music and their image. And Lana Del Rey supported H&M, while Jessie J got behind Vitamin Water.
PRS does not track pay checks that come from personal appearances. And pop stars can really cash in when they are asked to perform – or simply show up – at private parties, weddings and other events. Jay-Z and Beyoncé reportedly each earn £1 million a night for these types of events and others also get thousands of dollars in products aside from their appearance fee for product launches.
Yusef Mohammed, director of celebrity event placement agency Big Band said, "Many of these celebrities are very busy. Turning up to these things can take a lot of the artist's time – they are not going to go to them unless someone is paying them."
But, he added, personal appearances have to be managed very carefully: "If you become a hired hand, and are seen at the shaking of every stick, your ubiquity will destroy your credibility."