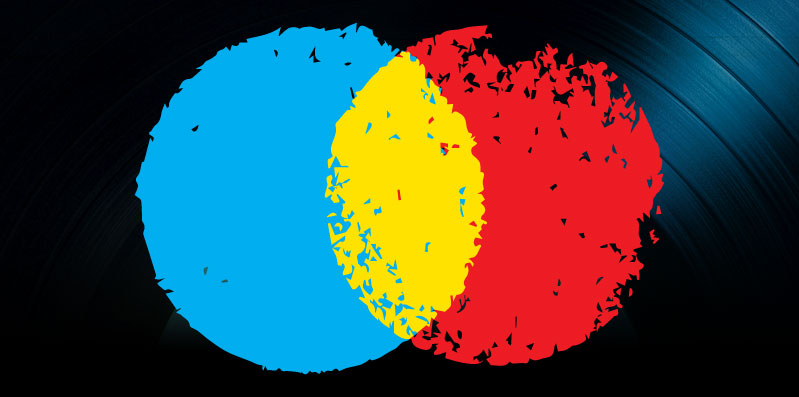 Digital Music Revenue, Streaming Music and SoundScan Mid-Year Industry Report, July 7, 2014
Business Insider reported that only one-third of revenue in the global music business comes from recorded music. Also, entertainment reporter and music fan Ted Gioia listed what consumers really want from their streaming music services. And Billboard summarized Nielsen SoundScan's Mid-Year Music Industry Report.
Digital Music Still Transforming Revenue Sources
A chart from music business analyst Mark Mulligan revealed that recorded music now makes up only 36% of musicians' revenue stream, according to Business Insider. But overall music revenues have only gone down three percent.
While many musicians are dismayed, these numbers show that the digital music revolution may just be shifting revenues in the industry, not killing them. Tours have grown 60 percent in the past 14 years. Still, challenges like 360 deals that give labels a bigger piece of the live music pie have presented challenges. Because live music makes up only a small part of consumers' music purchases, labels have also been making less money, while artists need to rely on recording – even though it makes them little money – in order to market their merch and shows.
Mulligan predicts that the shift will continue as technology brings music fans more choices: "Expect every traditional element of the industry to be challenged to its core, expect dots to be joined and old models to be broken."
Still, he is positive that the outcome will be a music business more well-equipped to make a living from music: "But be in no doubt that what we will end up with will be an industry set up for success in the digital era."
Streaming Music: What Do Consumers Really Want?
Artists, labels and others still rely heavily on recorded music as a major source of revenue, but all signs point to this area of the industry as being in flux, with streaming services on the rise yet bringing little income. According to music writer and fan Ted Gioia of The Daily Beast, the key to creating successful Web music services is in offering features that truly satisfy customers instead of "treating songs like commodities."
Last week, after Gioia signed up for Beats Music – which was recently acquired by Apple – in order to compare it to other digital music services. He compiled a list of 25 online music features all services should have that he feels would help bring the industry more satisfied customers willing to pay premium rates for their experience. Below are some highlights of this list.
The option of easily making cash payments directly to recording artists.

The ability to rate songs and see ratings others have given songs, as well as the ability to add comments and discuss songs with other listeners.

Better, more refined search engines and the ability to sort search results by genre.

Links to artists home pages on every song and album.

Names of composers/songwriters and performers.

A clear view of full album art.

Access to liner notes, and the option to download/view the entire CD booklet as a PDF.

The ability to stay logged into the music service, even after the browser window is closed.

An easy method for finding previously-listened-to songs.

Artist and musician bios.

Independent mobile and desktop versions that do not require listeners to download both versions in order to listen to music.

"Human" music curators designed to help guide listeners through recommendations vs. only algorithms.

Better audio quality, so listeners feel they are getting the best sound quality for their monthly investment.
Gioia speculated that some of the economic problems in recorded music could be due to the limitations of streaming services, which are steadily taking over the industry. He said, if music sellers treated each recording and its delivery system with reverence and focused on making it as good-sounding and easy to access as possible, fans would likely be more willing to invest in online music services.
SoundScan/Billboard Mid-Year Industry Report Released
Nielsen SoundScan's Mid-Year Music Industry Report was released last week. Billboard reported that while digital streaming revenue growth is still picking up the slack for declining mp3 sales, the decrease in physical music sales is still bigger than digital's overall growth.
Total album sales were down eight million, whereas digital album sales were down by 15.9 million units in the first half of 2014. Album downloads declined by 11.5 percent since January. "Stream equivalent" albums were at 46.9 million, up from 24.8 million in 2013. Katy Perry's "Dark Horse" was the most-streamed track, whereas Pharrell's "Happy" got the most plays at radio. The rock genre made up the largest percentage of sales, at 34.7 percent. And Universal Music Group currently holds the largest share of the market, comprising 38.1% of music sales.
The music business model has quickly changed from one focused on albums, to one centered on tracks and from a download-based system to one based on streamed subscriptions. And execs have created special measurements to help them compare streaming with individual track downloads as well as systems that allow them to see the revenue brought in by an individual album, which is currently at $7.50.
The growth of streaming has still not been huge enough to offset the 15.6 million-unit decrease in physical album sales.
David Bakula, SVP Nielsen Entertainment explained, "With On-Demand streams surpassing 70 billion songs in the first six months of 2014, streaming continues to be an increasingly significant portion of the music industry … Streaming's 42-percent year-over-year growth and Vinyl LP's 40-percent increase over last year's record-setting pace shows interest in buying and consuming music continues to be robust, with two very distinct segments of the industry expanding substantially."