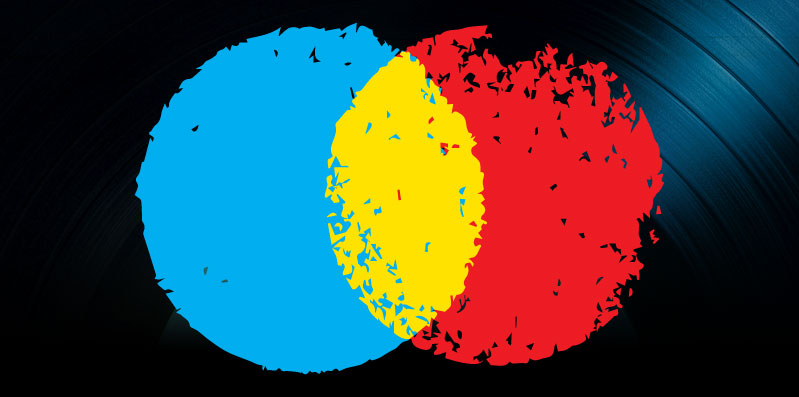 EMI, Pandora and Union Musician News, April 7, 2012
The debate over the EMI sale continued this past week as artists and other music industry organizations spoke out against the potentially damaging effects of the deal. Also, the co-founder of Pandora and musicians painted different pictures of the current and future state of artist employment within the music business.
Critics of the EMI Split:  "Concentration Can Be a Dead End"
Record labels, consumer groups and artists continued to speak out against Universal Music Group's bid of $1.9 billion on EMI Group last week, according to Politico. Moving over artists like Lady Gaga, Katy Perry, The Beatles and the Rolling Stones would bring Universal's share in recorded music up to 43 percent. Critics have been voicing their discontent to lawmakers since news of the potential sale broke months ago, stating that the combination of two major labels could give them too much power over radio and store promotions and too much of an advantage when negotiating deals with iTunes, Spotify and other digital platforms. One of the main complaints voiced by musicians and industry organizations has been that giving too much clout to one company within any industry can kill the innovation necessary for growth. Communications director of public interest group Public Knowledge, Art Brodsky said, "Concentration can be a dead end for innovators and consumers."
Federal Trade Commission (FTC) regulators and Universal spokespeople have been virtually silent about whether or not the transaction could violate antitrust laws. Universal's Peter LoFrumento said only, "We are working closely with the commission and are confident that we will secure the necessary clearance." However, Sony, Warner, Universal and EMI currently control 90% of the recorded music industry worldwide, which is already troubling for independent record labels, non-major-label artists and trade organizations. The strength of Universal/EMI would be even greater – 51 percent – in terms of the Billboard Hot 100. According to Nielsen SoundScan, the new combined label would also control 60% of rap and 45% of Latin, country and R&B music. However, Universal protests that the numbers actually include independent record labels for which the company is a mere distributor.
Even former Warner Music Group Chairman CEO Edgar Bronfman, Jr. has spoken out against major labels making deals like the one being struck with EMI. In January, he said,  "It strikes me as hubris … What it will do is create a super-major that will have far too much power … When Universal goes up over 40 percent market share, I don't see how reasonable regulators can countenance. It will impact not just labels but artists and cultural diversity." He went onto state that Warner intends to protest the deal, and he hopes others within the business will join the fight. In December, Warner brought on four lobbyists from Brownstein Hyatt Farber Schreck.
Musicians have also had many questions about the merger and how it will affect their ability to make a living as well as their relationships with their fans. Casey Rae-Hunter, deputy director of a national non-profit organization designed to protect the rights of artists and musicians, the Future of Music Coalition and a recording artist said, "We are frankly enormously skeptical that mergers and acquisitions in our industry will result in positive benefits for creators … and consumers." And this criticism extends to potential the potential EMI publishing arm deal with Sony, as it could limit the power of publishers and  songwriters. Musicians have already felt the strain of trying to transition profitably into the digital market. Despite many claims that piracy rates have decreased, only 37% of music is legally obtained, says the market research firm NPD. And the recording industry is half the size it was in 1999, down $7 billion from $14 billion.
Those who oppose the EMI acquisitions continue to note the possibility that consumers will not have access to some music on new digital services and even that future new digital services would not be able to emerge if Universal gets too big:  "If they don't like a digital distributor, they don't like a business model, by withholding their content, they could make it impossible for that business to get into the market," said Mark Cooper, research director at Consumer Federation of America. Universal wasthe second label (after EMI) to sign a deal with Google's new music service and the first label to sign onto Spotify in the U.S.
But will a high market share guarantee disagreements over pricing? Bert Foer, president of the American Antitrust Institute said that is one of the questions the FTC seeks to answer, as well as whether or not the new EMI/Universal combination will have "so much market power it will be able to call its own shots without having to worry about competition." The European Commission (EU)'s antitrust regulators started their own investigation of both the Sony/EMI and the Universal/EMI deal on March 23 and has set  deadline of August 8 to make their final decision about the deals.
Artists Will "Actually Make a Living" in the Future, According to Pandora Founder
Pandora Media Inc. co-founder and CEO Tim Westergren spoke recently at the SXSW conference, to Entrepreneur  and in a series of other lectures and interviews about his biggest hope for the future – that being a professional musician could become a "respectable middle class job" for everybody, stated an article in The Epoch Times. And he wants Pandora to be a part of this process:  "Pandora thrives on the little-known and yet-to-be-discovered … Things are going to change for musicians, whether they are successful pop stars or starving. You're going to have a much more democratic and inclusive form of radio that a lot of musicians can access."
To this end, the company started the Music Genome Project in 2000, which allows musicians – including independent and unsigned artists – to submit songs via mp3 or CD so they can be categorized by melody, harmony, rhythm, instrumentation, lyrics, arrangement and vocal harmony. This allows for songs from artists at all levels to be played alongside each other in the same "genome." Westergren believes this project is helping to give much-needed exposure to lesser-known musicians that will help grow their careers and help them  "actually make a living" by giving them the ability to locate their largest fan bases so they can plan tours, live shows and targeted marketing efforts. He added, "We can really help build a middle class. There are going to be two billion people on Pandora one day, and we're going to plug artists by the tens of thousands into that."
From February 2011, to February 2012, Pandora listenership grew from 31 million to 49 million, and listener hours grew by over 100 percent. Pandora also signed partnerships with 23 car companies this past year, including Acura and Kia, which Pandora executives feel will help artists gain even more exposure:  "The car is one of the most popular venues for radio listening … making Pandora as easy and natural as listening to traditional radio," asserted Jessica Steel, EVP of Pandora's business and corporate development.
And Panos Panay, CEO and founder of Sonicbids – a company that helps connect indie artists and bands with promoters looking to book them – and creator of the report "Rethinking Music:  The Future of Making Money as a Performing Musician" has agreed that consumers' preferences about how they listen to music has changed considerably in recent years:  "Music listeners are moving away from the mass-produced music consumption habits of the broadcast media to the more tailored and personalized experiences of the social media age." However, he noted that the amount of revenue accrued from new habits that will actually reach musicians and which form it will take are still uncertainties:  "But whatever industry attracts money and talent will inevitably succeed … and there's a lot of money going into personalized internet radios." (Check out the Musician Coaching interview with Panay from last year in which he elaborated on some of his predictions here.)
Of course, artists of all shapes and sizes have been complaining about the money they are (or are not) making from streaming services like Spotify, MOG, Rdio and Pandora. Rolling Stone writer Steve Knopper produced a report "The New Economics of the Music Industry" in which he provided an example:  If a song gets streamed 60 times, the songwriter gets 9.1 cents of royalty payments, whereas the performer gets 38 cents. However, Westergren said he thinks this will eventually change:  "I think the big guys are still in control, but that control is slipping … Indie artists, it's a whole different world for them now … They have the opportunity to compete in a way they never have before. The foundation has been laid."
Union Musicians Forced to Rethink Careers
While Pandora's executives have a positive view of the possibilities the music industry will provide for artists, many union musicians are finding it hard to make a living wage thanks to the increasing use of pre-recorded music in live theatrical performances, states a recent article in Crain's. A few weeks ago, members of the New York City Opera orchestra found themselves locked out of rehearsal's by management due to continuing labor negotiations, a month after they protested the use of canned music in the one-month run of Swan Lake. On Broadway, the musicians' union is waiting for a hearing to discuss its battle with Priscilla Queen of the Desert, which also partially uses recorded music. Other companies, including the Paul Taylor Dance Company, recently had to perform for the first time accompanied by music on tape because its musicians were on strike.
Sara Cutler, principal harpist for the New York City Ballet Orchestra said, "We are in a war, and are taking it battle by battle." Other orchestras are scaling back, and many musicals and dance productions in New York and beyond are using fewer and fewer live musicians, leaving musicians – many who studied for many years at schools like Julliard and Berklee College of Music – without jobs. Some are creating lives as freelance players, taking on rigorous private teaching schedules or leaving the business for other pursuits. In the course of the past ten years, the number of members of the local New York City union – one of the largest in the country – has decreased from 15,000, to 8,500. President of the union Tino Gagliardi, a trumpet player on Broadway said, "There are fewer opportunities for musicians, and as the work diminishes, people move on."
Long-time musicians like Don Batchelder, first-chair trumpet player for the New York City opera Orchestra said he has gone from playing 116 shows to 16:  "I'm in my mid-50s, and I had expected the position at City Opera would be a solid foundation to plan the rest of my working career around … I have to scramble now." And Brian Doherty, who was formerly the drummer for the long-standing band They Might Be Giants and went onto work as a percussionist on Broadway said he has all but given up on having a professional career as a performer. He recently decided to become a public music school teacher at C.S. 66 in the South Bronx:  "People aren't really looking to live music anymore – you can hire a second keyboard player to activate a percussion sequence, so you don't need a percussion player … It's like being a Catskills ventriloquist. You're all trained, but no one really gives a damn."
Some Broadway and classical musicians blame pop culture for their hardship. Now that the emphasis is on rock shows, there are very few productions for classically-centered instrumentalists, like harpists. Priscilla's producers claimed they have used recorded music because the show revolved around '80s music, which needs a "synthetic pop flavor." The Palace theater – where the production is housed – is required by contract to use a minimum of 18 musicians but has only employed nine.
Why is the situation so dire for these musicians? In the case of the Priscilla example, the creative team and the producers believe they are using the right amount of musicians for the show. However, other Broadway producers have claimed they have had to cut musicians because of decreasing budgets for the Arts across the board. John Tomlinson, executive director of Paul Taylor said using live musicians for its three-week season would have cost almost half a million dollars, and that raising that much money proved impossible in the current economic climate.
Many producers also get rid of musicians in favor of "glitzy" sets that they hope will sell more tickets in a time when ticket sales have been down. However, performing arts advocates state that live music is the last thing that should be cut:  "We are in danger of undermining the quality of one of America's great contributions to the world of the arts," said Michael Kaiser, president of the Kennedy Center.
While many musicians are leaving the industry, an equal number have stayed behind to protect their jobs. In 2003, Broadway musicians went on strike when producers tried to get rid of pit orchestras. And unions have worked hard to educate audiences about how much production quality suffers when there are no live musicians. The union created a "Save Live Music on Broadway" campaign in 2010, which has garnered 20,000 fans on Facebook.