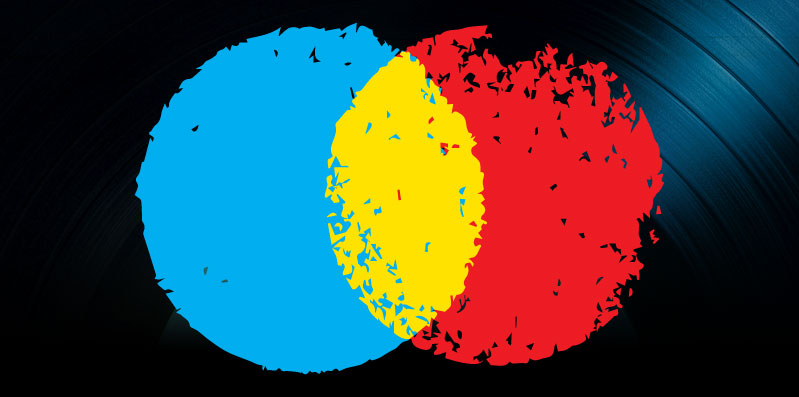 Songs and the Music Publishing Market Part I
Matt Pincus is the founder and CEO of Songs Music Publishing,  a New York City- and L.A.-based music publishing company. Matt got his start in the music industry playing in hardcore bands in the 1980s, touring and recording with Judge an influential New York hardcore band signed to Revelation Records. Matt got his start in the music business interning and being a college rep for several major labels, including Atlantic and East West Records. After college, he founded and indie record label called Some Records, which he ran for several years before deciding to get an MBA from Columbia University. Before he founded Songs in 2004, Matt was also a Strategy Associate at EMI Group.
Songs' writers include Q-Tip, Brian Lee (Lady Gaga), Dev (JLS, Newboyz) Andrew McMahon (Jack's Mannequin), Conor Oberst (Bright Eyes), and Jose Gonzalez. Songs also publishes and administers a wide variety of catalog copyrights, including a 50% share of the Pharrell Williams catalog, which includes "Hollaback Girl" (Gwen Stefani) and "Hot in Here" (Nelly) and the catalogs of Living Colour, Das EFX, Stryper, among others. Additionally, Matt serves on the board of  the National Music Publishers' Association (NMPA) and a member of the ASCAP Board of Review.
Recently, I got to talk to Matt about how he got into the music industry, the evolution of his company, the publishing market in general and the synchronization license climate.
Musician Coaching:
Thanks so much for taking the time out to talk, Matt. How did you get involved in music publishing?
MP:
I played in hardcore bands in the 80s. My band, Judge, had a deal with Revelation Records and went out on tour a couple times and sold a fair amount of records in that scene. I wasn't in a very good musician; the guys I played music with were much more talented than I was. But that got me interested in the business. When the band broke up, the other guys kept doing it, and I went to college. When I was in college, I was either a college rep or an intern at record labels throughout my college experience. I interned at and was a college rep for Atlantic and also interned at East West Records. I got to know the business a little bit that way.
When I graduated from college, I was working at a magazine. And a couple of my friends who went onto play music and signed with major labels – Walter Schreifels from Quicksand and Sammy Siegler who ended up being in the band CIV – wanted to start a record label, so I did that with them. I was the "business guy." I did that full-time for about four or five years. We had some success. We had some records that sold in the tens of thousands and we had a couple bands we sold off to major labels and made some money doing that. But it was a tough living in  a lot of ways. At one point I started an internet business to supplement the income, back when that was a good thing to do in about 1998. We plugged concert tickets and chat rooms on the internet for SFX Entertainment and plugged features and content items for Spin magazine. We ended up doing some work for the advertising agencies. It was a good little business.
But when the internet bubble burst, that whole business went away in short order. I looked at my life and said, "I don't think I want to go back into the independent record business." I ended up deciding to go to business school, and got into Columbia Business School and went and got an MBA. Coming out of there, I got a job at EMI. I worked for a couple of McKinsey consultants at EMI that restructured the business. They basically realigned the business globally, and I worked on that. I was pulled out of their group to work on the Warner Music acquisition attempt in 2003. When Time Warner was selling the company, EMI was one of the bidders. My job was to coordinate what they call the HSR filing, which is the regulatory filing for the merger. So, I was the U.S. guy they sent around to all the different business units in the company to get all the information required in order to undertake the transaction. It was a really interesting job, because I got to see the manufacturing business and the Delaware accounting people and the pricing people in L.A., and then deal with all the marketing and  promotion people and the various labels they owned. I really got a 360-degree tour of the business in a very short period of time.
While I was working on the deal , I worked a lot on EMI's music publishing business. EMI was the number one publishing company in the world at that time, so that was a big focus of the regulatory concern with combining the two companies. One of the things that popped out at me was that between 2003 and 2004, EMI was pulling out a significant amount of its budget to sign developing writers. And there were plenty of natural reasons for that. They were going to be the subject of  a big transaction either as a buyer or a seller and the business was getting shaky, so they were interested in cash flow. Putting out $100,000 to a developing rock band on a publishing deal wasn't a great way for them to solve their biggest problem. I took that part away in my head and started thinking about it, and said, "If EMI as the global leader has taken that position, Universal is getting ready to buy Bertelsmann, Bertelsmann is getting ready to sell itself, Sony is combining its record side; they're probably all in that similar position."
And this was in early 2004. At the time, there were a bunch of companies in the record business that were taking a hedge fund and private equity money and going out and buying old catalogs – the Nirvana catalog, Trio/Quartet, all this kind of stuff – for twice what the average historical price had been for these things. They were paying twenty-times earnings or more in a market that historically paid probably between seven and thirteen times. I looked at that and I thought it just didn't make any sense. You have to raise hundreds of millions of dollars to do that, and then you're stuck paying over full price for whatever you buy. So, I decided to focus on writers, because the majors weren't in that business at the time, and all these catalog rollup companies didn't care about new stuff.
While I was at EMI, after the Warner deal fell apart, I was interviewing for jobs there, but my boss had been fired. I didn't have a whole lot to do. I started looking at the developing writer and music publisher market in the United States and found a bunch of deals. In April of 2004, I left my job at EMI and started doing publishing deals. A few months after I started the company I hired Ron Perry – who handles  A&R here – , and he started attacking the market. A lot of the initial deals were close to where I came from; the first four or  five deals we did were either punk or metal. That was good for a number of reasons:  I knew the people involved; they sold a lot of records, so in most cases there were good mechanical royalties in the pipeline. It also trained me to deal with really challenging repertoire, creatively speaking Selling a metal song to an advertising agency is really difficult. We all got trained to work really hard on adding value to songs that weren't easy to add value to as a publisher.
That's where Songs came from. As it's grown over time, we've had a couple key acquisitions that led us into different directions. We started with punk and metal stuff:  We did Ted Leo, Murder by Death and a band called Every Time I Die, Further Seems Forever, etc. And then we signed Chiodos, which was a band that we picked up on a modest deal, because the record had just come out. And then the record blew up and sold 400,000 records. That was a big deal for us. Then I had cash flow, so I started looking at some bigger stuff.
Musician Coaching:
Ron has probably done more publishing deals than most guys twice his age.
MP:
Yeah. That's 100% true. He's probably done 150 of them.
Musician Coaching:
That's the amount most major publishers get in their entire careers. It's a lot for someone who's just in his early 30s.
MP:
For sure. And that allowed our company to develop in a particular way. We had these writer deals that were touchstones. Chiodos was an early one. Then Andrew McMahon (Something Corporate / Jack's Mannequin) was a big signing for us. It's almost hard to believe, but at the time, a guy like Andrew McMahon wasn't attracting top attention from major publishers. He had offers, but at the time it was a different market. Andrew had an offer from a couple majors, but he signed with us. That brought us into another pocket. All of a sudden guys with really general interest music careers saw us as guys that could steward their publishing. He was a big one, and the Old 97's was a big one, because they were really out of genre for us. Even Andrew was connected to the punk/emo/hardcore scene a little bit. The Old 97's was totally out of that. We signed Rhett Miller first, and then had a good relationship with him and picked up the rest of the guys. That got us into the alt-country business. And then we were just a more diversified business.
Q-Tip was another big one for us. He was super credible, had lots of good will and fans around the business. He was with a major publisher for a long time. The majors just aren't particularly geared to roll up their sleeves and work with somebody like Q-Tip. We looked at him and thought, "Not only does he have a legendary reputation, but he's an  incredible talent and is great in the studio." To us he represented an opportunity to really go to town on his stuff. He's writing with everybody now. We even have him in with MGMT. He has Kanye West and Jay-Z's new single on their split record. He's even producing Esperanza Spalding's new record. He gets a lot of his own work, but we're out there opening up doors for him while he's opening doors for himself.
Musician Coaching:
It sounds like you started your company in a moment in time when people were still adhering to a model that just wasn't updating quickly enough. And records were still selling, so you were able to start a company with mid-sized artists and really monetize their catalogs better than a giant company could.
MP:
That's absolutely right. There was a big middle market when we started. It would be very hard to start our business now. When we started, there were 50,000 – 100,000-album sellers all over the market. When we first started, we had 85 potential acquisitions that were north of 50,000 albums sold in the U.S. that weren't published. Now, that market has gone away, because the retail has collapsed. The 50,000-album sellers are now 15,000-album sellers, which makes it harder to do a publishing deal. It's not really great for the writer, because they're not getting a lot of money. And it's not really great for us, because we have to do the same level of work for less money in the pipeline. It would be very hard now to build a business on the same foundation we built ours on originally. We were lucky with timing.
We attacked that middle market, and there was a lot of that business when we started. It's changed a lot. The bottom of the market has gone away. The majors are swimming at the mouth of the river a little more than they used to, because their world is changing too. The music publishing market is heavily skewed towards performance royalties lately, because radio is where the money is. And there's less inventory on the radio play lists. So, it's more money chasing fewer deals. We've been able to hold our edge well because we have great relationships with the writer community and we have a great synchronization business. An early investment of ours was bringing in Carianne Brown, our head of creative licensing, who has been with us since 2006 and is an extraordinary talent.
Musician Coaching:
Are you finding that the sync business is just saturated with people willing to give their music away for less and less? How has that business changed?
MP:
It's changed a lot. The middle has gone away there too. When we were in the early-middle development of our arc thus far, we were doing tremendous business with indie rock bands that didn't sell a lot of records. In the early days of the company, majors were getting $10-15k in a network TV 30-second use for a placement of a recognizable song,. We'd get about 9k for licensing these somewhat known indie rock bands for the same use. Now that business has largely gone away in television. They're looking for MySpace bands, recognizable songs or stuff that's working right now. For example, we have Sleigh Bells. Those guys get a lot for business on TV, in ads, and everywhere else because they are a big hit in the indie community and have lots of buzz around them.
Musician Coaching;
What I can't figure out is that advertisers don't seem to care about re-purposing. If something is in a car commercial, as long as it's not in another car commercial, you'll find it in an iTunes commercial and then in a commercial for a movie. In the dawn of sync – which I think of as Led Zeppelin in the Cadillac commercial or early iTunes commercials – people would look for music that no one else was using.
MP:
There's much more of a herd mentality in the synchronization licensing market than there used to be. They do want category exclusivity frequently. But the synchronization market has its own hit spectrum that is different from the radio hit spectrum. You look at bands like the Heavy, the Ting Tings, The Black Keys; this isn't stuff you would hear a few years ago in tons of commercials. Now, you're talking about  middle-six figures, to upwards of a million dollars in synchronization income per album with any of those acts. The two-fold cause for this is that advertisers care more about music than they used to, and writers and artists are more willing to license than they were before. Sleigh Bells, which is in that category, works very well to picture, and is very hard to replace. There's nothing that sounds like it. What's interesting about the Sleigh Bells record is that there are parts that have a real melodic sing-song quality. When you hear the album, the music really packs a punch. When you extract certain parts from it, it soars with melody. It's a very unique property, so they get referenced all the time. People will say, "We want something that sounds like Sleigh Bells." It's hard to get, and it's buzzing, so it's  a synchronization hit. That's great business. We've invested heavily in looking at stuff like that.
The synchronization market works in a particular way, and I think what people think from the outside is that anything  that is big elsewhere is also big in sync. That's not true. It's relatively uncorrelated. When you look at our top sync earners, it's not the same as our Top 10 overall writers.
Musician Coaching:
It must be really weird being known for 30 seconds or less of your entire musical output.
MP:
Yeah. Every musician has a different point of view about synchronization, and we get that. One of the things we do when we sign a writer is spend a lot of time talking to them about what they will  and won't do. You have to get approval from the writers on most of the deals we have. We want that to be efficient. The more we can understand what they want to do, the better off we're going to be in terms of being able to connect the dots quickly. That's the whole point of the music publishing business where it stands now. It's not the kind of business anymore that it had the reputation of being for years and years, where you'd buy a song, sit back and smoke a cigar and collect the money. It doesn't work that way anymore. You need to be out there working really hard for all the people that are your constituents, and that means your writers, music supervisors, writers' representatives and to some degree the labels on the other side of your songs.
We work really actively to provide a service level in almost a concierge-y way. This is particularly true with respect to music supervisors, who are inundated with music being pitched to them. Yes, you have millions of MySpace bands that sound like this or that, but somebody has to go through it all if you want a license them. So, this is where Carianne Brown, Ashley Bearfield and Jason Karlfeld, who are our licensing people, come in and do a lot of work to present music to a music supervisor based on the personal relationship they have with the person and the understanding they have of the way the person does their work. They spend a lot of time both understanding what kind of music to give each music supervisor and also how they each likes to receive music. Some people like to only get emails, some people still like CDs, some people only like to get pitched in meetings. It's a real relationship business, and you have to understand the music supervisor and your own writer. The worst nightmare is being in a situation where something is locked in a national advertising campaign, and all of a sudden you find out the writer is not happy and wants to kill the deal. We need to understand the sensitivities of the writers – and they're creative people that have their own ideas – in order to figure out a way we can make the process most efficient. People have really different opinions about that kind of stuff.
To learn more about Matt Pincus, his publishing company and its roster of artists, you can visit the Songs website. Stay tuned for Part II of this interview, in which Matt gives some advice for artists, songwriters and producers looking into publishing deals and discusses his views on the future of the publishing business.