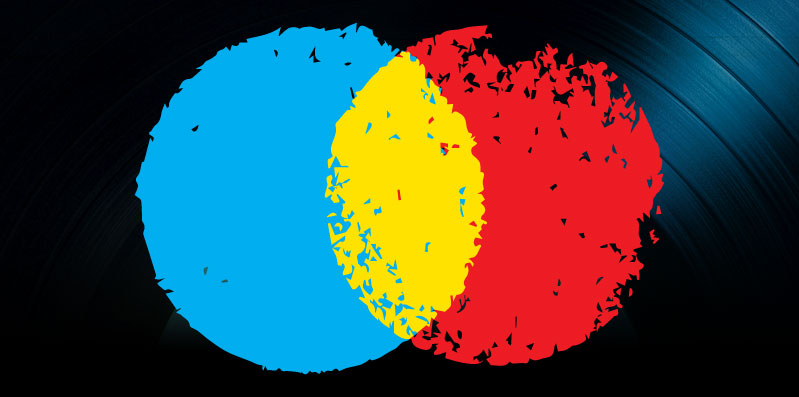 The Best of Musician Coaching 2012
With 2012 coming to a close, I wanted to call attention to some of the most interesting articles we've featured on the Musician Coaching site this past year. I chose these "Best of" highlights below not only because many were shared the most on Twitter, Facebook and the Web, but also because they hit some of the issues I feel artists and others in the music industry should be particularly focusing on as they develop their craft and build sustainable careers.
Everything You Need to Forget about the Music Industry
I have learned a lot of interesting things on my 20-year journey in the music business. But one of the biggest discoveries came to me as I was building this website and has continued over the past four years:  Why do so many people gloss over all the foundational work that is usually required to find great help? Why are people often so divorced from all the work they have to put in on their own to advance their careers and all the time they need to devote to developing their sound and playing shows (especially those poorly-attended ones at tiny venues that build character)? And why do so many think an executive will want to jump in and partner with them when music seems to be just a hobby for them and not a real, thought-out business?
As I mentioned in my article, "Everything You Need to Forget about the Music Industry, "I was watching something on the Science channel about the planets, and an astronomer was talking about an asteroid hitting the earth. He said, 'There has been more money spent on movies about asteroids hitting the earth than money spent on preventing asteroids from hitting the earth.'"
Since I heard that statement, I haven't ever looked at media – the field I've been focused on for my entire life – in the same way. And it made me think even more about the different stories that the media tells us about what it means to be "successful," as musicians (and human beings), and how the way we compare ourselves to the media's ideals impacts our own quest for success.
Using the example of the layout of VH1's popular Behind the Music series, I pointed out how we are all told success stories that are based more often on the moments after a famous artist's album comes out and that person becomes a huge celebrity by creating a genre changing piece of work or a huge commercial success. We are less often told about the reality of people everywhere that continue to work steadily and persistently and make a real living in music.
The article ended with this point:  "If you want to achieve your goals as a musician, you need to get really specific and write out a business plan. It doesn't matter if you don't know how to write a business plan or if you believe that it's only for raising money or that it requires fancy number-crunching graphs. Truthfully, a business plan can start off as simply just visualizing where you want your music to take you in the next six months."
As I said, I can't write down a plan that will work for every artist, but I can offer a few guidelines if you are devoted to music for life and want to stop pursuing it as just a fun hobby:
Build a solid business foundation. Figure out how money is made in this industry and how publishing works. Register with ASCAP, BMI or SESAC and SoundExchange. Make sure you have a business entity established and trademark your name.
Get your marketing materials in order. You're going to need at least a 4-song recording (and one that requires no apologies), a well-written bio, a logo, a professional photo and a video of you performing live (for an actual crowd). You'll also need vanity URLs on social networks, a website and to make sure all your digital real estate is interconnected.
Set yourself up for the long haul. You need to engage in long-term planning if you want to work as a musician. Most "normal" businesses are not in the black for three, to five years, so why should a music business be any different? If you are truly in this for life, you should be investing in your business in a way that ensures you are set up to play and record music and get it to people at a moment's notice over an extended period of time. This could mean building a home studio and getting a P.A. and a van. The point is, you're going to have to plan multiple releases over a number of years and be prepared to play countless gigs. And you're going to need to know how to accomplish this as cheaply and easily as possible. Don't blow all your money on your first release, expecting it will propel you instantly to financial stability. Plan on truly playing and recording music on an on-going basis.
Build a community and diversify. The music, the money and "the hang" (who you seek out as collaborators and the other musicians with whom you surround yourself on a regular basis) determines which gigs you should take, even if they divert you from your original work – sideman work, apprenticeships, etc. Remember, even Hendrix was a sideman.
Think about B2C and B2B. It is also important to consider that everyone is talking about direct-to-fan in the digital age – an obvious, unfiltered Business to Consumer strategy (B2C). As they are building their communities, I'm of the opinion that many fledgling artists should also pursue Business to Business (B2B) relationships with like-minded artists. If you convince one band with a 50-person mailing list in another town that you are worth a damn, you can get your music in front of those people and start to break a new market if you're willing to do the same promotion for them on a gig trade.
The confusion and frustration you may be feeling about your music career is just part of the process. (It's just not part of the process that people really talk about!)
In September, I had the pleasure of talking to Danny Barnes, a banjo player and a songwriter who has been a working musician for over 30 years. We discussed his long career in the music business and his views on the modern music climate. He also shared some advice for artists that want to successfully build their lives around music and become truly great at their craft.
Widely known as one of the world's most innovative and versatile artists, Danny mixes non-traditional music like rock fusion and jazz with electronic percussion instruments, still rooted in the traditional bluegrass, country and folk music for which his instrument is known. A lifelong music "fanatic" in every sense of the word, he decided he would make a career in music at 10, when, deeply inspired by the many records his parents played at home, he began to diligently study his craft. Known for his positive and refreshingly-honest attitude towards being an artist in the modern music industry, he continues to dedicate himself to growth and further innovating his instrument by learning from and collaborating world-renowned master musicians, including Bela Fleck, Lyle Lovett, Nickel Creek, John Popper, Chuck Leavell and Dave Matthews. He puts out music through ATO Records.
Danny candidly shared his passion for music, his candid thoughts about the current music climate and where he believes artists should be focused. One of the most powerful things Danny said in his interview was, "It's possible to mimic things closely. We can find someone down at the bus stop, get them a makeover, auto-tune them and make them look and sound a lot like a guy on TV. I think that's distracting. The response that creative people should have to stimuli is to make something. Imitating somebody is not making something. I'm not saying you shouldn't gather inspiration from people. But our response to being inspired should be to create something ourselves."
Tracking Metrics for Musicians
I talked to Gregory Mead, co-Founder of MusicMetric, in early August. MusicMetric is a company that aggregates and analyzes all music-related trend information available on the Web for over 600,000 artists and over 10 million individual releases in real time throughout the world. As I mentioned in the interview, Musicmetric is also the first product I have ever openly recommended to musicians on my site. Greg helped develop the technology behind Musicmetric while earning his degree in computational physics at Imperial College London. At the time, he was working as a Music Editor for the major London student newspaper Felix and recognized the need for an efficient Web tool that would help his team of 30 music reviewers seek out new artists in London. Alongside Co-Founders Marie-Alicia Chang and Matt Jeffery, he launched Musicmetric in 2007 in an effort to create an easy way for those working in the music industry to track important music data and statistics. A fan of live music, he has also been involved in organizing live events throughout London.
Greg shared his background in music and technology and, more specifically, why metrics tracking and analysis is important for artists at all stages in their careers. He also shared information about how Musicmetric can help artists become more aware of how their music is being received and take informed steps to build a loyal fan base. He said, "There are three broad categories of the data we track:  file sharing; social media and online mentions, which of course involve analyzing text in reviews while crawling the Web … There are other music analytics services that attempt to focus only on the social media part, which we have in our product. But having the file-sharing data and the mentions feature is really important because it gives you a broader view of what is going on."
Monetization, Myths and the Modern Artist
The past decade or so has been a particularly challenging time for artists. They can no longer just focus on making great music or rely on someone else to do all their marketing, promotion and business tasks for them. Now, social media and technology tools designed to help artists build intensely personal relationships with their fans and turn more people on to their art are necessary. Add to this the fact that the industry is changing faster than ever before, giving birth to entirely new business models and figuring out what to focus on in order to find long-term success can be a difficult task. How can you thrive in the shifting modern music climate?
In May, I got to catch up with Tom Silverman, the founder and head of TommyBoy Entertainment, as well as the principal executive of the New Music Seminar. Tom has graciously agreed to contribute quite often to the Musician Coaching website and honestly share his vast expertise and his views on the evolving industry. Throughout his amazing career, he has worked with and broken artists like De La Soul, Digital Underground, House of Pain, Queen Latifah and Afrika Bambaataa.
In the interview I entitled "Monetization, Myths and the Modern Artist," Tom and I discussed what artists are going to need to do from a business and artistic perspective to be successful in the evolving industry:  "[One trend that's emerging] is monetizing attention. One of the things we've learned from Instagram, Facebook, Google and everything like that is that we're in an attention-based economy:  Attention equals dollars now. If you look at the attention that's garnered by the artists and music that the labels control, it seems like there should be a better way to monetize that attention. Labels are so focused on selling albums and secondarily, music, that they aren't really focused on monetizing the attention and focus that those artists and that music create. If they created relationships with artists where they would manage and monetize the relationships artists have with fans and the impressions the artists and their music create in the world, the value of that would probably be 10-50-times greater than just selling records."
Above all, Tom's thoughts on the subject were positive. And as promised, he shared these positive thoughts at this year's New Music Seminar, where we both spoke in June:  "I'm optimistic, though. And at the New Music Business Seminar this year, we plan to be optimistic – no whining and complaining. If you don't have a way you think the business can be better or that artists can do better, get more exposure or make more money or do something better than has been done before – if you don't have a way to improve things – stay home … At a lot of the other conferences, people talk about what a mess everything is, but, that's not the way we want to look at it."
Balance, from an Artist's and Pro DJ's Perspective
If you're an independent artist without label support, juggling all the elements of your career by yourself, from marketing your music, to booking shows and seeking out new opportunities to connect to your fans is no easy task. If you're confused – as so many artists are – by the many intricacies of the industry, you might feel as though you are spending more time on menial, business-related tasks than on your music.
In mid-April, I got to talk to New York City-based DJ, producer, remixer and music company owner MING (a.k.a. Aaron Albano) about his own multi-faceted experience in the business and how he has managed to stay balanced and focused on his art while seizing every opportunity to build critical relationships with fans and music industry professionals in order to continue to get to make a living pursuing his life's passion. From the age of nine, MING trained as a classical and jazz guitarist and played in hair metal bands throughout high school. Because of his passion for production and interest in building a solid career in the music industry, he decided to pursue a degree in electrical engineering with a focus on audio at the University of Miami. He continued to fine-tune his production and DJ'ing skills in college and upon graduation, looking for a way to fund the development of his home studio, MING found work in the burgeoning Internet industry. During this time, MING met renowned musician and DJ FS and together they formed the duo Ming+FS, a collaboration which went onto produce four studio albums and over 30 singles. Eventually, he founded the record label Hood Famous Music. As an artist, MING is managed by Stephanie Lafera at Atom Empire, which counts huge artists such as Lady Gaga among its talent.
During our interview, MING stressed that artists in all genres need to stay forever focused on the music: "You always need to be working to get better at your craft. Try to work with as many people as possible. Have a point of view and a unique sound. Bring something new to the table … And learn how to collaborate. Just because you can do everything by yourself now doesn't mean you should … The more people you can collaborate with, the better you will be as a musician, and the larger your fan base will be … [And] be honest with the music you're making. It's okay to make music that is not successful. But if you want to make music that you're going to make your money from, you have to find the line between art and commerce and be able to ride that line comfortably. You have to be able to carve out a career where you're making money from the art that you make. Otherwise, you can call yourself a professional musician, but you're really just a hobbyist with an addiction."
He added that DIY musicians need to proceed carefully and intelligently:  "Putting out your own record is all fine and good if you understand the business – if you have your social marketing down, have good networks and a good fan base, if you understand business and can manage money. You know what it's like to run a record label, a touring business and a merch business. There's a lot to understand. And most young musicians at 22 do not know how to do all that. They play to 50 people in their home town, have 100 Twitter followers, 50 people following them on Facebook and think people know who they are. From a global business perspective, you're basically invisible at that point … I'm always telling young musicians that it's not enough to make your own record and put it out on your own label. You haven't been put through the system, and you haven't been validated by fans or the other people who are going to help sell your records. You're an army of one. Some of these deals you do in the beginning won't be good. Make sure the deals you do in the beginning are short term or limited to a certain number of years. But it's valuable to do records on larger labels and have other people validate your music."
You can expect many more interviews and articles from some incredibly talented, knowledgeable folks coming up in 2013, so stay tuned. Here's to a very happy and healthy New Year!