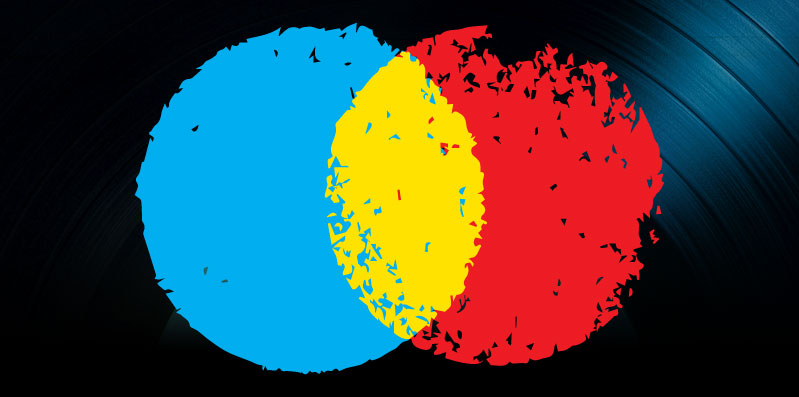 Rob Max is the Communication Director for the Sweet Relief Musicians Fund, an organization that provides financial assistance to career musicians who are facing Illness, disability or age related problems.  Prior to working at Sweet Relief Rob was a musician, the manager / promoter of a music venue and ran a record store.
Music Consultant
Start me out and tell me about your early music career.
RM:
After graduating the University of Maryland in the mid 80s I went into industrial and commercial real estate at a company in North Jersey.  While II was doing that in my early 20's, I got together with some friends of mine, and we started playing. I was a singer, and I also did percussion. A good buddy of mine and I formed a band called The Rain, and we were doing a lot of rock and roll covers, anything from Cream, to the Grateful Dead, to Pink Floyd, to Dylan, to The Band, and trying to create our own original music. We performed locally, we did parties, we did a couple small festivals they were called back then – nothing like what we have now. I think that band probably was around for maybe a year and it morphed into something with some other guys in a band that had just split up. We started practicing with them, and we were expanding our repertoire a little bit and trying to do more originals. After we had been together about five months and were playing some Dead stuff, I think it was at a party – I can't remember exactly because this was taking place in about '89, 20 years ago. We played a party and played some Dead tunes, and an individual saw us. There's a group of folks called the Wharf Rats that follow the Grateful Dead and used to do 12-step meetings at the shows.
Someone from the Wharf Rats said, "Listen, we're doing a party at the Wetlands in New York City, and we'd like you guys to play." I guess the caveat was that we had to play Grateful Dead songs. We only knew about six songs, and we had about 60 days before the event, and we ended up learning another 20 songs. We hadn't named ourselves yet, so we decided to name ourselves Crazy Fingers. We played this event, and they had a ton of people there. We weren't anything like a Dark Side Orchestra, and we certainly weren't as note for note as bands like Zen Trickster or any of the other bands that were playing back then; but we had some great, young musicians and I could do enough vocalizations to get a Bobby sound or a Jerry sound out. After we played the show, we ended up speaking to the Wetlands manager and the guy who was booking the show.
From that show they asked us if we wanted to be one of their regular Dead bands. They were doing a Tuesday night Dead Center, and they asked us to be a house band doing regular Dead Center nights. We did, and it was a great experience. We used to bounce around; there were guys like John Popper hanging out there all the time – Blues Traveler hadn't hit yet – and Phish was around, and they hadn't hit yet, Dave Matthews wasn't big yet. These were some of the other folks that were playing that we'd hung out with.
Music Consultant
I'm sure Chris from the Spin Doctors was also around.
RM:
That was the next word out of my mouth. Chris from the Spin Doctors. We weren't anywhere near their creativity doing Grateful Dead music, but we did start working on some of our originals. And we did that for a number of years, and it was a great experience. I left my job and was playing full time. As any musician trying to get gigs, how do you survive?  I caddied golf bags. I lived in New Jersey and a Country Club wasn't far away. I could work four or five hours, make $100 and not have to do anything else. God knows I didn't want to work at a company or a corporation. I grew my hair, and we had a great time. We developed a terrific following. I think like a lot of bands discover, our greatest gigs were local gigs out in New Jersey. We played at a church. We used to call it "Methodist Square Garden." We would make two, three four times the amount of money we could make playing in clubs.
Music Consultant
By creating your own venue?
RM:
Exactly, and that's one of the things I can recommend for people coming up in bands, don't knock yourself out always trying to get into the clubs. It certainly will get you seen and develop a following, but if you're trying to survive, develop a regular monthly gig or two in your own area where you control it. The church loved us, all the kids were going there, and obviously there was no booze served, all our fans were all high school kids. But we would pack the place, and we got to do our own shows, and we had effects and smoke machines and projectors showing King Kong behind us.  We could get a thousand bucks or more for a gig like that.  At a club like the Wetlands the best nights they paid were going to be $500-$600. We've oscillated between playing clubs or we'd go up to Port Chester and someone would be doing a festival.
Music Consultant
Did you ever make the jump from being a cover band to playing all originals?
RM:
No. We never got to make that jump. We couldn't get into many venues doing other things. We happened to break at the right time doing Dead music. If you recall, that was the third coming of The Dead and the Touch of Grey era. If you were a Dead fan and going to shows, an entirely new group of teenagers were going to shows because of A Touch of Grey. The whole hit that came out, and we benefitted from that. Clubs that wouldn't talk to us about playing what we wanted to play, it was popular for that era, from late 1988 to early 1992. It was a lot of fun, and there was never any point in time that I made enough money where I didn't have to work another job, but on the East coast caddying golf bags was probably the most freedom you could have, and it worked out at that time to probably about $20-$25 per hour of earning money.
Music Consultant
So you went from being a musician to running a record store to managing a music venue?
RM:
The whole band thing and that ran its course so I had to make some decisions – was I going to do music? What was I going to do? I wanted to write and still stay around entertainment and music so with a bunch of other guys I moved to California and we all landed in Laguna Beach, CA.  The managing director of Sweet Relief actually used to manage the band I was in and both he and I ended up working in management and sales and development for Warehouse Entertainment. It was like a Blockbuster/Sam Goody combination. They had a whole music and movie section, and we both ended up managing locations. I managed a record store on the pier in Huntington Beach, CA. And from there, that was a stint for a couple years.
Those were crazy days. It was the CD boom, and the music industry was thriving. I used to have local bands play at the store.  We would set them up on the pier out there and hide the power cord, then all of a sudden it was like those flash mobs. Out of nowhere all of a sudden without permission from corporate, I would just start having live bands play out on the pier at Huntington Beach. A huge crowd would come and the cops would show up; and they'd be trying to find the cord to pull the plug, and they couldn't find it. We had a lot of fun back then.
So that was my experience working in the retail record world; and then from there I ended up going to the White House Restaurant and Tavern in Laguna Beach, which had a venue on one side and a restaurant on the other. I became the general manager and entertainment coordinator as well as the sound guy and the tech guy, and booked live music there seven nights a week for four to five years. And that was when I kind of saw the other side of it – bands constantly trying to get gigs, and how difficult it was, and how little we paid. We typically paid $400-$500, and it didn't matter if you had four in your band; I had full-stage bands with ten people. I used to say to myself, "These people love music so much that they're schlepping from Los Angeles to play a gig in Laguna Beach on a Thursday night with a ten-piece band, horns and back-up singers and they're making $30 per person.
Music Consultant
Probably less when you figure in expenses.
RM:
Yes. And I really got an appreciation. I certainly had passion for music but my talent was marginal at best, and I didn't have that kind of drive. I got to see for five years all these bands that constantly were trying to get on the stage and would work for literally nothing. We'd serve them a meal as well, and they'd show up there early and play their hearts out. Some nights we were packed with three- or four-hundred people, other nights there'd be ten people.
Music Consultant
Other than talent, what got your attention as a guy booking a club? What was it that made you take a band under your wing and try to develop them?
RM:
The bands that got played were those that were willing to do work to get people into the club. That was always the bottom line, and nine out of ten bands were always unwilling to do that.
Music Consultant
I know this was before the digital age, so what did that entail back then?
RM:
It entailed street work. Back then people had paper mailing lists, but it would entail flyering wherever they lived locally and getting on the phone. If they wanted to get the gig and keep the gig they would have to make sure their first night there they did well. Typically what happened is bands did do well their first nights and their second night they bombed. I think what we've all seen in the music biz is that even your best fans will come out for you once, but if you don't really have die-hard fans they may not show up the second time. Certainly with the level of bands we were dealing with which were more club bands, they weren't focused on writing their original music per se, it wasn't really a performance artist club, they really couldn't back it up the second time.
Music Consultant
What did the artists that made that transition do that the other artists did not?
RM:
Somebody in the band had the driving business skills required to be successful at having people show up. There was at least one person in the band – sometimes it was the leader, sometimes it was the drummer – that didn't work another job and was willing all day and all night to pitch the band and get people to show up and get the word out. That was always the difference between the bands where I could see nobody was really driven or they shrugged their shoulders and didn't know why anybody never came and the bands with at least one motivated person that this was their life – playing and getting other people to come see them. That was the key.
Music Consultant
So you were there for five years. What was next and how did you get to Sweet Relief?
RM:
What was next was interesting. I ended up meeting a terrific young lady, and we got married and had a son during my last year there. And I said, "This world is not going to work for me." I wanted to be an attentive dad, and I was doing the night club thing until three or four in the morning. So after some long and hard thought and doing a little investigating, I took a complete right turn, cut all my hair off – at that point I had hair down my back – and got in touch with an old friend from high school who had been in the commercial insurance back in New York City.
One of the things I think is always important for musicians and not something that Sweet Relief promotes but from my own perspective, I kept educating myself in the music business when I had a band. I made sure I didn't miss the curve of the Internet and computers and all the skill sets that come along with that. I always kept up with my current events and news reading, not just necessarily looking for the skills where an opportunity would come up, but it made sense to me. Again, I wasn't the kind of driven artist who focuses on their music. I was more the person who loved it but was a little more realistic. Through a number of conversations, a friend of mine asked me to come to New York and help him start a new business. He was starting an insurance agency that catered to the technology world. We started that company and we ended up selling it two years later to a larger company.   I then got hired by another startup that was starting a digital Internet play in the commercial insurance business and became the director of that company. As my bio says on Sweet Relief, I grew that from twenty agents to a 4,000-client, $50-million-per-year enterprise; and it was a big change from music.
Music Consultant
I would say so.
RM:
It was a big change, and it was really exciting for the first three years. Then, I just got bored. I was still a long-haired musician beach guy wearing a suit and guy and commuting into New York  City every day at five in the morning. It just wore on me.  This will get me into Sweet Relief. My good buddy Bill Bennett contacted me the summer before last and had just been approached with this opportunity to be involved with Sweet Relief. He asked me if I would be interested in helping him shepherd the growth of the charity. A year later I jumped in with Bill, and we've been trying to grow Sweet Relief into a substantial resource for musicians around the country.
Music Consultant
Tell me in your words, what is Sweet Relief?
RM:
Sweet Relief Musicians Fund is a national charity designated 501(c)3, and Sweet Relief's mission is to provide financial assistance for career musicians – there must be a level of professionalism in someone's musicianship – that are facing disability, illness or age-related problems. That's the mission and is exactly what we do. I love the fact that our mission – I've read other missions that say, "Well, we have a goal to create something …" – that is completely specific. We raise money to help musicians that are in trouble because of disability, illness or age-related problems and we do it a lot of different ways.
Music Consultant
I guess speak to me about the climate. I think a lot of being in music as you've experienced is, "I'm going to be young forever and going to have monster hit after monster hit." But with the way the business has changed and certain revenue streams have dried up, I'm guessing there's probably an endless need for people living on royalty checks who have fallen on hard times as things have changed, as well as of course – I'm afraid to generalize – but musicians are not always great about managing their money and planning ahead.
RM:
You hit on two key things. There is a segment of the musicians who had successful professional careers, and now the atmosphere of today's business segment of music has dried up on them. But the other point you hit on is, we deal with a lot – probably a majority – of musicians who were kind of in the world that I came from. They had a band or played professionally – maybe it was jazz, maybe it was orchestral, and I don't include myself in this group – and were going to be musicians no matter what. They didn't leave to go become an insurance guy. They stuck with it.
Music Consultant
One of the ten people in the band that made $30 / night after driving forever in a van.
RM:
Exactly. And they're still in it, and they play locally in Memphis, Oakland and wherever it is. And maybe they're the local bar band that plays five nights a week, and they survive that way. They might have a part-time job or do something else, but those are the folks that if something goes wrong, they are really in big trouble. They don't always have relationships to reach out to other musicians and get an assist.
Music Consultant
No 401K, no pension, anything.
RM:
Yeah. For every musician that played on a stage like an arena, there are hundreds that have never got into that, yet are professional musicians, and that's all they've done their whole life. That's really the largest group of our constituency – the people that decided to play music, and when they get sick, they're in trouble. And maybe they get income from being teachers of music, maybe they also work at a club at the door. They might have variable things where they get some income, but their sole direction is always been music. Some of the die-hard artists their 20's don't have health insurance, but sometimes as they get into their 20's, 30's and 40's, they're still in that same kind of position. Typically the only time I see these die-hards change is when what happened to me happens to them – they have children. And then they realize, "I can't just bounce around from couches or cots. I'm in the position where I'm responsible to another human being." And then they will typically start to pursue something where they can provide. But that not being the case, musicians can find themselves in a tough spot when they are ill or hurt.
Music Consultant
How can people help?
RM:
Bands that are not yet on the national stage –  they can help us tremendously. We've done numerous gigs this year where bands put on a show and they've raised $200, $300, $400 or $500. Not only did they get that opportunity to contribute and help other musicians, but we've also provided some national notoriety; we've put it up on our website and if it makes sense, we'll put out a PR piece about it, and that will bring awareness to an audience of maybe 100 or 200. We're always looking for musicians that want to take one of our gigs and make us a beneficiary. And if they go to our website, they'll see my e-mail and our phone number, and they can call me directly. I love to hear from them, and we'll try to contribute everything we can to make an event a success, or if there are other ways they want to contribute.
—–
For more info go to Sweet Relief or Follow Sweet relief on Twitter