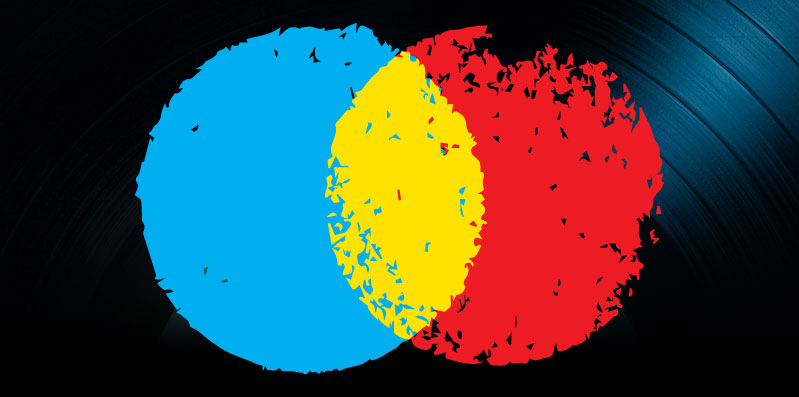 Electronic Music Industry, Fraudulent Facebook Likes and Vinyl Sales Increase News, April 19, 2015
The North American electronic music industry hit a value of almost $2 billion. And Facebook revealed how the removal of fraudulent "like"s on Facebook works. Also, reports indicated that vinyl sales have gone up significantly once again in 2015.
EDM Value Skyrocketing
The North American electronic music industry is still booming and has reached a value of $1.9 billion, according to an official report presented at last week's IMS Engage. The report was authored by Kevin Watson at Danceonomics.
Billboard indicated that this number includes revenue taken from sales and streams, festival and club income and platforms such as SoundCloud, plus DJ technology sales. Revenue drawn from North American EDM makes up about 30 percent of the global electronic music industry value of $6.2 billion.
The study of the EDM industry looked at a variety of reports in order to get a full overview of skyrocketing music consumption within the electronic music market, plus DJ fees, social media followings and live event revenue.
The study also took into account Nielsen data, finding that dance track sales were at an all-time high of 4.6 percent in 2014. This is 1.5-times more than sales in 2011. The report also noted that dance music is the fourth most popular genre on streaming platforms in North America, behind R&B/hip-hop, rock and pop. It makes up seven percent of all streaming activity in the U.S. and 10 percent of all streaming in Canada.
The report also quoted an Eventbrite study that discovered electronic music events made up a quarter of all nightlife ticket sales in the U.S. And the twelve largest EDM clubs in the U.S. – XS, Hakkasan, Marquee and LIV – raked in over half a billion dollars in revenue last year.
U.S. festivals stayed the same growth-wise in 2014, with a 1.4 million capacity point, likely due to the fact that Ultra Music Festival went back to being held on only one weekend. Canada now has a 400,000 capacity point. Additional research indicated that U.S. EDM fans are 13-percent more likely than fans in any other North American country to go to a festival.
How Does the Removal of Fraudulent "Like"s Work?
Facebook explained its recent initiative to remove fake "like"s from artist and business pages last week in order to clarify the process for page owners, said the SocialTimes. It uses pattern-recognition technology to remove "like"s from fake and lapsed profiles and sends notifications to page administrators in order to improve the quality of fan bases, a process that began last October and was officially announced in March.
Facebook site integrity engineer H. Kerem Cevahir explained that fraudulent activity such as fake "like"s only makes up "a tiny fraction of overall activity" on social networks, but removing these is still important to making Facebook "a trustworthy place for people and businesses to connect."
Cevahir explained the technology behind the system: "New advances in our pattern-recognition technologies helped us halt many of the major exchanges that promote fake like activity on Facebook originating from click farms, fake accounts and malware."
When "suspicious patterns of likes" are seen originating in a specific account, this activity is investigated and then halted if necessary.
Cevahir added that the work has been very successful to stopping the activity that leads to fake "like"s: "This work has made it extremely difficult for the people selling fraudulent likes to actually deliver their promised likes to paying customers. In fact, over the past six months, we've tripled the number of likes we've detected and blocked before they ever reached a page. Because of this effort, a large number of the vendors that were attempting to sell inauthentic likes to Facebook page administrators have closed their businesses."
In an email to administrators of Facebook pages, he wrote that "in addition to removing fake likes directly from pages, we now send notifications to page administrators when we block or remove fake likes from their pages to help them learn how to gather authentic fans."
Since March, 200,000 administrators have been notified of fake activity on their pages.
Vinyl Still on a Tear in 2015
Vinyl sales are still rising in 2015 and have gone up 53 percent already in the first quarter of 2015 (from January to March). According to Billboard, new research from Nielsen indicated that the rise in vinyl over the last five years is not over yet.
The rise in vinyl sales in the first quarter was due largely to gains in catalog album sales. Current vinyl releases are also performing well, up 37 percent since last year at the same time.
A broader look at the vinyl market shows that vinyl sales have gone up 260-percent in the past six years, with unit sales hitting 9.2 million last year. The Beatles had the best-selling vinyl album in the past five years: their 1969 release Abbey Road. Also in Nielsen's top 10 are albums by Mumford & Sons, Arctic Monkeys, Pink Floyd, Lana Del Rey and Miles Davis.
Despite experiencing a rise in sales significantly greater than the rise in other segments of the recorded music market, vinyl is still a niche part of the market and is not likely to "save" the music industry from declining sales.
The IFPI confirmed this truth in its Digital Music Report, published on April 14. Vinyl sales make up "only a small fraction of the overall industry revenues" at two percent. According to the report, vinyl saw a 54-percent rise in 2014, although trade revenue generated by the global recorded music industry last year fell 0.4 percent.
In March, the RIAA reported that vinyl pumped $320.8 million into the U.S. music market last year, 50-percent more than it contributed in 2013.
Vinyl has seen growth in other regions as well, such as the U.K. More than 1.28 million vinyl LPs were sold in the U.S. in 2014, an amount not seen since 1995.