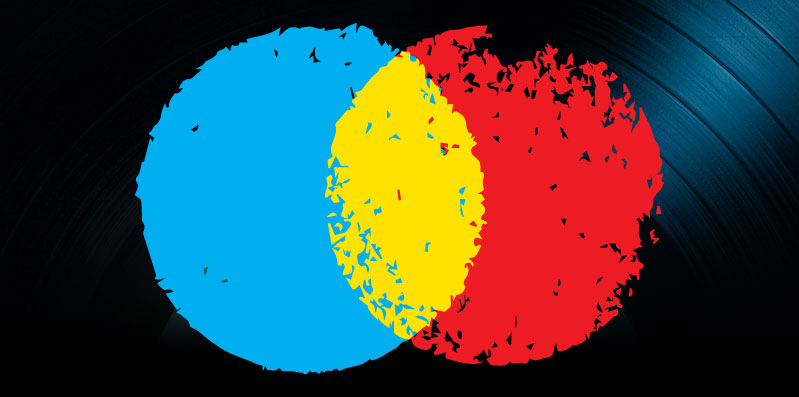 Streaming Music Revenue, Music Piracy and Licensing Deals News, July 21, 2013
Industry analysts continued to assess how Spotify's artist royalties measure up to revenue earned from other formats. Also, several tech giants signed an anti-piracy deal. And another heritage artist reached a licensing deal settlement in court.
A Comparison of Spotify and Radio Revenues
Thom Yorke recently pulled his entire catalog of independent work from Spotify's streaming music service, joining other artists and independent labels that have complained of low royalties and have thus decided to boycott the service. But according to business and technology expert Tim Worstall of Forbes, a close look at the real numbers reveals that Spotify's payout is actually significantly higher than other formats; the delivery method is just different.
Musician Sam Duckworth revealed published his own Spotify earnings in The Guardian in support of Yorke's outrage:  "… 4,685 Spotify plays of my last solo album equated to £19.22 (that's 0.004p per album stream)." This is what he would have earned by selling two albums at a show. And as he added, "I think it's fair to say that at least two of those almost 5,000 listeners would have bought the album from me if they knew the financial disparity from streaming."
While Worstall admits that is not a lot of money, he pointed out that the way Duckworth and other artists are calculating the value of Spotify's returns is inaccurate, because they are comparing their net receipt from Spotify against their total gross income – before expenses – of selling two physical albums. And Spotify is not physical sales; it is the presentation of a piece of music and thus, as a format, more comparable to radio than it is album sales.  
A breakdown of the payout from different formats was revealed by another piece in The Guardian. Stats collected by PRS for Music stated that a play for a three-minute song on Radio 2 in the UK earns a songwriter £59.73. A similar number is then split between the label and the artists that performed it.
UK radio actually pays a lot more than radio systems in the U.S. and other countries. However, Worstall said, further breaking down those numbers and assuming the person complaining about low rates was both the songwriter and musician and owns the recordings (without a label), would earn an artist around £120 for one play. And because that radio station has a 13 million weekly audience, there would be an estimated half a million listeners at the exact time the song is playing. This means an artist is actually only getting 0.00024 pounds per listener (.024p per listener).
And carrying over this analysis to Spotify, a format that operates more like radio than like CDs or even digital downloads, if an artist earned £20 for 5,000 streams, the amount earned would actually be .4 pence per stream instead of .004, 16 times what one of the more generous radio stations would pay.
Worstall also noted in a story update that two days after Yorke announced his withdrawal from Spotify and encouraged others to follow him, he launched his own streaming music service.
Google, Microsoft, AOL and Others Fighting Piracy
A collection of major technology and Web companies signed a deal last week and established some new best practices to combat copyright infringing sites using their advertising services. Torrent Freak said Google, Microsoft, AOL, Yahoo and other ad companies will begin accepting DMCA-type notices from rightsholders against advertisements appearing next to unlawful content.
They are not the first companies to take a public anti-piracy stance. PayPal has openly refused to work with certain types of file-sharing sites, and credit card companies agreed to refuse payment from those holding certain types of domain names.  
Advertising brings in huge amounts of revenue for many Internet-based companies, and many people have accused companies that agree to sponsor ads on torrent, file-hosting and other sites of directly funding copyright infringement. Google in particular has been frequently criticized in the past for being lax about actually taking down illegal content.
David Jacobs, senior Vice President at AOL Networks made the announcement on Monday through the AOL blog that his company alongside Yahoo, Microsoft, Google, 24/7 Media, Adtegrity, Condé Nast and SpotXchange had officially agreed on new standards for dealing with illegal sites.
They were, however, also very clear about the amount of control they actually have over content:  "Ad Networks do not control the content on third-party websites and are not able to remove websites from the Internet. Nor can Ad Networks engage in extensive or definitive fact finding to determine a particular party's intellectual property rights … Nevertheless, we believe it is useful for Ad Networks to maintain policies intended to discourage or prevent, to the extent possible, websites that are principally dedicated to selling counterfeit goods or engaging in copyright piracy and have no substantial non-infringing uses from participating in the Ad Network. The signatories to this Statement have individually decided to adopt these voluntary best practices in furtherance of that goal."
The signed document also stated the companies would act in a way consistent with copyright laws while still keeping the lines of communication open between themselves and content creators, rights holders, consumer organizations and free speech advocates.
The Ad Network will also implement reporting practices to ensure they are made accountable for decisions to remove ads and will expect rightsholders to provide substantial evidence that suspicious sites are behaving illegally. Evidence must include screenshots with times and dates and other technical information that proves advertising was actually present.
In keeping with the requirements of other DMCA notices, the person submitting the notice will also have to provide a statement saying he/she "has a good faith belief that the Illegitimate Activity is not authorized by the rights holder."
Notices deemed to be valid will be formally investigated, and infringing sites might be sent cease and decease orders. Websites that receive complaints will also be offered the opportunity to appeal by filing their own notices.
Michael McDonald Settling Out of Court with Warner Music
The Doobie Brothers' frontman Michael McDonald settled out of court last week with Warner Music, ending a long-running dispute that he was not earning appropriate revenue for digital recordings, reported Complete Music Update.
Many other American legacy artists with contracts that pre-date the Internet are embroiled in lawsuits with the major labels, as their contracts do not account for the new format. McDonald and artists including Peter Frampton, Kenny Rogers and many others claim that revenue generated by digital sales should be treated as licensing income, as it is tied to licensing deals with companies like iTunes rather than the sale of records to retailers. McDonald's case and others sprung up after Eminem collaborators FBT Productions won a legal action against Universal.
Artists and others in the music business point out these heritage artists get short changed when download money is treated as record sales income rather than licensing revenue, because under pre-digital "record sales" agreements, a larger percentage of earnings goes to the label.
Eminem collaborators FBT Productions made history a couple years ago when they sued Universal to get more of the digital money earned by Eminem's early recordings and won.
The details of McDonald's settlement were not revealed.