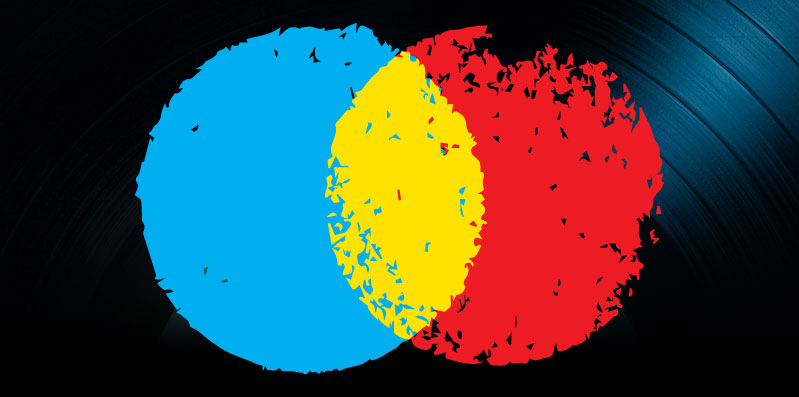 Music Industry Report, Twitter and Live Nation News, January 5, 2013
Nielsen SoundScan and Billboard released the 2012 Music Industry Report this past week, which once again reflected the continued rise of digital. And rumors swirled about Twitter going public in 2014. Also, Irving Azoff talked about his departure from Live Nation, his experiences in the past few years and some of his regrets.
2012 Music Industry Report and Digital Music Growth
Nielsen SoundScan and Nielsen BDS announced the year-end music sale figures for January 2, 2012 – December 30, 2012 in the 2012 Music Industry Report on January 3. This past year, sales of albums and tracks were down by 1.8% vs. in 2011, according to Daily Finance.
While album sales dropped 4.4 percent overall, there was still some good news for the music industry:  Digital tracks experienced healthy growth, which shows that the business is still recovering steadily. And even the decline in album sales was not devastating in comparison to the deep music sales decline in the U.S. from 2006-2010, reported Billboard.biz.  
The biggest takeaway from the Report is that digital is still growing. Download stores are taking the lead in album sales, far out-selling other brick-and-mortar merchants and department stores like Walmart and Target (which had sales of 93.1 million in 2012) with sales of 111.7 million. Download stores are now responsible for 37.2% of all album sales vs. 31.2 percent in 2011.
Sales of digital tracks grew 5.1 percent last year, expanding to 1.34 billion units, which contributed to an only 1.8 percent decline in album sales plus TEA ("track equivalent albums" with 10 tracks).    
And of course, subscription and ad-sponsored video and music streaming services Spotify, Muve, YouTube and Pandora grew significantly, much to the excitement of music fans and industry executives, the latter of who noted that with iTunes and Amazon's MP3 store included, digital revenue sales have risen above 50 percent of total revenue.
In terms of top-selling albums, Adele's 21 was queen again in the U.S. with sales of 4.4 million units, down from 5.8 million in 2011. This was the first time since SoundScan's start in 1991 that the same album sold the most units two years in a row. The album also topped the digital album sales chart, breaking 1 million copies downloaded for two years straight:  1.8 million in 2011 and 1.04 million in 2012.  
Jack White's Blunderbuss was the #1-selling vinyl LP, selling 34,000 units, 4,000 more than the Beatles' Abbey Road album, which came out in 2011.
Gotye's song "Somebody That I Used To Know" (featuring Kimbra) sold the most digital copies in the U.S. with 6.8 million. Carly Rae Jepsen's "Call Me Maybe" was a close second with 6.5 million. A total of 108 songs surpassed one million units in 2012, which marks 4 less than in 2011.
18 titles scanned over 3-million units in 2012, and the top 200 best-selling titles had overall sales of 289.3 million units, a figure which is up 8.6 million units from 2011.
Rock and country were the only genres that had sales gains this past year. Rock increased 1.4 percent, whereas country increased 4.1 percent. R&B declined 9.6 percent, Latin dropped 17.5 percent, electronica fell 12.2 percent and gospel was down 3.4 percent.
David Bakula, SVP Client Development, Nielsen commented, "Overall music purchases surpassed 1.65 billion units in 2012, up 3.1 percent vs. the previous record high set in 2011, driven by digital music sales, which continue be a key growth element within the market … Digital Album sales are up 14.1 percent and Digital Track sales are up 5.1 percent, but despite being down 12.8 percent, physical is still the dominant album format."
Bakula also added that alongside Adele's 21, Taylor Swift's Red has also managed to sell over 3.1 million copies in just 10 weeks "debuting with the highest weekly sales of any title since 2002."
Will Twitter Go Public in 2014?
Twitter, said to be worth $11 billion, could go public in 2014, according to a report from reputable business analytics company Greencrest Capital. This could continue to change the Twitter environment for artists, bands and others using the platform to promote themselves as businesses.   
Fast Company stated that while Greencrest has supported tech IPOs including Facebook and Zynga, the company is offering words of caution about its analysis. Greencrest's Max Wolff said, "Using the secondary market for shares to mark enterprise value is a very difficult and opaque process … It is a rumor rich and special share class soup. That said, Twitter is up since the Facebook IPO and is now valued northward of $11 billion. This makes sense as growth in users and new monetization efforts are both yielding fruit and pointing toward a good 2013 for Twitter."
Twitter has been tight-lipped about any moves towards floating. However, some further analysis of the top Twitter users are causing suspicions to rise. DigitalDaya reported that 75% of world leaders – 123 leaders out of 164 countries – communicate through a Twitter account. Obama is the most-followed Twitter account with 26.4 million followers. Branch founder Josh Miller also recently shared a report that indicated the Twitter user base is older than the user base of other social media outlets.
Irving Azoff, on Leaving Live Nation Behind
Irving Azoff stepped down from his position as Chairman of Live Nation Entertainment this past week and left the company entirely. The #1 person on Billboard's Power 100 list at the beginning of 2012 will join the board of cable TV giant Starz, owned by Live Nation's top shareholder Liberty Media, according to The Wall Street Journal and Billboard.  
Azoff had 18 months left on his Live Nation, and many speculated that at that point, he would renew for an additional five years. In a statement released on December 31, Azoff shared, "After successfully overseeing the integration of Live Nation and Ticketmaster over the past two years, my job here is done. We put together the leading company across concert promotion, ticketing, sponsorship and artist management and delivered the great results promised by the merger … I especially enjoyed my time with my partner Michael Rapino, and he has demonstrated the ability to lead this company from now on.  I'm looking forward to returning to the entrepreneurial world and continuing to work with all my friends and colleagues at Live Nation."
Later that day, Azoff also talked candidly to Billboard's Ray Waddell about his departure:  "There's no animosity between me and [Michael] Rapino or anybody at the company whatsoever. He was a great partner, no problems there, none of that. It was just the frustration with working at a public company. We had a board that was afraid to do things because of the Treasury, institutional shareholders, people writing you letters, everybody complaining about you and your people making too much money, you can't do this, you can't do that, everybody has to be on the same e-mail address … I am going to remain a manager, although not to the scale that I was. I'm going to look to do other things in the business. I love the representation business, I'd like to maybe expand that beyond just music. But [Live Nation] were kind enough to work out a way for me to exit my contract early and still work with the people who are my friends, that I love and work with every day. That's people like the Eagles, Van Halen, Steely Dan, and Christina [Aguilera], the people you'd expect to be on that list."
And Azoff shared that the Ticketmaster merger – which he was integral in executing – was both a highlight and a regret:  "…Ticketmaster's renewal rate is incredible, Ticketmaster has done unbelievably well since the merger and I'm real proud of that."
"The sad part is I would have preferred to have purchased all of Front Line and kept the whole team together, because I dearly love all the artists and other managers at Front Line. But it just didn't make any sense, there was no way to get that deal done … If I had it to do over again I never would have merged with Ticketmaster … Because further down the line I ended up in a situation where I had to break up Front Line because I merged with a public company and now I can't figure out a way to buy it back. If you ask me what my biggest disappointment was, it's that I made a decision to merge with Ticketmaster. I really wish we would have kept it a pure management play. That's my biggest regret."