Now and then with Skid Row's Snake Sabo
The following is a re-post of an interview from several years ago with Dave "Snake" Sabo of Skid Row. We felt that now was a good time to revisit his thoughts on how the business of music has changed in the past 30 years and what artists can do to thrive in the current music business.
Dave "Snake" Sabo is best known for being a guitar player, songwriter and founding member of Skid Row but he is also currently an artist manager at McGhee Entertainment (KISS, Ted Nugent, Darius Rucker, Night Ranger, Down and many more).  He directly handles management for Down and Warner Brothers recording artist Meghan Kabir.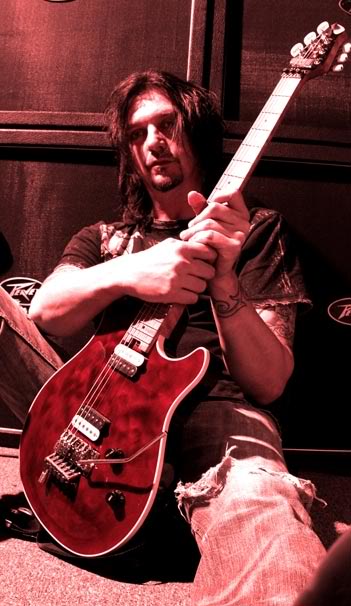 Snake talked about the business of music, touring and why musicians need to continue to practice and fine-tune their artistic craft. He also shared which tools and marketing techniques he believes are most useful to artists looking to build long-term careers.
MC:
Snake, thanks for taking the time to speak with me today.  You've been working for McGhee entertainment as a manager for the last five years, and Doc and Scott McGhee used to manage Skid Row, correct?
SS:
Yes, they were both very involved but Scott was really involved. Doc is like a big brother to me, and Scott is too, but we're more friends. We became so close in the time we worked together it was like we were siblings. We would yell and fight with each other, quit on each other, fire each other. One of the things that was always true is that I was always a sponge and wanted to learn the business side of the music business, because it intrigued me and I loved the idea of how it worked and all the different moving parts. People see a band that goes out o stage for a couple hours, and they go home and go back to doing what they do. I don't know if people realize that it's a 24-7 moving machine. That really intrigued me from a really young age, from the time I was 17 years old starting bands and being in bands and playing in cover bands. Whatever the case was, I was always interested in the business side of it. Throughout the whole time we worked together I was always over their shoulders. Doc used to call me "The Gnat," because I would always be over his shoulders. I was the guy who right after a show when we were on tour with Bon Jovi or Aerosmith going over the merchandise sheets and seeing what we did per head and what the building got. I made sure I knew how to read contracts, because I wanted to know what I was signing. Not that I didn't trust anybody- I absolutely trusted Doc and Scott implicitly, but I wanted to know. I need to know why. I'm the guy at the computer who can be in deep and working on editing music, and if my clock is wrong, I will spend two hours trying to figure it out. That's my OCD.
MC:
You had an enormous amount of success at a time before there were a lot of artists handling their business on their own. You were either a local band in a club or signed to a record label getting onto a tour. Did being observant of your business dealings serve you in your career?
SS:
Absolutely. It served positively and negatively. There's something great to be said about an artist who is just an artist and goes out and has been able to position themselves with a team. They just go out there and do their gigs, write the songs, go out and perform to the best of their ability, tour and record. In that case their business would be handled by their team. There are a lot of artists out there like that. I wasn't one of them. For some reason, I always want and need to know how things work.  I was always interested in statistics and things of that nature from the time I was really small. When I was playing in bars in NJ, I was the one collecting money, going out and booking shows, dealing with the club owners and getting screwed over, getting taken advantage of as a 16-year old kid underage. What legs did I have to stand on? All I could do is stand there and be strong and respectful. It's funny, because even while you're getting screwed, sometimes as a kid, if you just stand tall and are not a dick, that reputation begins to follow you. People say, "He's a good guy to work with and a good guy to deal with." I always think regardless of what has happened I've been a pretty stand-up guy doing the right thing and have been good to people and treated people with respect and I have never taken myself too seriously. That fell into every project I worked on from the time I was playing in cover bands to the time I was starting Skid Row.
In the beginning it was more of the same; I was dealing with the club owner or dealing with a booking agent on a very local level. You still had to go through the business of it though and I liked doing that. As the business of Skid Row got bigger, my interest and participation in that also grew. And it was great because I had and have two amazing teachers in Doc McGhee and Scott McGhee. And also learning from John Bon Jovi and his work ethic, and the amount of knowledge he amassed and passed on to me. In that aspect, it helped me out immensely in that at least I understood what was going on around me, and I wasn't in the dark. So I was able to make educated decisions. Whether I was right or wrong, at least I was able to be educated in where my decision came from.
I loved all that and still do. I think the progression from being in Skid Row to being in management was a very natural progression. The trick of it was, "How do you actually make that leap?" Luckily for me, the McGhees are my family and have been for the last 23 years. No matter what, the one thing I can say is that we're not a corporate company and are more of a boutique management company- it's a family atmosphere. I know and have always knows that if anybody is ever in trouble with anything, they can always come to me. And I know if I'm ever in trouble, I can always go to them. Doc and Scott have been there for me many times.  There are so many other people that I've been fortunate enough to meet and get to know in this business who have been able to impart their knowledge and wisdom and experience upon me. I take all this as a gift and a blessing.
MC:
You do work with Down, who is the product of an older system. But you have a new project, Meghan Kabir. You were a part of the business when record labels were the only game in town. You were signed to Atlantic in 1988 at the height of the business. The metal scene was well established, it was before the alternative scene was built up and of course many years before digital changed everything. What are you doing with Meghan to make it work in this new climate that is different from what you had to do in the past?
SS:
The one thing I love that I think we've gotten back to in lieu of everything that has gone on with P2P file sharing is that we've gotten back to making sure every song is a great song. It used to be that way. In Skid Row we looked at it that way. Every song on that record had to mean something. It was that old stupid line "All killer, no filler." The thing is, it's very true now. Every song has to count, because people aren't relegated to going out and spending $15 on a CD of ten songs where only two or three are good. The consumer has gotten smarter, and technology has given way to the fact that you have to make every song great in its own way. I love that. It's the way it should be and the way it used to be. You used to buy a Zeppelin record, and every song on it was great, or at least good. Any artist that stood the test of time was that way – Aerosmith had great albums.
Now, that philosophy has been forced upon us again as artists and managers, and I love it. Things are different from a distribution standpoint, and you have to be creative, which I love. Necessity is the mother of invention, so for me it's trying at times to figure out how to get your artist exposure and different ways to distribute the product in a manner that gives them the maximum amount of accessibility and availability. So, how do you do that in this day and age with a new artist when radio doesn't mean as much as it used to and we have mostly big box retailers with very limited floor space? You have to figure out new ways to get the music out there, and it all starts with making sure the music is great. There are different ways of doing it, whether you release a single for an artist like we are doing for Meghan Kabir.  The way we look at her is she has great songs with great melodies, and she's a great performer. Our job is to make sure we give her every opportunity to be seen and heard because her music and her artistry deserves that.
MC:
What tools and promotion and marketing techniques do you deem are absolutely necessary today that may not have existed previously?
SS:
Dealing with Down and how we work their product and dealing with Meghan Kabir are in a lot of ways the same but in a lot of ways very different. The thing with Meghan is we want to spread out her releases over the course of 18 months. So three songs or four songs every four months. I'm saying this theoretically because it all depends on which songs we're choosing and how much life they will have. She's an artist that if it's going to happen, she's going to need support from radio. We want to build her fan base through modern rock radio. She has the ability, at least in our minds to cross over to Top 40. She's unique in the sense that I think it's been a long time since I've seen this amount of talent in such a young person. She is so driven and smart and keeps you on your toes. I was saying earlier, the one thing I love about Scott and I working with her is that if you don't keep up with her, she is going to run you over. That's the way it should be!
I believe gone is the day when an artist can lay back and let it happen. You have to be so much more involved in every aspect, but you have to trust the people you surround yourself with. That's remained the same. You need to have a great core of people around you and allow them to do their gigs to the best of their ability. She's on top of everything, and I'm inspired by that.  She's signed to Warner Brothers. One thing I've learned is that A&R and management and artists are always going to have disagreements, but I think they're productive and valid in a lot of ways. At the end of the day if you're working with people you trust and that you've known for a long time, I believe you'll get to an endpoint where it makes sense to the artist. Meghan's songs have the capability – though who knows in this day and age, because I just know what I love and what moves me, and I hope that translates to a mass audience.
Our theory is that if you start out going to Top 40, you live and die by each single. And today it is very much the case of "here today, gone tomorrow." People like Paramour and P!nk, those people have done something that gives them longevity in their career because they've worked very hard to build up a loyal fan base and are not necessarily going to live or die by their next single. By the same token, you have to make sure the next song is great. That's what I love about where we're at right now.
MC:
I'm hearing a lot about a push at radio and releasing songs in a grouping as opposed to an album, which is smart because it gives the press more to talk about with each new batch of songs that comes out. What about the grassroots and the touring?  What are you doing to ensure success if the first or second single misses?
SS:
I believe every artist has to build from a live standpoint. We want to be entertained and be able to go to a show and see these songs and be entertained. I still believe in real artists, artists that are not just about a song, but are great performers as well. I think everything needs to tie in together for someone to be successful on a long-term basis. Meghan has the goods, and we're going to put her out on the road as much as we can, and she's going to learn by that. She's a very good performer now, but being a performer myself on many different stages, I don't care how good someone is at 22. They're going to be that much better at 23 and so forth. I know I was. You do that by going out and playing every place you can possibly play. That's an old school mentality, but I still believe in it. You have to play the dives and build your persona and comfortability in front of an audience. She has that X-Factor that connects to people. Coming from Nashville, she isn't a country artist, but she has people in that community respect her and go see her play and react to her songs.
MC:
Do you think technology has made it considerably more difficult for people to have time to practice. In theory I can go out to Guitar Center tomorrow, buy a guitar – "me" being not being "me" but "someone who's never picked up an instrument before" – and plug into Garage Band, record a song and put it up o MySpace and have everything everywhere. Do you think technology has made it more difficult in some ways for artists to develop?  If so, is there a workaround?
SS:
Technology is a blessing and a curse. What I loved about what happened when Skid Row was starting out is that you wouldn't get signed to a deal until you rose above everything else that was out there. There was a brutal competition between bands and artists in the Tri-State area, and it was like that all across the country. We didn't have the access to throw our stuff out there all over the Internet. We had tape trading. If you traded tapes, people would turn you down if they didn't like it and pass it along if they did. It was this word of mouth thing that was happening that wasn't out there contributing to so much damn noise, people had the choice of whether they wanted to pass that tape along or not. Now, technology is beautiful and I love it and utilize it, but there's no gatekeepers to sit and say, "This stuff is good enough for people to hear." I think people now have become lazy and generally don't sit there and take the time and work their asses off and have people telling them, "No it's not get enough" to help them raise their game and make it so they have worked hard enough and honed their craft enough where people need to hear this music and hopefully will respond to it in a positive light. That's when the whole marketing machine would come into play back then.
Now, I've made records for 20-some years. But I could just sit there and throw anything I want up on the Internet no matter whether it sucks or is great. All that does is contribute to the noise pollution out there. Most artists throughout history were lucky enough to see people that have talent and nurture that talent, instead of just throwing stuff out there. John Hammond, one of the all-time great A&R people in this business who signed Bob Dylan and Bruce Springsteen and Stevie Ray Vaughan saw that these people needed time to nurture, and he helped them become the artists they would become because there was an inherent talent. Now I think people aren't critical enough of themselves as artists starting out. We don't sit there and just have people telling them, "No, this is not good enough yet, and it could be better." When you don't have a sounding board, I don't know how you go from good to great.
That bums me out, because that work ethic I have was built through all those years of being in the shitty clubs in NJ and Philadelphia and New York City. You could tell if you were a good band or not, because people would be truthful. I'm not talking about the 20 friends that would come out that you would bring with you. It was the other people that didn't know who you were. You could look a t their faces and know whether what you were doing was good enough. My story is a perfect example. When the five of us in Skid Row came together, myself and Rachel, Scotty, Sebastian and Rob, you could tell we were onto something. You get that feeling. I don't know if that happens a lot anymore, because I don't think there's a standard that people have to adhere to. I'm not saying that from a major label standpoint at all, because I don't believe you need to get signed to one. But I just don't know if people work hard enough now at their craft and then finally get to a point where they say, "This is good enough where I could throw it out there in public and it will stand above everything else."
MC:
Too much instant gratification?
SS:
We live in a fast food nation, unfortunately. The idea of "product development" has really gone by the wayside. I can't say that about Meghan though and thankfully she has so much talent that it's not an ass-ache, it's a pleasure.
MC:
You spoke early on about many of the things you were taught along the way. What stands out as stuff you wish you'd known as an 18-year old kid just starting out on this journey?
SS:
In all honesty, I reflect on things pretty honestly with myself. I never looked at success as something that life and the world owed me. I looked at it (and still do look at it) as an absolute blessing and a gift. It has to do with being humble and being fortunate enough to have a modicum of success in this business. And I swear on my life I never took that for granted ever. That being said, I knew that at some point it was going to stop and go on the decline. It's easy to have faith when things are good. Having faith in yourself is difficult when times are tough. I never lost faith in myself even when the band broke up, because I always believed there was something I had inherently that would allow me to stay in this business. That's just from the fact that I believed in myself. I never thought I was the greatest guitar player or the greatest songwriter. I just always felt if I believed in myself I could be somewhat successful in this business. I've always maintained that attitude. It was easy to be happy when I was selling millions of records. They say that adversity builds character. But that's B.S. Adversity reveals character. For me, I had the opportunity to see a lot of people's characters revealed when things got very bad.
I was happy that my upbringing was such that I was raised to be a humble guy and to do the right thing and not be so egotistical that I believed the world owed me whatever good came my way. It's always been a gift. To answer your question, I look back on it and think that everything that happened was the right way for it to happen to get to this point. I made a lot of mistakes along the way, no doubt. I compromised myself at times I shouldn't have, etc. But at the end of the day, it is about the journey. I'm going to be going through this when I talk to you 20 years from now. I'm sure my experiences will be completely different, but my attitude will remain the same. Sure, I probably could've sold more records if I made different decisions or made more money, but I am a lucky guy. I get to work with people I love, I get to work with music I love and to be around people that are great people that I learn so much from. I've always been a sponge and I take every opportunity to learn whatever I can from whomever I can. A lot of people walk into a room with their chest and shoulders up and say, "Look at me," but I walk into the room and I'm wide open to learn everything I can possibly learn from the people I'm with…
Follow Snake on Twitter @snakesabo or learn more about Mcghee Entertainment on their website https://www.mcgheela.com/