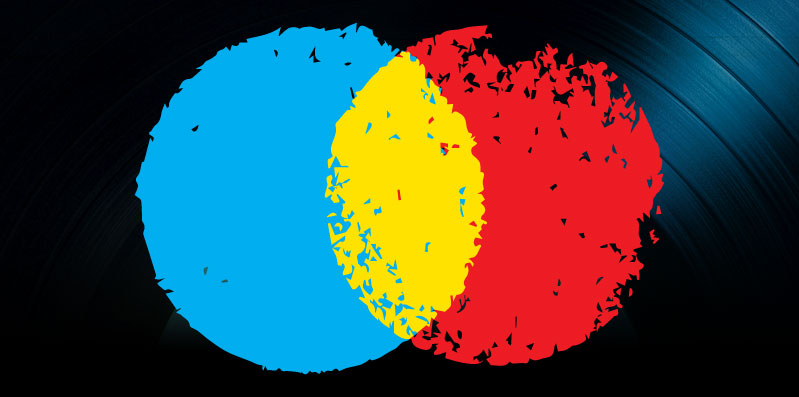 Jesse Lundy is the talent buyer for Point Entertainment, a live events promotion company based in Philadelphia, PA. He got his start in the music business playing in bands and writing about rock for the campus newspaper while he was at the University of Maine. Jesse has been working as a concert promoter and publicist in Philadelphia since 1995 and has worked at companies including Electric Factory Concerts and New Park Entertainment/Jack Utsick Presents. He joined Point Entertainment in 2002 as a talent buyer and publicist at the award-winning listening room The Point in Bryn Mawr, PA. During his time at Point Entertainment, he has produced shows at the Colonial Theatre in Phoenixville, PA as well as concert series and special events at venues including the Campus Philly Kickoff Concert and Eagleview. Point Entertainment has also been programming the Philadelphia Folk Festival since 2008. During his career, he has worked with artists including Norah Jones, The Rolling Stones, Amos Lee, Melody Gardot, Grace Potter and The Avett Brothers. Jesse is also the manager for The Brakes and John Francis and teaches at the Antoinette Westphal College of Media Arts and Design at Drexel University.
Jesse talked to me recently about the work he does with musicians and what artists can do to build a following through live performances. He also shared some advice for bands that want to successfully promote their shows and continue to expand their reach into new markets.
MC:
Thanks for taking some time to talk, Jesse. How did you get started in the music industry?
JL:
I went to college at the University of Maine in the early '90s. I played in bands and was one of the rock music writers for the campus paper. I did a little bit of work at the college radio station. By the time I was ready to graduate, I was booking the on-campus, 150-capacity club called the Ram's Horn. I was a journalism major in college, but I ultimately realized that putting concerts on and being involved in the music business was something I enjoyed and probably a better fit for me.
I often tell people, journalism has a code of ethics that they've taken the time to write down, but that, in my experience, they d follow. And I've always felt that the best thing about the music industry is that they didn't bother to write down a code of ethics, so there are no rules.
When I got out of college, I was fortunate, because my uncle was friends with Larry Magid, who was running Electric Factory Concerts. Larry gave me the option of being his personal assistant or working in the marketing department. Foolishly, I chose working in the marketing department, which, despite being a good education in the music industry, was not quite the "officer training program" I would've probably had if I'd chosen to be his assistant.
I worked with Electric Factory from '95-'97 and was basically a glorified intern. But I got a great education in marketing, doing ad files for arena shows, etc. And I learned the city through street marketing. It was a solid entry-level job.
In '97 a couple of the principals of Electric Factory left and started a new company called New Park Entertainment. I begged and pleaded with them for about six or eight months to take me with them. I was eventually hired and immediately went from glorified intern to talent buyer/marketing guy, which was a big step up. It was a great job, and I was there for five years. We got to do a lot of incredible stuff, like work with The Rolling Stones three times, U2 and on the Crosby, Stills, Nash and Young tour. We also booked a lot of shows at the Keswick Theatre. We worked with Phish, Barenaked Ladies when they were at their peak. My job at that point was to work with developing talent, which has been the thing I enjoy the most about the music industry. I love watching them grow.
In 1998, Richard Kardon opened The Point in Bryn Mawr, which was a 120-seat, all-ages listening room that served coffee and paninis, etc. The stage jutted out so the artist was amongst the audience, and it was a really intimate setting. I started doing a lot of my development work there. Eventually, Rich asked me to come and work with him. It was probably the best move I could've made at that time, even though a lot of my peers wondered why I was doing it. But I did it because I wanted to make more money and also it involved doing something I was passionate about.
Rich and I have been working together since '02. The Point was a great venue, and we developed a lot of great acts and were the first play for Norah Jones in the market. We also worked with Tommy Emmanuel when it was a six-dollar ticket. We worked with people like Howie Day and Vanessa Carlton and did tons of Canadian acts that came through.
MC:
And was this gig the one that led to your current work?
JL:
Yes. The Point closed in June of 2005. And Rich said we were going to stick together and continue with our mission, but without the other employees and without the overhead of having a venue, office space, etc.
By the time The Point closed, we had started to develop the Colonial Theatre as our venue. We'd picked up a lot of outdoor concerts that happen in the summertime. To some people, these concerts are pretty significant. For example, Eagleview is going into its thirteenth season as a free concert series in the suburbs. And I don't give artists a radius clause when I book them for it. And there is no real marketing for it, but we see anywhere from 500 – 1,000 people show up every week. It's been a great way to be able to work with some of the local bands and also to help agents with some of the developing acts. We've had Amos Lee, Melody Gardot, Grace Potter, The Avett Brothers and a lot of others who have played the series on the way up. It's been a great way for us to continue to continue to serve developing talent and establish and cement relationships.
MC:
Having worked with all these acts on the way up, can you point to anything that the people who are now successful did differently from the ones who faded into obscurity?
JL:
 Take a band like The Avett Brothers. They have been very loyal to us, which is rare in the music world. We started them as a $100 act, opening for Ollabelle at The Point. We lobbied for them to get things like their first place at the Philly Folk Fest, etc. We put them in soft ticket situations, like the Philly weekly concerts, where they could play Center City, Philadelphia in front of a couple thousand people. e were able to help get them into low risk, high visibility shows when they were developing.
As a band, The Avett Brothers write music that is very sincere and earnest, and a lot of people really enjoy that. And aside from being really great entertainers, they're also good to their fans and are in turn very supported by their fans. And there also isn't a lot of ego there. They do a lot of work with the public and a lot of charity work. They've struck that chord with their audience that has made them who they are. New Year's Eve, they drew 13,000 people in their hometown.  
MC:
Beyond being talented, good entertainers and the charitable piece, is there anything the band is doing from a business perspective that has helped them succeed? It's a given that you have to work on being talented and entertaining to build a solid brand. But I feel like having business acumen is really necessary. And so many musicians are missing that.
JL:
In the touring world, there are a lot of variables. A band like The Avett Brothers doesn't play tons of shows. In the beginning, they did. But they don't play the market three times a year anymore. Philadelphia is lucky if they see The Avett Brothers once a year, which keeps the demand high.
An act like Grace Potter, which started in the jam band world is based entirely on playing a lot. The fans will come back again and again. And Grace has always delivered an A show with an A band. And she's a real entertainer.
As far as business, it's a little harder for me to point specific things out, because I don't know the inner workings of how these people do what they do.
MC:
Well, and I'm interested in hearing about people who are making a local splash. You have seen a lot of bands at their beginning stages, and I'm sure you have some insight into some of the things people should be doing when they're starting out touring, etc.
JL:
I managed a band called The Brakes. And The Brakes were fortunate, because they had supportive families who were willing to help underwrite their touring when they weren't making any money. I think a lot of acts are spoiled by that support, so I think in some cases, that type of situation can be bad. But in other cases, that support is great, and it helps artists get places they would not have been able to get otherwise.
The biggest thing I tell acts is that it comes down to what you do in the studio. I think a lot of bands feel like they have to put out a full-length record. They find a producer to make a record for $20,000. And I will tell bands that consider this investment that it's about basic economics:  "How many records are you going to have to sell / songs will you have to stream to make $20,000 back? And are you ever going to sell that many, or are you just doing this for posterity?"  
MC:
 Yes. And people don't realize that the bottom half of the Top Ten only sells 15,000 – 20,000 records.
JL:
Right. And, Amos Lee holds the title of the artist who sold the lowest number of records to get a #1 debut album on Billboard. He sold 40,000 records. Compared to the '90s, that's incredibly low and is hard to believe when you look at the way things used to be.
I tell acts, "You're going to be lucky if you sell 700 copies of your album without any kind of support. You're going to print 1,000, give away 300 and sell 700 if you're lucky." But 700 times ten dollars still only $7,000. So, how do you justify spending more than $7,000 on a full-length record? And then, how do you actually make a full-length record for less than $7,000?
The other part of it is, artistically, do you really want your first record to be your big artistic statement? The saying is you have your whole life to make your first record and six months to make your second one. Another thing we say about the music industry all the time that is true is, "It's just math."
But artistically, you don't need to release a 12-song album as your first project. I think you're much better off releasing an EP. Put your four, or even your three best songs and a live track out first. Hold some things back that can be part of your live show and that you can release later. The Brakes released three EPs before we made a full album. And they might argue with me, but I still believe that was the best strategy for them.
That strategy is especially smart now, because you get the same amount of attention whether you release a full-length record or a single. So, why bother putting all your best material out all at once when chances are people won't even hear more than three of the songs you release. Economically, it's more viable. And I felt like it made more sense even before the music industry had a major paradigm shift.
MC:
You obviously have a lot of experience working with live events. People often come to me and ask how they can break a tour or a new market. I know there isn't one set of rules that apply to everyone. Every band is different. But are there some mistakes you see people make again and again when touring and trying to get into a new market?
JL:
No question. First of all, I think the idea of touring before there is a demand for you to tour is questionable. Some people have been able to do it successfully. But there has to be some sort of financial underwriting happening, whether parents or something else. Gas, hotels and food cost money.
Let's say you're a lower-level act from Philly and want to play New York, DC, Boston and Allentown. Again, you will have fixed expenses like gas, places to stay and food. If you go and book a date at a club, even if you're just on a bill with three other bands, chances are you won't get paid more than $50 – $100. And you're usually putting almost all the weight on the club to draw people in. The thought process there is, "Put me on a bill with other bands that draw, and everyone will like me."
My advice is, go out and invest the same money into playing open mics in the venues you want to play. If you're playing smaller listening rooms or clubs, you're going to have a better chance of doing a great job and creating an audience for yourself at an open mic, because we know the talent level at open mics is usually kind of low. If you get up and do a pro set, you're playing the same stage you want to play as a regular act, but you're taking the pressure off the club. You're not asking the club to invest in your future; you're investing in your experience in the club. If you do a great job, the bartender, sound person and open mic host will turn around to the club owner and say, "This act showed up last night and blew everybody's mind. You should take a look at them and maybe book them."
Then, you have a credible reference from within the club. And the owner might say, "If everyone is really excited about this, maybe I should look into it." And then that person might call you and say, "I heard you did a great job. Why don't you come and open a show? I'll give you $50." And even if the club owner is aware you may not draw anybody, the fact that you got a positive response when you played there will make that person willing to make a $50 investment in you.
MC:
And have you seen a lot of artists do this?
JL:
Not a lot. But the bottom line is, it comes back to simple math and economics. If you do five dates and get a total of $250, wouldn't it be worth $250 to have one of those clubs take a real interest in your career? You're not buying them off or anything. You're just demonstrating your value.
There are acts that do it. Amos Lee started at open mics in Philly.
MC:
I know most venues have a list of press and radio partners that they might pass along to artists once they build a relationship with them. Does it make sense for an unknown band to promote to channels like that before hitting up their email list, friends of friends, etc.? What are the best practices to get into a new market if you only have a handful of friends, or no friends at all?
JL:
I think it's really hard. It's a long-term time and money investment. Press lists have some value. But I can tell you that in this market, the newspapers mean very little until you get to a certain level. Unless you find a really sympathetic writer, you won't see much come out of that.
I hate to say this, but I find that some writers are much more interested in the pretty, young girls than the dudes with beards. The girl is a much more attractive package. Personally, I'm always happy to share my list with a band that will actually be proactive about using it. But I don't think you're going to get much out of it as an artist just starting out.
I try to impress on people that, in Philly, you're going to have a much easier time getting into the blogosphere. We have a few really good music blogs that people pay attention to. And this is the same thing I impress upon our college students at Drexel in the music industry program:  "If you're going to be in the music industry, you better be aware of how to promote a concert in your own market. Who are your mouth pieces?"
Truthfully, I wouldn't put a whole lot of emphasis on press until you have a promoter behind you that will tell a journalist, "You might want to look at this. It's really cool."
MC:
And what's your take on artists using email lists, social media and online advertising? Is there anything that you've seen consistently work better than something else at promoting shows?
JL:
No. I really haven't yet. I think in a lot of ways social media has hampered artists' abilities to promote their shows. If you are an artist and are on Twitter and just using it to say, "Here are my tour dates," I will personally be "unfollowing" you immediately. If you're not getting a window into who the artist actually is – what their sense of humor and personality is, etc. – it's not something I'm going to pay attention to.
I hear a lot of local bands say, "I put it on Facebook. I can't believe nobody came." There is still a lot more you can do, especially if you are a local artist. You can still go out and hang up posters, give away music, etc. And I don't understand why more bands don't tape themselves. In a lot of cases, I would rather hear an audience recording done through GarageBand of a band I like playing a club than something polished. I don't need everything to be studio quality. If fans really like the music, they will want to hear it in whatever form it takes.
There's a lot out there. There's that guy "NYCTaper" that does this. He goes to shows, tapes and puts it up. And he gets a ton of downloads from it. You can do the same thing as an artist if you have a decent website. With some storage capability, you could give away a new live recording every day if you wanted. If your fans are really your fans, hearing the evolution of your music will get them really excited.
You don't need a live album anymore necessarily. People are a lot more forgiving of sound quality now. Another example is a guy with a blog called Large Hearted Boy. He does a daily download, and it's always something live he gets sent from different bands. It's a way to hear a band live. And a lot of times, bands are better live than on albums.
And don't get me wrong:  I think you can still monetize music. Selling a song for a buck is not an unreasonable thing. I think when you give people a choice of twelve songs and basically ask them to pick one for a buck, it gets a little more confusing.
MC:
We're paralyzed by choice as it is.
JL:
Yes. You need to make it simple for fans to get your music.
Something else artists miss the boat on is videos. You can buy a camera for $300 that is HD, edit your video in iMovie and have a great video to share. I listen to a lot of new music via video. Every video doesn't need to be a work of art; it just has to be a vehicle for getting your music out there.
MC:
And it's worth noting that YouTube is a bigger search engine than Bing or Yahoo.
Do you have any other parting advice for artists?
JL:
I think artists have to take financial responsibility for themselves. This really goes back to the $20,000 record example. If you're going to use Kickstarter to raise $20,000 in order to make a record, it better be amazing. Otherwise, you could do the same thing for $6,000.
With touring, asking to play a room constantly will get annoying. Just go play the room. That $50 you might spend can only help your career.
To learn more about Jesse Lundy and the work he does in the music industry, visit the Point Entertainment website http://www.pointentertainment.com/.