Music Business News, February 7, 2017
Sony Music Entertainment earned $1.24 billion from streaming in 2016. Also, major labels sued new hip-hop streaming site Spinrilla. And two U.S. radio brands merged to create the second largest U.S.-based radio station owner.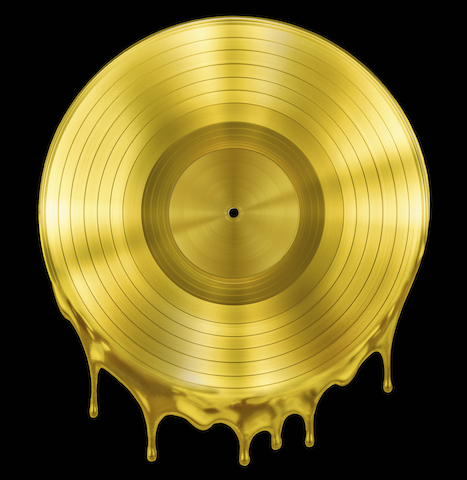 Sony Music Entertainment Earning Big Money for Streaming
Sony Music Entertainment earned $1.24 billion from streaming music in the last calendar year. According to Music Business Worldwide, $372 million of his figure was earned in just the three months ending December 2016.
Sony's overall recorded music division is now earning $124 million from Spotify and Apple Music every month, $31 million every week, $4 millino every day and $167,000 every hour. This is up 30.3 percent on the $286 million calculated earnings for the same period of 2015.
Physical sales remained the top earner for Sony Music labels in all of 2016, though just barely. CD and vinyl earned $1.26 billion, only 1.8 percent more than streaming.
In the three months ending December 2016, which also takes into account the Christmas season, Sony's physical recorded music sales were down 24.6 percent from 2015.
For the entirety of 2016, downloads made up less than one fifth of Sony's total recorded music revenue, providing evidence for the rapid decline of the format. Because Sony did not break down formats for all of 2015, a direct comparison cannot be made between downloads in 2016 and downloads in 2015.
Sony's biggest-selling global album by revenue in the last three months of 2016 was A Pentatonix Christmas by Pentatonix. Other top sellers included Leonard Cohen's You Want It Darker and The Chainsmokers' Collection of Tracks along with Sia's This Is Acting.
Majors Suing Hip-Hop Streaming Site Spinrilla
The Recording Industry Association of America (RIAA) sued new hip-hop streaming site Spinrilla and founder Jeffery Dylan Copeland in a George Federal Court on Friday. According to The Hollywood Reporter, the lawsuit was filed on behalf of UMG, Sony Music Entertainment, Warner Bros. Records, Atlantic Recording Corporation and LaFace Records.
The RIAA stated, "Spinrilla specializes in ripping off music creators by offering thousands of unlicensed sound recordings for free … Fans today have access to millions upon millions of songs from innovative platforms and services that pay creators – this kind of illicit activity has no place in today's music marketplace."
Kendrick Lamar, Kanye West and Beyonce are some of the artists being made available through Spinrilla. They are not being paid for use of their music, alleged the complaint. Comparisons are being drawn by critics between Spinrilla and Napster.
Attorney James Lamberth explained in the complaint, "Through the Spinrilla website and apps, users with an artist account can upload content that any other user can then download or stream on demand for free, an unlimited number of times … A substantial amount of content uploaded to the Spinrilla website and apps consists of popular sound recordings whose copyrights are owned by Plaintiffs."
The RIAA claimed it identified over 21,000 copyrighted sound recordings owned by the plaintiffs available through the streaming service. Labels are suing for both direct and secondary copyright infringement and asking for actual damages or statutory damages as well as an injunction.
Spinrilla did not respond to a request for comment. The website does feature a section about the Digital Millennium Copyright Act plus a template for takedown requests.
The platform's website also reads, "Spinrilla takes copyright infringement very seriously … In order to provide the best mixtapes and ensure top quality we do not allow infringed upon works to be posted on our website."
CBS Radio and Entercom Merging into Major Radio Station Network
Major U.S. radio brands CBS radio and Entercom merged into the second-largest radio station owner in the country, worth over $2 billion.
According to Music Business Worldwide, the new company will go by the name of Entercom and will offer 244 radio stations in 23 of the top 25 markets. Based in Philadelphia with a major presence in New York City, the company will also offer digital platforms and an events platform.
The deal is still going through the process of regulatory approvals and will likely close in the second half of 2017.
Leslie Moonves, Chairman and CEO of CBS Corporation said in a statement, "This agreement is great for shareholders and achieves our previously stated objectives by separating our radio business in the best possible way … Entercom is a superbly run company, and together with CBS Radio's powerful brands and remarkable people, we are creating an organization that will be even better positioned to succeed in this rapidly evolving media landscape."
President and CEO of Entercom David J. Field will be in charge of the new conglomerate. He said, "These two great companies, with their impressive histories, complementary assets, and premier content and brands, are a perfect strategic and cultural fit, enabling us to deliver local connection on a national scale and drive accelerated growth … We look forward to welcoming our talented new colleagues at CBS Radio, and we have the utmost respect for their significant contributions to the industry."
He added, "This transformational transaction creates scale-driven efficiencies and opportunities to compete more effectively with other media to better serve our listeners and our advertisers."
Andre Fernandez will continue as President and CEO of CBS Radio until the merger is finalized. He said, "Today marks the beginning of a new chapter for us as we join with an organization with an equally deep tradition in radio broadcasting."
Entercom will offer sports and news offerings, but also significantly boosted music and entertainment formats with leading influencers of custom music and entertainment experiences that focus specifically on driving music discovery.
The company also said it plans to host over 4,500 live original events per year, including music festivals, large shows and intimate performances with major artists.
CBS had talks last year with Viacom about a merger, but negotiations were shut down in December by Viacom's board of directors.