Music Business News, April 25, 2017
An IFPI report showed global music business growth with room for improvement. Also, Neil Young said he is finally getting into the streaming market. And iHeartMedia's debt put it in trouble.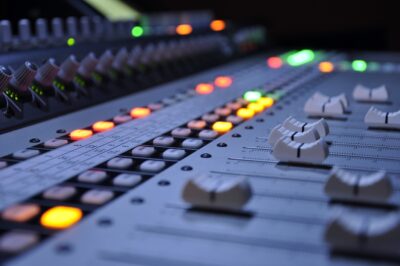 IFPI Industry Report Showing Global Growth, with Exceptions
Growth in the streaming music market worldwide increased music sales by six percent this past year, detailed a report from the International Federation of the Phonographic Industry (IFPI).
Billboard noted that this year-on-year revenue rise is the biggest since the IFPI started tracking the music business in 1997.
The Global Music Report (formerly called the Digital Music Report) showed that trade revenue earned by the music industry was up by 5.9 percent. Digital sales were up 17.7 percent all around. The first major digital music milestone happened in 2015, when digital revenue was more than physical for the first time. In 2016, digital made up 50 percent of all music sales for the first time.
Last year was also the second consecutive year that the recorded music market saw growth after almost 20 years of steadily decreasing sales.
Frances Moore, IFPI's chief executive said this turnaround did not happen "by chance": "As an industry we've had years of investment and innovation to make it happen and we're starting to see the shift now: from adapting to the digital age to actually driving the digital age."
She added, "It's important to remember the context in which this announcement is being made … The story of recorded music over the last couple of decades has really been one of transformation: from physical to digital; from downloads to streaming; from ownership to access. We want to achieve one more transformation and that is from decline to growth."
Several other executives joined Moore when the report was revealed, including Universal Music Group executive Michael Nash, Sony Music U.S. Sales representative Dennis Kooker and Stu Bergen, CEO of international and global commercial services at Warner Music Group.
Bergen said, We have a long way to go before we've established a truly robust and healthy environment for our artists." He explained that the industry is only two years into its recovery and so, "We must remain alert, resourceful and ambitious. We're no longer running up a down escalator, but that doesn't mean we can relax … Whatever growth we see in the future, we will always need to stay vigilant about every new opportunity. We're not sitting back and waiting for streaming to do the heavy lifting."
Kooker agreed, stating that a competitive marketplace is helping to "drive growth for everyone across the industry … I think we will look back on 2016 as a tipping point for the industry, a point where we moved from the early-adopter stage to moving towards mass market."
Adoption of streaming services like Spotify, Amazon and Apple Music in established and new markets drove the revenue increase in 2016. By the end of last year, there were 112 million paid music subscribers globally. When ad-supported users were taken into account, the number went up to 212 million. Total streaming revenues were up 60 percent, and they make up 59-percent of digital revenues.
This upturn offset the 20.5-percent drop in download sales and the 7.5-percent drop in physical revenues.
In the U.S., performance revenues grew 7.6 percent, a major increase on last year's rise of one percent. U.S. streaming revenue was up 80.5 percent. The North American market was up a total of 7.9 percent, an improvement over its increase of 1.5 percent in 2015.
The IFPI named Drake as the world's best-selling recording artist this past year. Beyonce's Lemonade was the best-selling album of 2016 globally based on both physical and digital sales. It beat out Adele's 25 and Drake's Views, in second and third place, respectively.
But amidst good news came a warning about YouTube's low royalty rates. IFPI data showed that user-uploaded video streaming services operating under safe harbor legislation brought back $553 million rights holders in 2016 from a worldwide audience of more than 900 million listeners. The difference between that return and the $3.9 billion that rights holders got from streaming services in the same 12-month period showed there is a major problem with YouTube that must be addressed in order for the music industry to continue to grow.
Universal Music's Nash stated, "To declare this mission accomplished is to fundamentally misunderstand the mission itself … The overriding strategic objective to ensure that, as our business continues to evolve, artists are given the broadest range of opportunities in a marketplace where their music is fully and fairly valued. Not just for 2016, but for 2017 and the future. To breathe a sigh of relief and rest on our laurels as if we've arrived at our destination is to completely misread the landscape."
He continued, "Our success relies on more than just our own transformational initiatives … Achieving a vibrant and sustainable future will require a resolution of the market distortion known as the value gap. The disparity between the mass scale of music consumption on services that rely on user-uploaded content and the low values which is paid back to those who create and invest in music is growing. The scope of this inequality casts a shadow across the entire landscape that cannot be ignored. The longer this value structure is permitted to continue, the greater the threat to the music ecosystem with real costs to creatives, fans and digital services themselves."
Neil Young Joining the Streaming Party
Neil Young is moving away from his high-resolution, high-cost Pono Music download service in order to break into streaming, said Planet Six String.
The new service will be called Xstream and is launching in partnership with Singapore-based tech company Orastream. Young explained that Xstream is an "adaptive" high-resolution streaming service. Its music streams will "adapt" up or down depending on available bandwidth.
No details were provided on when the service will launch or how much it will cost. TIDAL provides high-resolution streaming at $20 per month, and Spotify has indicated it may offer a similar service.
Still, Young said Xstream will be different from anything else that is out there: "Finding a way to deliver the quality music without the expense and to bring it to a larger audience has been our goal … That effort has led to a technology developed by Orastream."
He explained that Xstream "is absolutely amazing because it is capable of complete high-resolution playback … Unlike all other streaming services that are limited to playing at a single low or moderate resolution, Xstream plays at the highest quality your network condition allows at the moment and adapts as the network conditions change. It is a single high-resolution bit-perfect file that essentially compresses as needed to never stop playing."
Young said he has been in talks with labels, mobile carriers and investors, but his service has been a "hard sell." He elaborated, "There are already streaming services, some doing well and others not … While there's nothing as good as Xstream, or as flexible and adaptive, it's still proven a difficult sell for companies to invest in."
Young concluded, "So, in my experience … today's broken music industry continues to make major mistakes, but we are still trying."
iHeartMedia in Trouble Over $20 Billion in Debt
iHeart Media revealed this past week that it is in danger of going out of business in 2017, putting the popular iHeartRadio platform in jeopardy.
According to Music Business Worldwide, iHeartMedia has been struggling for years due to its $20 billion in debt, thanks in large part to a $24-billion leveraged buyout of Clar Channel Communications, Inc. in 2008.
iHeart Media's debt must be paid down by $350 million this year. An installment of $8.3 billion Is due in 2019.
On April 20, the company reported its fiscal results for the three months ending March 31, 2017 in a filing. The statement indicated that its consolidated revenue for that period was at $1.33 billion with an operating income of $114.1 million.
The following line in the filing gave shareholders' of iHeart Media great pause: "Based on the significance of the forecasted future negative cash flows… management anticipates that our financial statements to be issued for the three months ended March 31, 2017 will include disclosure indicating there will be substantial doubt as to our ability to continue as a going concern for a period of 12 months following the date the first quarter 2017 financial statements are issued as a result of uncertainty around our ability to refinance or extend the maturity of our receivables based credit facility, to achieve our forecasted results, and to achieve sufficient cash interest savings from the pending Exchange Offers and Term Loan Offers."
Financial reports filed on April 21 said that the company's creditors have begun to block attempts by iHeart to restructure its debt.
According to analysts, barring an influx of cash, iHeart will likely have to file for Chapter 11 bankruptcy at some point in 2017.
iHeart Media has a quarter of a billion monthly U.S. listeners plus more than 85 million social media followers. It serves 150 local markets through 858 owned radio stations. The iHeart Radio app has been downloaded one billion times and boasts 100 million registered users.