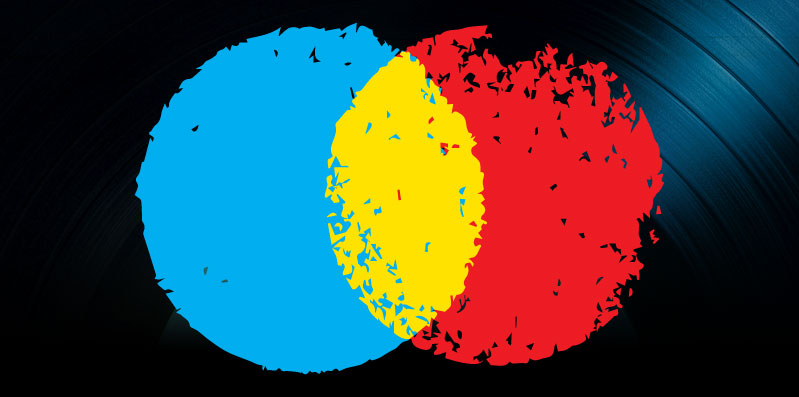 Nielsen Music's Mid-Year Report, Warner-Chappell Countersuit and Digital Download News, July 12, 2016
YouTube lost its place as the largest streaming network. Also, Warner/Chappell filed a lawsuit against the loser of the "Stairway to Heaven" lawsuit. And figures pointed to the end of digital downloads by 2020.
Nielsen's Mid-Year Music Business Report Noted YouTube's Decline
More music was streamed via audio platforms than via video platforms in the first half of 2016, for the first time in history, according to Music Business Worldwide.
Figures indicated that 55-percent of on-demand streaming plays happened on Spotify, Apple Music and TIDAL. Just 45 percent took place on YouTube and Vevo.
BuzzAngle also produced stats that showed audio streaming platforms saw 114.23 billion streams in the first six moths of the year, with video platforms seeing 95.17 billion.
Nielsen Music's stats on the U.S. music market were in line with these numbers. The company's numbers were 113.6 billion streams for audio platforms and 95.3 billion streams for video platforms.
Video streams were up 28.6 percent year on year, and audio streams were up 97.4 percent.
Warner/Chappell Suing back in Led Zeppelin Copyright Case
Warner Chappell alleges it deserves $800,000 in legal fees and associated costs for successfully defending Led Zeppelin's greatest hit in the recent copyright lawsuit, which wrapped up on June 23 with a victory for the legendary rock band. A judge determined that "Stairway to Heaven" did not infringe upon Spirit's instrumental song "Taurus."
The Hollywood Reporter said that a recent Supreme Court Decision may be a factor in determining how the Warner/Chappell's countersuit plays out. A June 16 high court opinion told lower judges to consider giving attorneys' fees to winning parties in copyright cases by looking at factors like "frivolousness, motivation, objective unreasonableness, and the need in particular circumstances to advance considerations of compensation and deterrence."
With this concept in mind, Warner/Chappell requested $613,471 in attorney's fees, plus the cost of expert witness fees and trial transcription. All costs totaled almost $800,000, which may be the responsibility of losing party Michael Skidmore.
In a memorandum supporting an attorney's fee award, the plaintiff remarked on "nearly half-century-old claims that neither [Spirit frontman] Randy Wolfe nor the owner of the allegedly infringed copyright ever bothered to assert because of any similarity between "Taurus" and "Stairway to Heaven" results from the use of a centuries-old, public domain descending chromatic line."
The music publisher added that the way the plaintiff in the original case "tried to tar 'Stairway to Heaven' and its authors, Jimmy Page and Robert Plant" and that the music publisher "successfully defended plaintiff's attempt to wipe 'Stairway to Heaven' off the map and, in doing so, defendants furthered the important copyright purpose of enriching the general public through access to creative works."
Warner/Chappell also said that the Supreme Court gave guidance to judges to go beyond just analyzing whether the losing party had an "objectively reasonable position" and take other factors under advisement. The publisher offered up the conduct of the plaintiff's attorney in the "Stairway" case, Francis Malofiy, who was recently suspended. Warner/Chappell said that, among the lawyer's misbehavior were "resistance to discovery, ignoring pretrial rulings barring certain evidence, misrepresenting evidence at trial, and purporting to issue 'notices' to Page and Plant to appear at trial."
Malofiy also stood in front of media cameras on the courthouse steps and trying to play upon the emotions of jurors, publicly stating, "If money is won in this case, it's to be used to buy musical instruments for children who are in need in Ventura County."
Digital Downloads Dead by 2020
Single-track download sales in the U.S. fell 42 percent in the past four years, and experts predicted their death by 2020.
According to Music Business Worldwide, Nielsen's mid-year report showed single-track download purchases down by 24 percent, with 127.3 million fewer sales than in the same six-month period of 2015.
There was only a 10-percent annual fall between 2014-2015 and a 13-percent drop in 2012-2013. This means 24 percent marks a pretty sizable drop in the rate of decline for iTunes.
With the typical cost of a music download at $1.29, the 42-percent drop of digital downloads in the past four years equals about $300 million in revenue for the music business and Apple. This money has moved over to audio streaming, which just rose 97.4 percent year-on-year in the U.S.
Analyst Mark Mulligan of Midia predicted that downloads will not disappear entirely by 2020, but he thinks this will still be the time that Apple eliminates them from the iTunes store.
In May, Mulligan explained, "By 2020, [Apple's] download business would be tracking to be 10 times smaller than streaming revenue, but, crucially, streaming revenue would nearly have reached the 2012 iTunes Store download revenue peak … This is the point at which Apple would choose to turn off the iTunes Store. The narrative of services based music business would be complete."
If six-month U.S. track downloads fall by another 127 million next year, 2017's half-year sales sum will be just 277 million, which is less than half the six-month download tally in 2014.
Digital album sales dropped 18.4 percent during the past year, according to Nielsen's six-month statistics. They were flat in 2015.
And if half-year downloads keep dropping 9.9 million per year in the U.S., they will be in single figures by 2020 and gone by 2021.