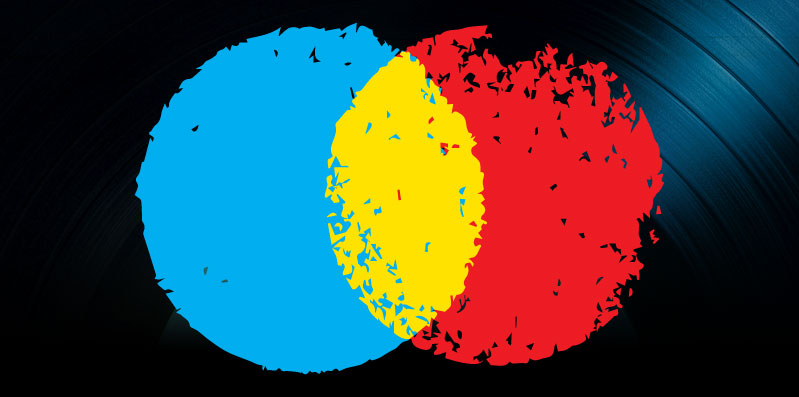 LOST app at SXSW, Targeting on Social Media and Streaming Royalty Statements News, March 15, 2016
A platform-agnostic music streaming app launched at SXSW. Also, a study showed basic demographic targeting is becoming less effective on social media. And music industry and financial experts talked about what artists should look for in their streaming royalty statements.
LOST Allowing for Barrier-Free Streaming
Music streaming app LOST launched late last week at SXSW and will allow users to play music from multiple streaming sites in one place, reported Complete Music Update. LOST users can create playlists featuring tracks from Spotify, SoundCloud and YouTube, closing up gaps in any one service's catalog.
LOST joined forces with the British Music Embassy initiative at the SXSW and will feature artists playing at the UK industry's base and other venues in Austin during the festival. The app also allows users to add gig times and locations and in the future will include music tips from a variety of media outlets, with links back to publications' coverage of recommended tracks.
British Music Embassy overseer P-C Rae explained, "We're pumped to be working with LOST on this year's British Music Embassy. The whole point of the venue is to give UK acts the best possible showcasing platform and working with a fantastic brand new app like LOST is a perfect fit for us."
Crispin Futrille of LOST added, "It's great to be launching with the British Music Embassy and their curators like the NME, Clash Magazine and BBC Introducing SXSW. The UK has always pushed boundaries when it comes to music. This is the first step for us in showcasing that talent within LOST."
Targeting Getting More Specific on Social Media
Ad targeting and retargeting is going to be critical to advertising on social media this year, said SocialTimes. The market is moving towards much more segmented audiences, and those who want to reach their fans on Facebook, Twitter and other sites will need to cater to their very specific interests rather than just their geographical location and age.
Data collected from Yahoo, brand strategists at Audience Theory and market research firm Ipsos revealed that current targeting efforts are often falling on deaf ears. Millennials are the most likely generation to interact with ads that are designed for them, with 37 percent of respondents in this age group saying they will click on ads if they were interested. And 34 percent said they are more likely to buy products from brands that speak specifically to them. Yet 34 percent said they feel advertisers need to acknowledge the issues of their generation, and 24 percent feel advertisers have forgotten about them entirely.
According to the survey, Baby Boomers are the least likely to interact with ads:  Only 17 percent are more likely to purchase from brands because of ads that targeted them, and only 23 percent of this generation are even clicking ads at all.
Data collected in a June 2015 study said that users believe most ads are targeted toward their demographic group when it comes to their interests:  71 percent of survey participants in the 25-34-year old age range believe ads are targeted the right way.
Part of the problem with ineffective ads on social media might be the failure of advertisers to analyze data and retarget ads when they go awry. Professional advertisers have begun to spend a lot of money tailoring content to audiences – so much that there is often not money left in the budget to redo campaigns when they do not produce significant returns. Campaigns that target basic demographics of audiences are no longer enough; audiences respond better to campaigns that target their interests.
Artists and others marketing themselves online are still having difficulty personalizing their message and defining their audiences. And in today's social media market, connecting meaningfully with a responsive audience, even if that audience is small, increases engagement more than just sending out a lot of ads. If the content is poorly targeted, fans are not going to click on ads to see content. Therefore, according to the recent study, those marketing themselves need to identify their real audiences and serve them ads that really speak to them in order to see results.
Checking Streaming Royalty Statements
Artists, labels and others have been expressing dismay over paltry streaming royalties for almost a decade now. But, as CEO of the UK's Music Managers Forum Annabella Coldrick points out, while artists need to continue to "be vocal about the economics of the modern day music industry," with streaming on the rise, they also need to understand how to read their royalty statements on the platform and exactly where their final streaming payment is coming from.
With the help of The Music Royalty Co's Ray Bush and accountant Nick Lawrence, Coldrick put together nine factors that may affect streaming royalties and the most important questions artists need to ask when looking at their statements and published them on Music Business Worldwide.
Does the statement outline publishing or master royalties? Artists need to know whether the money on the statement is coming from the licensing of master rights or publishing (if the artist wrote the song). Publishers make up to 20 percent of streaming revenue that comes back to the industry, and labels get the other 80 percent. Artists with labels will see less money than those who are on their own. Those with labels need to check the wording in their contracts on their digital income royalty percentage along with recoupment arrangements and determine whether any of their digital income is being recouped, how their publishing rights work and what their mechanical license entails. "The amount of streaming revenue an artist sees at the end of the chain on any given statement will be affected by whether that income relates to publishing or master rights and the agreements in place with the record label or publisher."
Is the royalty statement a CMO or publisher statement? If an artist is a published writer, their performance income will come through their performance rights organization and the mechanical income will come through the publisher. The share of performance/mechanical income per stream depends on whether it is completely interactive, as on a service like Spotify or partially interactive, as on Pandora or another Internet radio service.
What share of the song belongs to the artist/how much of the song did the artist write? The author of a song will get a share of the royalties that is dependent on whether they wrote it alone (100 percent) or with others. As a co-writer, an artist will get a split that was agreed upon with fellow writers. The starting point is typically 50 percent for the melody and 50 percent for the lyrics.
Which streaming platform is the income coming from? There is sometimes a big difference between the way streaming services are licensed. Many times on statements, digital royalties are lumped together, making analysis difficult. When signing contracts, artists need to be sure digital royalties are being tracked per platform. The size and overall revenue a streaming platform generates may also affect the artist's return. Bush explained, "Sometimes you get better rates on smaller platforms but you don't get as much money on the bottom line … And, on some bigger platforms, you may see your views going up, but your earnings going down because they split the pot across all artists."
Which territory is the statement accounting for? Figures on royalty statements sometimes only refer to one territory, even though this is not always made clear. Artists need to know whether the figures on the statement represent global income or specific territories like the U.S. or the UK.
What is the time period represented? Sometimes royalties can take up to two years to reach the artist. Therefore, even if an artist has four million plays on a specific track, the first statement received may only represent the point when the song had 5,000 plays. Sometimes the income can take a while to get to the artist. However, if the figure for the time period is significantly different from the plays the artist has seen on the platform, that artist should contact the service. Lawrence explained, "Typically, artist accounting is dealt with twice yearly by March 31 (covering prior period July 1 to December 31) and September 30 (covering period January 1 to June 30).
Comparison to radio and/or "sales" is dangerous. Artists may be tempted to compare the royalty received on a single stream to the payment received for one play on the radio. However, streaming and radio are completely different platforms with different models, audiences and royalty structures. Bush said, "The data [for radio] isn't live and it doesn't run concurrently with streaming … You'd have to have five years of accounts before being able to compare the two alongside each other, and even then it's difficult." Streaming is neither a promotional tour nor an income generator; it is an entirely new concept and needs to be considered as an entity in its own market.
Are all tracks accounted for? Many artists just scan their statement quickly to get to the payment amount at the bottom. However, often a lower-than-expected payment is explained clearly on the details of the statement. Before jumping to conclusions about low payments, an artist needs to make sure all the albums and tracks they have streaming are accounted for.
YouTube is different from every other "streaming service." Google's video platform is often called "the biggest music streaming platform in the world," but it is not the same type of streaming service as Spotify, Pandora or others. If someone uses an artist's song as a backing track for their video, it is up to the artist to monetize it. About a quarter or even half of the lines in a YouTube statement could point to videos that are not yet monetized and thus will net zero. Bush stated, "The reports tell you what's out there that can be monetized … It's basically Google saying, 'There's money there, go and register it.' You either need to as your distributor for the non-monetized lines from YouTube, or be looking for those if it comes to you directly."
In conclusion, Lawrence pointed out that in order for artists to get maximum income on services, they need to employ the help of competent business managers and accountants:  "They will know what to look out for and when … Operating blind here can  be risky and artists should be left to create – not administer."