Music Business News, December 27, 2016
Industry analysts discussed the rise and fall of American Idol. Also, statistics showed that streaming platforms are creating a new type of super-fan. And the digital download died a little more in 2016.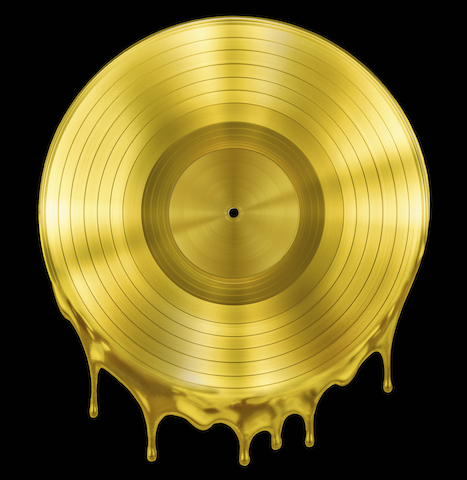 American Idol a Dead Format
American Idol saw its lowest-ever viewership in its final foreseeable year, down to eight million from its peak of thirty-eight million 14 seasons prior. According to Music Business Journal, there are myriad reasons why the show was unable to maintain its luster.
Owner of the current Idol, Core Media Group declared bankruptcy, and the show is in hiatus as its production team considers next steps.
American Idol and the many singing competitions like it go back to early reality television. They took their cues from New Zealand's 1999 show Popstars. The format of the show was licensed to Australia and then picked up by TV producer Simon Fuller and rebranded as Pop Idol in the UK in 2001.
Fuller brought features to the show that made it a hit, including allowing viewers to vote for the acts they enjoyed the most by calling in, texting, logging into the show's official website. They could also press a red button on their remote with a digital TV. Audience engagement exploded with these new capabilities.
The original format also marked the first time breaking new artists happened on television without any major label intervention. In the UK, the winner and runner up, Will Young and Gareth Gates recorded number one singles. Today, Young is still an active recording artist and Gates recorded three successful albums that led to seven singles in the Top 5. This pattern of success continued with runners-up of both Pop Idol and The X Factor in later seasons.
UK's Pop Idol was also the first show that gave judges the potential to be just as entertaining as the contestants. Simon Cowell's catch phrase, "I don't mean to be rude, but …" was a defining element of the show, as was his signature bluntness. British audiences witnessed the first show that showed them "heart-warming success stories," honest reviews of mediocre-to-bad singers and allowed them to interact with each other and the show itself.
The U.S. was next to come on board when Fuller created American Idol. All elements of the original were present, and the show was a mega hit instantly. The first season's finale had 23-million viewers. Kelly Clarkson and Carrie Underwood ended up being notable alums that established lasting careers using the show as their big break.
Unfortunately, the show's biggest issue was the lack of follow-through by its talent, and this ultimately led to its demise. By 2014, the debut album of American Idol's winner, Caleb Johnson only debuted at 24 on the Billboard 200. Winners from mid-way through the show's run have fallen similarly flat. And as the show became less of a predictor of future talent, its momentum fell.
American Idol's other undoing was both changing and not changing its judges. In order to keep the show fresh, it needed a "change of guard." However, the format was built around showcasing a lot of contestants, so audiences were constantly exposed to new faces, which kept American Idol in many ways unfamiliar. In an effort to freshen up the format, producers made some strange choices when it came to judges. Nicki Minaj and Mariah Carey's constant fighting did not bring up the ratings, because they did not have real chemistry one way or the other. And Jennifer Lopez was too agreeable. While not every show gets it right all the time, American Idol experienced a huge drop in ratings around judge changes and also dispelled the idea that any celebrity can be an A&R expert.
When asked about the future of the Idol format, Fuller has said, "There will no doubt be another format of American Idol somewhere down the road." However, no one is currently able to explain what that will look like. Fuller suggested that virtual reality might be key to the new incarnation, bringing viewers closer to contestants and letting them experience the show close up.
However, Core Media Group is not in a financial position to take a chance on anything new, and no competitors have rushed in to save the show. Other analysts have noted that more attention needs to be paid to the public's emotional connection to contestants, as this feature that made it so popular in the beginning lost steam as the seasons went on.
One of the elements that made the show so successful was its ability to showcase a huge number of aspiring vocalists, as prior to its launch, the public did not actually understand how many talented vocalists did not end up "making it" in the industry. Now that is not a secret anymore, and audiences feel frustrated after watching so many try to make it again and again and failing.
Streaming Music Creating a New Super-Fan
A recent look at the behavior of streaming subscribers indicated that the way fans consume music by their favorite artists is changing, reported Forbes.
Media and tech analysis firm MIDiA Research presented an infographic last week on streaming users' listening behaviors. The graphic showed that 58-percent of streaming subscribers listen to an individual album or track only several times and 60-percent of subscribers behave this way because they are eager to discover more new music. These numbers are quite high compared to the 30 percent and 27 percent, respectively, of overall music listeners with those attitudes. These figures mean that paying subscribers tend to be more casual about their listening and call into question a lot of what has previously been understood about music fandom.
Streaming revenues are passing by physical sales for the first time in history, and the format is one of the fastest-growing today.
MIDiA's figures are not the first that have shows music tastes are becoming more all-consuming and also more fleeting than ever before. Havas Media Group's FANS.PASSIONS.BRANDS study from July 2015 showed that 59-percent of music fans 35 and older believe that music discovery is an important driver of music consumption. 56-percent of all music fans listen to ten or more genres regularly. The study called this phenomenon "The Shuffle Age."
With the knowledge that this is the Shuffle Age, artists and labels now need to understand that streaming subscribers have the power to transform the industry, according to Forbes contributor Cherie Hu: "From the label's perspective, how can one monetize on increasingly casual listening habits, which by definition may involve a lower willingness to pay? From the individual artist's perspective, how can one reconcile the pursuit of a holistic, stable artistic vision with a potentially much more unstable fan base?"
Hu adds that the rapid growth of streaming services "is leading to the emergency of a new dichotomy of superfandom in music – the artist superfan vs. the streaming superfan."
The film, Super Fans: The Future of the Music Industry, co-produced by PledgeMusic and the online education company Lynda.com, lays out the characteristics of the artist superfan. It defines superfans as "those who are willing to pay the most to connect on a deeper level with artists." It offers up action items for artists that want to get the most engagement out of their superfans.
It says that artists need to work toward increasing exposure "one fan at a time" instead of leaning on their labels to do that for them. It also explains why artists need to have back-and-forth conversations with their listeners and create a personal relationship with them beyond just the one fostered through their music.
The results of the MIDiA survey revealed that the biggest difference between the artist superfan and the streaming superfan is the extent of their engagement plus the actual conversations they have. As subscribers actively discovering new music, they spend less time on individual albums. Their tastes are driven by "greater breadth at the expense of depth." They consume music in the same way the average internet user consumes news. They gather up sound bites for brief moments and then dive into new content.
MIDiA founder Mark Mulligan explained, "We are now living in the attention economy, where people make investments in artists with their time, not necessarily with cold hard cash … Hence we see an increasing amount of competition for time – if you're streaming an artist or album for free, it's only one of a whole bunch of albums that are being pushed to you that same day or week. People inherently develop shallower relationships with artists in such an environment."
The Era of the Digital Download is Ending
The digital download made popular by Apple's iTunes music store is on its way out even sooner than expected, according to The Guardian. People are instead flocking to streaming services like Spotify and Apple Music.
The shift can be seen when comparing the biggest-selling singles of 2016 and the biggest-selling singles of 2006. In 2006, Gnarls Barkley's "Crazy" became the first download-only song to top charts in the UK, an event that signaled the decline of CD sales. "Crazy" sold 661,000 units during its nine weeks at #1 in the UK and ultimately sold 1 million downloads.
This past summer, Drake's "One Dance" matched the record first earned by Wet Wet Wet's "Love is All Around." Drake's song spent 15 weeks at #1 in the UK singles chart. By the end of September, it had 1.695 million sales, including 505,000 downloads and 119 million streams.
In the early days of iTunes, the people who loved downloading were the tech-savvy fans – fans who were easy to coerce over to streaming because they enjoyed being at the forefront of technology. This is why the download has fallen out of favor so quickly. And at the end of November, the value of sales in the old vinyl format surpassed those of digital in the UK.
Mulligan at MIDiA Consulting said downloads only have a few more years, tops: "It's going to die before the CD. The CD has a fairly universal player, where there's always at least one in a house. And the people who grew up buying CDs are the older music consumers – the CD will literally die out only when they do."
Downloads sold more than physical formats for the first time in the UK in 2011 when streaming services hadn't quite caught on yet. By 2014, they were already falling. That decline continues and has picked up speed.
Apple is still in charge of the digital download market and holds 65- to 70-percent of total sales. Mulligan said the "death knell" for downloads will come definitively when the iTunes app interface that favors music description streaming comes. He stated, "Last year downloads declined by 16 percent in nominal terms … This year they are tracking to decline by between 25 and 30 percent."
By 2019, the download business could be worth $600 million globally, compared with its high of $3.9 billion in 2012. By 2020, Apple might decide it isn't worth keeping and decrease the visibility of the iTunes store. Mulligan clarified that in this case, "The narrative of services-based music would be complete."
Apple has insisted regularly that it is not planning to end digital downloads any time soon. Eddy Cue, Apple's senior vice-president of internet software and services told Billboard in June, "There's no end date … our music iTunes business is doing very well … Downloads weren't growing, and certainly they are not going to grow again, but it's not declining anywhere near as fast as any of them [in record labels] predicted. There are a lot of people who download music and are happy with it and they're not moving towards subscriptions."
Cue claimed that 60-percent of people using Apple Music had not bought content from the iTunes music store in the past 12 months. He also claimed that they were either "lapsed" downloaders or never were to begin with.
The positive takeaway for labels and musicians is that streaming services are garnering a huge following of those paying fees of up to $10 per month. Spotify has 40 million and Apple recently said it passed 20 million paid subscribers. Smaller services like Deezer and Tidal also have a few million.
Despite recent legal troubles, YouTube is still the world's biggest venue for music streaming. It has millions of videos that can be combined into playlists.
The latest figures coming out of the music industry still only cover the first half of 2015. But the monitoring service Nielsen said early figures are showing that YouTube delivered 60-percent more music streams than the on-demand music streaming services combined. Apple Music is unlikely to shift these numbers.