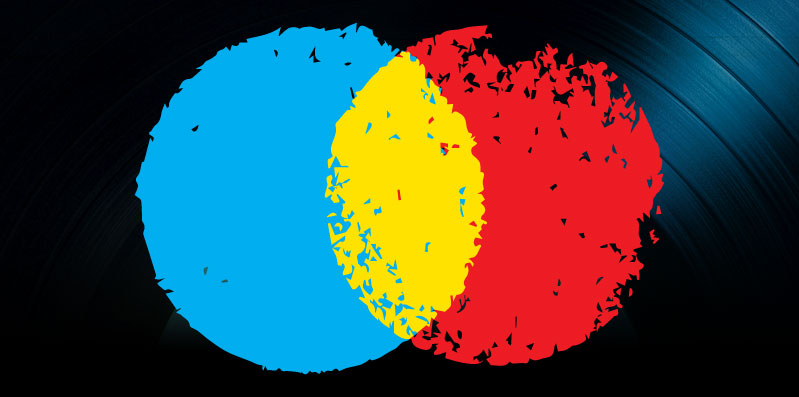 2015 Music Sales, SoundCloud Monetization and New York Music Tax Credit News, March 29, 2016
2015 RIAA sales figures indicated streaming revenue exceeded digital revenue for the first time ever. Also, Billboard outlined how SoundCloud can distinguish itself from other streaming services. And a group of major artists pushed for a tax credit to keep the music business alive in New York.
Streaming Revenue Exceeded Digital Revenue in 2015
The RIAA released recorded music revenue figures for 2015, and the numbers showed that total revenue from streaming music services was greater than revenue from digital downloads.
According to Forbes, the RIAA showed that music industry revenue has been holding steady at around $7 billion per year since 2010.This means the industry has been declining about 1.5-percent year over year since then.
Of course, streaming services come in two types:  on-demand (Spotify, YouTube) and digital radio (Pandora, Rhapsody). The figure for digital radio includes three types:  Internet radio (Pandora's free service, iTunes radio); satellite radio; the music channels that come with pay-TV services.
Even though a lot of Internet radio services have personalizing features, they are still similar to traditional broadcast radio. On-demand streaming services are similar to downloads, as they allow users to choose exactly what they want to listen to. Still, a comparison between on-demand services and downloads does not show many similarities. On-demand services made $1.6 billion for record labels in 2015, whereas downloads brought in $2.3 million. Revenue from digital radio cannot be compared to AM/FM radio, because U.S. broadcasters do not pay royalties to record labels.
With all these figures in mind, Forbes noted that streaming overtaking digital is not the milestone, and that the real milestone is still a few years away. Still, on-demand is likely to overtake downloads in revenue soon. On-demand services are the fastest-growing part of the music industry in revenue; they grew 47-percent over 2014, while downloads shrank nine percent. At the current rate, experts predict that on-demand services should bring in more music industry revenue than any other type of recorded music some time in 2017 or 2018.
The New York Times also pointed out that, with inflation, sales numbers are down overall and unlikely to return to where they were even a decade ago any time soon. And because there have been major shifts in the way fans consume music, with listeners flocking to streaming, the music industry has started fighting over pennies rather than dollars.
As an example, the market for vinyl records is bringing in more revenue than music on YouTube, one of the Internet's biggest channels for music, because YouTube pays royalties in fractions of cents.
Streaming through paid subscriptions to Spotify or Rhapsody, Internet radio from Pandora and videos on YouTube now make up 34.3 percent of sales total. 2015 was also the Apple Music launched and Tidal was reintroduced by Jay Z.
Since there is no new technology on the horizon capable of taking out Internet streaming, streaming is likely to be the way people listen to music for quite some time. Apple, Google, Spotify and their competitors will continue to experiment with pricing, advertising and revenue models and user experience will continue to improve, but the basic type of consumption should stay constant.
Forbes offered an important disclaimer:  RIAA figures only cover revenue to record labels and artists for sound recordings and don't count revenue to music publishers and songwriters. The latter totaled $2.1 billion in 2014 and are dropping faster than recorded music revenues. However, the National Music Publishers Association (NMPA) does not publish revenue numbers for compositions with the same level of detail as the RIAA does for recorded music.
Will The Monetization of SoundCloud Disrupt the Streaming Market?
The impending full monetization of SoundCloud as a streaming platform has many wondering how it will set itself apart from Spotify, Pandora and the many other platforms that have already established themselves in the market.
SoundCloud has been trying to figure out a solid business plan since it started to come under fire by major labels and others demanding royalties for putting their music up on the previously free streaming site. Even though it had the support of Kanye West, Drake and others, the company had been working without licenses from most labels, and Sony Music had been especially adamant about having its artists not appear on the site.
According to Billboard, SoundCloud's losses were increasing and hit $41.8 million before taxes, depreciation and amoritizaion on revenue of $19.7 million in 2014. That was when the company admitted it needed to figure out a monetization plan in order to survive long-term.
Berlin-based SoundCloud signed agreements with Warner Music Group, Universal and independent label agency Merlin between November 2014 and January 2016. And on March 18, it accomplished what was once impossible by announcing it reached an agreement with Sony.
SoundCloud has also been formulating a music-streaming subscription service that includes a paid tier along with its already free offering. Sources said the service is set to launch in the next few weeks.
But with streaming giants like Spotify already settled into the marketplace, how will SoundCloud distinguish itself in order to gain subscribers?
Sources close to the situation said SoundCloud intends to let major labels decide which songs they will offer for free. This is control labels have wanted, but have not been able to get from Spotify.
Universal Music Group ­chairman/CEO Lucian Grainge explained, "The SoundCloud agreement gives us the opportunity, with our artists, to have flexibility with respect to how we make music available to fans."
SoundCloud also created features that appeal to dance music fans and musicians who make up a majority of its audience. It will be providing a select number of authorized, user-uploaded remixes of DJ sets on both the paid and the free tiers. It will do this by using contracts that let it monetize content from labels and publishers that have deals with SoundCloud. SoundCloud will also scan uploaded music to see if it has samples; if the music does inclue samples, any revenue will be divided among copyright holders. However, labels and publishers will still have the option to ask the site to take down their copyrighted music.
These user-generated remixes will also allow SoundCloud to stick to its roots as a music community. James Collinson of Ninja Tune North America said, "The audience that is buying electronic albums and festival tickets is hanging out on SoundCloud … It's an artist tool and an artist community."
Still, many are asking whether or not another streaming music service is necessary. Managing partner of the MusicWatch consultancy, Russ Crupnick said, "It's going to be hard," even with SoundCloud's massive audience reach.
Mark Mulligan, an analyst  predicted, "Looking at conversion rates, it's likely they'll end up with low single digits" when comparing it to other free services. Still, even if SoundCloud was able to turn five percent of its 175 million users into paid subscribers, it would be a force in the marketplace.
A major label executive who saw a demonstration of the new service admitted, "It's a very organic, user-friendly experience that's really social …It's true to the way SoundCloud works now."
Musicians Pushing for New York City Music Tax Credit Improvement
Grammy winners Carly Simon, Nile Rodgers and Wynton Marsalis along with other musicians are appealing to the state of New York to revise a production tax credit created to help boost the music industry in New York, reported the Daily News.
The three artists are among 14 industry veterans who signed a letter to Governor Cuomo to personally get involved before the April 1 state budget deadline. Other signers are Tony Visconti, Gloria Gaynor, Gary "U.S." Bonds and Suzanne Vega.
The letter read, "The exodus of talent … it continuing at an alarming pace … If we wait much longer to address this issue, the only musicians calling New York their home will be the ones plying their trade in the NYC subway system."
The production tax credit approved for the music industry last year was worded in a way that very few, if any musicians would be eligible for it. The letter from the Recording Academy New York Chapter is asking Cuomo to create a new tax credit that is geared towards the music industry, which has had at least three studios in New York City close or be put up for sale.
The letter continued, "Over the past 15 years, New York has experienced a precipitous drop in music production as aggressive programs in California, Texas and even Canada have lured away thousands of musicians, songwriters, producers, engineers and other professionals … We want our great state to be the place where our artists produce and record their music … And for those who left us because Nashville or L.A. was more welcoming, our message should be clear – it is time to come home."
Richard Azzopardi, a spokesman for Governor Cuomo responded by paraphrasing New York City Band the Beastie Boys:  "There will be no sleep 'til budget …This will be reviewed in the context of ongoing negotiations."