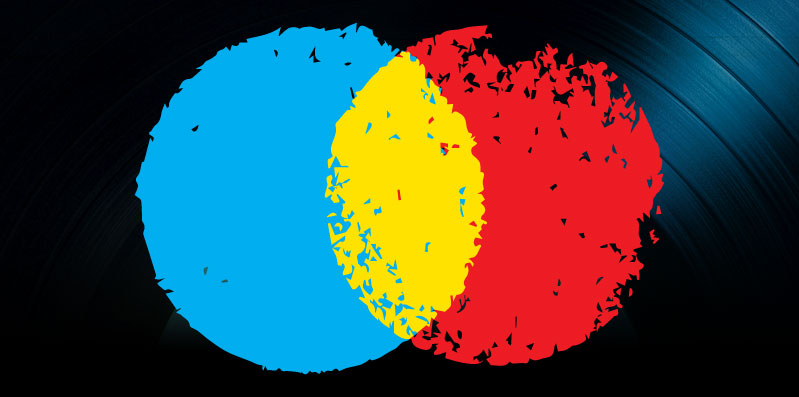 Tidal Theatre, BitTorrent Artist Survey and Music Cities Convention News, November 2, 2015
The Barclays Center signed a content deal with Tidal. Also, a survey indicated that artists are still optimistic about making a living in the music industry. And the first Music Cities Convention explored why certain cities have been able to develop a thriving live music culture.
Barclays Center Striking up a Content Deal with Tidal
Barclays Center in Brooklyn signed its first sponsorship deal with Jay Z's subscription streaming service Tidal on October 26, said Billboard. The arena's theater will be called the "Tidal Theatre" from this point forward according to a partnership that is being called a "content deal."
The Barclays theater has been the Cushman & Wakefield Theater since it opened in 2012. In light of the Tidal agreement, the Cushman & Wakefield name will be "repositioned" into other areas of the Center.
The relationship between the Barclays Center and Tidal will involve making use of Tidal's artist development platform, Tidal Discovery and providing "unique experiences" through the new Tidal X.
Tidal will also put on curated events at the Tidal Theater with both new and established artists. Barclays Center CEO Brett Yormark explained, "[Tidal] will put a minimum of eight events into the theater annually … but we'll complement that with other events."
The announcement of the Tidal/Barclays Center partnership followed the Tidal X: 1020 Amplified by HTC show that took place on October 20 and featured Jay Z, Nicki Minaj an dother artists. It was featured on ABC's Jimmy Kimmel Live and garnered 3.3 million viewers in 198 countries, twice the number who streamed the 2015 Super Bowl.
Yormark stated, "Even though [Tidal X] wasn't in the theater, we obviously had a big week … I don't speak for [Tidal], but I think those kind of collaborative efforts really drive home what that brand means, and certainly the impact it has. I would venture to say, based on the success here, they're probably going to do more events."
Yormark also noted that the Tidal/Barclays Center partnership "affords us the opportunity to work with Tidal on emerging artist platforms and showcases, as well as some of their other artists. It doesn't have to just be emerging artists … As evidenced by [Tidal X: 1020] the other night, Tidal, when they want to, can put on some big time events, and we anticipate having quite a few here at Barclays Center. It's just another strategic alliance that I think helps to advance the content business here at Barclays Center, and we're very excited about it."
The deal marks the first time a digital content company has been a sponsor for a live performance venue. While Yorkmark did not get into specifics about the financial information of the deal, he admitted, "Any of our platforms in Brooklyn, any of our major pieces of inventory, there's a cost to them. But I don't look at this [Tidal deal] as a revenue driver in that respect, I look at this as a really good strategic partnership because, ultimately we're only as good as the events we have at the building."
Yorkmark stated that he views the Tidal title sponsorship as just another part of Barclays Center's plan to get more entrenched in the live content space: "There's not one thing that's going to drive the business, it's a combination of things … When you think about what we've done over the last year, with opening the L.A. office, the Avisory Board, our strategic alliance with Roc Nation, an dnow the Tidal Theater as a way to drive our theater business, in combination those things are setting us up for an incredible future …"
The Tidal Theater's cut-down curtaining system provides seating for between 4,000 and 6,000. The theater hosts theatrical performances, concerts, music festivals, oxing events, comedy acts and others. Its brand-new configuration will give attendees access to Barclays Center's Billboard Lounge as well as the Calvin Klein Courtside Club and the American Express 40/40 Club & Restaurant.
Yormark and Barclays Center expressed that they see the Tidal Theater as a chance to get into artist development: "When we're talking to managers and agents on various subjects, being able to use Tidal and Billboard Lounge as emerging artist platforms allows us to have a broader and more strategic conversation on how the Barclays Center wants to be vested in their business, whether it's a new artist or an accomplished one it doesn't matter. We want to be their home."
New Survey Showing Artists' Optimism about Future of the Music Business
BitTorrent released its BitTorrent Artist Survey on Tuesday, and, according to Billboard, the initial takeaway was "how outrageously difficult it is to make a living as an artist in the 21st Century."
The survey indicated that 55 percent of respondents release work once a week or more, 34 percent usually release projects for free and 45 percent post at least once a day on social media. These results mean that being a working musician in the current market involves putting out an original product every week, charging nothing for it and spending the rest of the free time promoting what is being given away for free. And this work is typically not enough: Artists also need to bundle it with other types of media, including behind-the-scenes videos, books, photos, short stories, comics and zines.
Still, 70-percent of the 200 independent artists surveyed by BitTorrent expressed "optimism" about their creative abilities. Their optimism has many experts and analysts wondering why there is such optimism in an industry where earning income from such hard work seems so impossible.
Straith Schreder, director of content strategy at BitTorrent surmised that it is not that artists do not see the obstacles inherent in their profession; they just see opportunity in new technologies, etc. Shreder said, "There's an opportunity for context-driven experience with music … One of the things we think very hard about is how we can facilitate more substantial storytelling by using bundles to publish rich stories across multiple media. There's an opportunity to elevate the album in a digital age with artwork, photos, interviews. We can go beyond just sharing MP3 files."
Over 30,000 artists have put out bundles via BitTorrent: Moby; Madonna; Linkin Park; Skrillex; De La Soul and others. And 27 percent of those have used BitTorrent's paygate, which was introduced in September 2014 and allows artists to put some content behind a paywall. Thom Yorke and The Magnetic Zeroes were some of the artists who used the paygate to make direct-to-fan sales of their music.
BitTorrent is not the only direct-to-fan platform. Patreon started up a platform in 2013 that allowed fans to give money to artists every time the artists produced new work. And Bandcamp recently put out a new feature that lets artists collect monthly or annual subscription fees from fans who can then listen to their music.
The report named all the opportunities there are for artists: "There are now 46 ways for musicians to make money, on and offline."
What Makes a Music City?
The Music Cities Convention, a worldwide conference exploring the relationship between cities and music had its first U.S. event on October 25 in Washington, D.C. Attending were policymakers, local entrepreneurs, data analysts and musicians who talked about ways to enrich music in urban areas.
The Atlantic's CityLab explored some reasons that top music cities like Austin, Nashville and New Orleans have been able to build a "vibrant and lucrative" music scene. In New Orleans, for instance, the music scene is mainly prioritized as a means to boost tourism. In Austin, the music industry is one of the top 10 contributors to the city's economy. And over in Nashville, music has a $10 billion annual economic impact."
In general, the article noted that "branding" a city a "music city" is important to bringing in both tourists and new residents. Lead architect of the Austin Music Census Nikki Rowling called Austin "the live music capital of the world," which became a critical marketing tool.
However, turning a city into a music capital goes beyond naming it well. Key music cities are those that also have affordable places for artists to perform and the demand for those performances. Plus, the more music venues there are, the more jobs there are. And this contributes to the city's economic growth as long as the city can pay for the startup costs.
Festivals also bring in big revenue. For instance, one of the biggest festivals, the Bravalla Festival in Sweden earns $15 million for the city. And in order to support it, local representatives of the government in this area and others established music development offices that help prioritize music in the local economy.
However, a solid music city is also defined by its music education programs. The recent Music Cities Convention discussed this subject throughout the convention, bringing in speakers from Denver public school program Youth on Record and the arts education program headed by the President's Council on the Arts & Humanities, Turnaround Arts. The council's deputy director, John Abodeely explained that art and arts education are typically what is missing in low-income communities with low-performing schools. Adding music and arts programs can turn them into thriving educational centers.
However, technology and innovation are often prioritized over music in urban environments. Those at the convention noted that funding that could go to music and the arts frequently goes to technology. In Austin, Rowling said that the tech industry's "supersonic growth is a key context for what is happening in Austin with music as well." Many of the U.S.'s most booming tech economies, such as New York and Los Angeles are also major music cities.
But New York and L.A. also have big music economies because they have "scene economies" where entrepreneurship is prized and there are spaces earmarked for a music community to gather.
A rising music scene also means festivals and venues that depend on liquor sales to bring in attendees and turn a profit, which can create a dangerous nightlife scene. This indicates that when a city's music economy thrives, the results are not always positive. However, music can also "diversify and unite a community in ways that few other industries can."