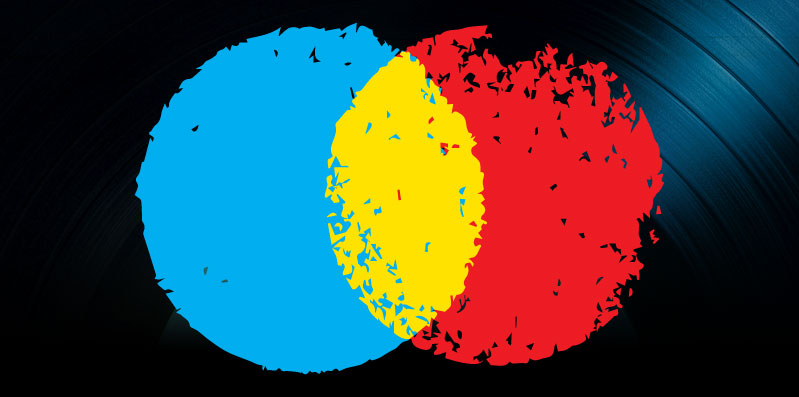 Grammy Creators Alliance, New Music Industry and Digital Download Era News, February 15, 2015
The Grammy Creators Alliance was founded to help advise the government on royalty issues. Also, industry experts weighed in about the state of the music industry at the Digital Entertainment World Expo. And Billboard analyzed the first ten years of digital downloads being part of the Hot 100 chart.
Grammy Creators Alliance Established to Advocate for Artist Royalty Issues
The launch of an artist group called the Grammy Creators Alliance was officially announced by Jennifer Hudson and Ryan Tedder (One Republic) at the Grammy Awards on February 7, reported GIGAOM. The organization was set up to give the government advice as it continues to sort through artist royalty issues in 2015.
During the announcement, Tedder explained that "music activism is coming at exactly the right time. From the Turtles, to Taylor Swift, longtime established and new generations are speaking out."
A look at the Grammy Creators Alliance website showed that the group is still in the process of organizing. However, the site appears to back initiatives such as 2014's "Respect Act," which promoted giving additional royalties to legacy artists.
The group comes on the heels of the Copyright Office's publication of a 245-page report proposing huge shifts to U.S. Copyright Law. Changes could include taking away consent decrees that limit how much radio stations, streaming services and cover bands are required to pay songwriters for playing their material.
The fact that the stars of the Grammys are now publicly backing lobbying efforts could help the music industry have more pull in copyright issues than it had before. However, higher artist royalties could lead to higher prices for consumers as well as challenges for popular digital music services like Pandora and Spotify, which already pay a higher percentage of their take than terrestrial AM/FM radio stations.
In spite of the challenges that new copyright laws could bring, all sides of the argument have said they want to simplify the way royalties are currently being paid.
Experts Predicting a Bright Future for the New Music Business
The music business has been changing at lightning speeds during the past few years, but industry experts at the Digital Entertainment World Expo on February 11 said they feel the future of the music industry will be "bright" as artists learn how to navigate it.
According to the Los Angeles Times, a panel consisting of John Boyle (Insomniac Events), Jared Gutstadt (Jingle Punks) and Jerald Miller (Nu Jazz Management) and moderated by Jeff Pollack (Pollack Music and Media Group) talked about the rise of indie artists and labels as well as the DIY movement.
McBride explained, "The music business is going to grow and it's going to grow rapidly."
Pollack added that major record labels are continuing to cut the amount of time they spend developing "a large roster of artists." Still, as McBride pointed out, the low cost of marketing via social media platforms and the emergence of outlets like iTunes have helped independent artists and labels succeed.
However, Boyle noted that technology has actually not managed to really bolster the DIY movement as expected: "The Internet and all these new technologies were supposed to empower the whole 'do it yourself' movement," he said. "But what it's done is disseminated that. There's now too much product out there and not really enough marketing."
Despite oversaturation, Miller, who managed Lauryn Hill during her time with The Fugees, said that if an artist has talent and makes great music, that artist is more poised than ever before to succeed in the industry: "If you have great music, the cream always rises to the top … [especially with the advent of the] non genre-specific music lover … Now you see people crossing [genre] boundaries and buying things because it's a good song or just good music."
McBride also said, "There's no such thing as niche [anymore] … Independent labels have to run marathons." They need to hunt down a market where their artists' music will excel, and often that is not even in the U.S. "Every country is different in its regulatory structure and its culture so every country is a new opportunity for artists."
Even though there is a lot of concern in the industry about copyright changes and other massive shifts, Miller said great music will still prevail: "The future just looks good for everybody who loves great music … There will people to buy everything, people to love everything."
Billboard, on the First Decade of the Digital Download Era
February 12, 2015 marked ten years since digital download sales began counting on the Billboard Hot 100 chart and the official beginning of the Digital Download Era. Billboard analyzed how the landscape of music has changed during the last decade.
It was big news when the announcement came in 2005. Then director of charts Geoff Mayfield said, "We have eagerly anticipated the moment when we could begin to integrate digital sales into the Hot 100 … It has been a priority for labels, and even some music fans, that we derive more utility from digital sales data."
And in that week's print issue, survey overseer Silvio Pietroluongo, who is now VP of charts and data development for The Hollywood Reporter wrote, "We are absolutely thrilled that the advent of digital downloads brings a viable sales component back to the Hot 100 … Radio stations are programmed to reflect the wants of their listeners, but there is no substitute to measure a song's true popularity than the purchase by a consumer … The combination of accurate airplay data with a strong sales base further secures the Hot 100's place as the definitive U.S. singles chart."
Nielsen Music began tracking downloads in 2003, an act that sparked the Digital Songs chart that same year. This helped balance out the Hot 100, which had become heavily informed by radio airplay as CD and cassette single sales began to drop sharply in 2005.
This sparked other changes, as AOL and Yahoo! radio streaming were added to the charts in 2007, followed by on-demand streaming in 2012 and video streaming via YouTube in 2013.
Consumers also started to digitize their music collections in 2005, starting on their desktops and laptops. And those songs that were available digitally back then benefitted from the Billboard chart shift.
However, download sales were just at the beginning of their rise in 2005, so the digital sales required for a song to hit #1 on the charts were much lower than they are today.