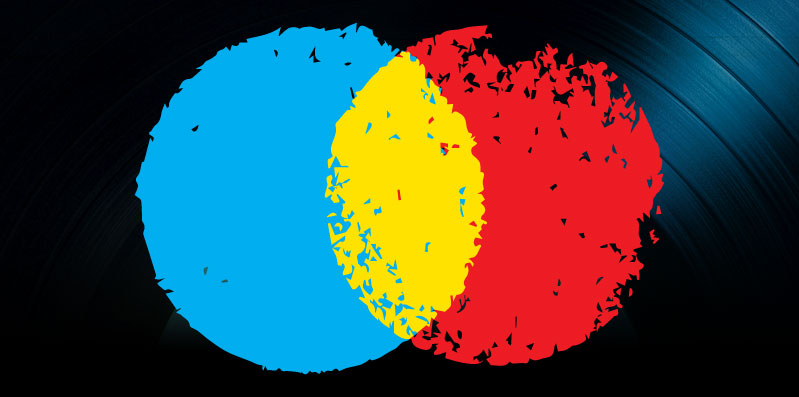 UK Music Industry, Digital Music and Shazam News, February 23, 2014
The British Phonographic Industry (BPI) reported the first positive growth in the UK music industry in four years. Also, PolicyMic revealed nine music projects that have transformed the business. And Rolling Stone outlined how the Shazam app helps record labels identify the next big hit.
UK Music Industry Finally Growing
Revenues in the UK recorded music industry finally grew in 2013 for the first time since 2009 according to the annual study conducted by the BPI, said Music Week. Money from sale of physical product, digital downloads and streaming services rose 1.9 percent during the past year, with streaming fueling the spike.
The figures do not take into account earnings from live shows or merch and are positive in spite of ailing album and single sales. Digital revenues, specifically, rose 11.9 percent, with total money brought in by the UK industry last year totaling £730.4 million, up £13.6 million from the previous year. Digital revenues made up 50 percent of total trade revenues.
Streaming sales grew by 41 percent, with premium subscriptions, ad-supported "free-to-consumer" streaming and Cloud-based services bringing in approximately £77m for labels. Subscription services made up 71 percent of income in the digital music marketplace. Ad-supported "free" streaming services grew 31 percent last year, and Cloud services like Google, Apple and Amazon's locker services finally showed significant revenues, bringing in more than £3m.
Popular British artists such as Bastille (whose album Bad Blood was the #1-selling digital album in the UK in 2013) and others helped bring revenue from downloaded albums up by 19.5 percent. And digital compilations, plus "premium" / "deluxe" album editions including Beyoncé's self-titled holiday release also contributed positively to overall revenue from downloads. Record company income from downloaded tracks was down 4.4 percent from 2012, but still held at the second-highest amount ever reported:  £121.7 million.
CD albums, singles and music videos fell 6.4 percent in 2013, but the rate of decline was still less than predicted by analysts, with physical formats making up half of UK industry revenue. Vinyl LP sales grew by 49 percent, which made up 2.4% of total album income – the highest level of annual income for the format in almost 20 years.
Chief Executive of the BPI Geoff Taylor stated, "The UK's record labels have reimagined their businesses for a world of instant mobile, global access to music, driven by social media.  Rapid growth from digital albums and music streaming services such as Spotify powered a rebound in revenues in 2013.  This will further boost investment in talented British artists like Arctic Monkeys, Bastille, Rudimental and Ellie Goulding, who will reach a global audience tonight as the BRIT Awards is streamed live around the world … With digital increasingly becoming its key source of revenue, Britain's music industry is fit and ready to seize the global opportunities it offers."
And BPI Chairman Tony Wadsworth CBE added that the improved industry is the result of a customer-centric business model:  "After over a decade of digital transformation we are now seeing the transition of the recorded music business reach a significant milestone and a return to revenue growth. This was only ever going to happen if we give the consumer what they want, and the continual support given by artists and labels to new ways of enjoying music means that music fans can enjoy more choice and better value than at any time in history." 
PolicyMic:  "Innovative Projects That May Save the Music Industry"
On Thursday, PolicyMic highlighted nine artists and their innovative digital projects, which could help draw more attention to their music and help consumers enjoy it in new ways.
Bob Dylan's interactive video for "Like a Rolling Stone." This video presents Dylan's iconic song through a collection of faux TV channels. The point of the project is to introduce audiences that may not have heard "Like a Rolling Stone" to Dylan's music and offer up endless content in a variety of genres. And Dylan does not show up in any commercials on "Dylan TV."
Bjork's "Biophilia" app. Now a couple years old, Bjork's "app album" made waves, providing an interactive art and music experience for each song. The download price starts at $12.99, with additional in-app purchases accruing as fans explore the world of the album.
Arcade Fire's "Reflektor" video. This was a follow-up to the band's "We Used to Wait" video, an experiment conducted via Google Chrome. The "Reflektor" video let users control action on the screen using their mobile devices and Web cams. At one point in the video, listeners just saw their own reflections.
THe "REWORK_" app by Philip Glass. Glass' remix album enlisted the help of renowned remixers such as Beck, Dan Deacon and Pantha du Prince and its accompanying app featured an interactive an interactive music control panel called "Glass Machine." The app's experiment in sound was even displayed in a modern art museum.
Beck's sheet music album Song Reader. Beck has always offered "extras" for fans with his album releases (such as the stickers he released with his album The Information), but his recent Song Reader came as a book of sheet music, so fans could perform the album themselves.
Flying Lotus' Cosmogramma cover. This digital album cover allowed music fans to interact with the cover art and accompanying sounds with both hands. Purchased albums could be held up to Web cams, which called up a reality UFO game.
Yolanda Be Cool's "product recall." Yolanda Be Cool, known for the viral success of "We No Speak Americano" created a promo for their new album, showing the artists holding a press conference and talking about recalling their product because its "beats are no longer fresh." Viewers were then invited to download a "replacement song" from the new album.  
Pharrell's 24-hour "Happy" video. Pharrell turned his song "Happy" from Despicable Me 2 into 24 hours of video hosted on a microsite, allowing listeners to switch between time slots or watch all of them and featured Easter eggs in the form of Jamie Foxx, Magic Johnson and Odd Future.
Light Light's crowd-sourced "Kilo" video. New artist Light Light created a video with the help of fans that tracked the paths of users' cursors to create a cohesive crowd-sourced project.
Shazam Helping Industry Players Find the Next Big Hit
While the Shazam app helps its 88 million users identify songs, record labels are getting important data that is helping them discover songs that will be future hits, declared Rolling Stone. Each ID tag from the Shazam app shows up in the company's database, where it gets put into pop charts, shown to record labels, radio stations and concert promoters in order to further promote it. Daft Punk's "Get Lucky" and Lorde's "Royals" both got their start in Shazam.  
Head of promotions for Warner Bros. Records Peter Gray admitted, "It's become a very useful and insightful tool." While Shazam's methods and statistics are not perfect, they are consistent enough to make strong predictions.
Shazam and record label executives have both identified a pattern in the past few years:  Shazam's pop charts are often able to predict Billboard's Hot 100 and Top 40 charts over a month in advance. For example, "I Love It" became a hit after appearing on HBO's Girls and showing up on Shazam shortly after. And Shazam's charts predicted that Los Angeles-based rapper YG would become a huge success in 2011 based on internal data. His song "Who Do You Love" just hit #2 on Shazam's new hip-hop chart.
Head of Music at Shazam Peter Szabo said, "Our data has shown that we can typically predict 33 days in advance what's going to be at the top of the Billboard Hot 100 … It's fun to see the epidemic start to spread – the growth of these songs, starting in a city."
For the past couple decades, label executives have had very few solid metrics aside from larger record sales or radio ratings to show artists' growth from unknown names to major stars. But Shazam's regional data helped Republic Records discover that SoMo's single "Ride" was popular in Baton Rouge, Louisiana, Phoenix and other cities outside of his home state of Texas. Using this data, Republic pushed the song to radio programmers in target areas, and "Ride" quickly appeared in iTunes' R&B Top 10.  
Avery Lipman, founder of Republic, declared, "In the old days, record companies would rely on SoundScan for weekly sales — and you'd wait a week … But Shazam is literally in real-time. If you're not careful, you could find yourself drawn to it all day, checking out places like Mineola, New York, or Oshkosh, Wisconsin."
Demand for this data from Shazam is growing, and the company is planning to charge record labels for a "dashboard" feature starting in late 2014 that will deliver involved statistics on songs and artists.
Renowned manager Terry McBride, whose label Nettwerk launched popular British singer/songwriter Passenger's career in 2013 said that regional data from Shazam helps find radio stations and concert venues so labels can plan tours and make better sales pitches:  "That's one of the most fascinating early radar touches for touring … It's a piece of intelligence that is more telling and more timely than anything."
Warner Music Group became the first label to sign an official deal with the Shazam on February 19, even creating a label imprint for artists found through Shazam.