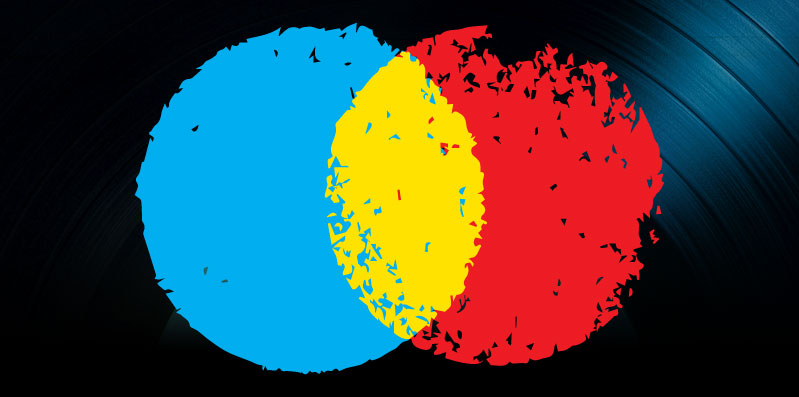 Tribeca Film Festival, Music Copyright and Super Bowl Advertising News, February 1, 2014
Music and film company Genero and the Tribeca Film Center announced a collaborative music video contest. Also, a Canadian graduate student studied the effects of removing copyright protection on music sales. And a music industry professional analyzed how the Super Bowl influences the music industry.
"Tribeca Interactive & Interlude:  A Music Film Challenge"
Genero, a company that connects musicians and filmmakers will be joining forces with the Tribeca Film Festival for a contest asking participants to make a music video for one of three newly-released songs:  "Heavy Seas of Love" by Damon Albarn; "Ticking Bomb" by Aloe Blacc; "Dead in the Water" by Ellie Goulding. According to The New York Times, one grand prize of $10,000, plus a trip to New York City during the film festival in April will be awarded for each song, and the videos will be used to promote the singles. Tribeca, Genero and all three musicians along with a panel of music industry professionals will choose the winners.
Competitors will have to learn to use the software suite Treehouse, made by interactive video company Interlude. This software was used to create the interactive video for Bob Dylan's song "Like a Rolling Stone," put out in November. The video let viewers alternate between 16 video channels, each of which featured a television show that was synced with the lyrics of the song. 
The "Tribeca Interactive & Interlude:  A Music Film Challenge" contest will begin on Tuesday, February 4 and run through March 27. Filmmakers start an account on the official contest website and download an entry form and the Treehouse software.
Jane Rosenthal, co-founder of the Tribeca Film Festival stated, "New technologies are unlocking a world of storytelling opportunities for filmmakers to captivate, engage and entertain audiences … We are always looking for ways to introduce new technology to the filmmaking community at the festival."
Winning videos will be a part of the Tribeca Online Festival and appear throughout the 2014 Tribeca Film Festival venues and lounges at interactive kiosks. They will also be viewable on the contest website.
Could Loosening Copyright Protection Help the Music Industry?
Canadian graduate student Laurina Zhang recently conducted research suggesting that copyright protection may actually be a hindrance to sales in the digital-centric music industry, according to an article in Forbes. 
The beginning of the Digital Age and the appearance of file-sharing websites sparked a significant decrease in sales for the music industry. And major record labels like EMI, Sony, Universal and Warner declared that the revenue decline was caused by music piracy and sued thousands of illegal file sharers in hopes of recouping lost money. The industry also created digital rights management (DRM) technology embedded in online-purchased music files that prohibited copying. In 2007, EMI took away DRM technology from music files, allowing fans to share files freely with others.  
Many were shocked by EMI's decision, believing the removal of DRM would negatively impact sales. File owners could share music files with friends and family and also upload them on file-sharing sites. However, because of the results of the experiment, in 2009, other labels decided to remove DRM as well.
The impact of the removal of copyright protection from these music files cannot be judged simply by looking at the numbers, because there was no control group to show how sales would have progressed if DRM had remained in place. PhD student Laurina Zhang at the University of Toronto decided to study what happened at EMI before the other three record companies removed DRM, since EMI abandoned file protection two years before they removed it, by running a "difference-in-differences" statistical model.
Zhang studied data collected from 5,864 albums released by 634 artists before 2007 – when EMI removed DRM. She looked at online and physical sales, then put it into a statistical model and figured out whether EMI's album sales rose or decreased. The answer was crystal clear:  EMI experienced a significant uptick in sales, 10 percent or more.
To figure out why this sales boom happened, Zhang measured how lifting the DRM technology specifically influenced different types of albums, from best-selling (more than a million sold) albums, to niche records (less than 25,000 copies sold).  She found that taking away DRM allowed better search and sharing among music fans, which allowed people to hear music they may not have heard otherwise. The sales of best-selling albums were not affected, because people could hear this music on the radio and other places anyway. However, the sales of niche albums rose by more than 30 percent. Sharing enabled music discovery and rediscovery, and many fans ended up buying artists' albums online through iTunes or Amazon.     
Zhang's research provides insight into the truth behind intellectual property rights:  Copyright protection does not necessarily protect or stimulate sales. The research also shows that in the Digital Age, companies that provide specialty products and allow consumers to test out products before buying can provide a better user experience and potentially get more sales.
The Superbowl, Brand Alignment and the Music Industry
Eric Sheinkop, CEO of Music Dealers and co-author of Hit Brands:  How Music Builds Value for the World's Smartest Brands wrote a guest post for Billboard.biz exploring how the alignment of music with brands and commercials during the Super Bowl and other major televised events can be beneficial to the music industry.
There will be 111 million viewers watching the Super Bowl on February 2, and companies will spend more than $4 million per 30-second spot. And as Sheinkop pointed out, "Given the value brands gain from their use of music, the Super Bowl offers the largest stage to leverage the power of music to create intrigue and discussion for a brand after the whistle has blown."
And Super Bowl marketers are typically hoping viewers' reaction is that the commercial is great and they want to hunt down the song used and find out information about the artist:  "It's a chance to set the social mediasphere ablaze with inquirites about songs, artists, and 'where can I find that?'" Successful Super Bowl advertisers will be able to gauge which type of music fits their brand and be able to create a real experience for viewers that goes beyond the commercial.
Sheinkop also noted, there seems to be a connection between last week's Grammy winners and the music used in Super Bowl ads:  "The Grammys and the Super Bowl are not just mega events close in airdate, there is a symbiotic relationship between Grammy winners, the Super Bowl halftime show, and the music selected for commercials during the game … By analyzing the use of music in 2013's Super Bowl ads, we can develop some pretty good predictions about the role music will play in 2014's Super Bowl commercials."
The music that has already been released in the first month of 2014 offers further insight. Indie bands and artists have experienced an incredible boom in the past couple years, and independent music won 50% of 2014 Grammys, confirming an indie music-focused trend. In 2013, 13% of Super Bowl ads featured music by independent artists.
There is also a connection between the halftime show performer and Grammy Award winners. Pepsi, in its second year of halftime show sponsorship typically showcases mega artists. Sheinkop said, "As it turns out, those performers are coming off the heels of a Grammy victory a week prior, as is the case this year with Bruno Mars, winner in the 'Best Pop Vocal' category. The same connection can be made to last year's halftime show featuring Beyoncé, who had just won the Grammy for Best Traditional R&B Performance for 'Love On Top,' and Cee-Lo Green, who performed with Madonna the year before that."
Successful marketers have often looked for popular artists to support their ad campaigns, which means a lot of Grammy winners get major placements during the year after they win. However, "What's interesting and different about the Super Bowl is that brands don't have time to react to the Grammy wins. They've already placed their bet as to which artists will win. It's a big bet and when a brand guesses right, the value to their consumers, and therefore their business, is tangible … The trend of leveraging the best will surely continue. We speculate that before the last whistle of the game is blown, we'll see a commercial containing a cut by Macklemore & Ryan Lewis, or perhaps a licensed use of 'Royals' by Lorde."
Sheinkop added, "Having the foresight to pick a popular artist or good song is one thing, but one of the most powerful ways for a brand to create authentic, long-term consumer engagement is by leveraging music in such a way that it creates value for the brand way beyond the 30-second ad."