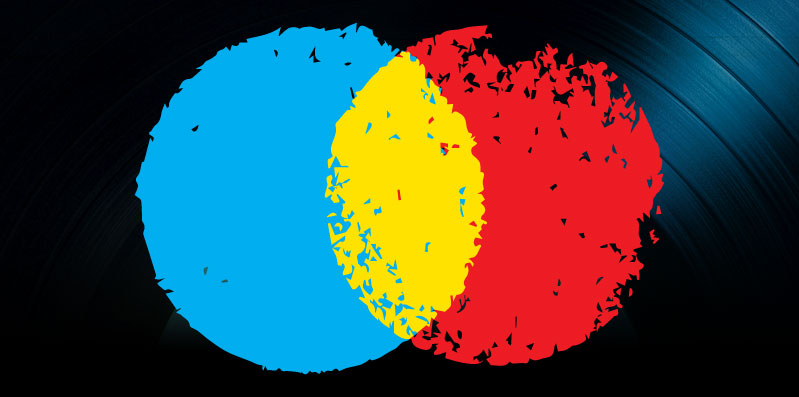 SoundCloud and Warner Music, New Music Industry and Big Machine News, November 9, 2014
SoundCloud signed its first major label licensing deal with Warner Music. Also, music industry experts analyzed why the future of the music business rests on experimentation with new platforms and strategies. And Big Machine head Scott Borchetta indicated he might be in the market to sell the label.
Warner Music Strikes up a Deal with SoundCloud
Major music streaming service SoundCloud finally signed a licensing deal with major label Warner Music Group on Tuesday, reported the New York Times. SoundCloud has 175 monthly users, and Warner Music's roster includes thousands of acts, among them Bruno Mars and Led Zeppelin.
This is SoundCloud's first major label deal and will ensure Warner's artists get paid when music is played on the platform, whether as part of DJ mixes and mash-ups (which have become very popular on the platform) or regular playlists. This deal covers all artists signed to Warner and any of its labels as well as the songwriters represented by music publishing firm Warner/Chappell.
The announcement of the new partnership included an announcement that SoundCloud will be adding a paid subscription service during the first part of 2015. Warner will also pay for an equity stake of three to five percent of SoundCloud and will clear SoundCloud of any past copyright infringement allegations.
Warner Music Group (WMG)'s COO Robert Wiesenthal said, "SoundCloud is a platform built on music innovation and it has a rare ability to drive music discovery while enhancing the connection and collaboration between an artist and their following … Our deal will foster that relationship, while providing a powerful range of income opportunities for WMG's artists and songwriters."
SoundCloud has been both praised by developing artists and criticized by the industry for being an important free marketing tool and a financial liability. The platform design has made musician users able to easily share their music on social media and to reward their fans with new, exclusive material. However, music executives have seen the site as a potential problem, as it has been competing with platforms like Spotify and YouTube, yet not offering any royalties to creators.
The Berlin-based SoundCloud lost $29 million in revenue in 2013 and has been struggling to earn any profit due to a problematic business model. Pressured by the music business to earn more money, the company started up some advertising on some songs, which required licensing deals from labels. While SoundCloud signed 30-plus deals with independent record labels, it has been struggling to successfully negotiate deals with the majors.
The agreement Warner signed with SoundCloud does not cover everything in Warner's catalog, rather gives Warner and its artists the ability to choose which tracks users can hear on the service at any time.
Sony and Universal spokespeople have said they are still holding out for a clearer business plan from SoundCloud before signing their deals.
Music Industry Still Making Sense of Digital Options
All reports indicate that digital album sales are down in the U.S. in 2014, while vinyl sales have hit a 15-year high. And while most experts agree that streaming will determine the future of the industry, many artists and labels are still resisting the shift. According to CNN, this is an indication that the business is still "dazed and confused" by the Digital Age.
Despite clear indications that paid streaming is where recorded music revenue will come from in the future, artists like Taylor Swift are still regularly "breaking up" with Spotify. Swift recently requested that her entire catalog be removed. While many said this move was ill advised, it led to a boost in sales of her new album, which sold 1.3 million copies in its first week, the best sales figures of any artist since 2002. When they had no other options, fans bought.
Spotify claims it gives more than 70 percent of its revenue to artists, but only between $.006 and $.0084 are actually paid to each artist for a single play. Faced with these low numbers, artists like Thom Yorke have come out to reprimand Spotify. The Beatles also have avoided the service and signed an exclusive deal with Apple.
Still, Spotify is earning some artists more money than iTunes in Europe, meaning streaming may have the capability of being more profitable to artists than traditional methods of selling albums.
Social media is also becoming a huge factor in artists' careers and is producing meta data that is helping artists better plan their careers and releases. Public social data is becoming detailed enough to predict future hits and which artists will hit big. Companies like Next Big Sound are tracking streams and collecting Internet data including new Twitter followers, Facebook likes and website views. The company has said it is capable of estimating how likely an artist is to make it into the Billboard Top 200.
Next Big Sound's Alex White pointed out that making the charts is difficult in the current climate for any artist. Since 2014, only 961 artists have made the Bilboard Top 200, and only 204 of those were newcomers. The Billboard Top 100 — the chart for singles — only saw 249 artists, with only 43 debuting.
Despite the challenge of charting for new and emerging artists, sharing and discovering new music is still easier than it has ever been. Eric Wahlforss, co-founder of SoundCloud stated, "At the end of the '90s you needed a full blown musical studio to make real music … now all you need is a laptop. Even an iPad can be enough. Music making is for everyone. Technology has made it cheaper, accessible and more powerful."
Although music discovery online has become significantly more sophisticated in recent years, industry analysts still cannot determine which technology is best at analyzing people's individual music tastes. Kevin Lee, one of the founders of Beats headphones said that in order to succeed in the future, labels, artists and others in the business may need to start over:  "Even with all this music, at any given time I still only have about five to 10 songs that I love and listen to, but I have to believe there may be 100 that would really touch me in the same way … I feel we need a new technology that can figure that out."
Even mega artist Bono agreed:  "This is an experimental and exciting period. So, let's experiment and see what works."
Is Big Machine for Sale?
Scott Borchetta, founder of Big Machine may be selling the label, said Billboard. This news comes during the same week as Taylor Swift's huge sales accomplishment:  selling more copies of her new album in its first week than any artist since 2002.
Sources indicate that Borchetta has been shopping around with investors to see what kind of offer Big Machine Label Group could get if he decides to unload it. However, other sources have said that the label will not be nearly as valuable if Taylor Swift does not stay affiliated with it. The New York Post was first to report the sale, which could be valued at between $225 million and $250 million.
The Universal Music Group is reportedly interested, as are the other two major labels, Sony and Warner. Disney and BMG are also interested as are some private equity investors and other entertainment companies.
According to sources, Borchetta was approached by a third party to sell, which then led him to see what else was possible in the current marketplace. Those close to the situation believe that Universal is at the front of the line to buy Big Machine should Borchetta proceed.