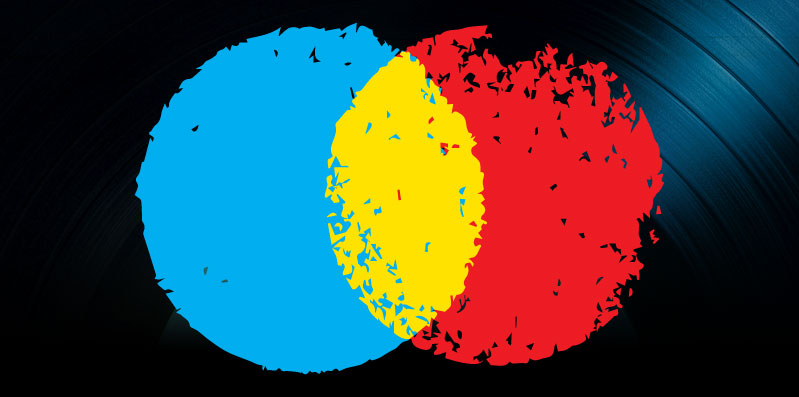 High-Resolution Audio, YouTube Record Labels and Weird Al Marketing News, July 27, 2014
Industry insiders discussed the impact "high-resolution audio" could have on recorded music. Also, Universal Music continued to grow its new YouTube-focused record label. And a music business analyst shared some lessons other artists can learn from Weird Al's marketing strategy for his recent release.
What Does "High-Resolution Audio" Mean for Music?
There's a new buzzphrase going around town, and it could have a major impact on artists, music labels, device makers and the way recorded music sounds. Tech giant Sony unveiled the new "high-resolution audio" format in September of last year, according to the Wall Street Journal and has since made 25 different audio devices capable of playing it, such as a Walkman worth $700.
The recording industry didn't decide on an official definition for "high-resolution audio" until last month. The Digital Entertainment Group, the Consumer Electronics Association and The Recording Academy now say it is "lossless audio that is capable of reproducing the full range of sound from recordings that have been mastered from better than CD quality music sources."
In a nutshell, this means a sound clearer and more authentic to live performance than was previously possible. Of course, that also means the sound data files are heavier than regular compressed music files, which could affect downloads and shorten the battery life of portable music players. Still, it could mean that recording sessions could capture the minute details of deep brass tones, high-pitched instruments and even the moment when a singer takes a breath.
One question many are asking is, "Who can actually tell the difference?" A majority of people will be listening to music on portable players and would be likely to hear a difference in sound quality. But asking people to hear the difference between CD-quality music and audio files is challenging.
And "hard-core audiophiles" that have heard these new music files have said high-resolution audio still does not rival the sound of vinyl records.
Awesomeness Music Partners Acknowledging the Hit Record/YouTube Connection
Universal Music recently partnered with TV producer Brian Robins, Steve Rifkind and hip-hop mogul Russell Simmons for the music-video-focused label Awesomeness Music Partners, reported New Media Rockstars. The label was created as a response to Billboard finally acknowledging the connection between successful releases and online video by including YouTube statistics in its long-standing chart formula.
CEO of Universal Lucian Grainge has already been working extensively with YouTube as a board member for Dream Works animation. He and his partners in the new venture are banking on YouTube's ability to break up-and-coming artists and grow a fan base without an official album release.
Awesomeness Music Partners has been an active label for a year, focusing on artists that will do well in youth markets. Currently signed are duo Cimorelli and 19-year old pop singer Niykee Heaton. The YouTube channel attached to the label, AwesomenessTV is also already managing the YouTube career of several artists and has been scouring youth-focused MCN's for new talent to manage in 2015.
The label's growth could be sparked by YouTube, Yahoo and Vimeo's push to become more tied to music by making their contracts with artists and labels more concrete than they were previously.
5 Marketing and Promotion Tips from Weird Al
When parody artist "Weird Al" Yankovic was formulating a marketing strategy for his new chart-topping album Mandatory Fun, he discovered he could no longer rely on his old methods. Recalled analyst Kit O'Toole of Something Else Reviews, his previous tactic would be to get his video played repeatedly on MTV and produce a comedy special to get the word out.
But in a world where MTV no longer airs videos, Yankovic had to go another route. In 2006, he found renewed success with the self-directed parody video for "White and Nerdy," which went viral and managed to get him his first-ever Top 10 hit. Users on social media eagerly shared the video, and, while his subsequent album Alpocalypse didn't create the same buzz, he had endeared himself to a new generation.
For Mandatory Fun, Yankovic decided to go all-out on social media with his "#8videos8days" campaign. He released a new video for eight tracks from the album over the course of eight days, resulting in his album debuting at No. 1 on the Billboard 200. His is now the first comedy album to top the charts since a 1963 release by Alan Sherman.
These are impressive accomplishments for any artist, but these in particular show how technology is truly reshaping the music business. Here are a few lessons other musicians can learn from Weird Al's latest triumph.
The "Beyonce model" leads to sales. Creating videos for each song helps promote music, but it also gives fans something special, "more bang for their buck." And because listeners now use mobile devices to check out new music, providing a visual to go along with the audio provides an enhanced view of the album.
Selling music isn't about spending a lot of money on production. Videos no longer have to cost a fortune to make an impact. Yankovic's budgets for "Tacky," "Handy" and "Foil" were kept to a minimum, without "Broadway-style choreography" or special effects. Instead of assaulting viewers with "outrageous images," he used cameos by his celebrity friends, his own facial expressions and funny lyrics to garner attention.
"Flexible pricing" goes a long way. To help encourage sales, Yankovic partnered with Amazon to offer the latest album at $5.99 for a short window of time. This tactic likely contributed to Mandatory Fun hitting #1. "Sticker shock" can irritate fans and potentially encourage illegal downloading, whereas offering a lower price temporarily "encourages new listeners to take a chance on the entire album.
Partnering works! Weird Al partnered with a variety of websites to host and create the videos, including Nerdist, College Humor and Funny or Die. Some of these sites even aired the clips exclusively so he did not have to rely on YouTube or Vevo. His record label would not pay for promotional videos, so he approached these different channels before he even wrote the songs in order to fund them so one channel would not have to bear all the production costs. This turned into a win-win: All eight clips got more than 20 million views, and he let channels keep all ad revenue generated while his own album skyrocketed to #1.
When it comes to content, it's all about quality. Smart marketing helped Yankovic tremendously, but it would not have had real weight had the material not been so solid.
Yankovic was initially called a "one-hit-wonder" when he released "My Bologna" in 1979. But thanks to intelligent songwriting, comedic skill and business savvy, he has figured out how to boost sales figures in a climate that continues to challenge record labels and other artists.