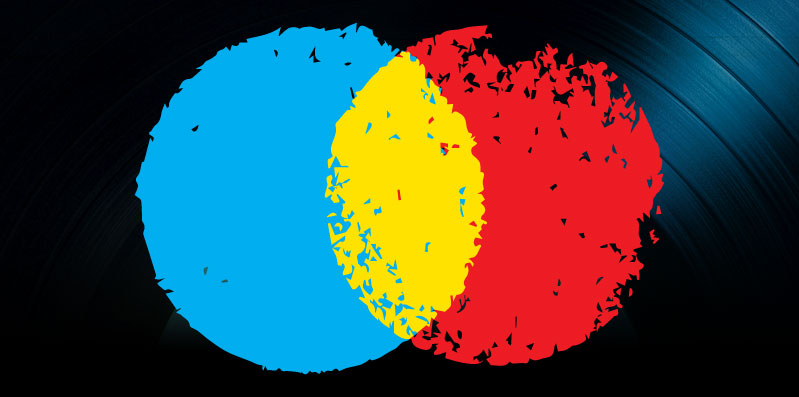 Content Creators Coalition, Copyright Law and Pandora News, March 2, 2014
Renowned musicians protested the way radio stations pay royalties. Also, Liberation Music and Creative Commons founder Lawrence Lessig resolved their long-standing copyright infringement battle. And Pandora announced it would be unveiling a suite of meta data tools for artists later this year.
Artists Supporting the New Content Creators Coalition
David Byrne, Mike Mills (R.E.M.), John McCrea (Cake) and guitarist Marc Ribot gave a free concert on February 25 at Le Poisson Rouge in New York City to protest radio stations' methods for paying royalties. According to The New York Times, the event was also provided a way to announce the launch of a new advocacy group, the Content Creators Coalition.
Ribot, known for work with Tom Waits and others said, "This is possible now because musicians and artists are fed up … It takes a lot to get a musician to go to a meeting, serve on a committee. It's not what we do; we play music. But the way things are now, many of us feel that our backs are to the wall."
The Content Creators Coalition was founded in early 2013 and represents not only musicians but also other creative workers such as writers and visual artists. The group began as a way to address unfairly low rates from digital and streaming services like Pandora and Spotify. Last year, Byrne wrote in The Guardian that "the Internet will suck all the creative content out of the whole world until nothing is left."
The Coalition's first initiative will be to address the fact that when U.S. radio broadcasters play music on the air, they only need to pay songwriters, not performers. The show on Tuesday featured songs like "Respect," which make money for their writers (aka, Otis Reding) but not the songs' most famous performers.
Several laws passed in the '90s guarantee royalties to performers from streams online, but the U.S. is almost the only country in the world that does not pay a "performance right" on terrestrial radio.
Ribot, McCrea and Ruen were some of the first members of the Content Creators Coalition and said that they intend to use their influence to ensure fair treatment of artists and performers and make sure they are protected on a larger scale.
They also stressed that issues in the Digital Age go way beyond streaming services. McCrea stated, "It's not about Spotify … It's about what's coming in five years if we don't have a collective voice."
Copyright Dispute Resolved between Lawrence Lessig and Liberation Music
Australian indie label Liberation Music "amicably resolved" the copyright dispute it has been in with Harvard Law School Professor Lawrence Lessig for several years, reported Billboard. Liberation admitted fault for issuing a "take-down" notice and said it will also pay compensation.
The Creative Commons co-founder Lessig sued Melbourne-based Liberation after the company issued a take-down notice to YouTube demanding a video of a lecture in which Lessig used the Phoenix song "Lisztomania" be removed. The video was entitled "Open" and was taken during a Creative Commons conference in South Korea.
Liberation Music agreed Lessig's use of "Lisztomania was "fair use" under U.S. copyright law and "fair dealing" under Australian law.
Managing director of Liberation Warrne Costello admitted, "We regret that Liberation issued a take-down notice with respect to Professor Lessig's video … It was removed by a member of our staff without being reviewed and under a misunderstanding of the relevant law. Upon learning of the mistake we immediately reinstated Professor Lessig's video, amended our review process and have worked co-operatively with Professor Lessig to resolve this matter as quickly as possible."
Lessig, represented by the Electronic Frontier Foundation (EFF) and Jones Day added, "Too often, copyright is used as an excuse to silence legitimate speech … I've been fighting against that kind of abuse for many years, and I knew I had to stand up for fair use here as well. Hopefully this lawsuit and this settlement will send a message to copyright owners to adopt fair takedown practices—or face the consequences."
Pandora Designing a Suite of Artist Tools
Pandora founder Tim Westergren said his company will soon include audience engagement capabilities, data that will help plan better tours and other artist tools in its offerings, said an article on the Fast Company website.
Westergren played in bands prior to founding the Internet radio giant, so he said he understands the challenges faced by touring musicians and wants to help make this process easier by providing some infrastructure:  "We used to get in a van and drive 13,000 miles to Boulder and put flyers up on telephone poles to get people to come hear us play … There was no infrastructure for promotion for bands, unless you were on radio – and that was a very narrow pipe."
Pandora may soon provide this type of infrastructure in the form of a "set of capabilities" for its 100,000 artists that will allow them to "harness" their audiences starting in summer 2014. He said the tools will allow artists to get detailed data related to their fans so they can plan shows and tours where their biggest fans are. Westergren explained, "You have an audience of people who thumbed up your music, thumbed it down, created stations with it. There are people that express a preference for your music, we know who they are. The idea is to allow you to go in and see those people, understand that data, understand the songs are being thumbed up, thumbed down, what songs are doing well, what stations they do well on, understand your own data and do it in a very detailed way."
Pandora will also provide a map of fans across the U.S. which will not only let artists see where their fans are but also let these fans know when their favorite artists are coming to town:  "What Pandora has, which has never existed before, is a platform this big that can accommodate so many different artists and has personalized knowledge of every listener and the ability to communicate with them … Those have never been brought together under one platform – and it's really the ingredients for a very different industry."  
However, artists have been less than happy with Pandora's low royalty rates, as many have reported in detail their negative experiences with the service. Westergren counters these attacks by saying that the music industry has had a "kind-of maniacal" focus on the royalty rate and is still trying to get its footing after the crash of CD sales; efforts should be focused on recovery:  "Moving from an argument about the right number, moving into a discussion about products and capabilities and the value of the platform … will change the dialogue, I believe."
Pandora has been planning to build these audience-engagement tools for a long time, but have not had they funds because royalty fees take half of Pandora's revenues. Westergren said he hopes that being able to really engage with their audiences will improve the money that can be made by musicians, so they can earn a sustainable living.