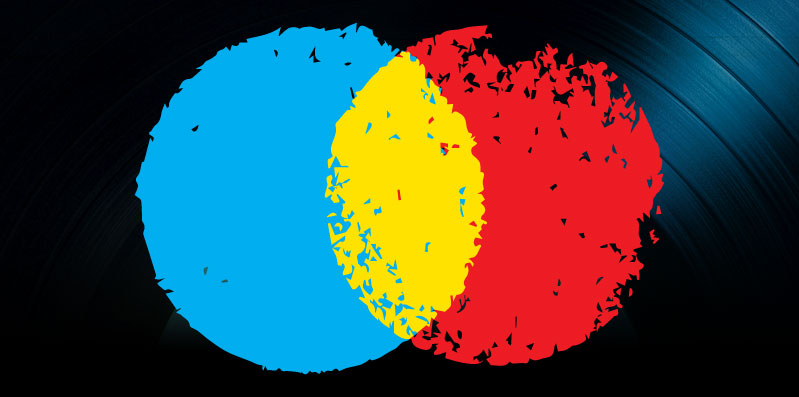 Big Data and the Music Industry, Iggy Pop Lecture and Pandora AMP News, October 26, 2014
Music industry leaders and artists talked about how access to quantitative data is changing the business. Also, Iggy Pop gave his first lecture about the new music business. And Pandora launched a new audience metrics service for artists and managers.
How is Big Data Really Helping Musicians?
A group of artists and music entrepreneurs are using newly-available quantitative data about their fan bases and the marketplace in order to book tours, release albums and interact personally with their audiences. Several members – the Grammy-winning band Hanson, Spotify's Sachin Doshi and entrepreneur Alex White of Next Big Sound – showed up at Forbes' Under 30 Summit in Philadelphia last week to discuss how data is really changing the industry.
Taylor Hanson, who is also CEO of 3CG Records, said, "The music business hasn't had a history of really wanting to know what's going on … There are no open-source music companies. There are a lot of black boxes." He added that if labels made their decisions based on big data that is now available in the Digital Age, "Then artists wouldn't be getting screwed."
Hanson has been using social media data to decide where to play shows and how to organize tours. While many have questioned the "seemingly strange locations" of shows, Taylor Hanson explained, "All of a sudden we could have 200 people in a bar in the desert."
White has been using data pulled from Facebook, Pandora, download sites and Twitter mentions to create a system that helps managers and artists analyze their fan bases and make more informed choices about how to market and sell their music: "There has never been this much data. [Previously] there was just CD sales and radio." And in the early days of digital, one of the few methods of data collection for artists was looking at how many times their MySpace page was viewed and then comparing that number to how many songs were downloaded from that MySpace page.
Doshi clarified, "Data can show us when to release the next record … That's certainly something in our streaming environment that we can work with artists and bands."
Iggy Pop, on the Changing Music Industry
Punk legend Iggy Pop recently gave his first-ever lecture on the music industry as part of BBC Radio 6 Music's annual John Peel Lecture series, reported AXS. He talked about a variety of topics, including Internet Piracy, U2's new partnership with Apple and why he has changed his previous views on "selling out."
He responded to U2's recent decision to give away its new album via Apple's iTunes and the controversy it caused: "The people who don't want the free U2 download are trying to say, don't try to force me … And they've got a point. Part of the process when you buy something from an artist, it's a kind of anointing, you are giving people love. It's your choice to give or withhold."
And while previously, Pop condemned the idea of artists "selling out" by aligning with brands for a paycheck, he said he now supports the idea of artists aligning with brands in an effort to expose more people to their music: "The licensing of music by films, corps and TV has become a flood, because these people know they're not a hell of a lot of fun so they throw in some music that is … I'm all for that, because that's the way the door opened for me. I got heard on TV before radio would take a chance."
Finally, he celebrated indie labels, saying that in the modern music market "almost all the best music" comes from these companies. Pop's full lecture is available on the BBC.
Pandora Launching Pandora AMP
Pandora launched Pandora AMP on October 22. This free online service will provide artists and managers with metrics about their audience on the streaming music platform, according to the Pandora blog.
The service offers up data to the over 125,000 musicians whose music is on the service. Insights are taken from billions of hours-worth of personalized listening. Analyzing data can help artists make decisions about touring, single selection, set lists and fan targeting.
Available data includes song-by-song performance information, number of fans that have created a station for each artist, geographic and demographic breakdowns of an artist's audience and an interactive map showing where an artist's music is being played most in the U.S.
Pandora founder Tim Westergren said, "When I was in a band, we had a rented van, a box of fliers, and a couple staple guns … The challenge faced by artists trying to find and build an audience was part of the original inspiration for Pandora. With AMP, the goal is simple: we want to harness the power of our scale and data to make artists' lives easier."
Pandora AMP is run by The Music Genome Project®, which was launched over nine years ago. Since its launch, over 50 billion hours of music have been listened to by users. Over 45 billion "thumb" inputs have been shared and seven billion stations have been created. In June of this year, there were more than 1.61 billion listeners hours clocked.
Singer/songwriter Andy Grammer's manager Ben Singer explained how he expected Pandora AMP would help his client's career: "This is a total game changer for us. Our research shows us that the majority of Andy's fans consume music on Pandora. To have access to these analytics will only help us better serve his fans as the music industry continues to evolve."
Westergren added that his goal with AMP is to provide "a direct view into who and where [an artist's] audiences are and what resonates with them."
In his official blog post about the AMP launch, he also stated, "With AMP, we hope to make the day in and day out easier for artists by eliminating the guesswork. From finding out what songs are performing well to inform singles or set lists, or mapping where an artist's fan base is to inform tour schedules, our ultimate goal is to help artists across the spectrum build and maintain their careers. We're just getting started, but we have a strong vision for where this can lead and are excited to watch it take shape."