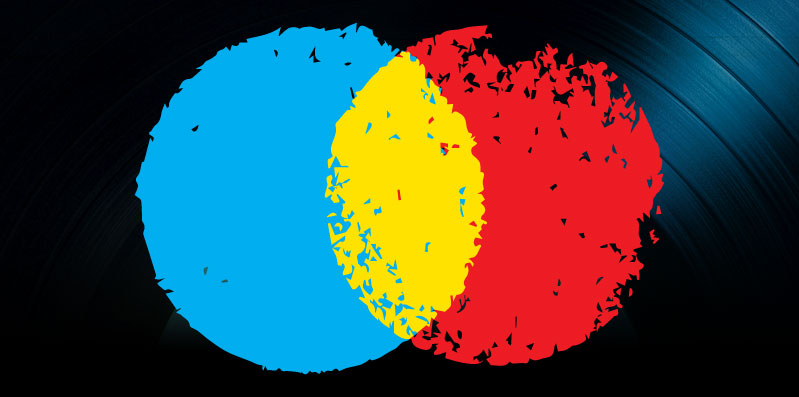 Apple Music, Napster Documentary and T-Pain News December 14 2014
Billboard outlined ways Apple transformed the music industry in 2014. Also, a mini documentary from The New York Times chronicled the real effect the rise and fall of Napster had on music business models. And artist T-Pain talked about the drive to make hits and why music companies need to listen to what fans want.
Apple Still Innovating in 2014
The big reveal of the iPhone 6 on September 9 was the year's "watershed" moment, showing that Apple is still leading the music tech revolution, according to Billboard. And by essentially ditching the iPod, acquiring Beats Music for $3 billion, finally entering the streaming world and aligning with U2 for a free album release via iTunes, CEO Tim Cook showed the company is finally accepting that the cloud culture is here to stay for music.
Apple's acquisition of Beats is also notable because it has brought it closer to co-founders Jimmy Iovine and Dr. Dre, who could finally give Apple the "in" it needs to fully connect to the current entertainment industry and compete with Spotify, YouTube and other streaming services. Rumors continue to circulate about Iovine leading Apple's content strategy and a potential merger between Beats and iTunes this coming spring.
Iovine told GQ that Beats finally fills up a "hole" in Apple's music strategy. iTunes Radio was popular around its launch in fall 2013, but the 20 million users it attracted in its first month in business paled in comparison to the 70.7 million who were listening to Pandora.
Many industry experts have predicted that Beats' focus on "human curation" and a huge catalog could give Apple the advantage it needs to dominate the streaming world. Amanda Marks, global head of digital accounts at Universal Music Group explained, "In a mass-market product, most consumers don't know what to listen to, and they want guidance."
Apple likely finally made a foray into streaming because of the whopping 12 percent decrease in digital download sales. Recent stats showed that iTunes track downloads were down 12 percent in 2014, with iPod shipments down 45 percent in the last year. Founder of Mildia Research Mark Mulligan declared that the Beats acquisition showed "a hint of panic" but acknowledged that "subscriptions are still in their infancy. They most likely won't be when Apple has finished."
While many music fans felt violated by the free delivery of U2's Songs of Innocence to their iTunes playlists, it was still a successful marketing technique. It showed that the future of the industry could lie at least partially in free music and artist-brand relationships, even though it also proved that a free album is not necessarily welcome just because it is free.
Apple's biggest change in 2014 may be the elimination of the iPod Classic, which was the last version of the MP3 player first introduced in 2001. Apple still sells Shuffle, Nano and Touch, but it has finally acknowledged that people are moving towards phones and other mobile devices and want to be able to connect to the cloud.
How Did Napster Really Transform the Music Business?
A mini documentary presented by The New York Times showed how Napster affected the trajectory of the music business and also ushered other industries into the Digital Age.
As writer Clyde Haberman pointed out, Napster was not the first technology to disrupt music, nor did it bring the first music pirates. Even radio presented challenges for the music industry as it became more and more sophisticated. In the UK in the 1960s, unlicensed radio stations were broadcast from ships anchored at sea and were popular among young fans excited to hear new music by big artists.
Napster was only around for two years, but in its heyday, it boasted 70 million registered users. While it was hated by many in the music industry, it sparked the emergence of a huge number of music-swapping services and introduced listeners to the "economy of free," which has forever changed their expectations about what they should have to pay for music. Greg Hammer, managing director of Red Bull Records explained why this has become problematic for artists and music companies: "You have a generation of people now who expect their music for free … It's very difficult to change."
This "culture of free" also spread to other industries. Magazines, newspapers and book publishers are still struggling to find their financial footing as people expect all their information to be free. A whole generation of readers now believes that books, newspapers and online outlets should be theirs at no cost.
When Napster came onto the scene in June 1999 courtesy of Shawn Fanning, music companies attacked what they saw as "high-tech piracy" and a threat to their existence. The Recording Industry Association of America (RIAA) sued Napster for copyright infringement, as did Dr. Dre and Metallica. However, many independent artists praised it for giving them a free platform on which to market their music and build a fan base. Federal judges still shut it down in 2001, but not before Grokster, Kazaa and Gnutella emerged.
Post Napster, Apple introduced the iTunes store, which, while legal, frustrated record companies and artists as it turned the idea of the traditional album on its ear, pushed singles and offered music for just 99 cents.
And now, streaming services are the latest technology to disrupt, further showing Napster's lasting effects as fans flock to the Internet. The difference, of course, is that streaming services are not committing piracy. They have licensed and paid music companies royalties, making their own living by partnering with advertisers and peddling commercial-free subscriptions. Nielsen SoundScan numbers have shown that streaming is working for fans, who listened to 70 billion songs on streaming services in the first half of 2014, a 42 percent increase in their listening in 2013. And CDs and MP3s are on their way out.
Many artists and record label executives have been as displeased with streaming as they were with previous industry-disrupting technologies. However, many believe that eventually the dust will settle and create a better economy for all.
T-Pain, on the Culture of Making Hits and Giving Fans Credit
Artist T-Pain talked about moving away from the culture of making hits and why the music industry needs to pay attention to what fans want in an interview with Larry King. Uproxx offered up some highlights.
The artist explained why he has decided to stop consciously trying to figure out what goes into making a hit song, and why he feels other artists should stop "chasing hits" and make the music they love in order to stay genuine: "Musically, I just stopped trying to make hits. I'm just done with making hits and you know, trying to please everybody, except for myself … I think the rest of [my recent album] is just more truthful to me … It's not about if people get it or not, it's about if I am singing from my heart."
He also discussed why music executives need to give fans more credit for being tastemakers and being able to identify quality music: "Everybody's always like 'We need good music, we need good music' and then when terrible music comes out, they're like 'Oh my god, this is awesome' so I just don't understand it … I can understand the age gap and the industry has changed. Just being on the inside of the industry, a lot of A&Rs and presidents of labels are saying that people aren't stupid and they're going to like what we put out regardless. They're saying the fans aren't smart."