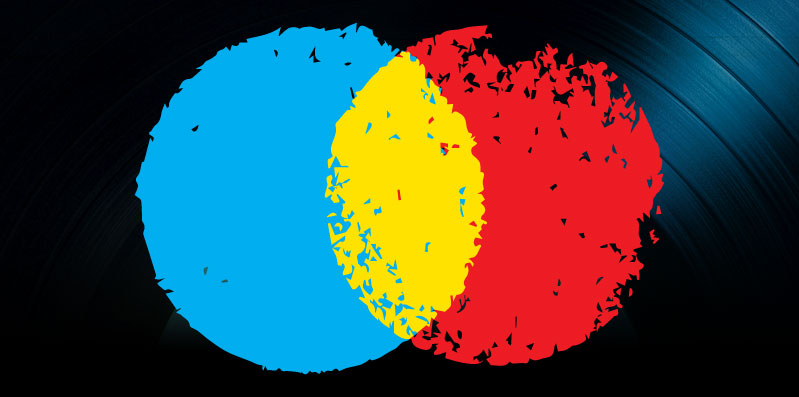 Online File Sharing, Thom Yorke and Musician Revenue Streams News, October 13, 2013
A new study from the London School of Economics revealed the music industry is offering more revenue streams for musicians than ever before. And Thom Yorke's disparaging comments about streaming services had wider implications for other digital music businesses. Also, a chart created by the Future of Music Coalition categorized all the ways artists are making money in the current music business.
More Reasons Piracy Might Not Kill the Music Industry
Artists, publishers, songwriters, record labels and others in music have been complaining for more than a decade that music piracy is slowly killing the music industry. But a new study conducted by researchers at the London School of Economics (LSE) revealed that while album sales have plummeted, concert revenues and other revenue sources have been skyrocketing for 15 years, the Washington Post reported on October 7.   
"Copyright and Creation, A Case for Promoting Inclusive Online Sharing" showed a wide range of opportunities for artists to make a living making music and that illegal downloading and free sources of music access may not actually have a negative impact. The study was an investigation of another report that showed illegal downloading had dropped off by a third in Great Britain and created by scholars to help inform the UK government of the real state of piracy so it can renew its copyright policies. But the new report explained, piracy might actually help increase revenue for recording artists in other areas such as touring, merchandise and online advertising, said TorrentFreak. While physical recorded music may be in trouble, there have also been major gains in sectors such as publishing, mobile and live concerts, which may be driven by increased downloading and Internet use.
Scholar Bart Cammaerts stated, "Contrary to the industry claims, the music industry is not in terminal decline, but still holding ground and showing healthy profits … Revenues from digital sales, subscription services, streaming and live performances compensate for the decline in revenues from the sale of CDs or records."
On October 10, the Recording Industry Association of America (RIAA) argued that the data supporting the simple revenue chart released by the LSE actually double-counted the revenue in music publishing. RIAA representatives also claimed overall music industry revenues fell by 27 percent between 2001 and 2012.
What are Thom Yorke's Spotify Comments Revealing about the Music Business?
The Internet was buzzing about Radiohead and Atoms for Peace frontman Thom Yorke's comments that Spotify is the "last fart of a dying corpse," delivered as part of an interview on a Mexican website called Sopitas. Because Yorke is a very influential person in the music business, his comments have reignited a debate about streaming music. And Alan Kohler of the Australian site Business Spectator argued, they also likely have "wider implications for all digital businesses."
Kohler called music the "canary in the digital coalmine":  It was the first industry to be attacked by new digital business models when Napster hit the scene in 1999. And it fought to close down site after site until, realizing it had to evolve, it embraced iTunes and now Spotify as a means to make up for declining CD sales.
But as they struggle to make a living, musicians like Yorke and others have started fighting back against companies that are capitalizing on the opportunities for DIY artists brought about by new business models. York pointed out, "… the exciting thing was that we could have a direct connection between the musician and audience. Now, all these damn people get involved, like Spotify, who try to be gatekeepers of this whole process, when we do not need that. No artist needs it:  we can do all that s&*t ourselves … I feel that Spotify is wrong because it is about the future of all music and whether we believe that there is any future for music."
And "legitimate" music publishing is boiling down to a battle between downloading and streaming. Apple iTunes is the king of downloading, and Spotify has been taking the lead in streaming, despite the presence of other strong competitors like Rdio, Deezer, Grooveshark, etc. But, Kohler clarified that the word "legitimate" is an important word to stress when discussing music publishers, because the biggest "publisher" of music is still the peer-to-peer client BitTorrent, which has been estimated to draw in as much as 70 percent of all global Internet traffic.
The real question Thom Yorke and others might be asking, aside from "Can I make a living at music anymore?" is whether or not the Internet will actually be able to help them actually run their own businesses and careers. Kohler pointed out there is a whole industry in development that helps artists run websites, publicize their music and organize tours, which have become the biggest money-makers for all musicians.
A video also went up last week on the NME website that offered reactions to Thom Yorke's comments from a handful of pure DIY artists, including Peace, Daniel Avery, Swim Deep, Jon Hopkins and more. In the video, they discussed the real impact of streaming music services on their careers.
The Future of Music Coalition Exploring Artist Revenue Streams
Changes in the distribution of music over the past ten years have completed altered the landscape for musicians. Technologies like streaming services, digital music stores, webcasting stations and others have significantly decreased barriers to entry for artists that want to distribute their music and forge personal relationships with their fans. Since 2000, the Future of Music Coalition (FMC) has been investigating the issues affecting artists from all backgrounds and in all genres and their ability to earn a living in the 21st Century. In 2010, FMC launched "Artist Revenue Streams," a research project that explores how musicians' revenue streams are changing in the new music industry.
The FME released a catalog of all revenue streams available to musicians in the U.S., broken down into the following categories:  "Existing"; "Expanded"; "New" and also discussed the types of musicians that most benefit from each. "Existing" streams represent those that have been around for 15 years or more. "Expanded" describes revenue streams or rights that have expanded or now include new uses, most often because of digital platforms or services. And the "New" segment includes streams or rights that have been created in the past 15 years, again because of emerging digital platforms and technologies.
The organized lists of revenue streams and a thorough explanation of how they can be applied can be found on the Future of Music Coalition website.